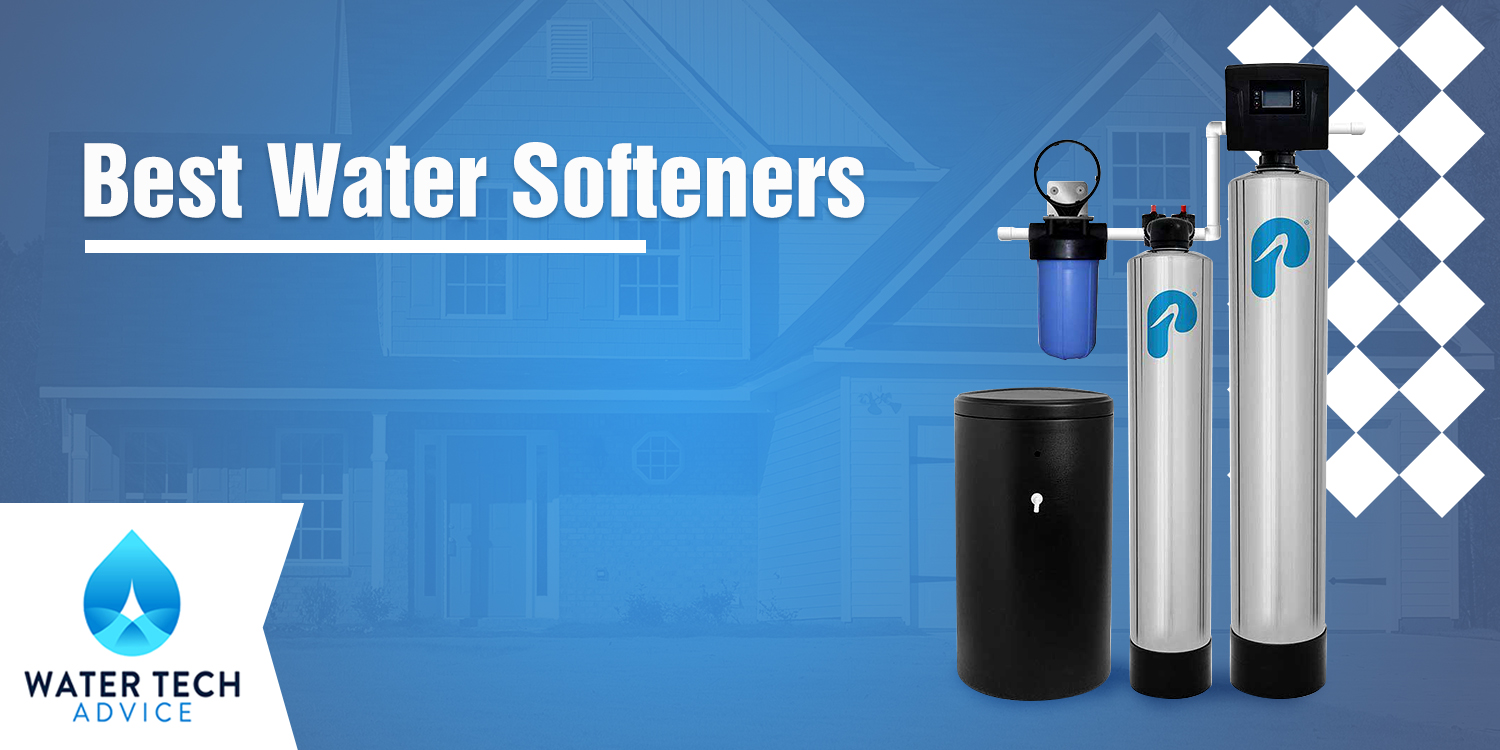 Hard water causes an array of problems — from stained dishes and laundry to limescale buildup that damages your pipes and appliances. Furthermore, whereas minerals like calcium are beneficial, some of the other minerals that contribute to hard water can pose health risks, particularly when they're present in high levels.
The good news is there's no need to just accept your bad luck: water softener companies have a range of products to suit a variety of water types. By finding the best water softener system for you, it's possible to effectively treat the water coming into your home.
As each water softener has something different to offer, it's important to understand what you're looking for and decide what features you need.
Top-Rated Water Softeners
IMAGE
PRODUCT
FEATURES

#1 Pick

#1 Pick


Salt Based: ✔
Pre-Filter: ✗
Weight (pounds): 133
Dimensions (inches): 54 x 10 x 10
Flow Rate (GPM): 12
Warranty: 10 years
Capacity: 48,000 grains

CHECK PRICE

#2 Pick

#2 Pick


Salt Based: ✗
Pre-Filter: ✔
Weight (pounds): 55.4
Dimensions (inches): 54 x 10
Flow Rate (GPM): 12
Warranty: Lifetime
Capacity: 1,000,000 gallons

CHECK PRICE

#3 Pick

#3 Pick


Salt Based: ✗
Pre-Filter: ✗
Weight (pounds): 2
Dimensions (inches): 7 x 3.5 x 2
Flow Rate (GPM): N/A
Warranty: 1 year
Capacity: Lifetime

CHECK PRICE

#4 Pick

#4 Pick


Salt Based: ✗
Pre-Filter: ✗
Weight (pounds): 8
Dimensions (inches): 24 x 5 x 5
Flow Rate (GPM): 15
Warranty: 5 years
Capacity: 50,000 gallons

CHECK PRICE

#5 Pick

#5 Pick


Salt Based: ✗
Pre-Filter: ✔
Weight (pounds): 19
Dimensions (inches): 35 x 6
Flow Rate (GPM): 12
Warranty: Lifetime
Capacity: Lifetime

CHECK PRICE

#6 Pick

#6 Pick


Salt Based: ✔
Pre-Filter: ✗
Weight (pounds): 140
Dimensions (inches): 54 x 10 x 10
Flow Rate (GPM): 20
Warranty: 10 years
Capacity: 48,000 grains

CHECK PRICE

#7 Pick

#7 Pick


Salt Based: ✗
Pre-Filter: ✔
Weight (pounds): 32
Dimensions (inches): 49.5 x 18 x 18
Flow Rate (GPM): 10
Warranty: Lifetime
Capacity: Lifetime

CHECK PRICE

#8 Pick

#8 Pick


Salt Based: ✔
Pre-Filter: ✗
Weight (pounds): 95
Dimensions (inches): 43.5 x 19 x 18
Flow Rate (GPM): 7.6
Warranty: 1 year
Capacity: 30,000 grains

CHECK PRICE

#9 Pick

#9 Pick


Salt Based: ✔
Pre-Filter: ✔
Weight (pounds): 95
Dimensions (inches): 54 x 10 x 10
Flow Rate (GPM): 12
Warranty: 10 years
Capacity: 48,000 grains

CHECK PRICE

#10 Pick

#10 Pick


Salt Based: ✔
Pre-Filter: ✗
Weight (pounds): 250
Dimensions (inches): 62 x 53 x 18
Flow Rate (GPM): 20
Warranty: 10 years
Capacity: 96,000 grains

CHECK PRICE
Water Softener Reviews
All the above have received the highest water softener ratings from consumers and industry experts, but there are still some major differences between models. Some use salt; others are salt free. Some have pre-filters and other added benefits; others are budget systems. There is no single best soft water system, but all of the above are top contenders for the best water softener 2019.
1. Fleck 5600 SXT BR8
One of the top water softener brands is Fleck. Based in Minnesota, the company has been in business for more than 50 years and is a favorite in the U.S. It produces water softeners with a range of capacities and features. One of its top-rated models for homes is the Fleck 5600 SXT BR8.
If you have some basic DIY skills, you'll find it straightforward to install the Fleck 5600 SXT BR8. You'll need to have some knowledge of electrics and be able to set up the drain. The main tank is pre-charged with resin, which does make things simpler.
Bear in mind that installation will take at least a couple hours, depending on external factors like location and weather conditions. If you are unsure whether you're up to the task, it's better to call a plumber from the start. However, if you do decide to install the system yourself, feel free to turn to the excellent company customer support with any doubts.
Pros
This Fleck water softener is one of the most durable on the market. It also has a large tank — holding up to 250 pounds of your choice of salt. This is enough for around half a year in most households.
Another great feature is the system's customizability, which also improves its efficiency. Unlike the majority of softeners, the Fleck 5600 SXT BR8 uses a digital meter to monitor water usage, rather than relying on a preset cycle. This means you will always have soft water (even if demand changes) and there's no risk of wasting salt or water.
Cons
The main disadvantage to the Fleck 5600 SXT BR8 is its resin, which is the standard 8 percent crosslink. This results in a significantly shorter lifespan than models with 10 percent crosslink — particularly if your water is chlorinated, as chlorine damages crosslinks.
A second downside is that, although the package comes with almost everything you need to install the system, it lacks drainage tubing. You'll receive the softener tank, brine tank with safety float, brine tubings, resin, bypass valve, control head, and connectors, but you'll need to purchase the drainage tubing separately.
2. Filtersmart Water Filter and Softener Combo
Instead of purchasing a separate water softener and whole-house water filter, you can receive both together in the Filtersmart Combo. This is far less expensive than buying two different systems.
Pros
This whole-house water filter and softener combo uses Jacobi carbon media to filter water. The media include coconut shells, which are known for being one of the best ways to remove contaminants from water. The main filter can process 1 million gallons of water, meaning it will last around five years.
The water softener is a conditioner that breaks down ions into microscopic pieces. It does this without the use of salt.
You'll receive a lifetime guarantee for both the filter and the softener.
Cons
The installation process is much more complicated than for the other water softeners, due to the additional water filtration system. Unless you are experienced with DIY, you'll want to hire a professional.
3. iSpring ED2000
If you want a softener system that requires no salt or chemicals, an affordable solution is the iSpring ED2000. It is a scaler rather than a conventional water softener: it transmits electromagnetic waves through your pipes. This prevents minerals and limescale from accumulating.
Pros
The iSpring ED2000 is the best whole-house water softener for families on a tight budget — it costs much less than any of the salt-based systems. It is also excellent if you'd prefer to keep your water free of sodium and you want to maintain healthy minerals in your water.
It is easy to install the iSpring ED2000 directly to the main water line for your home without the help of a plumber. There's no need to turn off the water supply, cut any pipes, or do any soldering: you simply wrap the coils around a pipe, plug the system in — and it's ready to go. Plus, you have the option to install it vertically or horizontally and around copper, PEX, or CPVC.
When the system is working, you'll hear nothing: electromagnetic force is silent. You can just leave the softener to run and forget about it.
Expect a long life and great quality from this model — it has the ISO 9000 Quality Standard certification. The majority of homeowners say that stains disappear immediately, water feels softer in the shower, they need less soap to create a lather, and they stop suffering from skin irritation.
If you do run into problems, you can receive tech support at any time. iSpring is a top name for all kinds of water treatment products — this is a brand you can trust.
Cons
Although most consumers report being satisfied with the iSpring ED2000, there is no scientific evidence to back up its claims. Plus, it's not suitable for very hard water. However, if it does fail to meet your needs, you can always take advantage of the 1-year money-back guarantee.
Another issue is that, unlike most salt-free systems, the softener needs to have a power source. This could impact where you are able to install the system.
Finally, if you have a high quantity of iron in your water, the system may be less effective. This is unlikely to be an issue with city water supplies, but it could be a problem if you have well water. A potential solution is to install a water filter that removes iron.
4. Nuvo H2O DPHB
This compact water softener provides you with a basic solution to hard water. It's ideal if you want to avoid problems with high mineral content in water without spending a large amount of money.
Pros
The Nuvo H2O DPHB is a reliable water softener available at a good price. You'll instantly notice the difference in the taste of your water and will stop needing to deal with corrosion problems. Providing between 12 and 15 GPM, the water flow is high enough for the average family. Many homeowners are also attracted to the fact that it uses a salt-free cartridge, which keeps sodium out of your water.
You'll find it easy to install the Nuvo H2O DPHB, especially since the package contains everything you'll need to mount the unit. It even has a bypass valve, allowing you to decide when to have the softener in operation. If you have any problems with reliability (although this is unlikely), you can take advantage of the money-back guarantee.
Cons
As the Nuvo H2O DPHB lacks a pre-filter and has just the basic features necessary for softening water, it is only suitable for city water. If you have well water and want to use this system, you'll need to install an additional filtration system.
Another issue is that the Nuvo H2O DPHB requires more maintenance than most of the salt-free systems. Households with high water needs will find that they need to change the cartridge frequently.
Finally, there are some requirements that mean it may not be possible to install the Nuvo H2O DPHB in your home. For instance, you'll need to check that the size of your pipes will accommodate the 1-inch inlets.
5. SpringWell FutureSoft
Named in many reviews as the best salt-free water softener, the SpringWell FutureSoft is quite different from most of the other models. Chemical free, it works using the template-assisted crystallization (TAC) process to soften water.
Pros
The TAC process leads to high performance, providing 99.6 percent scale prevention. You'll notice the difference immediately when you shower or wash clothing.
The SpringWell FutureSoft is easy to install out of the box. There's no need to purchase any additional parts, and the softener even comes with a bypass valve. Plus, you'll receive a lifetime warranty on the parts and tanks. Best of all, the only maintenance the system needs is a filter change once a year.
Cons
Some people want to feel the difference with a water softener: they want the water to feel slippery. You won't receive that sensation with this model.
Another issue is that you may experience a drop in water pressure. The SpringWell FutureSoft uses ActiFlo technology, which enables the system to operate at any flow rate. However, water flow may drop if you don't choose the right size for your home.
6. AFWFilters 5600SXT 48k
A salt-based system, the AFWFilters 5600SXT 48k has 48,000-grain capacity softener tank and a standard-size brine tank with a float.
Pros
You'll find it easy to use this model, thanks to the simple control system. The LCD screen shows the status of the system, including error codes. Plus, the touchpad is user friendly.
You can expect to experience few (if any) problems and receive a long lifespan from this water softener — it has 10 percent crosslink resin, which is the commercial standard. In addition, all its components are certified by the WQA and pass NSF standard 44.
Another benefit of this model is the demand-initiated regeneration. If it reaches maximum capacity before the time is up on the preset cycle, it will regenerate early.
Best of all, you'll receive all of these features at an affordable price.
Cons
The main downside to this model is that it can be difficult to troubleshoot. Although it is no more complex than the other models, the instruction manual is unclear.
7. Pelican NS3
A good option if you're looking for a salt-free water softener is the Pelican NS3. This is another system that uses the TAC process. It works by changing the form of minerals, which removes the minerals from the pipes without the need for electricity or water waste.
Pros
The Pelican NS3 prevents 99.6 percent of scale — certified by both the DVGW and WQA, its effectiveness is guaranteed.
In addition to limescale, the Pelican NS3 removes sediment from water. Its pre-filter is rated to remove contaminants like sand, rust, and dirt down to 5 microns. Not only will this improve the quality of your water, the filtration makes the job of softening water easier.
If you have basic DIY knowledge, you'll be able to install the Pelican NS3 yourself, which will bring down the cost. Everything you need for installation (including male NPT, rings, connection nuts, a wrench, and the mounting kit) comes with the system.
The Pelican NS3 comes with a lifetime warranty as well as a 90-day money-back guarantee, although it's unlikely that you'll experience any issues in that timeframe. In addition, there's rarely any need to replace parts or carry out maintenance other than switching the pre-filter, which needs changing every 6 months.
Cons
As with many salt-free softeners, the Pelican NS3 does little to avoid mineral stains. There will be no difference in how long it takes to clean glass, fixtures, and vehicles with this softener.
In addition, you'll have to pay a large amount upfront for this system. It is important to decide whether all the extra features are worth the higher cost.
8. Whirlpool WHES30E
For lower water needs, the Whirlpool WHES30E is a good option. It has a grain capacity of just 30,000 — whereas most models are 48,000 or even 64,000 grains. If you have a small home, it may be worth picking a smaller model like this, especially if you want a salt-based system but want to avoid wasting salt.
Pros
This model is arguably the best water softener for well water, as it removes up to 8 parts per million. However, it is equally well suited for city water, since it self-cleans as appropriate using demand-initiated regeneration.
You'll find it easy to install on your own using the self-installation kit. Whirlpool also has a dedicated helpline to answer queries if you run into any problems.
Cons
The main complaint about this model is that the manual is difficult to decipher. This can cause difficulties with troubleshooting and maintenance.
9. ABC Waters 5600SXT
If you need a water softener for well water, the ABC Waters 5600SXT is another good option. It is ideal for households with up to five people and where water hardness is no higher than 20 gpg.
Pros
The ABC Waters 5600SXT is one more model with a carbon filter. Unlike the system from Filtersmart, it doesn't have a full filtration system, but the pre-filter will remove contaminants including sediment, odors, chlorine, and other chemicals. The filter lasts between four to six years, which is above average.
Cons
You'll need to clean the tanks of the system regularly to avoid a buildup of residue and add a fresh bag of salt (or potassium) around every four weeks. The system also requires two to three bags of salt to start.
Although installation of the ABC Waters 5600SXT is straightforward, the package is missing several parts that you'll need to purchase separately. This is on top of the already quite-expensive system.
10. Fleck 9100SXT
Homes with high water needs can benefit from the huge capacity of the Fleck 9100SXT. Each of its two tanks have a capacity of 96,000 grains and the system provides a flow rate of up to 20 GPM, which is plenty even for large homes.
Pros
It would be difficult to find a water softener with better functionality than this model. Furthermore, you'll receive a 10-year warranty on the tanks and enough resin to last five years — the resin is even pre-loaded, which makes installation easier. A second feature that improves installation is the brine line that helps connect the brine tank to the main tank.
The system removes all the ions that contribute to hard water, prevents scale, and reduces some of the iron in your water. Whenever you want to bypass the softener process, you can do so using the control valve. Finally, a digital metered head adds to the customizability.
Cons
It is not worthwhile picking the Fleck 9100SXT if you only have moderate water needs. Each tank has 3 cubic feet of resin, which is quite heavy. The system also requires a large amount of space.
A Buyer's Guide to Water Softeners and Water Conditioner Reviews
To narrow down the best home water softener for you, it is necessary to understand what exactly a water softener is and how it works. It is also important to know what results you can expect to gain from installing a water softener system.
What Is a Water Softener?
A softener system turns the water entering your home softer by either removing minerals or changing the structure of these minerals to make them unable to stick to surfaces. Both methods prevent limescale and other issues that come from having hard water.
Water that has at least 60 milligrams of dissolved calcium and magnesium in every liter is defined as hard water. In some areas, the levels of these minerals are far higher than the minimum: as much as 180 milligrams per liter.
Another way to define hard water is by the number of grains per gallon (gpg) of calcium carbonate in the water. Water with more than 7 gpg is hard water, whereas between 3.5 and 7 gpg is moderately hard water.
Soft water, on the other hand, has only low levels of minerals — between 1 and 3.5 gpg. This is far more desirable for multiple reasons, including that it is healthier, it feels more pleasant on the skin, and it keeps your appliances protected from limescale damage.
What Does the Best Water Softener Remove?
Salt-based water softeners remove calcium and magnesium, whereas salt free softeners don't remove anything. Instead, they change the form of the minerals. A water softener does not remove sediment and other contaminants from water unless it comes with a pre-filter.
Do You Need a Water Softener?
To determine whether you need a water softener, look for signs that your home is receiving hard water. These include:
Residue on dishes, faucets, bathroom fixtures, and any surface the water touches as well as on the bottom of your kettle and coffee maker.

A blocked shower head.

Dry skin or even residue on your skin after showering.

Leaking or damaged pipes, plumbing, and appliances.

Stiff, discolored laundry, maybe with white spots.

A drop in water pressure.

A lack of lather from soap and shampoo.
Benefits of a Water Softener
If you have hard water, a water softener will provide you with a large number of benefits.
Prevent Limescale Damage
Damage from the residue of hard water can be as severe as internal damage to your pipes, which can cause pipes to become clogged or start leaking. With a water softener, you'll prevent the scale and white limestone that leads to this damage.
Improve Appliance Efficiency
It requires more energy to heat hard water than soft water. In addition, appliances become less efficient over time as scale accumulates.
Tank water heaters are at especially high risk, as they hold water for hours on end. However, even tankless water heaters have a shorter lifespan when they deal with hard water — and they require cleaning twice as often.
Avoid Stains
Hard water stains everything it comes into contact with. You may notice discoloration on places like faucets, sinks, toilet bowls, your bathtub, and shower heads. Spots may also appear on items you wash, including dishes, glassware, clothing, and even your car. If there is a large amount of iron in your water, the stains may be yellow, orange, pink, or red.
When you have a water softener, these stains disappear instantly.
Use Less Soap
It's often possible to remove stains left by hard water — it just requires a good deal of scrubbing and a large amount of soap. Soft water allows you to avoid this task completely.
You'll also need less soap in general — for everything from laundry to dishes. This is because soap doesn't lather properly with hard water. When you have soft water, you'll find that you're able to clean much more efficiently.
Improve Your Skin and Hair
A healthy balance of minerals in your water can be good for your skin and hair, but an abundance of calcium and magnesium can lead to damage. The minerals strip your body of its natural oils, leaving your skin and hair too clean and, as a result, dry.
Your hair may also be greasy, heavy, and lack its natural buoyancy and your scalp may be dry and flaky. If you dye or highlight your hair, the color will fade sooner. If your hard water also contains a high level of chlorine, the water may even change the color of your hair, tinting it green or orange.
Having soft water is extra important for people who suffer from skin conditions like eczema and psoriasis. Once you have a water softener, you'll notice less irritation and you'll be less likely to suffer from razor burns.
Soften Your Laundry
Hard water causes clothes and towels to come out of the washing machine stiff and scratchy. As soon as you have a water softener, the texture of your laundry will improve.
Enhance the Flavor of Your Cooking
It's not just drinking water that has a better taste — soft water impacts the flavors of anything you cook with water. You'll also have better-tasting hot beverages like coffee and tea.
The Different Types of Water Softeners
As you will have noticed from the list above, water softeners come in a variety of types.
Salt-Based Softeners
Conventional water softeners use salt. Sometimes, they are called ion exchange softeners after the process that softens water: the exchanging ions of the minerals causing hard water for sodium ions from salt. The system traps the hard minerals in a resin and flushes them out during regeneration (the cleaning part of the process).
Dual-Tank Softeners
Some salt-based water softeners have a pair of tanks. These systems are called dual-tank softeners and are suitable for both commercial settings and homes that require a large amount of water.
With single-tank softener systems, there are times when you'll be unable to receive soft water because the resin in the tank is regenerating. Usually, this takes place during the night, although it may occur after the system has processed many gallons of water.
With a dual-tank softener, you'll never run out of soft water. During the regeneration of one tank, the other tank is able to soften water. This feature comes with a higher upfront cost, but if you have high water needs, you may decide it is worthwhile.
Salt-Free Softeners
Salt-free softeners are a more modern alternative. Instead of using salt, they use a process like TAC to reshape hard minerals. The process turns minerals that are causing hard water into crystals that cannot adhere to surfaces.
Magnetic Water Scalers
One type of salt-free softener is the magnetic water scaler. Instead of using the TAC process, electromagnetism keeps water free from scale. Although there are fewer magnetic water scalers on the market than other types of water softeners, they are gaining popularity for their simple installation. Instead of connecting the system to your water source, you coil wires around the water intake pipes and then plug in the system.
Just like with the TAC process, the magnetic field of the scalers turns minerals into larger crystals to prevent accumulation of limescale.
Water Conditioner vs Water Softener
Technically, only a salt-based system is a true water softener. Those that use a process other than salt are water conditioners. Either option has its share of advantages and disadvantages.
Water softeners are more popular, which means you have a large amount of choice in terms of products. However, softeners do require more maintenance than salt-free conditioners, as you'll need to periodically refresh the salt. They also need to be connected to an electrical outlet and they do waste some water during regeneration.
Water conditioners allow you to gain the benefits of soft water without adding any sodium to your water. They also cost less to maintain and usually require no electricity. These characteristics are helping them gain market share, and they are now available in from many top manufacturers of water softeners.
However, as calcium and magnesium will still be present in your water with a water conditioner, the water is not actually soft. If you were to run a test on the water, it would still be classified as hard. Although water conditioners are often called softeners, they do not actually soften water.
Water Softener Installation and Maintenance
Provided you have some DIY knowledge, you'll find that most water softeners are simple enough to install on your own. However, if you're unsure when reading the manual, it's better to call a professional.
All systems are easy to maintain without assistance. At the very most, they require refilling with salt every few weeks or months and changing a pre-filter periodically (between six months and six years, depending on the model).
How to Choose a Water Softener for Your Home
Now you understand the distinctions between different softeners, it's time to figure out what you need from your system. This involves thinking about your requirements and carrying out a water softener price comparison.
Hardness of Your Water
You've already figured out that your water is hard — you also need to know how hard. A professional test will tell you the exact extent, as well as what contaminants the water contains and the levels of these contaminants. This is useful for knowing if you also require a reverse osmosis system for your drinking water or perhaps a whole-house filtration system.
You can receive a professional test from a company in your area or you can purchase a kit online. The latter involves taking a sample of water and then sending it to a lab. Yet other options include asking your city for a report (this is not possible if your water comes from a well), checking the documents from your home inspection (if you purchased your property recently), or looking at a water hardness map for your area.
Type of System
If you find that you have very hard water, you should only consider salt-based systems. However, if you have moderately-hard water, a salt-free system may be just as effective — in this case, what you choose will come down to personal preference. For example, if you enjoy the slippery feel of soft water, you may want a salt-based system. If a bigger priority is keeping sodium out of your water, a salt-free system is better.
Size of the Water Softener
If you opt for a salt-based water softener, you'll need to pick the right size. To calculate the right capacity, you'll first need to know the hardness of your water. Note: if there is iron in your water, add 5 gpg for every part per million of iron for a better picture of hardness.
In addition, you'll need to have an idea of your daily consumption of water. You can find this on your city water bill — or you can assume that each person in your household uses around 80 gallons a day.
Once you know these numbers, multiply grains per gallon by the number of gallons you use per day. This will tell you how many grains per day your system needs to remove.
Finally, you need to consider regeneration. Ideally, your water softener will regenerate once a week. Therefore, you need to multiply the above number by seven. This will tell you the minimum grain capacity of your water softener.
For instance, let's say your water has 8 grains per gallon plus one part per million of iron and you use 240 gallons of water a day (typical for a family of three). You'll need a water softener with a capacity of at least 21,840 grains.
Price of the System
Water softener prices range from as low as $500 to as high as $2,500. Salt-based systems cost a further $5 to $10 for salt — more expensive if you use potassium instead. They also waste around three gallons of water a minute in regeneration.
Other factors that influence price are additional features of the system. Some water softeners have just the basic features you need to soften water and nothing else. Others have extras that could be worth the higher cost.
Brand — When you buy a softener from a well-known brand, you can be sure that you're receiving a reliable system. Top brands include Fleck, Whirlpool, Pelican, and iSpring.

Ease of maintenance and installation — Decide whether you are willing to put in the time to maintain a salt-based system. Also think about your DIY skills: do you want a softener that can install yourself or would you rather just hire a plumber for the job?

Pre-filter — A pre-filter will remove some contaminants from your water, but you'll need to pay regularly for replacement filters.

Bypass valve — Only some softener systems come with a bypass valve. This allows you to bypass the softener when you don't need soft water. It's useful for tasks that don't require soft water, like filling a swimming pool.

Regeneration setting — Regeneration can be preset or on demand. Softeners with preset regeneration rely on an accurate estimation of water usage: underestimate and the system will be inefficient, but overestimate and you'll sometimes receive hard water. Demand-initiated regeneration, in contrast, suffers from neither of these problems. The system monitors when resin is full of minerals and regenerates automatically.

One-piece or two-piece — If you have large water needs, consider a dual-tank system. If you have a small household, however, you'll prevent wasted salt by choosing a single-tank softener.
Around 85 percent of households in the U.S. receive water that contains high levels of calcium carbonate, magnesium, and iron. However, only around a third are currently using a water softener. If your water is even moderately hard, you'll benefit from a water softener. If it is very hard (10.5 gpg or higher), you should consider a water softener a necessity.
Use the above guide to figure out what types of features to look for. Then compare the top 10 models in the list to determine which best-rated water softener meets your needs. You can find a water softener for sale through the manufacturer's website or on a third-party site like Amazon.
Water Tech Advice is a participant in the Amazon Services LLC Associates Program, an affiliate advertising program designed to provide a means for sites to earn advertising fees by advertising and linking to Amazon.com.