After reviewing all the best water softeners on the market to eliminate your hard water problems, our experts decided that the following units were the best based on technology, grain capacity, flow rate, regeneration, and cost of the water softener systems.
IMAGE
PRODUCT
FEATURES
 

#1 Springwell SS Salt Based Softener

Process: Ion Exchange

Grain Capacity: 32k,48k,80k

Flow Rate: 20 GPM

CHECK PRICEGet 5% Off! Use Code: WTA5

#2 Quality Water Treatment SoftPro Elite

Process: Ion Exchange

Grain Capacity: 24k-110k

Flow Rate: 15 GPM

CHECK PRICE

#3 Springwell Futuresoft Salt Free Softener

Process: Template Assisted Crystallization

Grain Capacity: 81 GPG

Flow Rate: 12-20 GPM

CHECK PRICEGet 5% Off! Use Code: WTA5
Investing in a top-notch water softener is a game-changer. It enhances your water quality, boosts appliance longevity, and nixes unsightly stains.
We've poured hours into research, comparing key specs like softening process, grain capacity, flow rate, regeneration method, warranty, and cost.
We've scrutinized brine-based and salt-free softeners, plus combo filter-softener systems, to help you pinpoint the perfect fit for your home.
Dive into this article to find your ideal water softener and filter system.
Best Water Softeners List
Best Whole House Water Softening Systems Compared
| | | | | | | | | | | | |
| --- | --- | --- | --- | --- | --- | --- | --- | --- | --- | --- | --- |
| Product | Springwell SS | SoftPro Elite | Springwell Futuresoft | Whirlpool WHES40E | USWS Matrixx | EVO Water E-2000 | Fleck 5600 SXT | Aquasure Harmony Series | Aquasana Salt Free | AFW Iron Pro 2 | Filtersmart FS500 |
| Rating | 1 | 2 | 3 | 4 | 5 | 6 | 7 | 8 | 9 | 10 | 10 |
| Type | Salt | Salt | Salt Free | Salt | Salt | Salt Free | Salt | Salt | Salt Free | Salt | Salt Free |
| Process | Ion Exchange | Ion Exchange | TAC | Ion Exchange | Ion Exchange | TAC | Ion Exchange | Ion Exchange | NAC | Ion Exchange | TAC |
| Grain Capacity | 32k, 48k, 80k | 24k-110k | 81 GPG | 40K | 27k, 35k, 53k, 70k | 75 GPG | 24-64k | 32k, 48k, 64k | 25 GPG | 64k | Doesn't say |
| Flow Rate | 20 GPM | 15 GPM | 20 GPM | 8.5 GPM | 20 GPM | 15 GPM | 20 GPM | 15 GPM | 7 GPM | 20 GPM | 12 GPM |
| Regeneration Method | Metered | Metered | NA | Metered | Metered | NA | Metered | Metered | NA | Metered | NA |
| Warranty | Lifetime | Lifetime | Lifetime | 1-10 years | Lifetime | Lifetime | 5-10 years | 2 years | 6 years | 5 years | Lifetime |
| Price | $$$ | $$$ | $$$ | $$$ | $$$ | $$ | $$ | $ | $ | $$ | $$$$ |
Top Rated Water Softeners Reviewed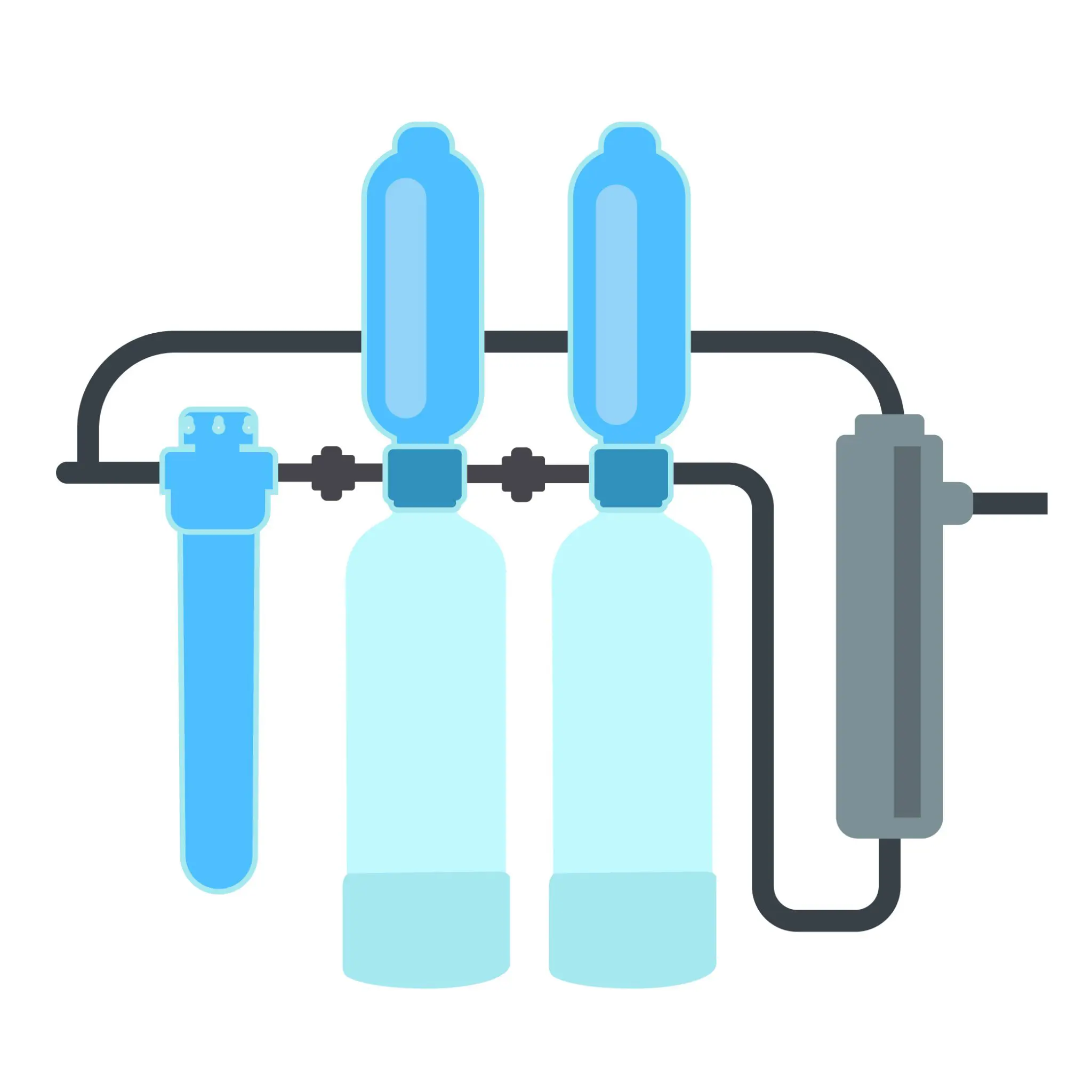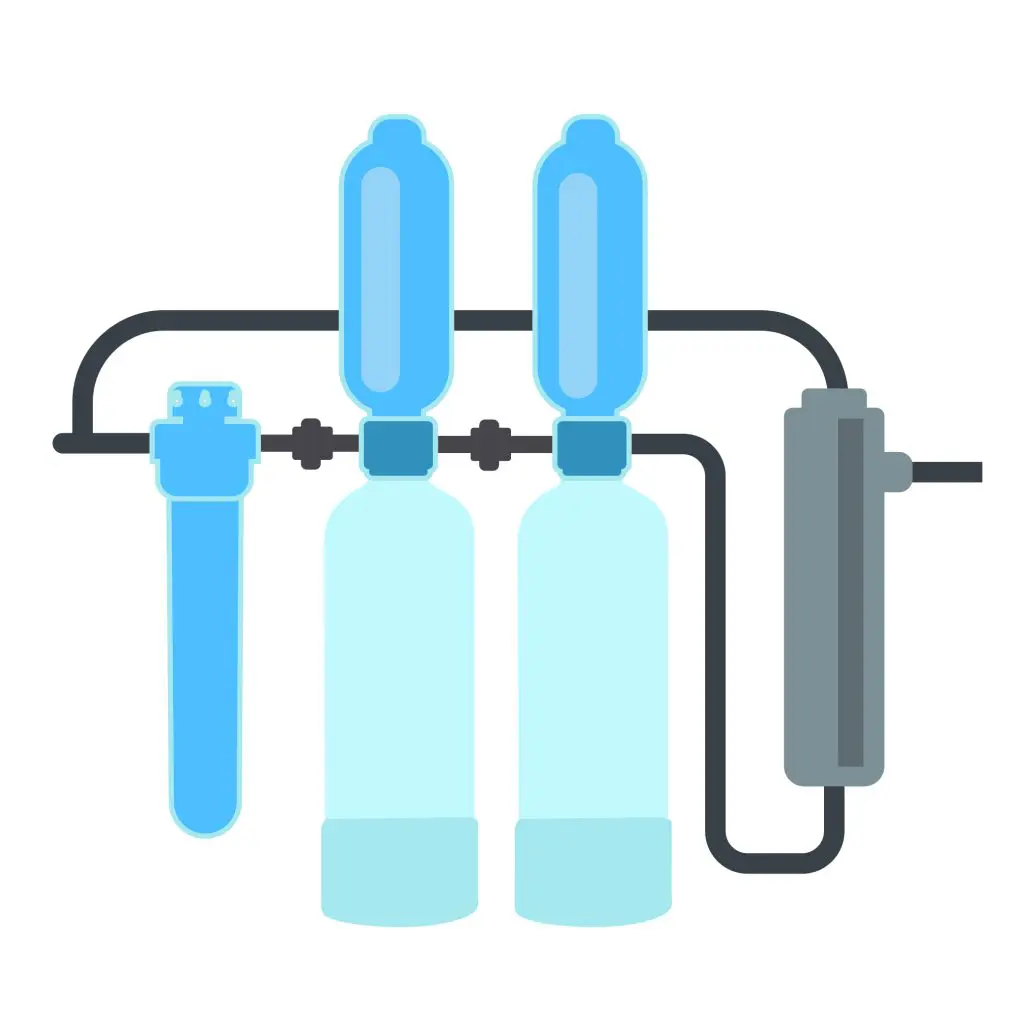 Review Order
1. Springwell SS Salt-Based Water Softener
Based on our research and opinion, the Springwell SS Salt-Based softener is the best water softener for the money on the market. This ion exchange unit uses 10% crosslink resin beads in a resin bed (which is more chlorine resistant), is dependable, and works effectively to remove hardness-causing minerals from the city and well water.
Process: Ion Exchange
Grain Capacity: 32k, 48k, 80k
Flow Rate: Up to 20 GPM
Regeneration Method: Metered
Warranty: Lifetime
Price: $$$$- Higher priced but best quality
Get 5% Off! Use Code: WTA5
The Springwell SS Salt Based softener comes in multiple grain capacities for different size homes. The difference between these models is the grain volume they can handle and the flow rate they offer for that size.
The SS1 is best for any home with 1-3 bathrooms, the SS4 is good for 4-6 bathroom homes, and the SS+ is for bigger homes with 7+ bathrooms.
Besides sizing the softener correctly for your home, each model uses ion exchange and 10% crosslink resin beads (more chlorine resistant) to remove hardness-causing minerals such as calcium, magnesium, and other metals.
This eliminates scale in your household appliances, plumbing, and fixtures. It will give you increased efficiency and lifespan of appliances and healthier skin and nails.
The SS water softener systems have some of the best technology, with automatic regeneration and Bluetooth control. Automatic regeneration allows your softener to produce less wastewater, and you save money since the system only regenerates when needed.
The Bluetooth control head allows you to set the settings on your softener (regeneration cycle, backwash cycles, timing) by the touch of a button on your phone and monitor it to ensure it's as efficient as possible.
Lastly, this system has a flow rate of around 20 GPM once installed so that you won't experience a drop in water pressure in your incoming water supply line, as Springwell guarantees.
All of this is backed with Springwell's lifetime warranty and a 6-month money-back guarantee, making it our top choice for a softener that will get your results at a fair price. We consider this the best residential salt-water softener.
Pros
Digital Automatic Metered Regeneration which saves money over time
3 Different SS system sizes for your home
10% crosslink resin lasts 2x as long as standard 8% resin
Bluetooth control head for custom settings and monitoring
Vortech tank designed for improved backwash efficiency
System components are NSF certified
Springwell has excellent customer service and tech support
Cons
Requires some maintenance to refill salt
Higher priced unit (you pay for top quality)
Installation is complicated (most likely will need a plumber)
See our Springwell SS Softeners Review for more information.
---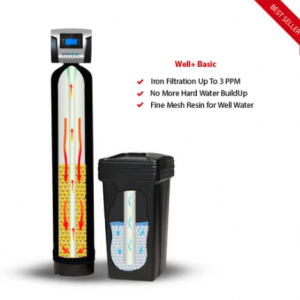 2. Quality Water Treatment SoftPro Elite Water Softener
Our runner-up pick for the best brine-based water softening system is the SoftPro Elite. This is a highly efficient unit with upflow tank design, demand-initiated regeneration to save waste, and a high-tech control head that allows customization.
Process: Ion Exchange
Grain Capacity: 24-96k
Flow Rate: Up to 15 GPM
Regeneration Method: Metered
Warranty: Lifetime
Price: $$$- Great price for the quality
Get 5% Off! Use Code: WTA5
The SoftPro Elite Water softener is Quality Water Treatment's best-selling water softening system, and it comes in models made for both well water and city water.
It's a step above their lowered-priced Genflow softener units, which may also be worth checking out if you need to cut costs.
The SoftPro Elite comes in versions for seven different grain capacities (24k-96k), making it a good choice if you need a specific capacity for your house that another model doesn't offer.
One standout feature is the efficient upflow regeneration which drives hardness minerals up through the already depleted resin and out to drain, saving salt and unused resin using only a few bags per year.
It also has short regeneration cycles, allowing it to trigger a cycle outside the regular schedule time if the resin gets below 3% usage. This means you will always go with clarified water, creating a more optimized regeneration cycle function with less wastewater.
Lastly, it has quality control head technology which allows you to program vacation mode, auto refresh, variable backwashing, and auto reserve.
Overall, it's a highly efficient model that QWT claims only uses three bags of salt per year, and it's affordably priced, making it a good bang for the buck and the best upflow water softener. It's not entirely on the level of the Springwell SS in terms of features, but it's another solid option to consider.
Here is some more detailed information about this softener system from the owner of Quality Water Treatment, Craig Philips.
Pros
Top softening technology
User-friendly LCD
IAMPO Certified
Customizable package combos
Saves wastewater and salt (only three bags per year)
Lifetime warranty
Excellent customer service and reviews
Cons
May need installation help (basic plumbing skills needed)
Package systems are not cheap
See our SoftPro Elite Water Softener Review for more information.
---
3. Springwell Futuresoft Salt-Free Water Softener System
Our pick for the best salt-free water softener is Springwell's Futuresoft model. It uses template-assisted crystallization to control the scale formation process and offers a solid flow rate at 20 GPM and 81 GPG hardness minimization capacity. With a lifetime warranty and excellent customer service, it is an ideal choice if you're going salt-free.
Process: TAC
Grain Capacity: 81 GPG
Flow Rate: Up to 20 GPM
Regeneration Method: NA
Warranty: Lifetime
Price: $$$$- Higher priced but worth it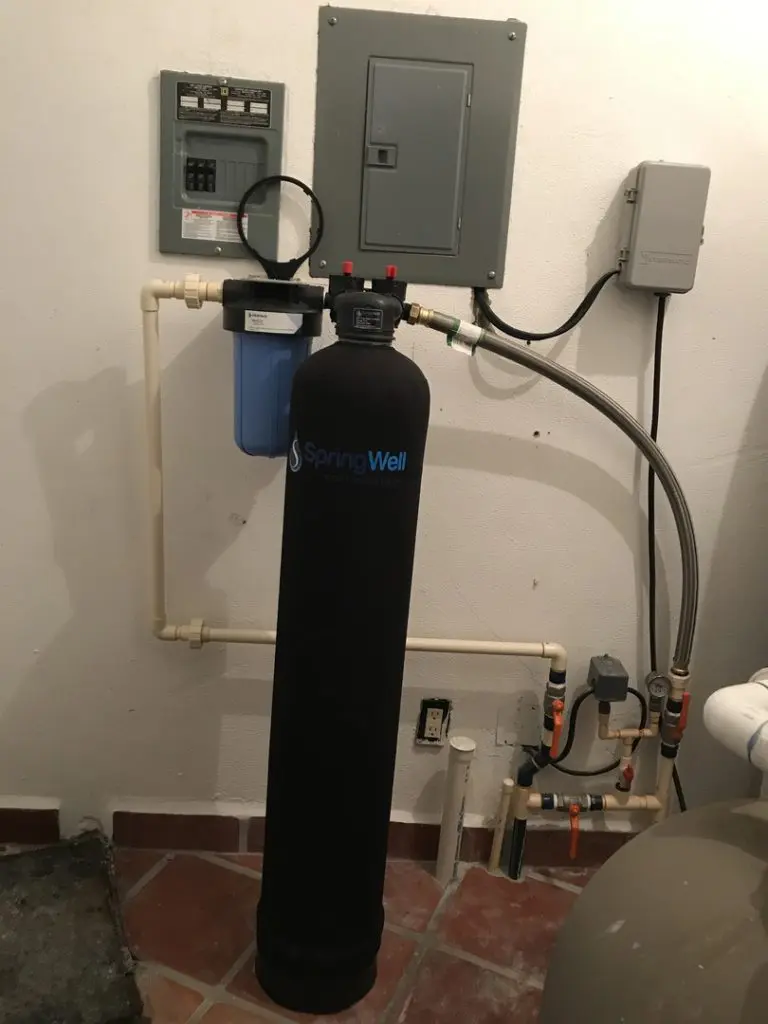 We conducted extensive research for this review and talked with customers of the Springwell Futuresoft salt-free water softening system.
We determined that most customers noticed reduced hardness in their water and could dramatically extend the lifespan of their home appliances and pipes without using salt.
This water softener is priced well for its benefits, and the company and customer service are top-notch compared to other companies.
The salt-free system works really well at conditioning water with up to 81 GPG hardness and preventing 99.6% of scale formation with a lifelong warranty.
Some of the main features include template-assisted crystallization technology, which uses proprietary media to convert hardness-causing minerals in your water into calcite crystals, preventing scale in your appliances, pipes, and heater.
It's completely waste free.This water softener doesn't waste water or discharge salt brine into the environment. You still get healthy mineralization in your water, but the ions are changed to receive 99.6% scale prevention without using chemicals or salt – and all with zero drop in water flow.It maintains an excellent flow rate at 12-20 GPM, is NSF certified, is virtually maintenance-free without the need to refill salt, and comes with a lifetime warranty and excellent customer service.
Pros
99.6% scale prevention
Extends the lifespan of your appliances
No water wasted (efficient water consumption)
No electricity needed
Works with city & well water
Easy installation
Low maintenance
6-month money-back guarantee
Life warranty on the parts and tanks
See our Springwell Futuresoft Review or Springwell Review for more information.
---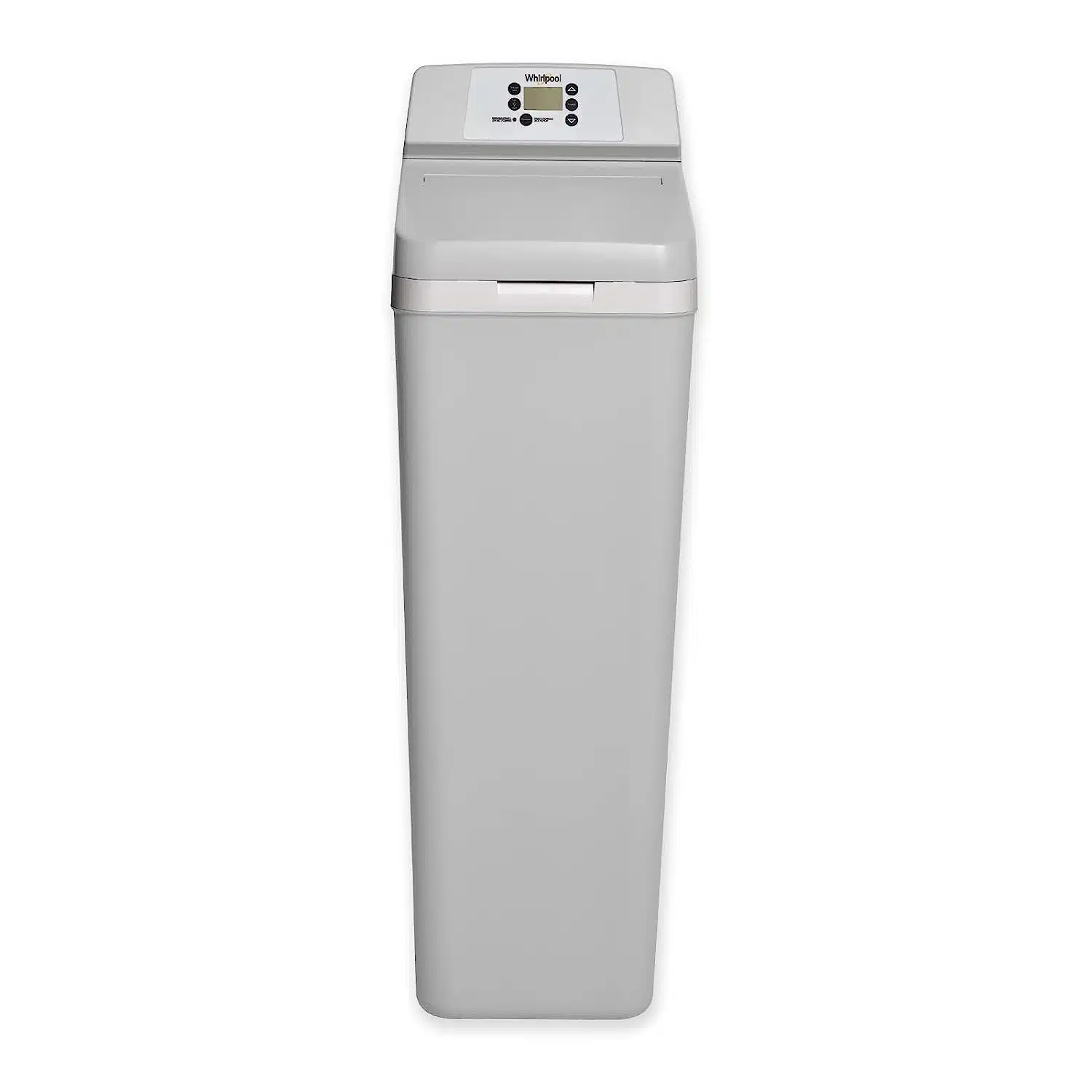 4. Whirlpool WHES40E
The Whirlpool WHES40E Pro Series is a top-notch water softener that stands out for its eco-friendly features and efficient performance. This all-in-one unit is designed to save floor space and is an excellent replacement for older models. It uses ion exchange technology to effectively remove hardness-causing minerals from both city and well water.
Process: Ion Exchange
Grain Capacity: 40k
Flow Rate: Up to 8.5 GPM
Regeneration Method: Metered
Warranty: 1-year full parts and labor, 3-year electronics, 10-year tanks
Price: $$$- Worth the price
The Whirlpool WHES40E Pro Series is available in a single model that can handle a grain volume of 40,000. This makes it suitable for most homes.
The unit uses ion exchange technology and resin beads to remove hardness-causing minerals such as calcium, magnesium, and other metals. This process eliminates scale in your household appliances, plumbing, and fixtures, leading to increased efficiency and lifespan of appliances and healthier skin and nails.
One of the standout features of the WHES40E Pro Series is its technology. It boasts automatic regeneration and a digital display.
The automatic regeneration feature allows your softener to produce less wastewater, saving you money since the system only regenerates when needed. The digital display allows you to monitor the settings on your softener, ensuring it's as efficient as possible.
Despite some reports of the unit arriving with minor cosmetic damage, the overall consensus among users is that the product performs exceptionally well. The unit is easy to install and set up, and it works excellently to soften water. However, some users reported that the unit uses more salt than older models, which is something to consider.
Pros
Digital Automatic Metered Regeneration which saves money over time
Compact design saves floor space
Ion exchange technology effectively removes hardness-causing minerals
Digital display for easy monitoring and custom settings
Whirlpool has excellent customer service and tech support
Cons
Some reports of minor cosmetic damage upon arrival
Uses more salt than older models
Installation may require a professional plumber
---
5. US Water Systems Matrixx Smart Metered Softener
Another option for great salt-based water softeners is the USWS Matrixx unit. It has four-grain capacities, premium 10% crosslinked resin, a vortech tank for optimal flow, and smart valve technology. The price point is a good deal for the quality US Water Systems offers with this unit, making it a solid choice.
Process: Ion Exchange
Grain Capacity: 27k, 35k, 53k, 70k
Flow Rate: Up to 20 GPM
Regeneration Method: Metered
Warranty: Lifetime
Price: $$$- Great price for the quality
US Water Systems is a proven brand in the water treatment industry, and they offer a wide range of the best filters and salt-based water softeners on the market.
This Matrixx Smart Metered ion exchange softener is a great salt-based water softening option for a hard-water home. It contains the industry-leading vortech tank, which increases softening and filtration capacities while saving 70% on annual salt consumption and up to 40% on water flow drop.
This unit also won't cause a drop in water pressure as it maintains a 20 GPM water flow rate compared to the other top models on the market.
The system has a 10% crosslink ion exchange resin which means that it's stronger and more durable than comparable 8% crosslink resin softeners allowing it to last longer than many competing brands.
Lastly, it has top-notch technology with its smart valve control feature, allowing you to download an app on your phone and monitor your water hardness and unit settings to ensure it works as efficiently as possible.
Overall, suppose you're looking for a great water softener that competes well with our top picks and you don't want to go for the Springwell model. This USWS unit is an excellent option to consider especially since they have excellent customer service and made in the USA products.
Here's a great video that outlines the parts, unboxing, and installation process.
Pros
EcoSmart backwashing for minimal wastewater
You can use either salt or potassium
Up to 70% savings on salt consumption
Smart valve Bluetooth controls
No drop in water flow with a 20 GPM flow rate
Lifetime warranty
Cons
The higher end of the price range
You may need a plumber for the installation
---
6. EVO Water Systems E-2000
he EVO E-2000 is one of the best cartridge-based salt-free water softening systems. This is a great model to consider if you want a water conditioner instead of a brine-based softener to save on maintenance and salt consumption and don't like having a big tank.
Process: TAC
Grain Capacity: 75 GPG
Flow Rate: 15 GPM
Regeneration Method: NA
Warranty: Lifetime
Price: $$- Good budget salt-free option
Get 5% using Code: wtech5
The EVO E-2000 is a suitable cartridge-based salt-free conditioner for people who would rather have the option to change cartridges instead of having a big tank.
We still prefer the Springwell Futuresoft over this model because of its impressive 81 GPG hardness capability.
The EVO comes in a single size for homes with up to 6 people and a flow rate of 15 GPM, which is pretty decent.
It uses two filter cartridges to get the job done.
The first is a 5-micron pleated sediment filter that eliminates sediment like sand, clay, or rust.
The second is an eSoft salt-free cartridge that uses template-assisted crystallization. Water flows through a cartridge with eSoft media changing the hardness causing minerals into micro crystals that don't create scale formation.
The main benefit of a salt-free system like this one is that there is virtually zero maintenance besides changing the cartridges occasionally, and it doesn't create excessive sodium in your water supply.
The downside is that it doesn't actually remove hardness-causing minerals, and for folks with really hard water, it may not be as effective as a traditional salt-based system.
That said, it's still a great option if you have moderately hard water and need to prevent scale formation on your household appliances. It's compact, affordable, removes mineral stains and scale formation, and has everything needed to install it yourself.
Pros
Very affordable
Maintenance-free (only thing to replace is sediment filter)
Good scale prevention on moderately hard water
Certified components
Lifetime warranty
Cons
Not great for very hard water
It only comes in one size unit
---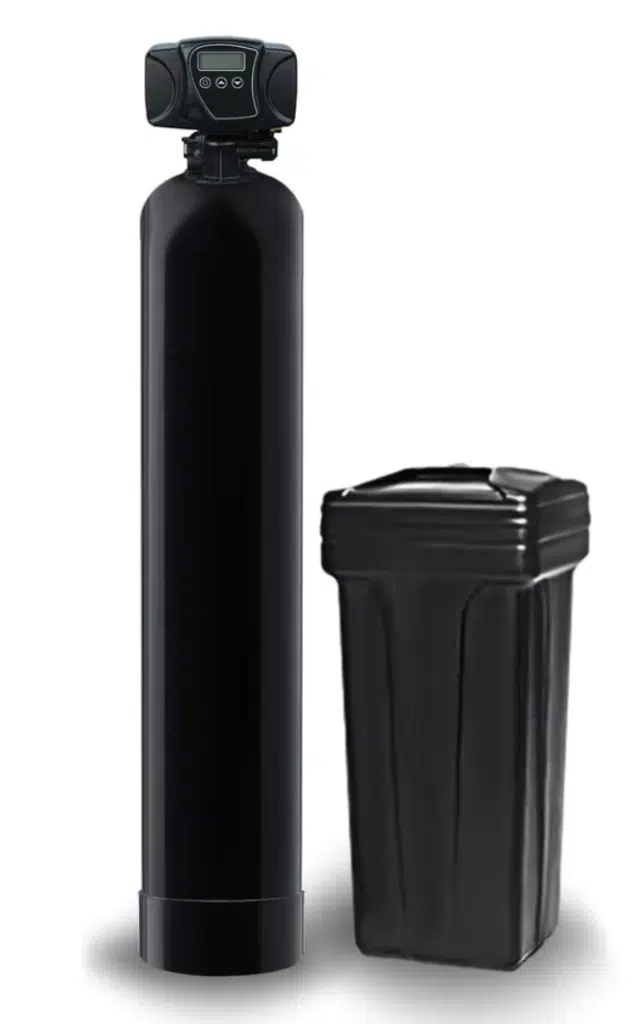 7. Fleck 5600 SXT
We think the Fleck 5600 SXT is one of the best budget-based salt-water softener systems on the market. It won't blow you away with fantastic technology, but it has been shown to consistently get the job done for hard water removal efficiently and effectively for years.
It costs less than $1500 and offers a good flow rate, grain volume, and metered regeneration.
Process: Ion Exchange
Grain Capacity: 24k-64k
Flow Rate: up to 20 GPM
Regeneration Method: Metered
Warranty: 5-10 years
Price: $$$- Good budget salt option
The Fleck 5600sxt is a top-budget salt-based water softener because it has been around for a long time with many positive customer reviews. It is very efficient in removing hard minerals from water.
The price point is one of the most affordable on the market, and the Fleck 5600 SXT has optimal water-softening capabilities with little hassle.
It also comes with a 10-year warranty on the tank and five years on the valve. This is not quite as good as our other top-rated models, but it's still a solid warranty for peace of mind.
You can choose from models ranging from 26,000 to 70,000 grains per gallon to fit any size home.
Some of the main features of this model that make it suitable include the high-efficiency brine tank that only regenerates when needed saving money on wastewater, a programmable control valve, an LED display that shows you the water flow rate and hardness levels for monitoring, and the compact size of this unit that allows for easy installation and space-saving.
Overall, it's a great budget salt-based softener for people looking for a good middle-of-the-line option to eliminate scale formation and appliance degradation in their homes.
It's not the easiest water softener system to install, so here is a great video outlining the steps.
Pros
Excellent performance for the price
Decent warranty (5-10 years)
Has stood the test of time with customer reviews
Budget-priced option
Cons
The 5-10 year warranty isn't as good as a lifetime
Doesn't use certified parts or have IAMPO certification
Not super easy to install compared to other picks
For more detailed information, see our complete Fleck 5600sxt review.
---
8. Aquasure Harmony Series Softener
The Aquasure Harmony Series softener is another great budget salt-based model if you want to save money for good quality softening. It doesn't have the technology of our top picks, and it comes with only a 2-year warranty which is very limited, but it's a good softener for the money you pay.
Process: Ion Exchange
Grain Capacity: 32k, 48k, 64k
Flow Rate: 15 GPM
Regeneration Method: Metered
Warranty: 2 years
Price: $$- Good budget salt option
The Harmony Series softeners from Aquasure come in 3 size grain capacities: 32,000 (1-2 bathrooms), 48,000 (3-4 bathrooms), and 64,000 (5-6 bathrooms) grain volume. We like this softener because it's one of the most affordable options on our list and offers some good capabilities.
The main features of this softener are its built-in advanced digital control console which allows for customization of settings and the elimination of tons of wastewater due to precise backwashing, a heavy-duty tank that is corrosion resistant, and high capacity cation resin to conduct the ion exchange softening process.
With its premium technology controls, this softener will remove scale, iron, magnesium, and calcium from your water supply efficiently and effectively.
Overall, it's a good budget option. Still, we wouldn't recommend it over our top picks because it only offers a 2-year warranty, and the brand reputation is not as proven as other water treatment companies.
Pros
One of the most affordable softeners
Easy to install
Good quality parts for the price
Cons
2-year warranty
It doesn't match up to the higher-rated models
See our Aquasure review page for more information.
---
9. Aquasana Salt-Free Conditioner
The Aquasana Salt-Free conditioner is a good budget option among salt-free water conditioners. It comes in at a bit less expensive than other tank-based conditioners. It can also add whole-house filtration and UV purification if you want a combo filtration and softener system.
Process: NAC
Grain Capacity: 25 GPG
Flow Rate: 7 GPM
Regeneration Method: NA
Warranty: 6 years
Price: $$$- Good budget salt free option
Get 50% Off + Free Shipping! Use Code: AQWTA
Aquasana is a well-known brand in the water treatment industry, and for a good reason. They have been producing quality filters for a while now.
This SimplySoft Salt-Free dual tank water softener is an affordable and effective water conditioning unit. The main features that this conditioner offers are:
SCM scale control media– which changes hard water-causing minerals into microscopic crystals that do not cause scale formation on your home appliances, instead the crystal particles are passed through your water into the drain
Sediment pre-filter– the sediment filter removes any dust, clay, dirt, or debris from your water before the water moves through the conditioning unit
Upflow dual tank design– increases water contact time with the media to break down calcium and magnesium
One thing we like is that the design is compact and is meant to save space in your garage, and this unit is very easy to install compared to other models.
The downside of this unit is that it has a lower flow rate at 7 GPM and less capacity to remove grains in the water supply at a 25 GPG removal capability.
This means it's a good unit for a smaller household, but it won't be very effective for bigger houses with harder water and more bathrooms.
Another thing to consider is that this model offers a 6-year warranty, much less than many competing brands offering a lifetime warranty.
Overall, we think this is a good conditioner for smaller households who want to save space and prevent scale formation but for bigger households or harder water; we recommend checking out one of our top salt-based picks above.
Pros
Effective scale removal
Compact space saver
Affordable
Cons
Low water flow rate at 7 GPM
Low hardness removal capability at 25 GPG
6-year warranty instead of a lifetime
For more information, see our complete EQ-SS20 Simplysoft Salt-Free review.
---
10. AFW Iron Pro 2 Salt-Based Softener & Iron Filter
If you have an iron and a hard water problem, this is a great system to consider purchasing, as it offers water purification and iron filtration in one unit. It's a very similar model to the Fleck 5600 SXT as it offers the basic functions at an affordable price and adds iron filtration. This is our pick for the best water softener for iron removal.
Process: Ion Exchange
Grain Capacity: 64k
Flow Rate: up to 20 GPM
Regeneration Method: Metered
Warranty: 5 years
Price: $$- Good budget option with iron filtration
The AFW Iron Pro 2 Combination water softener offers a salt-water softener and iron filter in one unit with fine mesh resin.
The AFW Iron Pro 2 Combination water softener offers a salt-water softener and iron filter in one unit with fine mesh resin.
This system is an alternate Fleck water softener (5600sxt) version with added iron filtration.
The system includes the tank, control valve, fine mesh resin, and brine tank.
It performs well against iron and hardness, removing hardness up to 70 GPG, irons up to 4-7 ppm, manganese up to 6 ppm, sediment, sand, and rust.
It offers the same high-quality digital control head that the 5600sxt whole house system has, which offers easy, on-demand regeneration cycling, LCD, and touchpad controls.
Lastly, it's easy to install and comes with everything needed in the box for installation, including the brine tank, bypass valve, and simple DIY instructions, making this the best DIY water softener.
The Iron Pro 2 water softener is best for someone looking for a whole-house water softener system that filters out iron at an affordable price.
Pros
Both water softener and iron filter (iron up to 8ppm)
It contains a digital head to monitor your softening cycles
Clean black appearance
Good bang for the buck
Cons
Heavy
Not easy to install
A good amount of maintenance required
---
Other Best Rated Water Softener Brands We Reviewed
When narrowing down to our top 10 picks, we considered all of the water softening system brands on the market. Here are just a few of the other brands we considered (that did not make the cut) before making our final decisions.
Clack– The main issue with Clack's products is that they only have a few options, and they are hard to purchase online. You can see our Clack review here.
Kinetico- Getting a Kinetico softener involves finding a local distributor, so they can be more of a hassle to purchase and install. You can see our complete Kinetico review here.
Culligan– Unfortunately, since they are such a big brand now, their customer service is not very good, and their products are mediocre. You can see our Culligan review here.
GE– The products are decent and priced affordably, but their inexperience in the water market and lack of specialized customer service was a big deal-breaker. You can see our complete GE review here.
Morton– When you purchase a Morton product, you will have to deal with a "factory-trained rep," which can be frustrating when installing or troubleshooting your device. You can see our complete Morton review here
Waterboss- The 900 model is a decent model, but it's not going to be one of the top products on the market.You can see our complete Waterboss 900 review here.
Pelican– We think Pelican Pentair's customer service, pricing, and quality for the buck are not quite as good as our other top brands. See our Pelican review here.
Eddy Electronic Water Descaler– If you're looking specifically for an electronic descaler then Eddy has one of the best products on the market, but we didn't include it in our list because we recommend a traditional salt-based or salt-free softener first.
Nuvo H20– They use newer technology to reduce scale formation known as Chelation, but we didn't pick them because this softener is only good for smaller amounts of water hardness. See our Nuvo review here.
Genesis-We just couldn't get enough reliable customer data to rank them as one of our recommendations. See our Genesis review here.
Kenmore– We wouldn't recommend them due to the subpar customer service and mediocre products, but they can get the job done.
Scaleblaster– Scaleblaster is a good brand if you're looking specifically for a water descaler as well as Eddy, Yarna, and Ispring. We don't recommend a descaler for moderately to hard water, though.
Whirlpool– Whirlpool has been around forever, and their products are ok although they didn't make the cut due to subpar customer service and lack of specialty in water softening.
Aquios– We like Aquios for a brand of salt-free conditioners. Take a look if you don't like our main picks above, and want to reduce salt and maintenance.
Rheem– Rheem is mainly known for water heaters, but they also make a few decent softeners. Overall, we don't think they stack up against our recommended models above.
Rainsoft– Rainsoft simply isn't transparent enough for us with their pricing, model information, and comparison data. If they disclosed better information it may change our minds but for now, we can't rank them high.
AO Smith– AO Smith has products that are made in China and we believe they are subpar compared to other brands we reviewed.
RKIN– We think RKIN is a good brand but not quite up to the standards of our above picks.
Ecopure– A basic brand of water softeners with average capability. We wouldn't recommend them first.
3M– 3M is not a bad brand and product but we think the options recommended above are a better bang for your buck
Water Softener & Conditioner Buyer's Guide
Choosing your optimal home water softener requires understanding how they work and what criteria you need to look for to fulfill your softening needs.
So let's dive into the basics of a water softener system and what you should look for in the ideal unit for your water hardness.
What is a Water Softener?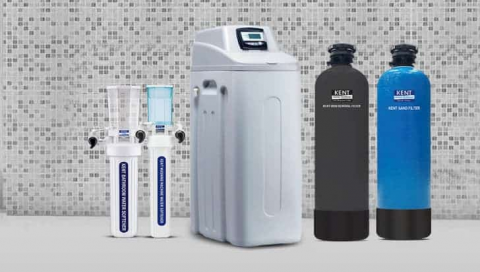 A whole house water softener system turns the water entering your home "soft" by exchanging the minerals that cause hard water (calcium and magnesium) for sodium ions (salt-based system) or by changing their structure to make them unable to stick to pipe and appliance surfaces (salt-free water softeners).
Both methods prevent limescale buildup in the home's pipes and other issues from hard water.
Most salt-based water softening systems contain two tanks (dual tank water softeners).
These tanks include a tall resin tank where the ion exchange occurs and an attached brine tank that works to flush the resin tank and add salt to the system.
Most systems also include an LCD screen and automatic monitoring to notify you of how much salt is left.
Water softeners are usually installed in the garage or cabinet close to your home's incoming water supply so that the water can run through it.
Simply put, your incoming water flow goes through your water softener tank, where resin beads attract calcium and magnesium ions and exchange them for sodium ions – which effectively removes the water's hardness.
The softened water without these ions continues through your home's water flow giving you clean, purified water.
You can see our detailed guide on how water softeners work here.
Typical maintenance for water softeners is refilling them with salt or potassium chloride pellets about once a month (if you're using a salt system) when they run out. Occasionally, a softener may need to replace its water softener resin.
What Does a Water Softener Remove?
A salt-based water softener removes calcium and magnesium, whereas salt-less softeners don't remove anything. Instead, they change the minerals' form to reduce scale buildup.
Also important to note is that a water softener does not usually remove sediment and other contaminants, such as fluoride or lead, from your water unless it comes with an additional sediment or carbon water filter.
If you also need to remove other contaminants besides hardness-causing minerals, a softener combo system containing a water filter can remove hardness-causing minerals and other harmful contaminants like bacteria, heavy metals, herbicides, pesticides, and more.
Hard Water vs. Soft Water
Water with at least 60 milligrams of hardness-causing minerals in every liter is moderately hard.
In some areas, these mineral levels are far higher than the minimum. For example, they could be as much as 180 milligrams per liter.
Another way to define hard water is by the number of grains per gallon (GPG) of calcium carbonate in the water.
Water with more than 7 grains per gallon (GPG) is considered hard water, whereas between 3.5 and 7 GPG is moderately hard.
On the other hand, soft water has only low levels of minerals — between 0 and 3.5 GPG. This level of hardness is far more desirable for multiple reasons. It can be healthier, feels more pleasant on the skin, and protects your appliances and pipes from limescale buildup.
| Grains/Gallon | mG/L or PPM | Hardness Classification |
| --- | --- | --- |
| Less than 1 | Less than 17.1 | Soft |
| 1-3.5 | 17.1-60 | Slightly Hard |
| 3.5-7 | 60-120 | Moderately Hard |
| 7-10 | 120-180 | Hard |
| Over 10 | Over 180 | Very Hard |
| | 1 GPG = 17.1 mg/L = 17.1 ppm | |
You can learn more about hard water vs. soft water here.
Signs You Have Hard Water
To determine whether you absolutely need a water softener, review the potential signs that your home receives hard water.
These include:
If the water produces residue on dishes, faucets, bathroom fixtures, and any surface that the water touches, including on the bottom of your kettle and coffee maker
A blocked showerhead
Dry skin or even residue on your skin after showering
Leaking or damaged water pipes, plumbing systems, and appliances
Stiff, discolored laundry, maybe with white spots
A drop in water flow
A lack of lather from soap and shampoo
You can also test your water hardness to find precisely what is in your water.
Purchasing a water test kit or stopping by your local hardware store is a good option. That will help you determine if a softener is best or if a combination softener and whole house water filter product would be ideal.
See our guide on water softeners vs. water filters for more information.
Problems with hard water
We discussed some of the main signs of hard water but let's go into detail about why hard water can become problematic. This is especially important to consider if you're still asking yourself if you really need a water softener due to the investment cost associated with them.
1. Pipes and Appliances Can Accumulate Scale and Lose Efficiency
If hard water causes limescale buildup on your pipes or appliances (like a water heater or shower faucet), this can cause leaking, lowered effectiveness, energy waste, a rotten appearance, and the risk of replacement sooner.
2. Can Cause Staining & Less Effective Cleaning Capability
Hard water can cause white spots on your dishes, staining in your toilets, and lower the cleaning capability of your washing machine.
3. Can Cause Skin Irritation
Hard water can contribute to dry skin, itching, and acne and cause dry scalp and other problems with your skin.
4. Water Taste and Clarity Can Become Murky
Although it has been shown that hard water doesn't cause health problems in the body (the minerals can actually be beneficial for you), it can make your water taste metallic and cause a cloudy appearance.
Benefits of Soft Water
If you have hard water, a water softener will provide you with soft water with a large number of benefits.
1. Prevent Limescale Damage
Damage from the residue of hard water can be as severe as internal damage to your plumbing system, which can cause pipes to become clogged or start leaking. A whole-house water softener will prevent the scale and white limestone from leading to this damage.
2. Improve Appliance Efficiency
It requires more energy to heat hard water than softened water. Also, appliances and pipes become less efficient over time as scale accumulates.
Tank water heaters are at exceptionally high risk, as they hold water for hours. Having said that, even a tankless water heater will have a shorter lifespan when they deal with hard water – and they require cleaning twice as often.
3. Avoid Stains
Hard water stains everything it contacts. You may notice discoloration on faucets, sinks, toilet bowls, bathtubs, and showerheads.
Spots may also appear on items you wash, including dishes, glassware, clothing, and even your car. If there is a large amount of iron in your water, the stains may be yellow, orange, pink, or red. When you have a water softener, these stains disappear instantly.
4. Use Less Soap
Removing stains left by hard water is often possible – it just requires a lot of scrubbing and soap. Softened water allows you to avoid this task altogether.
You'll also need less soap for everything from laundry to dishes. That is because soap doesn't lather appropriately with hard water. With softer water, you'll find you can clean much more efficiently.
5. Improve Your Skin and Hair
A healthy balance of minerals in your water can be optimal for your skin and hair, but an abundance of hardness-causing minerals can lead to damage. The minerals strip your body of its natural oils, leaving your skin and hair too clean and, as a result, dry.
Your hair may also be greasy, heavy, and lack natural buoyancy, and your scalp may be dry and flaky. If you dye or highlight your hair, the color will fade sooner. If your hard water also contains a high chlorine level, it may even change your hair color, tinting it green or orange.
Having water without hard minerals is essential for people who suffer from skin conditions like eczema and psoriasis. Once you have a water softener, you'll notice less irritation and be less likely to suffer from razor burns.
6. Soften Your Laundry
Hard water minerals cause clothes and towels to come out of the washing machine stiff and scratchy. As soon as you have a water softener, the texture of your laundry will improve.
7. Enhance the Flavor of Your Cooking
It's not just drinking water with a better taste – softer water impacts the flavors of anything you cook with water. You'll also have better-tasting hot beverages like coffee and tea.
Different Types of Water Softeners
As you will have noticed from the list above, many water softeners exist. There are traditional salt-based systems and newer water softener alternatives.
Salt-Based Softener Systems
Conventional water softening systems use salt. Sometimes, they are called ion exchange softeners after the water-softening process.
The minerals that cause hard water are exchanged for sodium ions from the resin bed in these units. The system traps the hard minerals in the resin and then flushes them out during its regeneration process (the cleaning part of the process).
Salt softeners are highly effective, but the downside is owners have to add new salt every month. The type of water they produce contains added sodium and generates more wastewater.
If you purchase a salt softener for your home and need to purchase water softener salt, we put together a guide on the best water softener salts here.
Also, familiarize yourself with the difference between an upflow vs downflow water softener before purchasing.
Dual Tank Softeners
Some salt-based types of water softeners have a pair of tanks. These are considered dual-tank softeners suitable for commercial settings and homes requiring much water.
With single-tank softener systems, there are times when you'll be unable to receive soft water because the resin in the tank is regenerating.
Usually, this occurs during the night, although it may occur after the system has processed many gallons of water.
With a dual-tank water softener, you'll never run out of soft water. During the regeneration cycle of one tank, the other tank can operate. This feature comes with a higher upfront cost, but you may decide it is worthwhile for homes with high water treatment needs.
Salt-Free Water Softeners
Salt-less softeners are a more modern alternative. Instead of salt, they use a template-assisted crystallization (TAC) process to reshape hard minerals.
Also Check Out: Salt Based Vs. Salt Free Softeners
The process turns minerals causing hard water into crystals that cannot adhere to surfaces. They work to prevent scale buildup instead of specifically removing the hard minerals.
If you know that you only want a salt-free version, check out our best salt-free water softener guide.
Magnetic Water softeners or Descalers

One type of salt-free softener is the magnetic water descaler. Instead of using the TAC (template-assisted crystallization) process, electromagnetism keeps water free from scale.
Although fewer magnetic water softeners are on the market than other water softeners, they are gaining popularity for their simple water softener installation.
Instead of connecting the system to your water source, you coil wires around the water intake plumbing and then plug them into the system.
Like the TAC process, the water descaler's magnetic field turns minerals into larger crystals to prevent limescale accumulation.
See our water descaler vs. softener comparison here for more information.
Combo Softener & Filter Systems
Another softener system includes a water softener or conditioner and a whole-house filter in one unit. These systems are best for people who know they have a water hardness problem, as well as contaminants in their water they want to remove and want to take care of all their water treatment needs in one single unit.
They come in salt- and salt-free versions combined with different styles of whole-house water filters (carbon, reverse osmosis, and others).
Portable Water Softeners
The last common type of softener is a portable water softener for people with RVs, mobile homes, campers, tiny homes, or other places that need soft water where they are away from a traditional home setup.
Typically, these smaller units only soften water for a couple of people and require manual salt regeneration to keep them running smoothly.
One of our recommended portable water softeners is the On The Go Portable Softener.
Average Cost by Softener System Type
| System Type | Average Price |
| --- | --- |
| Salt Free Conditioners | $500-$2500 |
| Single Tank Ion Exchange (Salt Based) | $800-$2,500 |
| Dual Tank Ion Exchange (Salt Based) | $1500+ |
| Electronic Magnetic Descalers | $50-$300 |
| Combo Softener & Filter Systems | $1500-$3000 |
| Portable Ion Exchange (Salt Based) | $150-$400 |
| Commercial Systems | $2000+ |
Salt-Based vs. Salt-Free Softening Systems
Technically, only a salt-based system is a water softener in the most real sense.
Salt Based Water Softeners
Those that use a process other than salt are considered water conditioners.
Water softeners are more popular, so you have many product choices. However, softeners require more maintenance than salt-less conditioners, which are virtually maintenance-free. Salt-based softeners also need to be connected to an electrical outlet, and they waste water during the regeneration cycle.
Salt-Less Water Softener Systems
Water conditioners or salt-less systems allow you to gain soft water's benefits without adding sodium. They also cost less to maintain and usually require no electricity. These characteristics have helped them gain market share, and they are now available from many top manufacturers of water softeners.
However, as calcium and magnesium will still be present in your water with a water conditioner, it is not genuinely soft. If you were to run a test on the water, it would still come back as hard. So although water conditioners are often called softeners, they do not genuinely create softened water.
Suppose you want to minimize the amount of sodium in your diet, be more environmentally friendly, and conduct less water softener maintenance on your system. A salt-free version is a good option if you don't have very hard water.
On the other hand, if you have very hard water and want the most effective softening system that lasts longer, consider a traditional salt softening system.
What to Know About Choosing The Best Water Softener for Well Water
If you have well water, your water will come straight out of the ground instead of being filtered by a municipal water treatment plant.
This means that your water is most likely full of minerals and contaminants. Remember that well water and its minerals are not necessarily harmful and can even benefit you.
The problem occurs when the hardness is too high, and it starts to cause scale formation and other issues in your home. This is when considering a water softener for well water is a good option.
When considering the best water softener for well water with iron, get a water test to determine your hardness level and any other contaminants you're dealing with.
Well water containing a lot of sediment will need a pre-filter. Consider a carbon filter to protect the softening resin if the water has chlorine. In the case of iron, sulfur, or manganese, you may also need a well water filter and softener.
See our review guide to the best water softeners for well water here.
How Does Reverse Osmosis Compare to Water Softeners?
Yes, reverse osmosis filtration will remove minerals from your water, including calcium and magnesium, preventing scale build-up as water softeners do.
Most minerals in water are physically larger than water molecules, so they are trapped by the semi-permeable membrane and removed from drinking water when filtered through RO.
The main reason reverse osmosis is not usually used in place of a water softener for the whole house is because of the efficiency and price of the machine compared to a water softener.
For example, a whole house reverse osmosis machine usually runs in the $4,000 to $10,000 range, while a water softener is around $1,000.
Also, a standard RO unit is usually used just for kitchen drinking water, not the whole house, while a water softener is usually used as a whole house machine.
This is because reverse osmosis takes much longer to filter water and is more wasteful than a water softener.
If you have hard water, we recommend installing a water softener for your whole house at the point of entry. Then if you want to add additional drinking water filtration, combine that with an under-sink reverse osmosis unit or a combo filter and softener unit for the most comprehensive solution.
For more information, see our reverse osmosis vs. water softener comparison.
Are Water Softeners Easy to Install & Maintain?
Provided you have some DIY knowledge, you'll find that most water softener machines are simple enough to install independently.
However, if you're unsure when reading the manual, it's better to call a professional.
All systems are easy to maintain without assistance. At the very most, they require refilling with salt every few weeks or months and changing pre-water filters periodically (between six months and six years, depending on the model).
How to Install & Maintain a Water Softener
See our guides below on installation and maintenance:
How to Choose a Water Softener for Your Home
Let's walk through the basic steps in choosing the correct water softener for your home.
Besides these steps, one other thing to consider is if there are any water softener bans or regulations in your area. This will determine if you can even purchase and install an ion exchange water softener in the first place.
1. Hardness of Your Water
You've already figured out that your water is hard – but you need to know how hard precisely so you can choose the correct grain volume.
A water hardness test will tell you the exact grains per gallon of scale-causing minerals and what contaminants the water contains. That is also useful for knowing if you require a water filter for your drinking water and need a combo system.
You can purchase a professional lab kit online.
Another option is to ask your city for a report (this is not possible if your water comes from a well), check the documents from your home inspection (if you purchased your property recently), or look at a water hardness map for your area.
Phoenix, for example, has an average water hardness level of 14.5 parts per million. With the water in Arizona exceeding hard water standards, it is essential to find the best water softener for Arizona to safeguard your family, appliances, and plumbing.
Another example is Las Vegas. Are you aware of the expensive damage that hard water can cause in your home? Equipping your home with the best water softener for Las Vegas is essential to combat the damaging consequences of hard water in the long term.
With some of the highest hardness levels in America, San Antonio is a mineral-rich oasis. If you live in this area of Texas and don't have the best water softener system for San Antonio installed, your water will likely have hard qualities flowing through the plumbing system.
Below is a general water hardness map of the US to determine what level of hardness your water may be classified under:
2. Determine What Type of System
If you have extremely hard water, you should only consider salt-based systems.
However, if you have moderately hardened water, a system that does not use salt may be just as effective.
In this case, what you choose will come down to personal preference. For example, if you enjoy soft water's slippery feel, you may want a salt-based system. A salt-free system is better if a significant priority is keeping sodium out of your water.
3. Determine the Correct Size of the Water Softener
If you opt for a salt-based water softener, you must pick the right size. As mentioned above, to calculate the precise capacity, you'll first need to know the hardness of your water.
Note: If iron is in your water, add five GPG for every part per million for a better picture of hardness.
Also, you'll need to have an idea of your daily consumption of water. You can find this on your municipal water bill – or assume that each person in your household uses around 80 gallons daily.
Once you know these numbers, multiply grains per gallon by the gallons you use daily. That tells you how many grains per day your system needs to remove.
Finally, it would be best if you considered the regeneration cycle.
Ideally, your water softener will regenerate once a week. Therefore, you need to multiply the above number by seven. That tells you the minimum grain volume of your water softener.
For instance, let's say your water has 8 grains per gallon plus one part per million of iron, and you use 240 gallons of water daily (typical for a family of three).
Here's the sample calculation:
Water with 13 GPG (8+5) x 240 (80 x 3) x 7 = 21,840
You'll need a water softener with a capacity of at least 21,840 grains with a 7-day regeneration cycle.
Make Sure The Type of Water Softener is Legal in Your State
Before purchasing an Ion exchange regenerating water softener, make sure you can use one in your state or city. This is because some areas around the US have banned salt-based softeners due to the wastewater they generate.
These are the states that have some law, policy, or ordinance regarding the use of self-regenerating salt-based water softeners in specific areas:
California
Michigan
Connecticut
Arizona
Texas
Massachusetts
Most of these bans are based on inefficient salt-based softeners, so look into your city and state details for more information.
See our water softener ban informational guide here.
Criteria to Consider When Purchasing a Softener
When searching for what makes the best residential water softeners on the market, our research brought us to the qualities below.
These are the criteria you should be familiar with when making a selection, and they're also what we evaluated each of the best water softeners on.
Salt or Salt-Free
The first thing to consider when selecting your water softener is whether it's a salt-based water softener with a tank or a salt-free water softener (also called a water descaler or conditioner).
The main difference between salt-based softeners and salt-free versions is that salt versions use ion exchange to remove hardness-causing minerals. In contrast, salt-free water softeners change the structure of the minerals so that they cause less scale.
Usually, if you have very hard water (over 7 GPG), choosing a salt-based unit with a tank will be best because they remove hardness-causing minerals and give you better results.
On the other hand, if your water is only somewhat or moderately hard – or if the salt-free system is rated for high GPG – salt-free water softeners are a great choice. Salt-free systems require less maintenance, are more environmentally friendly, and do an excellent job of preventing scale.
Grain Capacity
If you're purchasing a salt-based softener, choose the right-sized grain volume for your salt tank. The higher the grain capacity, the more soft water it can produce.
This is calculated based on the daily water used in your house, water hardness, any iron present, and how long the system goes between regeneration cycles.
You take the total GPG (grains per gallon) hardness of your water, add 5 GPG for each ppm of iron, multiply it by the amount of water used per day (each person uses about 80 gallons per day), and finally multiply that by the number of days between regeneration cycles.
Here's the formula for water that has 8 GPG of hardness, one ppm of iron, and three people in the house with a 7-day regeneration cycle:
13 GPG (8+5) x 240 (80 gallons per day per person x people) x 7 (regeneration cycle)
The minimum grain capacity for the salt tank in this situation should be 21,840 grains to meet the household's needs.
Process Used
This is the process used to soften water or the system's technology. It's important to pick the correct softening process type depending on your water's hardness level.
Harder water will require ion exchange to eliminate hardness-causing minerals. In contrast, moderately hard water can be treated using template-assisted crystallization or another process where minerals are converted into a form that reduces scale accumulation.
The main types of softening technologies are:
Ion Exchange– uses salt to remove hardness ions calcium and magnesium and replaces them with non-hardness ions
Template-assisted crystallization– changes the structure of hardness, causing minerals in water to reduce scale formation
Nucleation-assisted crystallization– changes the structure of hardness, causing minerals in water to reduce scale formation
Flow Rate
The water flow rate is the rate at which water flows through a water softener and into the home's plumbing and appliances for use.
It's important to find a softener that doesn't reduce your home water flow rate too much so that you can get the same amount of water flow before installing a device to soften or filter your water.
Regeneration Method
Suppose you need a salt-based softener that requires regeneration (which is the process where a softener flushes out minerals it catches from hard water so it can continue to soften new water as it moves through). In that case, it's essential to know what type of regeneration method the system uses because there are pros and cons to different types.
The better and more technologically advanced regeneration methods create less wastewater and save you more money over time because they time the regeneration cycles precisely instead of just regenerating on a general schedule.
The main types of regeneration include:
Metered– this method is triggered by water usage. You input your home's water hardness and size, and the system will automatically calculate how much it can soften before it runs out of salt.
Timed– Timed regeneration operates at a specific time each week when you aren't using water. The downside of this programming is that it wastes more salt and water because the softener will regenerate not based on usage but on the specific set time.
Manual– This style requires more hands-on use, where you program your regeneration cycle timings. You have full control, but it also requires some knowledge and tracking of your system and water usage.
Crosslink % & Durability
n the salt-based softener ion exchange process, the resin is the ion-exchange media used to soften the water. This resin usually consists of cross-linked styrene and divinylbenzene (DVB) molecules.
With a higher percentage of crosslinking, the media gets stronger and more durable to where it's able to withstand oxidation and physical damage for a more extended period.
Most softeners contain 8% crosslinks – which is pretty durable – but some even contain 10% crosslinks, which can help improve lifespan. While 10% is ideal, look for at least 8%. The other thing to consider with durability is the kind of warranty the manufacturer offers on their system.
Certifications
If your water softening system contains independent certification, that's another plus.
It's not totally necessary because some of the smaller companies with good products don't have the money to invest in third-party testing. Still, if a unit has been certified by NSF, it gives it an added level of credibility.
In water softening units, you are looking for the ANSI/NSF 44 certification standard specifically for cation-exchange water softeners or water softener systems that conduct the ion exchange process.
It covers things like:
Material safety
Structural integrity
Salt-based water softener salt efficiency
Water usage efficiency
Effective reduction of hard minerals
Warranty
Choose a water-softening system from an accredited manufacturer with good customer feedback to ensure peace of mind and durability on your purchase.
The system should have at least a 2-3 year warranty, but we suggest you buy a product with at least a 5-10 year warranty and, ideally, lifetime.
Read the warranty terms carefully so you know what's covered.
Price Range
Lastly, considering the price of your water softener is always a deciding factor.
Remember that more expensive units may last longer and be less costly over the system's lifetime, so make sure to factor in the lifetime cost and quality of the product.
Water softener costs range from as low as $300 to as high as $3,000. Salt-based systems cost a further $5 to $10 for salt – and are even more expensive if you use potassium instead of sodium.
Other factors that influence price are additional features of the system.
Some water softeners have just the necessary features to soften water and nothing else. Others have extras that could be worth the higher cost.
Brand – When you buy a softener from a well-known brand, you can be sure that you're receiving a reliable system. Top brands include Springwell, Fleck, Quality Water, Aquasana, Pelican, and iSpring.
Ease of maintenance and installation – Decide whether you will put in the time to maintain a salt-based system. Think about your DIY skills. For example, do you care more about an easy water softener installation, or would you instead hire a plumber?
Pre-filter – These water filters will remove some contaminants from your water, but you'll need to pay regularly for replacement water filters.
Bypass valve – Only some softener systems come with a bypass valve. That allows you to bypass the softener when you don't need soft water. It's useful for tasks that don't require soft water, like filling a swimming pool.
Regeneration setting – Regeneration can be preset or on-demand. Softeners with preset regeneration rely on an accurate estimation of water usage. For example, if you underestimate, the system will be inefficient. However, if you overestimate, you'll sometimes receive hard water minerals. Demand-initiated regeneration, in contrast, suffers from neither of these problems. The system monitors when the resin is full of minerals and regenerates automatically.
One-piece or two-piece – Consider a dual-tank system if you have extensive water needs. However, if you have a small household, you'll prevent wasted salt by choosing a single-tank softener.
If the price is a significant issue for you, you can always consider a water softener rental, although we recommend purchasing if you will be in your house for a while to save money in the long run.
Conclusion
After reviewing the best water softeners on the market, we recommend a few choices for the best water softener for your home.
If you are looking for our top recommendation and want a whole-house, salt-based softener, Springwell's SS is your best water softener system choice.
Our runner-up is Quality Water Treatment's SoftPro Elite.
If you want a salt-free version to save on wastewater and maintenance, we recommend Springwell's Futuresoft model.
Remember that a quality whole-house softener is a solid investment in your home, the home's pipes, your health, and your home's appliances – so don't cut corners on quality.