Switching to a tankless water heater offers up to 60% energy savings, continuous hot water, and a longer lifespan of around 20 years. They're compact and require less maintenance.
We've researched and tested to provide a list of the best tankless water heaters, along with a guide to help you choose the right one for your home.
Best Tankless Water Heater Comparison
Product Title
Product Title
Stiebel Eltron Tempra Plus
Max GPM
Max GPM
9.8
2.6
11
4.4
4.0 GPM
7.5
3.2
Efficiency Rating
Efficiency Rating
81%
99%
95%
99%`
99%
81%
N/A
Power
Power
Natural Gas
Electric
Natural Gas
Electricity
Electric
Natural Gas
Propane Gas
Weigth
Weigth
54.8 Pounds
6.5 Pounds
74.1 Pounds
14.8 Pounds
1 Pounds
45.6 Pounds
22 Pounds
Dimensions
Dimensions
17.5 x 13 x 31 inches
3.75 x 8 x 11.5 inches
22.05 x 14.76 x 33.86 inches
18.5 x 14.5 x 3.5 inches
4.63 x 16.63 x 14.5 inches
17.5 x 30 x 13 inches
13.39 x 5.9 x 23.23 inches
Volts
Volts
120 Volts
240 Volts
120 Volts
240 Volts
208 volts
120 Volts
1.5 Volts
Find The Right Section…
Tankless Water Heater Reviews
Review Order
Using our evaluation criteria above we took an in-depth look at each of the instant hot water heaters listed in the comparison chart to give you the most complete tankless water heater reviews guide below.
---
1. Rinnai RL94IN (Top Overall Tankless Water Heater)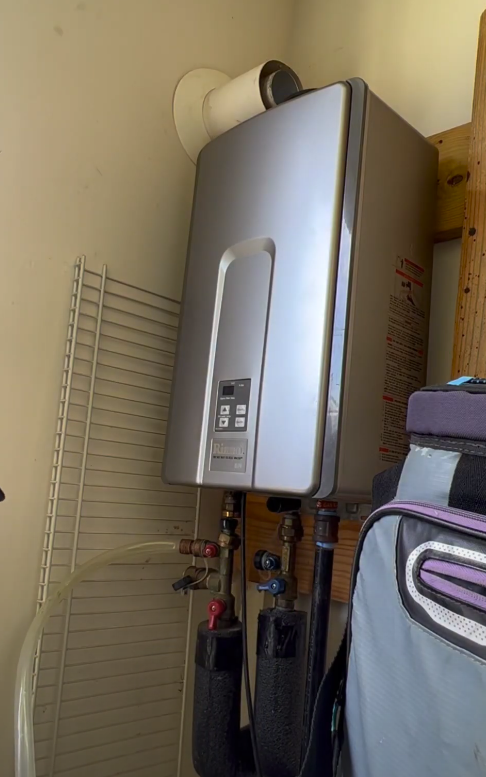 Features and Specs
Fuel type: Natural gas
Flow rate: The RL94IN is one of the highest gallons per minute tankless water heaters at 9.8 GPM.
EF rating: It also maintains an energy efficiency of 81 percent.
Price: The only downside to this model is that you get what you pay for – at $1,373 we certainly understand the sticker shock, and that's not including installation.
The Rinnai RL94iN stands out as a top-tier tankless water heater designed for residential use.
Its sleek design and advanced technology make it a prime choice for homeowners seeking efficiency and reliability.
The unit boasts a commendable flow rate of 9.8 GPM, ensuring that households of various sizes can enjoy uninterrupted hot water supply.
Its energy factor rating of 81% also indicates a balance between performance and energy consumption, making it an environmentally friendly option.
Pros
High flow rate of 9.8 GPM
Efficient energy consumption with a UEF 81%
Natural gas fuel source
Compact design
Renowned brand reputation
Cons
Requires professional installation
Natural gas source
Periodic maintenance is essential
Higher upfront cost
---
2. EcoSmart ECO 11 (Electric Point of Use Tankless Water Heaters)
Specs and Features
Fuel type: Electric
Flow rate: 2.6 GPM.
EF rating: This tankless heater has an EF rating or 99%
Price: At $205, you can't beat the value.
The EcoSmart ECO 11 tankless electric model is a noteworthy contender designed for point-of-use applications. It is particularly suitable for handwashing in cooler climates.
It can also serve a bathroom, small sink, or office breakroom.
In warmer climates, this unit can deliver continuous hot water at a rate of up to 2.6 gallons per minute, which is sufficient for a bathroom shower or kitchen sink.
A standout feature is its digital display, which not only shows the output temperature but also allows adjustments in 1-degree increments.
The compact and durable design of EcoSmart water heaters ensures they are both space-saving and long-lasting.
Pros
Electric-powered
Digital display for precise temperature control
Compact design
99% EF rating
Suitable for both cooler and warmer climates
Lifetime limited warranty
Cons
Might not be suitable for larger households
Requires specific electrical requirements (220V, 60A breaker)
Professional installation recommended
---
3. Rinnai RU199iN (Space Saving Natural Gas Tankless Water Heater)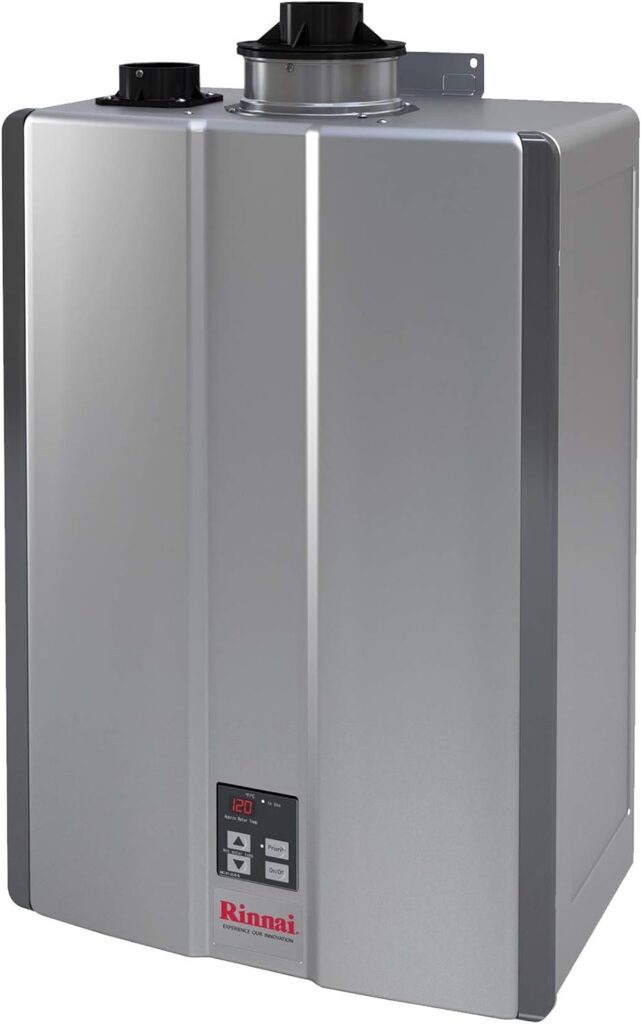 Specs and Features
Fuel type: Natural Gas
Flow rate: This heater boasts a whopping 11 GPM flow rate.
EF rating: This tankless heater has an EF rating of 95%, proving its efficiency.
Price: At a steep price of $1,669, you can rest assured you're getting quality with this price tag.
The RU199iN is a state-of-the-art tankless water heater that offers a blend of efficiency and performance.
Designed for indoor installation, this unit boasts a Uniform Energy Factor (UEF) of 0.95, ensuring optimal energy utilization.
With a BTU range from 15,000 to 199,000, it is capable of catering to varying hot water demands with ease.
The compact design ensures it can fit in tight spaces, making it perfect for modern homes.
The longevity of this unit is commendable, with up to twice the lifespan of most traditional tanks.
Pros
High Uniform Energy Factor (UEF) of 95%
Wide BTU range 15,000 to 199,000
Compact design
Extended lifespan
Reliable brand reputation
Cons
Might not be suitable for larger households
Requires specific electrical requirements (220V, 60A breaker)
Professional installation recommended
---
4. Rheem RTEX-18 (Electric Point of Use Tankless Water Heaters)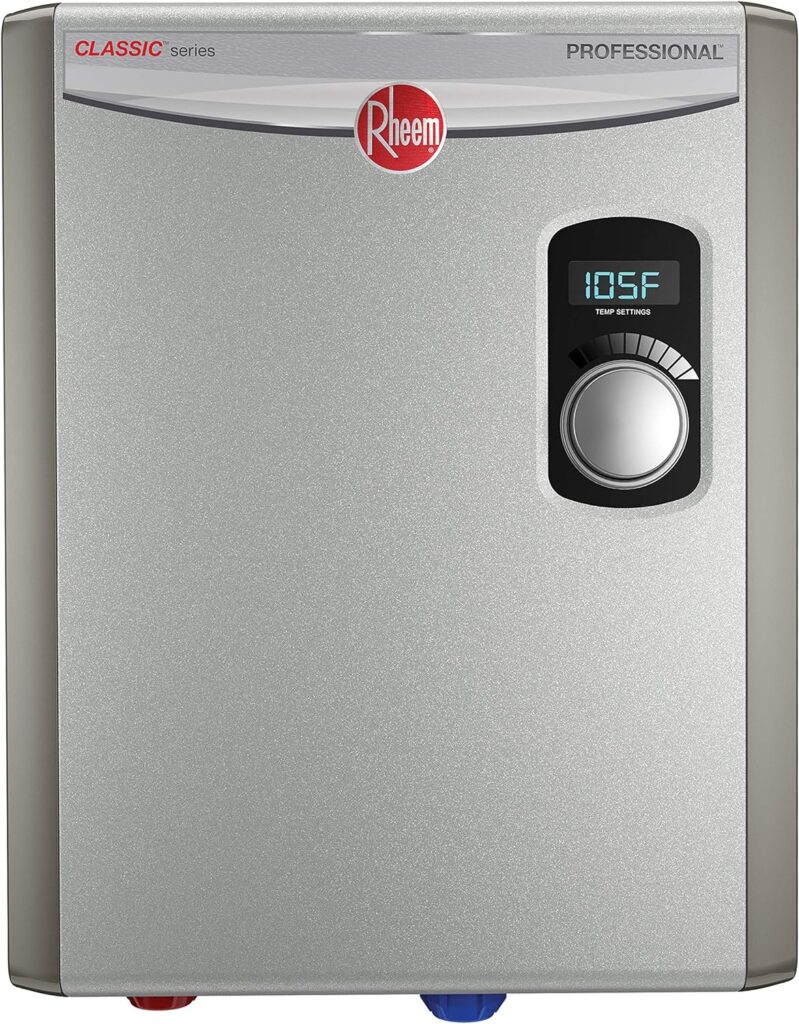 Specs and Features
Fuel type: Electric
Flow rate: Like most water heaters this model's flow rate depends on the temperature rise of the area, and in warmer climates it can reach up to 6 GPM.
EF rating: This tankless heater has a 99.8% EF rating – which is pretty standard among electric units.
Price: At $429, you can rest assured that you're getting a quality product for a good value.
Rheem doesn't just manufacture gas models — it also has the RTEX-18, one of the top electric wall-mounted water heaters.
With external thermostat control, you have great control over the temperature. You can also leave the heater to use its built-in self-modulation. This will adjust the power to heat water to the extent you need it without wasting energy.
The Rheem RTEX-18 is also the quietest tankless water heater unit around — it makes no noise at all. This means you can install it wherever is most convenient in your home without needing to worry about being disturbed.
Features like this are what make the RTEX-18 a top choice for a point-of-use model.
Pros
External thermostat control
Self-modulating technology
Quiet
Excellent efficiency rating
Cons
Low flow rate in colder areas
---
5. Stiebel Eltron Tempra Plus (Electric Tankless Water Heater)
Specs and Features
Fuel type: LPG Propane Gas
Flow rate: The max flow rate of this electric gas tankless heater can reach up to 4.0 GPM from simultaneous fixtures.
EF rating: All Stiebel Eltron electric water heaters have an impressive average EF rating of 99%.
Price: At $653, it's among the middle-range in terms of pricing for units on our top list.
The Stiebel Eltron Tempra 20 Plus is an advanced electric tankless water heater designed for on-demand hot water supply.
With its sleek white design, it offers a space-saving solution, eliminating the need for bulky storage tanks.
Good news, the unit boasts precise temperature control, ensuring consistent hot water according to user preferences.
Its energy-efficient operation means it only consumes power when water is being used. Customers enjoy these potential savings on electricity bills over time.
Overall, the Tempra 20 Plus is a reliable and eco-friendly choice for modern homes seeking an efficient hot water solution.
Pros
Impressive 99% UEF rating
Accurate temperature control, including preset temperature settings
Compact design
Consistent and reliable performance
Cons
Installation costs can be high
Requires a water filter
---
6. Rinnai V75IN (Natural Gas Tankless Water Heater)
Specs and Features
Fuel type: Natural Gas
Flow rate: The flow rate of this natural gas tankless heater can reach up to 7.5 GPM.
EF rating: This tankless heater has an 81% EF rating – which isn't the best amongst the group.
Price: At $740, it's moderately priced for the GPM and EF rating.
The Rinnai V75iN is a high-efficiency natural gas tankless water heater that perfectly blends efficiency, comfort, and value.
Designed with small to medium homes or remodels in mind, this compact and easy-to-install unit is a reliable choice for indoor installations.
Rinnai is known for its commitment to quality, and this product is no exception.
With warranties that surpass many competitors in the market, users can have peace of mind knowing they're investing in a durable and trustworthy product.
Pros
High efficiency with a UEF of 0.81
Compact design
Reliable and easy to install
Extended warranties that outdo many competitors
Long lifespan
Cons
Might not be suitable for larger homes
Requires professional installation
---
7. Ridgeyard LPG (Propane Gas Tankless Water Heaters)
Specs and Features
Fuel type: LPG Propane Gas
Flow rate: The flow rate of this propane gas tankless heater can reach up to 3.2 GPM.
EF rating: This tankless heater doesn't have an EF rating – which is one of the downsides.
Price: At $109, it's a high-functioning, low-cost option.
The Ridgeyard 3.2GPM LPG propane tankless heater stands as a testament to efficiency and convenience in the realm of water heating solutions.
Designed to deliver instant and continuous hot water, this unit ensures that households never face the inconvenience of cold showers or waiting for hot water.
Its high thermal efficiency ensures optimal fuel utilization, making it both environmentally friendly and cost-effective.
The compact design offers flexibility, allowing for both indoor and outdoor installations.
With its competitive price point, it offers a blend of value and performance that is hard to match.
Pros
Instant and endless hot water supply
Energy-saving design
Suitable for both indoor and outdoor use
High thermal efficiency
Cons
EF rating not specified
Lacks some of the advanced features found in more expensive models
---
Factors to Consider Before Buying a Tankless Water Heater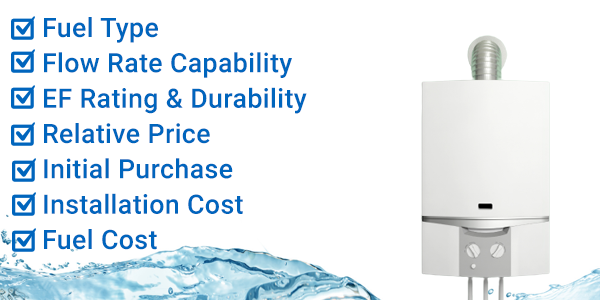 There are several different factors and brands that influence how tankless hot water heaters perform and whether the unit will be a good fit for your home.
These are the main things you should look at in products to ensure you get the best tankless heater:
Fuel Type
Tankless water heaters, much like their tanked counterparts, are fueled by one of three energy sources:
Electricity
Natural gas
Liquid propane (LP)
This fuel powers a heat-exchanger in gas units, or a heating element in electric models.
When deciding what fuel type you want to use for your heater, you should be aware of the advantages and disadvantages associated with each type of system.
Electric-powered heaters are very high efficiency, don't require ventilation, and are more compact than gas units. They may be cheaper depending on where you live, but they don't have as high of output and are ill-suited to cold climates.
Gas-powered heaters, on the other hand, can work well in any environment and have a higher output, but they are less efficient than electric heaters and require specialized ventilation.
LP heaters are similar to gas, but you'll use one gallon of LP for every 3-4 gallons of gas, and they also burn cleaner with fewer emissions.
Flow Rate Capability
Flow is measured in gallons per minute (GPM), and the flow rate of your tankless water heater is going to depend on both the specifications of your heater as well as where you're living.
In general, an apartment or condo with one bathroom will need an automatic, instantaneous heater with about 3.0 GPM, whereas a small house of less than 1,000 square feet will need 4.0 GPM. An average-size home (between 1,000 and 1,600 square feet) with two bathrooms will need a residential tankless water heater with a GPM of around 7.5.
A large house of more than 1,600 square feet with three or more bathrooms will need a high-flow tankless water heater with a GPM of close to 10 — or maybe even more.
All in all, the best tankless water heater for your home is going to be one that meets the GPM requirements of your home.
EF Rating & Durability
The energy factor (EF) rating indicates the amount of hot water that the heater produces per unit of fuel consumed – or its efficiency.
A water heater with a high EF rating is going to use less fuel to achieve the same water temperature. Water heaters that are ENERGY STAR certified maximize efficiency to save as much energy as possible, saving you money. Many energy companies give rebates for ENERGY STAR water heaters, so be sure to check if your tankless heater qualifies.
As for their durability, gas tankless heaters last longer than electrical models by design. The heating element in an electric heater will usually last 7-10 years on average, while a gas heater will last up to 20 years. This discrepancy in durability is another reason to consider a LP water heater if your home is only wired for electricity.
Relative Price
Unlike other appliance purchases, determining how much a tankless water heater is going to cost you is multifaceted. You have the initial purchase, the cost of installation, and the cost of fuel – which can be very area-specific.
Initial Purchase
The cost of the unit itself is going to depend first and foremost on the fuel type. Electric tankless heaters are automatically cheaper than their gas counterparts, but the price of a gas tankless heater depends on whether it is condensing or non-condensing.
Condensing water heaters do not need a fancy ventilation system but cost more upfront, while non-condensing water heaters are cheaper but require proper ventilation.
Installation Cost
Electric water heaters also have the edge on installation. Even though it still requires a plumber, unless you need to upgrade your breaker amperage installation should be relatively straightforward.
Gas home systems, unfortunately, don't always have the necessary ventilation system already in place. This means that in addition to a base install that is more expensive, you'll likely have to pay for the ventilation as well.
The other thing to consider is the cost to uninstall your current water heater tank if you're making the switch to tankless in your existing home.
Fuel Cost
In some areas, electricity is more expensive than gas, but in other areas the reverse is true. LP is usually slightly more expensive than natural gas, however, LP is also more efficient so you recoup the costs on the backside. No matter what fuel source you use, a more efficient water heater will reduce your fuel costs.
How to Select the Right Size and Type of Tankless Water Heaters for Your Home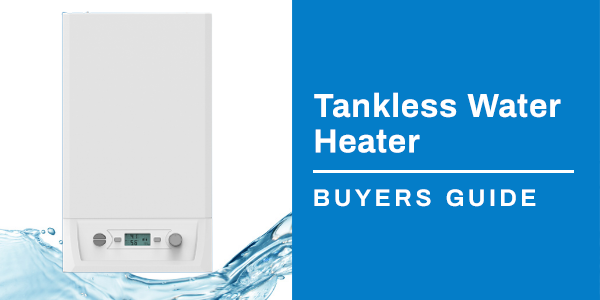 It can be hard to figure out which model is best for your home just from reading the comparison chart.
You probably still have questions like what exactly is temperature rise, and is installing indoor or outdoor better?
In order to select the proper size and type of tankless water heater for your home, you need to know a bit more about some of their specifications.
Below, we will walk you through how a tankless water heater works to help determine what size and type of heater is best for your needs.
1. Hot Water Temperature Rise Capability of the Tankless Water Heater
The temperature rise refers to the number of degrees your water must be heated to achieve the temperature you desire.
This depends on two factors: your local water supply and your preference for the max temperature.
In the warmest regions of the country, the local water supply can be as high as 77 degrees Fahrenheit. In the north of the U.S., though, it can be as low as just 35 degrees Fahrenheit.
This temperature can also have an impact on how long it takes for your water heater to heat up.
This US groundwater map below will show you your expected local water supply temperature.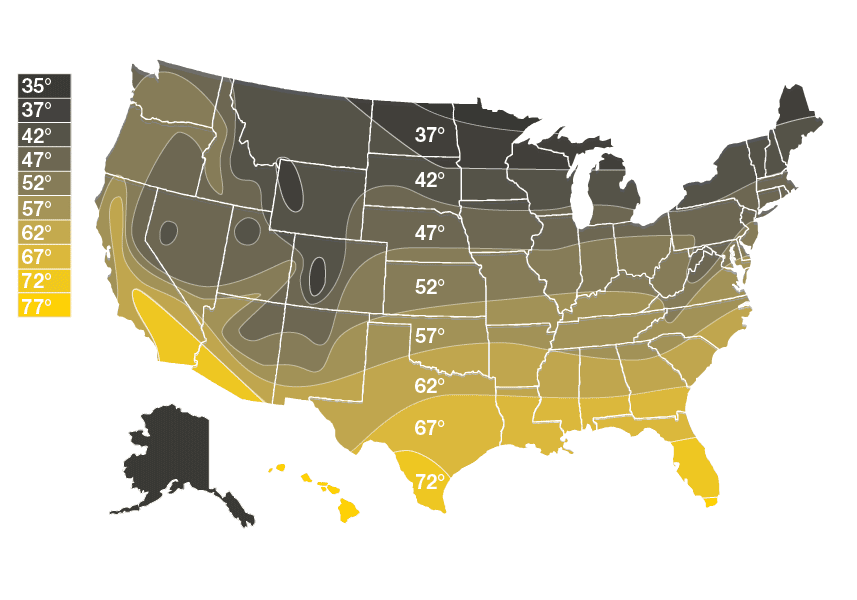 To figure out the temperature rise you require, you need to consider the ideal temperature for different appliances. A shower is most comfortable at between 102 and 105 degrees Fahrenheit, whereas you may like to have the kitchen sink slightly hotter still – at as much as 110 degrees Fahrenheit.
2. Choosing Between Gas and Electric On-Demand Water Heaters
If you do have the option for either a gas or electric tankless water heater, you'll need to know the pros and cons of each in a little more detail.
Do You Want Whole House or Point of Use From Your Tankless Water Heater?
Gas will usually provide you with the best whole-house option. The higher GPM of gas tankless boilers means they are better able to provide hot water to multiple appliances at once.
On the other hand, if you're looking for a point-of-use heater, such as one for your shower water or for a hot tub, electric will be sufficient. Similarly, electric is fine for small homes with low water heating needs.
Compare Tankless Hot Water Heater Costs
Another advantage of gas is that the operating costs tend to be much lower than for electricity (although there is the chance that fuel prices could change in the future). The exception is if you are using solar panels installed on your house.
However, whereas operating costs for gas tend to be lower, upfront expenses are higher. The purchase price and installation costs are almost always more for gas than for electric. The price rises still further if you choose an indoor hot water system, as it will require ventilation.
This means that although a gas-powered unit will likely provide you with the better value over time, it will be more expensive in the short term. Whether your model is condensing or non-condensing will also impact the cost breakdown.
Non-Condensing Gas Heaters
These are the more traditional gas tankless heaters, where the exhaust gas generated from heating the water is vented away via a flu system. If your current gas ventilation system is not set up appropriately then you will have to spend money during the install to fix it, but the cost of the water heater itself will be less.
Condensing Gas Heaters
A newer technology, these heaters utilize a second heat exchanger that uses the exhaust gas that is generated from the main exchanger to pre-heat the cold water that is coming in. The result is a more efficient system, and a much simpler ventilation requirement.
The two downsides to condensing systems are the initial cost of the unit, and the potential for corrosion due to the gas recycling. You may end up needing to replace parts on a condensing unit sooner, but with the money saved from efficiency you'll probably break even if not come out ahead.
You can see a more detailed breakdown with our tankless water heater cost guide.
What Is More Environmentally Friendly?
Electric heaters are more environmentally friendly than gas heaters, even when compared to gas units with the highest ratings. You can make your electric heater more environmentally friendly still by gaining power from a clean energy source.
In addition, many homeowners find electric heaters more appealing as they do not directly emit CO2. This lack of emissions has the added advantage that less maintenance is necessary to keep the heater safe, as well as being better for the environment. You can check out this article for more information on the environmental benefits of tankless water heaters in general.
3. Power Input BTU of the Tankless Water Heater
The final thing to look at is the BTU rating of the water heater. This is ultimately a measure of how powerful your heater is, because the BTU rating describes how many pounds of water the heater can heat by 1 degree in an hour. A higher BTU means that your water heater will be able to produce hotter water, quicker.
In order to achieve this, you're going to need more fuel. The BTU rating is also a measurement of how much power input – or fuel – you're going to need to power your water heater.
Is bigger always better, then? It all comes back to the size of your home and what your hot water needs are. If you just want to power the shower in your RV, you'll need a much lower BTU rating than if you want a whole-home system for a 4 bed, 3 bath house.
4. Water Heater Flow Rate of the Tankless Water Heater
The flow requirements for your house depend on your fixtures/appliances and how often you use them. Each fixture draws its own GPM, and in order to calculate your house's flow rate you should add up the GPM for each fixture and appliance. These are the general GPM requirements for the most common household uses:
All the above assumes that you have a local groundwater temperature of at least 67 degrees Fahrenheit. If your water temperature is lower than this, you'll need a slightly higher GPM. In such cases, you should either pick a recommended tankless unit that can deliver the power you need or install more than one of the point-of-use heaters named in our guide.
Example Home 1: One Bathroom, Hot Climates
Based on the above criteria, a tankless water heater for an apartment with one bathroom and one kitchen sink, a single shower, and a dishwasher but no washing machine would need to offer 4.0 GPM. Of course, if you decide to run fewer appliances at once, you could manage with a lower GPM.
Next, let's suppose that this home is in a hot location where the incoming water temperature is 75 degrees Fahrenheit. You would only need a temperature rise of 35 degrees Fahrenheit, which allows you to pick freely from any of the models named in our review.
Example Home 2: Two Bathrooms, Average Climates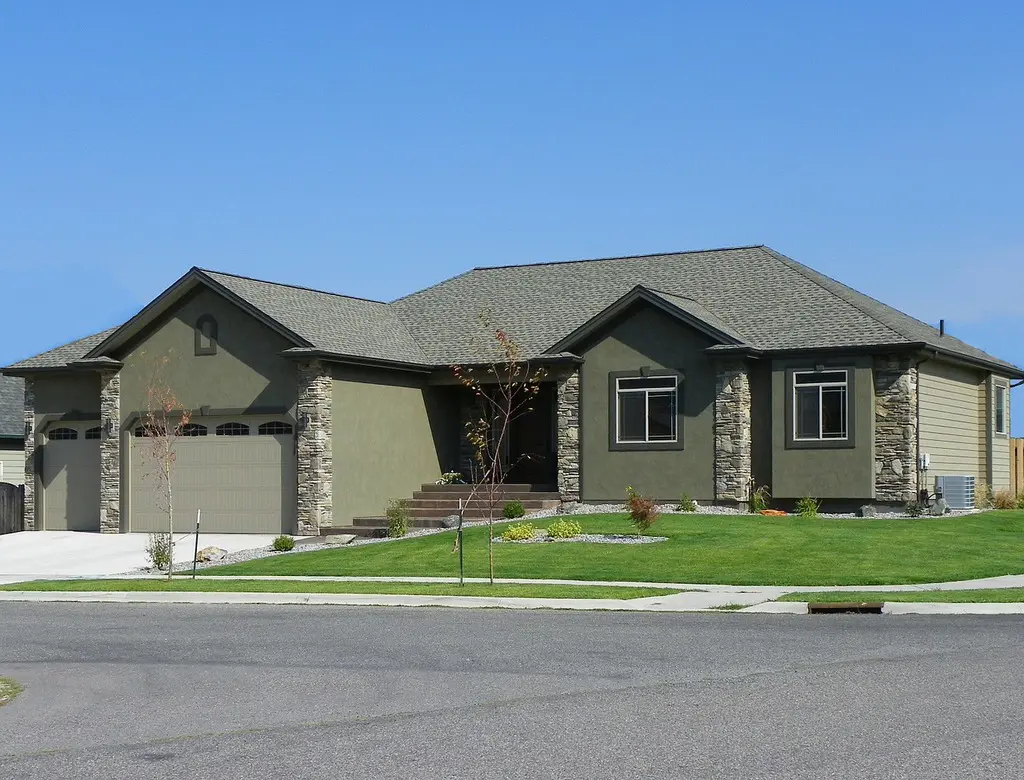 For a second example, let's look at the needs of an average-size home with two bathrooms. Such a house would likely have two bathroom sinks, two showers, one kitchen sink, a dishwasher, and a washing machine.
A tankless water heater for a 2-bathroom house, therefore, would need to offer a GPM of 8.5 to provide all the appliances with water at the same time. However, since it's unlikely that water needs would ever be this high, the house would probably manage fine with 7.5 GPM.
In addition, we need to think about the temperature rise. To provide hot water in an average climate (where the incoming water temperature is around 54 degrees Fahrenheit), the water heater would need a temperature rise of at least 48 degrees Fahrenheit without impacting GPM.
Example Home 3: Three Bathrooms, Cold Climates
Finally, let's consider a large home with four bedrooms, three bathrooms, and an in-law suite. Such a home would likely have three showers, three bathroom sinks, two kitchen sinks, two dishwashers, and two washing machines.
To choose the right GPM, the homeowners would need to think about how many appliances they are likely to use at the same time – and they would probably need a GPM of at least 9.0. For this reason, they should only consider one of the high-powered gas models that is suitable for suburban whole-house use. Alternatively, they could install multiple point-of-use electric heaters.
To manage the cold climate, an instant-on hot water heater would need the highest possible temperature rise. Supposing that the incoming water is 47 degrees Fahrenheit, the heater would need a 60-degrees Fahrenheit temperature rise. This would be extra important to keep receiving close to the maximum GPM, as the GPM a heater is able to supply is lower when it needs to heat water to a greater extent.
So, Which Tankless Water Heater Do We Recommend?
If your current storage tank water heater is nearing its end, consider upgrading to a tankless model that will last longer. Choosing the best tankless water heater for you should account for factors like GPM, temperature rise, budget, and preference between gas or electric.
After thorough research, we strongly recommend the Rinnai RUR98IN model as an efficient and long-lasting solution for your home's water heating needs.