Switching from a traditional water heater to a high-efficiency tankless water heater is one of the smartest decisions you can make for your home.
Not only will you immediately see energy savings of up to 60 percent, but you'll also have continuous, on-demand hot water.
Furthermore, a top-rated tankless water heater lasts around 20 years, compared to a maximum of just 15 years for an electric tank heater, and 12 years for a gas tank heater.
Even the largest tankless units take up far less space and require less maintenance than a water heater with a storage tank.
But what is the best tankless water heater for you and your home?
We have spent countless hours of research, talking to manufacturers & customers, and testing out water heating units to come up with our list of the best tankless water heaters on the market.
Not to mention, we also breakdown exactly what you need to know to pick the correct size and style of heater from our list so that you get the best tankless water heater for your home.
Find The Right Section…
Best Tankless Water Heaters Compared
IMAGE
PRODUCT
FEATURES

9.8 Max GPM

96% Efficiency Rating

Gas Powered

CHECK PRICE

9.8 Max GPM

96% Efficiency Rating

Gas Powered

CHECK PRICE

8.4 Max GPM

82% Efficiency Rating

Gas Powered

CHECK PRICE

9.5 Max GPM

94% Efficiency Rating

Gas Powered

CHECK PRICE

6.6 Max GPM

83% Efficiency Rating

Gas Powered

CHECK PRICE

4.0 Max GPM

99% Efficiency Rating

Electric Powered

CHECK PRICE

4.3 Max GPM

99% Efficiency Rating

Electric Powered

CHECK PRICE

6.6 Max GPM

99% Efficiency Rating

Electric Powered

CHECK PRICE

1.7 Max GPM

98% Efficiency Rating

Electric Powered

CHECK PRICE

3.0 Max GPM

99% Efficiency Rating

Electric Powered

CHECK PRICE
Factors to Consider Before Buying a Tankless Water Heater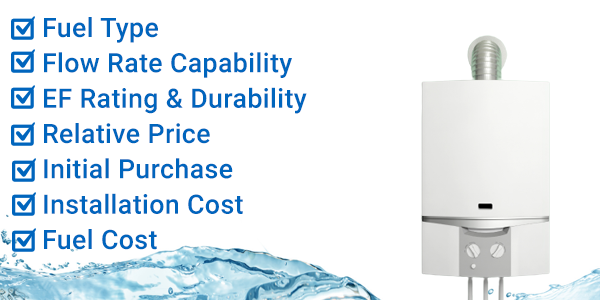 There are several different factors that influence how tankless hot water heaters perform and whether the unit will be a good fit for your home. These are the main things you should look at to ensure you get the best tankless hot water heater:
Fuel Type
Tankless water heaters, much like their tanked counterparts, are fueled by one of three energy sources:
Electricity
Natural gas
Liquid propane (LP)
This fuel powers a heat-exchanger in gas units, or a heating element in electric models.
When deciding what fuel type you want to use for your heater, you should be aware of the advantages and disadvantages associated with each type of system.
Electric-powered heaters are very high efficiency, don't require ventilation, and are more compact than gas units. They may be cheaper depending on where you live, but they don't have as high of output and are ill-suited to cold climates.
Gas-powered heaters, on the other hand, can work well in any environment and have a higher output, but they are less efficient than electric heaters and require specialized ventilation.
LP heaters are similar to gas, but you'll use one gallon of LP for every 3-4 gallons of gas, and they also burn cleaner with fewer emissions.
Flow Rate Capability
Flow is measured in gallons per minute (GPM), and the flow rate of your tankless water heater is going to depend on both the specifications of your heater as well as where you're living.
In general, an apartment or condo with one bathroom will need an automatic, instantaneous water heater with about 3.0 GPM, whereas a small house of less than 1,000 square feet will need 4.0 GPM. An average-size home (between 1,000 and 1,600 square feet) with two bathrooms will need a residential tankless water heater with a GPM of around 7.5.
A large house of more than 1,600 square feet with three or more bathrooms will need a high-flow tankless water heater with a GPM of close to 10 — or maybe even more.
All in all, the best tankless water heater for your home is going to be one that meets the GPM requirements of your home.
EF Rating & Durability
The energy factor (EF) rating indicates the amount of hot water that the heater produces per unit of fuel consumed – or its efficiency.
A water heater with a high EF rating is going to use less fuel to achieve the same water temperature. Water heaters that are ENERGY STAR certified maximize efficiency to save as much energy as possible, saving you money. Many energy companies give rebates for ENERGY STAR water heaters, so be sure to check if your tankless heater qualifies.
As for their durability, gas tankless heaters last longer than electrical models by design. The heating element in an electric heater will usually last 7-10 years on average, while a gas heater will last up to 20 years. This discrepancy in durability is another reason to consider a LP water heater if your home is only wired for electricity.
Relative Price
Unlike other appliance purchases, determining how much a tankless water heater is going to cost you is multifaceted. You have the initial purchase, the cost of installation, and the cost of fuel – which can be very area-specific.
Initial Purchase
The cost of the unit itself is going to depend first and foremost on the fuel type. Electric tankless heaters are automatically cheaper than their gas counterparts, but the price of a gas tankless heater depends on whether it is condensing or non-condensing.
Condensing water heaters do not need a fancy ventilation system but cost more upfront, while non-condensing water heaters are cheaper but require proper ventilation.
Installation Cost
Electric water heaters also have the edge on installation. Even though it still requires a plumber, unless you need to upgrade your breaker amperage installation should be relatively straightforward.
Gas home systems, unfortunately, don't always have the necessary ventilation system already in place. This means that in addition to a base install that is more expensive, you'll likely have to pay for the ventilation as well.
The other thing to consider is the cost to uninstall your current water heater tank if you're making the switch to tankless in your existing home.
Fuel Cost
In some areas, electricity is more expensive than gas, but in other areas the reverse is true. LP is usually slightly more expensive than natural gas, however, LP is also more efficient so you recoup the costs on the backside. No matter what fuel source you use, a more efficient water heater will reduce your fuel costs.
Tankless Water Heater Reviews
Review Order
Using our evaluation criteria above we took an in-depth look at each of the instant hot water heaters listed in the comparison chart to give you the most complete tankless water heater reviews guide below.
1. Rinnai RUR98iN (Top Overall)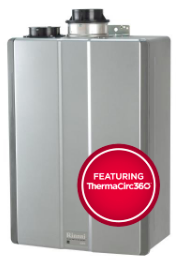 Overall, we rated the Rinnai RUR model #1 because of the super high gallon per minute flow rate which will accommodate any size home.
This is one of the best gas tankless water heaters with a super high energy efficiency of 96 and a high-temperature rise of 60 degrees.
Being gas-powered, this model has a great temperature rise – offering a rise of 60 degrees Fahrenheit. This means it is able to meet the whole-house needs of almost any home, even in cold climates.
Simply put, if you want one of the highest-powered and most efficient gas tankless water heaters that will give you the best hot shower then you can't go wrong with this unit from Rinnai.
Fuel type: Gas (condensing)
Flow rate: Together with the other Rinnai model, the RUR98iN is the highest gallons per minute tankless water heater at 9.8 GPM.
EF rating: Arguably one of the best tankless water heaters of all, it also maintains an energy efficiency of 96 percent. In part, this is due to the dual heat exchangers, which allows the heater to use water condensation as an extra energy source.
Price: The only downside to this model is that you get what you pay for – at $1,915 we certainly understand the sticker shock, and that's not including installation.
Pros
Great efficiency rating – 96% energy factor
High-temperature rise – 60 degrees F
High flow rate (GPM – 9.8)
Condensing unit with dual heat exchanger
Cons
---
2. Rinnai RUC98iN (Indoor)
Another top tankless hot water heater from Rinnai is the RUC indoor model.
Like the RUR98iN, this indoor model is designed for natural gas.
However, there is also a propane and an outdoor, stainless steel version available. Wherever you live, the Rinnai RUC98iN is an ideal tankless water heater.
With a temperature rise of 60 degrees Fahrenheit, you'll receive sufficiently heated water even if your town's hot water supply is quite cold.
This tankless heater also has great energy efficiency, a flow rate of 9.8, and it's a compact sleekly designed unit that's perfect for heating water in big homes.
Fuel type: Gas or LP
Flow rate: This model has the same flow rate (9.8 GPM) as the other Rinnai tankless heater. Plus, although it provides you with a very large amount of water, it takes up a minimal amount of space, especially when compared to a similar-capacity tank model.
EF rating: The average energy factor of this tankless heater is 92%, but it can occasionally spike up to 96%.
Price: Although it is one of the more expensive models at $1500, the RUC98iN deserves to be named as a top 5 gas tankless water heater for its number of advanced features. For instance, it is WiFi-enabled for monitoring and changing settings.
There is also the option of recirculation. This eliminates the need to flush cold water out of the pipes before any hot water can come through the faucet. Finally, unlike some other gas on-demand units, this smart tankless water heater is very quiet, which means having it indoors is no problem.
Pros
Great for any climate including cold climates

Powerful, high flow rate of 9.8 GPM

Suitable for large homes

Compact design
Cons
---
3. Rheem RTG-84XLN (Outdoor)
Another great gas tankless water heater is this model from Rheem.
Reviews of the best gas water heaters rank this model at the top for providing everything you could need in an outdoor model.
For instance, it has a remote control, which allows you to adjust settings without needing to access the heater itself since it's an outdoor model.
It has a high water flow rate of 8.4 and it's priced very reasonably compared to other top models.
We highly recommend taking a look at this heater if you are looking for an outdoor gas unit.
Fuel type: Gas
Flow rate: The Rheem RTG-84XLN is one of the best instant hot water heaters if you want an outdoor model that is affordable and will provide you with high flow rates – up to 8.4 GPM.
EF rating: This water heater also offers a decent energy efficiency of 82 percent and is low-emission, though it's best-suited to warmer climates.
Price: At $800, this is a great budget option that still delivers. The lack of need for ventilation is appealing to many homeowners who want the cost savings of gas water heaters without the hassle and expense of a complicated installation.
Pros
Ideal for average-size homes

Lower cost than other gas models

Remote control

Low emissions

HIgh flow rate- 8.4 GPM
Cons
Mid-efficiency

Only suitable for warm climates
---
4. Rheem RTGH-95XLN (Outdoor)
Another awesome hot water heater from Rheem is this RTGH unit.
It's an outdoor style gas tankless heater with a flow rate of 9.5 and a very energy-efficient heating device.
It's a little more pricey than the RTG model but it comes with higher capacity which makes up for the increase in price.
Fuel type: Gas
With a temperature rise of 35 degrees Fahrenheit and protection from the elements, this gas model is suitable for warm and rainy climates.
Flow rate: This high-capacity tankless water heater offers 9.5 gallons per minute, making it an excellent option for large homes.
EF rating: At 94 percent, it has better efficiency than the other Rheem models. In fact, when you compare tankless water heaters for outdoor use, this insta-heat water heater is right near the top. It's rare to find an outdoor unit with such high energy factor ratings. Plus, it is manufactured by Rheem – a brand known for top quality.
Price: The EF rating along with the greater power does increase this model's price tag to $1,260. The good thing is that it is an outdoor heater, which means there's no need for ventilation on your install.
Pros
Perfect for average-size to large homes

High efficiency for gas

No need for ventilation

High flow rate, 9.5 gallons per minute
Cons
Expensive

Low-temperature rise
---
5. Takagi T-KJr2 IN-NG (Indoor)
A Japanese tankless water heater, this model replaced the discontinued Takagi T-KJr2.
Takagi is a Japanese company that has been in the heating business for a long time and they continue to make quality products.
This heater is best for smaller homes since it has a flow rate of 6.6 gallons per minute and it's much cheaper compared to some of the higher-powered gas tankless water heaters.
Fuel type: Gas or LP
Flow rate: It is ideal if you are looking for slightly lower flow rates of around 6.6 GPM from your tankless water heater, like for smaller homes.
EF rating: This model also has an 81% efficiency rating, which combined with a modest temperature rise makes it a good candidate for warmer climates.
Price: The TK-100U-I is much less expensive than most gas models at $539 but offers close to the same quality. The Japanese brand Takagi is also well-known in the water heater industry for its innovation, something which is apparent with this heater. For example, the heater is designed with maintenance in mind — you can take it apart and access all of the parts with ease.
Pros
Low cost

Easy maintenance
Cons
Lower flow rate/GPM than other gas units

For hot climates only

Mid-efficiency
---
6. Stiebel Eltron Tempra Plus 24 (Best Electric)
This German tankless water heater is the flagship product from Stiebel Eltron.
The Tempra plus 24 is a sleek compact unit that has a decent water flow of 4 gallons per minute and it's extremely energy efficient using electricity.
This European tankless water heater has a slightly higher price tag than some of the other models at $698 – this is likely due to its digital controls and convenient design, which allows it to be a wall-mounted water heater or for it to be hidden out of the way under the sink, behind a furnace, or within a utility closet.
These features combined make the Tempra Plus 24 one of the best tankless water heaters for electricity.
Fuel type: Electric
Flow rate: It has a GPM of 4.0, which is decent for an electric instantaneous water heater but not great. Having said that, one of these heaters is suitable for a small home, whereas two can provide enough power for a larger one.
EF rating: This heater has a reasonably-high temperature rise of 43 degrees Fahrenheit along with 99 percent energy efficiency.
Price: The Stiebel Eltron Tempra Plus 24 consistently comes out on top.
Pros
High efficiency

Digital controls

Great design

Average flow rate of 4 GPM
Cons
Point of use or small home only

Expensive for an electric unit
---
7. Eemax EEM24027 (Electric)
Another great electric water heater from Eemax the EEM24027 is super high efficiency, has a decent flow rate of 5.3, and is pretty powerful for an electric model.
For being reasonably powerful for an electric tankless water heater, this unit is small in size. This allows you to install it wherever you want, including in a closet for a bathroom or under the sink in the kitchen as a point-of-use heater.
It's not going to provide the capacity of hot water that a gas unit would but if you have a smaller place then it's a great green option to consider.
Fuel type: Electric
Flow rate: At 5.3 GPM, this water heater will work best for a small home in a warm climate or as a point-of-use heater.
EF rating: The Eemax EEM24027 can supply enough water to a small home while wasting almost zero energy with its 99% EF rating. Provided that your city water temperature is not too low, you can even run several appliances at once. The heater has self-modulating technology to adjust its energy usage to your demand at any given time.
Price: At $600, this unit is at a middle-of-the-road price point that fits its overall value.
Pros
Excellent efficiency rating

Self-modulating technology

Compact
Cons
Point of use or small home only
---
8. EcoSmart ECO 27 (Electric)
One of the larger insta-hot water heaters in the EcoSmart ECO series, the ECO 27 can function as either a point-of-use heater in an average-size to large home or as a whole-house unit in a small household.
Manufactured by a reputable (although lesser-known) brand, it is one of the most reliable models you'll find.
With a water rate of 6.6, high energy efficiency, and reasonable price for an electric tankless water heater this definitely deserves a look.
Fuel type: Electric
Flow rate: A high GPM of 6.6 and a decent temperature rise of 43 degrees Fahrenheit combine to make this model ideal for small houses in warm areas.
EF rating: This model has an excellent efficiency of 99.8 percent – which is what you would expect from an electric model.
Price: With a price tag of just $450, this is another strong contender to be included as one of the best-rated tankless water heaters in the electric field. You'll also receive a lifetime warranty for the heating elements, provided you have professional installation.
Pros
High GPM for an electric model

Excellent efficiency rating

Lifetime warranty
Cons
Warranty requires professional installation
---
9. Sio Green IR288 (Best Small Point of Use)
This electric water heater makes a great option for an RV or point-of-use need.
In fact, the simple installation means that it could work as a dual-purpose water heater: you can remove it from your RV when not on the road and install it under a sink or next to an appliance.
The only downside with this heater is it has a small flow rate of 1.7 but it's still good for a point of use model.
The Sio Green IR288 is free from metallic elements, which means that there is no risk of corrosion and less potential maintenance down the road. You can simplify maintenance even further by purchasing a water softener — water heater units that are processing hard water will always benefit from a softener.
Fuel type: Electric
Flow rate: The smallest tankless heater on the list, the Sio Green IR288 has a GPM of just 1.7.
EF rating: Despite the low flow rate, this model still has a high energy rating of 98 percent and a good temperature rise of 40 degrees Fahrenheit.
Price: This model is the lowest-priced electric tankless water heater on the list at $368.
Pros
Inexpensive

High efficiency

No risk of corrosion

Ideal for an RV
Cons
Low flow rate with GPM of 1.7
---
10. Rheem RTEX-18 (Electric Point of Use)
Rheem doesn't just manufacture gas models — it also has the RTEX-18, one of the top electric wall-mounted water heaters.
With external thermostat control, you have great control over the temperature. You can also leave the heater to use its built-in self-modulation. This will adjust the power to heat water to the extent you need it without wasting energy.
The Rheem RTEX-18 is also the quietest tankless unit around — it makes no noise at all. This means you can install it wherever is most convenient in your home without needing to worry about being disturbed.
Features like this are what make the RTEX-18 a top choice for a point-of-use model.
Fuel type: Electric
Flow rate: Like most water heaters this model's flow rate depends on the temperature rise of the area, and in warmer climates it can reach up to 6 GPM.
EF rating: This tankless heater has a 99.8% EF rating – which is pretty standard among electric units.
Price: At $429, you can rest assured that you're getting a quality product for a good value.
Pros
External thermostat control

Self-modulating technology

Quiet

Excellent efficiency rating
Cons
Low flow rate in colder areas
---
Other Tankless Water Heater Brands We Reviewed
So far, we have seen the tankless water heater brands Rinnai, Rheem, Takagi, Stiebel Eltron, Eemax, EcoSmart, and Sio Green. However, when drawing up a list of the top 10 models, we also considered several other water heater manufacturers.
Noritz
Noritz is a supplier of premium water heaters for both residential and commercial use. All of the brand's water heaters are tankless and they range from mid efficiency to high efficiency. The most powerful can provide enough hot water demand for at least five bathrooms.
The highest-rated tankless water heater from Noritz is the NRC98-DV-NG. It is praised for its high flow rates and condensing system. Plus, it's an indoor water heater, which means there's no need to worry about finding a secure place to install it outdoors.
Eccotemp
Eccotemp manufacturers gas and electric tankless units as well as mini water heaters, all at a reasonable price. You can purchase the heater alone or with a service kit, with a venting kit, or in a portable bundle. If you're looking for an off-grid tankless unit, Eccotemp is a good choice. For instance, the brand has water heaters designed specifically for use in cabins. All of their heaters stand out for their unique look, and some models are available in black as well as the standard white and gray.
Navien
Navien only produces condensing water heaters with dual stainless steel heat exchanges. This allows for the lowest possible energy consumption and greenhouse gas emissions as well as for the longest possible lifespan. All of their heaters are energy efficient and ENERGY STAR certified, and they come with a 15-year warranty for the heat exchangers.
One of Navien's top models is the NPE240S-NG. This natural gas-powered heater is quiet enough to be anywhere within your house, thanks to intelligent preheating. It's also easy to install and is even field convertible.
Atmor
Producing only electric water heaters, Atmor is one of the most popular manufacturers in the world. The heaters allow you to choose between four different temperature levels according to the season, any of which will provide you with hot water in just 15 seconds.
Atmor is a top choice for an inline tankless water heater. The heaters in its inline series connect straight to your home's main hot water line for use with appliances like low-flow showers.
Bosch
Bosch promises to help you save up to 50 percent on your utility bills by changing from a water heater with a storage tank to one of the brand's tankless versions. All of their water heaters are gas-powered, energy-efficient, whole-house units.
The smallest offers 8.3 GPM along with a 35-degrees fahrenheit temperature rise. The largest is a condensing unit with 12.1 GPM and up to 98 percent efficiency. Every water heater comes with a 15-year warranty on heat exchangers and has a 20-year life expectancy.
Marey
Marey produces gas and electric models, with free shipping for products within the mainland U.S. The gas heaters are available as duct exhaust, force exhaust, or portable, whereas the electric heaters are point-of-use, whole-house, or mini models. All are very affordable, especially considering that they offer mid-range efficiency.
Paloma
Designed for residential or light commercial use, Paloma water heaters are available as both indoor and outdoor units. Their gas heaters feature carbon monoxide safety protection. This means that if the system detects carbon monoxide, it shuts down and shows an error code. Paloma has one energy star tankless water heater: the PHH-32. This is the only condensing model, and it's also Low NOx with a high GPM of 9.5.
Titan
Titan only manufactures tankless water heaters. They currently have eight different products designed for a range of applications. Many of its most powerful are suitable for all climates, including for the northernmost parts of the country. Its top-range models feature a digital control interface for settings and diagnostics.
Richmond
Richmond manufacturers a variety of water heater products including traditional storage tank models. Its gas tankless heaters are either mid-efficiency or condensing, and both types use a self-diagnostic system for improving troubleshooting. Their electric options feature both point-of-use and whole-house water heaters.
The smallest unit has a GPM of up to 0.9, whereas the largest has 8.8 GPM – which is plenty for an average-size home and can even suit a large home, provided that you don't have too high of usage. These more powerful models also have self-modulating power control to heat the water as efficiently as possible.
State
Hot water systems from State come with a 15-year warranty. All of their heaters are gas and can use either natural gas or LP. Another bonus – they are also all either Low NOx or Ultra-Low NOx. The largest of all have a GPM of more than 10, which is more than enough for any home and sufficient for many commercial uses.
Technologically forward-thinking, many of the models feature digital displays and come with remote controls for changing settings without needing to access the heater itself.
How to Select the Right Size and Type of Tankless Water Heater for Your Home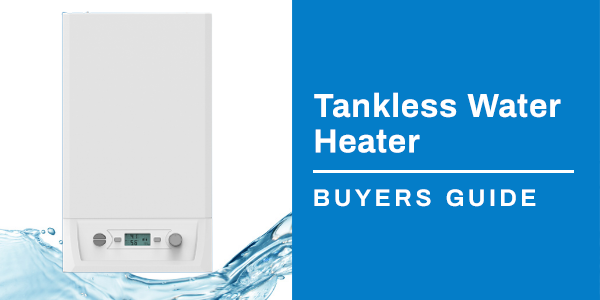 It can be hard to figure out which model is best for your home just from reading the comparison chart.
You probably still have questions like what exactly is temperature rise, and is installing indoor or outdoor better?
In order to select the proper size and type of tankless water heater for your home, you need to know a bit more about some of their specifications.
Below, we will walk you through how a tankless water heater works to help determine what size and type of heater is best for your needs.
1. Temperature Rise Capability
The temperature rise refers to the number of degrees your water must be heated to achieve the temperature you desire.
This depends on two factors: your local water supply and your preference for the max temperature.
In the warmest regions of the country, the local water supply can be as high as 77 degrees Fahrenheit. In the north of the U.S., though, it can be as low as just 35 degrees Fahrenheit.
This temperature can also have an impact on how long it takes for your water heater to heat up.
This US groundwater map below will show you your expected local water supply temperature.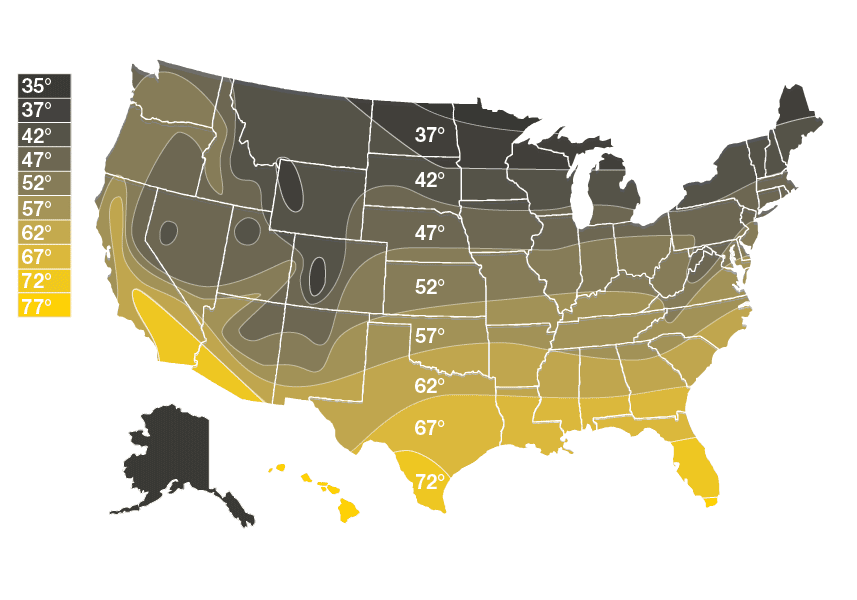 To figure out the temperature rise you require, you need to consider the ideal temperature for different appliances. A shower is most comfortable at between 102 and 105 degrees Fahrenheit, whereas you may like to have the kitchen sink slightly hotter still – at as much as 110 degrees Fahrenheit.
2. Choosing Between Gas and Electric On-Demand Water Heaters
If you do have the option for either a gas or electric tankless water heater, you'll need to know the pros and cons of each in a little more detail.
Do You Want Whole House or Point of Use?
Gas will usually provide you with the best whole-house option. The higher GPM of gas tankless boilers means they are better able to provide hot water to multiple appliances at once.
On the other hand, if you're looking for a point-of-use heater, such as one for your shower water or for a hot tub, electric will be sufficient. Similarly, electric is fine for small homes with low water heating needs.
Compare Tankless Water Heater Costs
Another advantage of gas is that the operating costs tend to be much lower than for electricity (although there is the chance that fuel prices could change in the future). The exception is if you are using solar panels installed on your house.
However, whereas operating costs for gas tend to be lower, upfront expenses are higher. The purchase price and installation costs are almost always more for gas than for electric. The price rises still further if you choose an indoor hot water system, as it will require ventilation.
This means that although a gas-powered unit will likely provide you with the better value over time, it will be more expensive in the short term. Whether your model is condensing or non-condensing will also impact the cost breakdown.
Non-Condensing Gas Heaters
These are the more traditional gas tankless heaters, where the exhaust gas generated from heating the water is vented away via a flu system. If your current gas ventilation system is not set up appropriately then you will have to spend money during the install to fix it, but the cost of the water heater itself will be less.
Condensing Gas Heaters
A newer technology, these heaters utilize a second heat exchanger that uses the exhaust gas that is generated from the main exchanger to pre-heat the cold water that is coming in. The result is a more efficient system, and a much simpler ventilation requirement.
The two downsides to condensing systems are the initial cost of the unit, and the potential for corrosion due to the gas recycling. You may end up needing to replace parts on a condensing unit sooner, but with the money saved from efficiency you'll probably break even if not come out ahead.
You can see a more detailed breakdown with our tankless water heater cost guide.
What Is More Environmentally Friendly?
Electric heaters are more environmentally friendly than gas heaters, even when compared to gas units with the highest ratings. You can make your electric heater more environmentally friendly still by gaining power from a clean energy source.
In addition, many homeowners find electric heaters more appealing as they do not directly emit CO2. This lack of emissions has the added advantage that less maintenance is necessary to keep the heater safe, as well as being better for the environment. You can check out this article for more information on the environmental benefits of tankless water heaters in general.
3. Power Input BTU
The final thing to look at is the BTU rating of the water heater. This is ultimately a measure of how powerful your heater is, because the BTU rating describes how many pounds of water the heater can heat by 1 degree in an hour. A higher BTU means that your water heater will be able to produce hotter water, quicker.
In order to achieve this, you're going to need more fuel. The BTU rating is also a measurement of how much power input – or fuel – you're going to need to power your water heater.
Is bigger always better, then? It all comes back to the size of your home and what your hot water needs are. If you just want to power the shower in your RV, you'll need a much lower BTU rating than if you want a whole-home system for a 4 bed, 3 bath house.
4. Flow Rate
The flow requirements for your house depend on your fixtures/appliances and how often you use them. Each fixture draws its own GPM, and in order to calculate your house's flow rate you should add up the GPM for each fixture and appliance. These are the general GPM requirements for the most common household uses:
All the above assumes that you have a local groundwater temperature of at least 67 degrees Fahrenheit. If your water temperature is lower than this, you'll need a slightly higher GPM. In such cases, you should either pick a recommended tankless unit that can deliver the power you need or install more than one of the point-of-use heaters named in our guide.
Example Home 1: One Bathroom, Hot Climates
Based on the above criteria, a tankless water heater for an apartment with one bathroom and one kitchen sink, a single shower, and a dishwasher but no washing machine would need to offer 4.0 GPM. Of course, if you decide to run fewer appliances at once, you could manage with a lower GPM.
Next, let's suppose that this home is in a hot location where the incoming water temperature is 75 degrees Fahrenheit. You would only need a temperature rise of 35 degrees Fahrenheit, which allows you to pick freely from any of the models named in our review.
Example Home 2: Two Bathrooms, Average Climates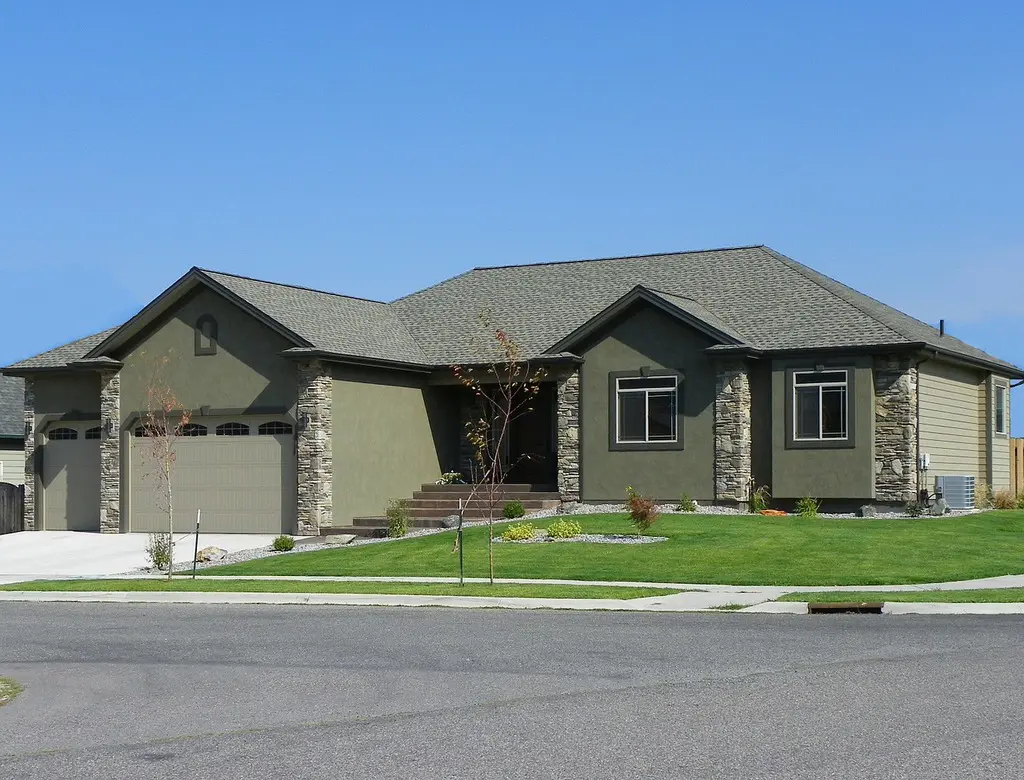 For a second example, let's look at the needs of an average-size home with two bathrooms. Such a house would likely have two bathroom sinks, two showers, one kitchen sink, a dishwasher, and a washing machine.
A tankless water heater for a 2-bathroom house, therefore, would need to offer a GPM of 8.5 to provide all the appliances with water at the same time. However, since it's unlikely that water needs would ever be this high, the house would probably manage fine with 7.5 GPM.
In addition, we need to think about the temperature rise. To provide hot water in an average climate (where the incoming water temperature is around 54 degrees Fahrenheit), the water heater would need a temperature rise of at least 48 degrees Fahrenheit without impacting GPM.
Example Home 3: Three Bathrooms, Cold Climates
Finally, let's consider a large home with four bedrooms, three bathrooms, and an in-law suite. Such a home would likely have three showers, three bathroom sinks, two kitchen sinks, two dishwashers, and two washing machines.
To choose the right GPM, the homeowners would need to think about how many appliances they are likely to use at the same time – and they would probably need a GPM of at least 9.0. For this reason, they should only consider one of the high-powered gas models that is suitable for suburban whole-house use. Alternatively, they could install multiple point-of-use electric heaters.
To manage the cold climate, an instant-on water heater would need the highest possible temperature rise. Supposing that the incoming water is 47 degrees Fahrenheit, the heater would need a 60-degrees Fahrenheit temperature rise. This would be extra important to keep receiving close to the maximum GPM, as the GPM a heater is able to supply is lower when it needs to heat water to a greater extent.
So, Which Tankless Water Heater Do We Recommend?
Whether your storage tank water heater is reaching the end of its life and you want to upgrade to a model that will last longer, or you just want to stop spending so much on your energy bills and see energy savings instead, you need to make the switch to an insta-hot tankless water heater.
As you have seen, the right choice for your home will depend on your unique water heating needs. What you need in terms of GPM and temperature rise, your budget, and whether you would prefer gas or electric are all things to consider. With this in mind, the above reviews and buyers guide will help you find the best tankless water heater.
Having said that, if we had to recommend one whole-house model that would take care of your home water needs – and do it efficiently and powerfully – we would suggest purchasing the Rinnai RUR98IN model.