GE (General Electric) is a well-known name in the home appliance industry. They make everything from washing machines to coffee grinders, and most things home electricals between.
Here, we look at 3 GE water softeners to see which water softener is best and match them against other top softeners on the market. 
Looking for a Salt-Free Option?: Springwell Softpro Elite Salt-Free Softener
Top 3 GE Softeners Comparison table
IMAGE
PRODUCT
FEATURES

Capacity: 30,400 grain

Flow Rate: 7.5 GPM

Limited 1-year entire appliance warranty

CHECK PRICE

Capacity: 40,000 grain

Flow Rate: 9.5 GPM

Limited 1-year entire appliance warranty

CHECK PRICE

Capacity: 45,100 grain

Flow Rate: 9.5 GPM

Limited 1-year entire appliance warranty

CHECK PRICE
GE GXSF30V
The GXSF30V water softener from General Electric is the cheapest unit in our reviews, although it still includes features such as GE's SmartSoft Technology and demand initiated regeneration.
The GXSF30V is designed to provide soft water to a small household – up to 3 people. With a maximum flow rate of 7.5GPM, this model will struggle to provide satisfactory flow to more than one bathroom.
By using demand initiated regeneration, salt and water use are minimised. This means that the unit cost less to operate and the in-built controls allow the user to programme cycle times for convenience.
This softener dues includes a filter on the supply side which helps to extend the unit's lifespan, but it is ineffective at protecting the home from contaminants.
Pros
Budget cost

Small unit is easy to conceal
Cons
Low flow rate

Poor quality filter included
---
GE GXSH40V
The GE GXSH40V is ideally sized for small-medium households, solving hard water problems for 1-4 users.
This GE softener has their SmartSoft technology which allows the softener to recognize and learn usage patterns in the home, ensuring that the demand for soft water can always be met when it is needed. This feature also saves money on running costs – using less water by performing the regeneration cycle less often.
With a salt capacity of 230 lbs the softener does not need to be refilled as often as some other models and the manufacturer offers a 1 year warranty on the entire appliance, in addition to a warranty of 3 years on the electric monitor and 10 years on the resin tank.
Pros
Programmable operation

Learns usage patterns to reduce running costs

Easy to use controls
Cons
In-built filters reported as poor quality

Whole house installation may require professional help

Fitting instructions not clear
---
GE GXSH45V
Very similar to the GXSH40V, the GE GXSH45V is a salt-based softener from the same range and designed to serve larger family homes of 4-6 people.
With the same 9.5 GPM flow rate as the next model down, this GE water softener also incorporates SmartSoft Technology to predict usage. This helps you use less water and save on running costs.
With a 45,100 grain for hardness removal, the GXSH45V has the largest capacity of our GE reviews. It can be programmed to operate at the most convenient times for the household to ensure that the regeneration cycle within the water softening process doesn't interfere with soft water demand.
This GE water softener also has a 230 lbs salt capacity and a 1 year warranty on the entire appliance,as well as a 3 year warranty on the electric monitor and 10 years on the resin tank.
Pros
Flow rate allows multiple outlets to be used at once

High grain capacity

Water saving features
Cons
Most expensive option in our reviews

Salt-based softeners cost more to run than salt-free units
---
A Brief History Of General Electric And Their Soft Water System Units
With Thomas Edison as one of GE's founding fathers almost 150 years ago, it is no surprise that the company has developed a strong track record for innovation and operating in new markets even to this day.
From home appliances, jet engines and radio to medical technologies and computing, GE has always been able to deploy their best egoneers to come up with solutions aimed at moving the world forward.
With a wide range of household appliances already on the market, it was little surprise to see GE leverage their reputation and expertise in home appliances to move into the water softener market with a range of products aimed at eliminating hard water in the home just a few years ago.
Features Of GE Water Softener
As you'd expect from such an established name, the GE softener units include a wide range of features.
From the SmartSoft water-saving software included with all of the models in our reviews to the Custom Select blending valve which allows the homeowner to adjust the hardness of the water from the unit, GE water softeners are designed to help the user operate the unit easily.
Even small features such as a sloping lid on the salt tank which makes it easier to pour from a bag when refilling and the sediment filters included with all of these models, GE have put careful thought into making their water softening products user-friendly.
Types Of GE Soft Water System Models To Choose From
The GE water softeners in our review are all salt-based and coming from the same range they share many features.
Which water softener is the best will depend on the nature of your home and your water use, as we describe in our review guide.
The best water softener will also be suited to your needs which means that the best water option for your neighbour may not suit you.
We recommend you carry out thorough research before committing to a softener purchase. Most manufacturers have a dedicated customer service team who can advise you on all aspects of their water softeners, from the technical specifications to the warranty.
Are GE Home Water System Units Really Dependable?
There seem to be mixed opinions among buyers as to whether GE water softeners are able to stand the test of time.
It would seem that most customers who have had trouble-free installations are very keen to endorse the products. Equally, there are no shortage of buyers who have had difficulties which have caused them to shy away from GE softeners, recommending alternative models.
Looking at these customer experiences, it shows that the company is relatively new to the softener market. Although GE water softeners have some great features they are still developing their range to achieve reliability.
What Problems Can I Expect While Using GE Water Softener?
Several issues arise often when assessing GE water softener reviews.
The GE water softener design seems to be prone to breaking fixings on the resin tank and although this is often reported upon delivery it suggests a flaw in the design or manufacturing processes.
There are also repeated criticisms that while the hardness removal by a GE water softener is adequate at installation, issues begin to arise after the system has been installed for a short time.
This is indicative of cheap parts within the system or poorly outlined maintenance procedures.
Why We Don't Recommend GE Softeners?
Although they are a tempting buy at a budget price compared to some of the top performing competitors on the water softener market, we don't think that GE makes the best water softeners.
Their inexperience in the water treatment industry shows in some of the less developed aspects of their products. Manufacturers such as Aquasana and Pelican are constantly adding features whilst reducing prices, making them a more appealing option with far better customer service.
We even reviewed GE vs Whirlpool to do a comparison of a couple of the traditional water brands but these companies just aren't innovating and serving their customers to the level that other specialized companies are.
In summary, although the GE water softener brand has promise in the future, you can get more for your money by choosing an alternative.
Best Water Softener Alternatives To GE
Aquasana EQ-1000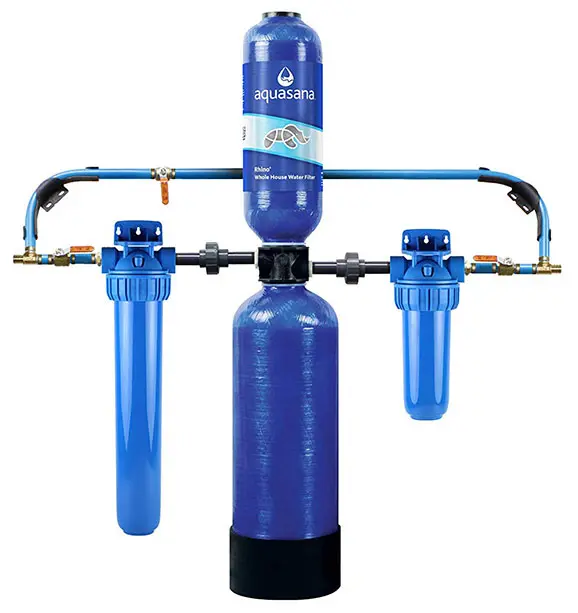 The EQ-1000 is a whole house water filter/softener bundle that operates without salt.
Salt-free softener systems need little maintenance. They operate without a backflushing cycle, which lowers the cost of running the system and they do not require the ongoing cost of refilling the tank with salt.
The EQ-1000 is easy to fit without the help of a plumber and Aquasana offers a range of add-on accessories such as water conditioners and UV filters, to ensure that their system can provide high-quality water to any supply.
Salt-free softener systems require very little maintenance. They operate without a backflushing cycle, which reduces the cost of operating the system in addition to the fact that they do not require the ongoing expense and inconvenience of regularly refilling the brine tank with salt.
---
Soft Pro Elite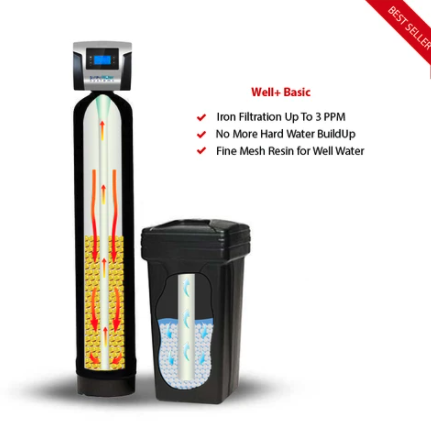 The Soft Pro Elite is a combined filter and salt-based softener unit, ideally suited to homes that have their water supplied from a well or borehole.
The system can filter up to 3ppm of iron in addition to treating the incoming hard water. The Soft Pro Elite filter and water softener also features a 4" backlit display for ease of use as well as being backed by a lifetime manufacturer's warranty.
An Automatic System Refresh purges stagnant water from the salt reservoir every 7 days to eliminate bacteria growth within the softener plant.
The Soft Pro Elite is also available with a range of optional extras, including different types of water filtration so that it can always be adapted to suit the water supply in any home.
---
Conclusion
It is hard for us to look past the Aquasana EQ-1000 as being the most capable and reliable water softener available on the market.
While it is not the cheapest unit to buy, it will last for years with the correct maintenance and it is likely to outlive many of its cheaper competitors whilst providing great results and happy customers.