If you are tired of cleaning up stubborn limescale on your bathroom fixtures and elsewhere around your home that goes along with a whole bunch of other hard water-related problems, you are smart to want to do something about that.
There are several different ways to go about softening your water but there is only one best way to almost completely remove the presence of hard water minerals from coming out of your home's taps. That's by installing a salt-based water softener.
Some of the best of these water treatment devices are those made by a reputable water treatment device manufacturer called Springwell.
That's why I thought it would be a great idea to take a closer look at the company's SS Series Water Softeners in more detail, so you can decide if they may be the right choice to solve any hard water issues that you are experiencing.
Springwell SS Series Water Softener features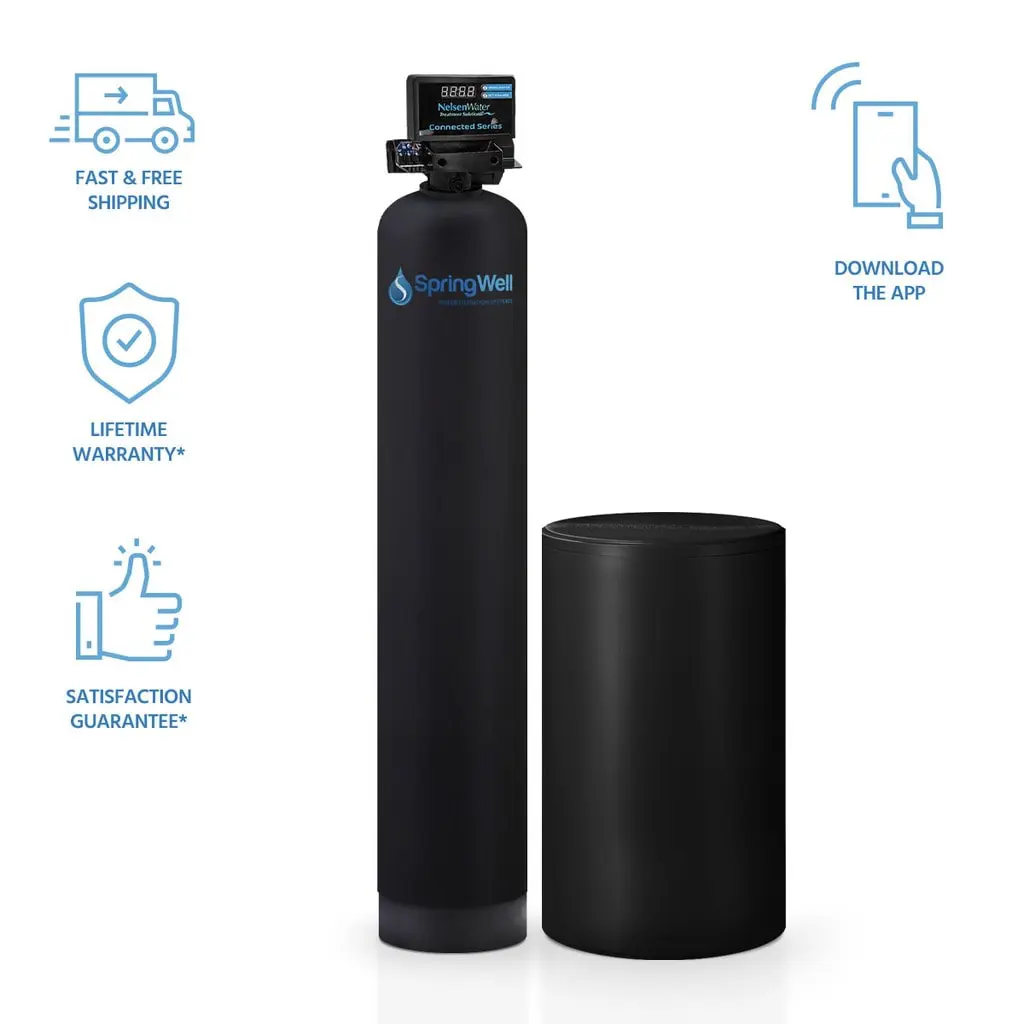 Here is what I like best about the SS line of Springwell water softening devices:
Impactful Hard Water Mineral Removal
Salt-free water softeners only condition your water so it can no longer form limescale on bathroom and other surfaces that it comes into contact with, they do not remove hard water-causing minerals.
Just the opposite is true for salt-based Springwell SS Series Water Softeners because they will eliminate up to 99.6% of the hard water-causing minerals that pass through them.
That is water softening efficiency at its finest. They can do this because of the ion exchange process that takes place in their water softening main resin tanks.

In these tanks, they have resin beads that are coated by a salt solution that comes from their brine tank (see below).
Once hard water-related minerals enter the main tank with the resin beads. Their stronger positively charged ions replace the less positively charged salt ions and this almost completely removes calcium, magnesium, and other hard water minerals.
They are especially helpful when it comes to removing hard water minerals from well water which are often found in high concentrations in that type of water source.
Programmable Control Head
You will read later on that there is some maintenance required with this line of water softening systems just as there is with all salt-based water softeners.
That's why having a programmable control head that eliminates some of the maintenance hassles that go along with saltwater softening is so helpful.
Springwell makes one of the top-performing programmable control heads that are available. They can even be operated remotely by the means of BlueTooth communication.
3 Reputable Models to Choose From/Good Flow Rates
No matter what size home you have, Springwell has a salt-based water softening solution for it. Here are the three different models that they have available and their above-average flow rates:
SS1 – Allows for up to 11 gallons per minute (GPM) which is good enough for homes with 1 to 3 bathrooms.
SS4 – Allows for up to 13 gallons per minute (GPM) which is good enough for homes with 4 to 6 bathrooms.
SS+ – Allows for up to 20 gallons per minute (GPM) which is good enough for homes with 7+ bathrooms.
Many Available Water Enhancing Add-Ons
If you want to take water softening to a much higher level, then Springwell has add-ons available to help you accomplish that. This includes being able to purchase the following:
UV-light disinfection that will alter the DNA of bacteria, viruses, and other microorganisms thus rendering them ineffective at causing illness.
A very good reverse osmosis water filter that will greatly enhance the quality of your drinking water.
Whole house water filters that will improve the aesthetics of your tap water by removing chlorine taste, odor, and smell along with harmful PFOAs, PFASs PFOSs, pesticides, herbicides, and halo acetic acids.
Check Out Springwell's Salt Softener
---
Pros/Cons
Here are the advantages and disadvantages of owning a Springwell SS Series Water Softener:
Pros:
Prevents 99.6% of scale
Helps extend the useful life of water heaters and other appliances
3 models to select from
Ideal for homes with well water
Convenient Bluetooth operated control valve
Only requires backwashing about every 2-weeks
Water treatment add-ons available for purchase
6-month money-back guarantee
Lifetime warranty on valves and tanks
Ships for free
Cons:
High Initial Cost
Produces large amounts of wastewater when backwashing
Requires some periodic maintenance
Takes some space to set up
Removes beneficial calcium & magnesium
DIY installation is not for everyone
Installation
Can you install a Springwell SS Series Water Softener yourself? I believe you can if you have some time on your hands and you have an average or better knowledge of how plumbing connections are put together.
Do I recommend that you install one of these model water softeners yourself? The answer is in most cases no. That's because you have to tap into your home's main water line, add a drain valve, and do some other plumbing too.
Along with installing an electrical line to run the control head if there is not one located nearby where you want to place the system. Not to mention, this all has to be done in the right sequence.
That's why I like to see these water treatment systems professionally installed.
Maintenance
One of the main reasons that many people choose salt-free water softeners over salt-based water softeners such as the Springwell SS Series is because they do involve some periodic maintenance.
Most notably which is adding salt to their brine tanks every 1 or 2 months and backwashing them periodically to clean them and keep them working efficiently.
You will also have to have heavy bags of salt delivered to your home or stop and pick them up at the supply store yourself.
The programmable control head helps ease the maintenance burden somewhat but these are by no means maintenance-free water treatment devices.
How Do They Stack Up Against Competitors?
Almost every single one of Springwells water treatment devices would fall into the category of being elite when compared to other brands of the same types of water filtration products.
This is true for the Springwell SS Series Water Softeners as well. As proof of that, they occupy the number one spot on our list of the best water softeners for well water.
It's my opinion that you can never go wrong purchasing a Springwell water treatment product if you can afford them and Springwell SS Series Water Softeners are no exception.
My Final Thoughts on Springwell SS Series Water Softeners
Simply put, if you are looking for a good salt-based water softener, then you really can't go wrong by purchasing a Springwell SS1, SS4, SS+ model water softener.
They have a very good reputation for being among the best water softeners rated by experienced water treatment professionals such as myself and are very well-reviewed by those that use them.
They can even be combined in a water treatment package that includes one of the best whole-house water filters that's made (A Springwell CF series model).
They are definitely salt-based water softeners worth consideration if that's what you are looking for to eliminate your hard water-related problems.
On the other hand, if you want to check out Springwell's salt-free model or other softener units see our Springwell water softener reviews page.