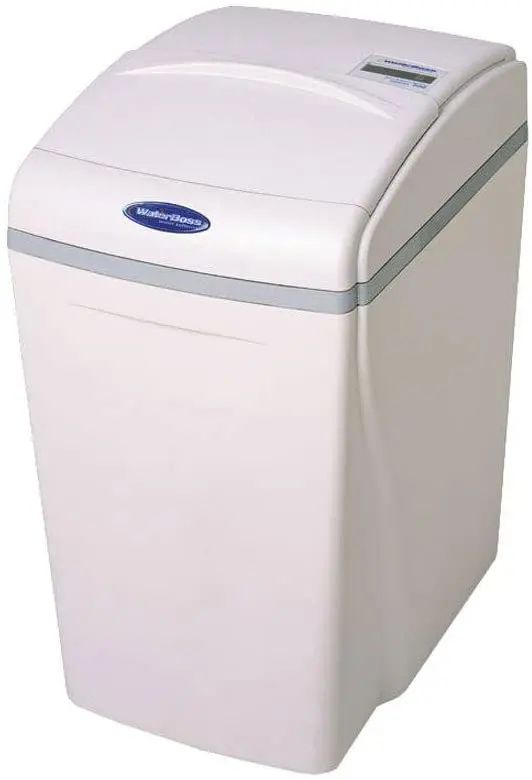 Waterboss 900 water softeners are whole house units with a softening capacity of 36,400 grains. As a product made in the USA, the product's eight gallons per minute flow rate is optimal for a mid-sized family of up to four people.
In this Waterboss 900 review, we will help you decide if the 900 is the right model for you or if another model is better.
Not What You're Looking for? Check out our other top water softener picks!
Overview of the Waterboss Water Softener
When looking at Waterboss Water Softener reviews, the first thing you're going to notice is that they're basic and inexpensive ion exchange water softeners.
While there's a mix of Waterboss Water Softener reviews, most consumers find that the 900 unit works well and is a good investment.
If you want to check out their other similar models see the Waterboss pages below:
The Waterboss Water Softener is a highly efficient water softener that runs quietly and includes built-in iron and sediment filters. This water softener features a computerized on-demand regeneration process that requires between 12 and 16 gallons of water. The regeneration process also requires between two and a half and four pounds of salt.
This system features a 36,400 grain capacity with a softening grain capacity of 90 grains per minute. You can expect the regeneration cycle to last between 17 and 19 minutes, depending on the unit's salt level settings.
Technical Specs:
Dimensions: 15 x 26 x 19 inches
Flow rate: Eight gallons of water per minute (GPM)
Grain capacity: 22,000 grains capacity
Iron removal: 10 ppm (parts per million)
Product weight: 88 pounds
Regeneration salt requirements: 2.5 to 4 pounds of salt
Regeneration water requirements: 12 to 16 gallons of water
Regeneration time: 17 to 19 minutes
Sediment removal: 10 micron
Pros
Its design is ideal for large families.

Because you're running multiple taps at once, there are minimal or no water flow restrictions.

This water filter reduces iron, dirt, and sediment to up to 10 PPM.

It's softening capacity is up to 90 grains per gallon.

The unit features cost-effective pricing.
Cons
This water softener could waste between 800 and 1,200 pounds of salt annually.

The unit needs to use approximately 5,000 gallons of water annually.
---
What to Consider Before Buying
One of the most significant features of the Waterboss 900 unit is that it doesn't require any cartridge changes even though it's a self-cleaning water softener. This water softener effectively removes iron, lead, odors, and sediments from well water and municipal supplies.
With its short regeneration process, you don't have to worry about the Waterboss Softener brand wasting too much salt or water. This system regenerates with 5 pounds of salt every other day.
Problems it Solves for Homeowners
Many homes across the country have a problem with hard water. Installing a WaterBoss 700 Water Softener is your first step toward solving this problem. Because this system installs directly into your home's plumbing system, it ensures that your drinking water and hard water issues are no longer an issue in your house.
Homeowners can install the WaterBoss 900 or Water Boss 700 unit at the water's point of entry. While the Waterboss 900 can soften up to 90 grains, the 700 softens up to 70 grains per gallon. That way, these water softeners can act as a whole house water softening unit. The Waterboss works effectively to reduce debris, dirt, sand, and sediment from your home's well or pipes.
Ideal Customer for the Waterboss Water Softener
The WaterBoss 900 model is ideal for homes with medium to very hard water and need a sediment filter. Small to medium-sized families with up to four people benefit the most from these water softeners. These water softeners are also optimal for water that has a high iron count. This model can clear the water's iron content of up to 10 ppm.
Waterboss Features & Benefits
There are several stand-out features and benefits of the Waterboss 700 and Waterboss 900 Water Softeners. For example, the Water Boss brand features a built-in filter for iron, mineral deposits, and sediments and can soften up to 90 grains per gallon. You'll also find that the customer service is excellent.
Features: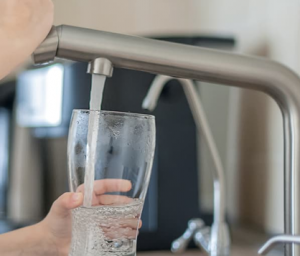 The built-in whole house filter is self-cleaning and works well for hard water issues.
Programmable digital controls with four buttons and an LCD screen
The high-efficiency mode's water usage is up to 50% less salt and nearly 80% less water.
There's a safety shut-off that prevents the resin tank from overflowing.
This model features a packed resin bed allowing for reserve capacity.
Only uses 5 pounds of salt every other day during regeneration.
Benefits:
Compact Design: These softeners feature a single tank design, about the size of a trash compactor, that saves space in basements or garages.
DIY Installation: Most people find that this water softener is easy to install with minimal tools.
Eco-Friendly: The Waterboss 900 model features demand-initiated regeneration cycles. That helps reduce salt and water waste.
Ease of Use: The LCD display makes these ion exchange softeners easy to use.
NSF Certification: The Waterboss 900 and Waterboss 700 model both feature certifications according to the NSF Standard 44 for radium and barium.
Warranty: You'll find that there's a three-year limited warranty on electronics and mechanical parts. There's also a 10-year limited warranty on the outlet cabinet and tank.
Works With Well Water: The Waterboss 700 and Waterboss 900 both can handle iron in water up to 10 ppm.
How These Features Stack Up with Competitors
When comparing Water Boss against its competition, there are several differences. First, competing brands need a separate filter cartridge, and the Waterboss does not. Plus, the Waterboss can install using three steps compared to the five or more steps competing brands need for installation.
Waterboss Water Softener Customer Reviews
You'll find that there are hundreds of customer reviews for the Waterboss Water Softener across the Internet. For example, you'll find customer feedback on Ace Hardware, Amazon, and Home Depot, among many other review sites.
Here's an example of a customer review on Home Depot's website:
"Great system and the manufacturer is very helpful. It doesn't take up a lot of room and is very efficient using little salt. My dad has had one for years. Excellent quality."
Another review on Ace Hardware's website states that, even after six years, the customer feels that the Waterboss 900 is an exceptional product. They indicate that, if something goes wrong, it's easy to replace. They also state that there's a manual containing an easy to understand schematics and troubleshooting guide.
On Amazon, you'll find more than one comment and review about how customers love the compact size of the Waterboss 900 and that they're easy to install. More than one review indicates that customers previously used the Waterboss 700 and recommend that one or the Waterboss 900.
Alternatives to the Waterboss 700 or 900
Choosing a water softener for your house also involves looking at competing models. There are several ion exchange systems available on the market. In this case, we're looking at the Springwell FutureSoft Salt-Free Softener and the Aquasana EQ-1000.
Springwell FutureSoft Salt-Free Softener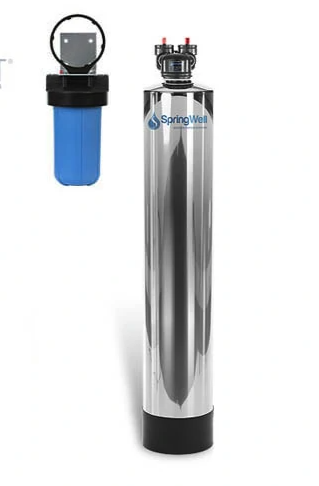 A stand-out feature of the SpringWell Futuresoft Water Softener is that it's salt-free. Consumers love that they can extend the lifespan of their home's appliances while getting soft water. These systems are ideal for families that are looking for salt-free technology that also doesn't require electricity.
See our full review of the Springwell FutureSoft Softener
This system uses Template Assisted Crystallization (TAC) instead of ion exchange methods for removing your water's minerals. During this process, the hardness-causing mineralization converts to a crystal that can't stick to surfaces. That way, no build-up occurs on your home's appliances and pipes.
---
Aquasana EQ 1000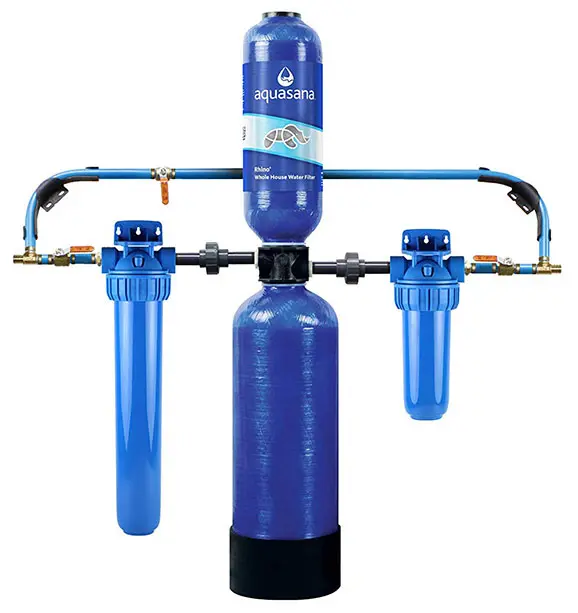 The Aquasana EQ-10 is another salt-free system that doesn't require a brine tank. This softener's stand-out feature is its ability to remove up to 975 of the chlorine taste in your water. It can do this for up to 1,000,000 gallons of water. That means no matter your water usage, this system can handle your water treatment needs.
Another stand-out feature is that you can also add a UV pre-filter sterilizing up to 99% of bacteria, cysts, and viruses. The system's flow rate is seven gallons per minute, and its SMC technology safely and naturally removes the build-up of limescale in your house. This water softener is ideal for removing contaminants and hard water minerals to produce the purest soft water possible.
---
Conclusion
We like the Waterboss 900 as an inexpensive ion exchange water softener because it's an excellent choice for a family that's living in smaller homes who are looking to reduce their water's hardness.
We also love that this system features easy installation, it's easy to use, and it's affordable. Compared to the alternatives, the Waterboss is a good choice but we still think Springwell's FutureSoft is the best option available.
No matter if your water is from a well or municipality, you'll find that the Waterboss 900 can meet your water treatment needs. Families can trust that every tap and water-based appliance in their home receives the water softening treatment it needs. You'll also find that Waterboss has additional filtration solutions that adjust your water's pH or eliminate excess iron.