No matter if it's well water or city water, your home's water can always be at risk for contamination.
We use water to cook, clean, bathe and drink every single day of our lives.
It's also one of the single most important resources we can control that has a big impact on our health.
The problem is, if you don't even know that your water is contaminated with chlorine, lead, disinfection byproducts, or any number of the 300+ contaminants found in city and well water supplies you are setting yourself up for a host of problems.
The good news is, testing your water quality is easy and effective.
Once you know the exact contaminants that are lurking in your water supply you can then determine an effective water treatment plan.
There are several types of kits available, each of which has various features and price points.
In this guide, we have outlined the best water test kits that you can easily use at home to get an accurate reading of how pure your water is.
Find The Right Section…
Top Water Test Kits Compared
IMAGE
PRODUCT
FEATURES

Test Type: Lab Test

Impurities Tested: 200+

Price Range: $$$

CHECK PRICE

#2 National Laboratories Kit

Test Type: Lab Test

Impurities Tested: 75

Price Range: $$$

CHECK PRICE

#3 Quality Water Well Test

Test Type: Lab Test

Impurities Tested: 85

Price Range: $$$

CHECK PRICE

Test Type: Lab Test

Impurities Tested: 200

Price Range: $$$$

CHECK PRICE

#5 JNW Hardness Test Strips

Test Type: Strips

Impurities Tested: 5+ hardness indicators

Price Range: $

CHECK PRICE

#6 Test Assured Water Kit

Test Type: Strips

Impurities Tested: 10

Price Range: $

CHECK PRICE

Test Type: Strips

Impurities Tested: 9

Price Range: $

CHECK PRICE

#8 Hone Forest TDS Tester

Test Type: Digital TDS

Impurities Tested: 3+

Price Range: $

CHECK PRICE

#9 Hach Total Hardness Strips

Test Type: Strips

Impurities Tested: 7+

Price Range: $

CHECK PRICE
Best Water Test Kits Reviewed
Review Order
The consumer marketplace is full of water testing options. These tests feature designs for testing different things, including the water's hardness, contaminants, and overall quality.
However, some of these tests are better than others. Below, we're featuring our eight top picks to test a home's water to ensure it's safe and providing you with healthy hydration.
#1: Tap Score Professional Lab Kit (Best For In-Home Use)
When you need to know if you're having issues with the water in your home, the Tap Score Professional Lab Home Testing Kits are one of the best options around.
While Tap Score is a more expensive drinking water test kit, it produces quality reliable results you can count on.
This kit is a mail-in option where laboratory testing screens for over 100 different contaminants.
Tap Score offers three city water kits, three well water kits, and a bunch of specialized tests for certain contaminants.
It takes approximately ten days for you to receive results. The report quantifies the results of your home's tap water to help you understand your water quality.
A notable benefit of using a Tap Score test kit is that you'll also receive Tap Score support from water experts and engineers in addition to a water quality analysis.
Since Tap Score doesn't have any affiliations with water treatment companies, their support team can provide objective advice for how you can treat your tap water after learning about your water.
Laboratory results also show how much of each compound is in the home's drinking water, as well as any potential health risks. This test kit produces results for over 100 contaminants, including the following:
Arsenic
Bacteria
Chloroform
Lead
Mercury
Nitrates
Pesticides
We highly recommend purchasing a Tap Score Water Test Kit if you want the most accurate and comprehensive water analysis which will help you decide on the correct water treatment plan for your home. The benefit of going with Tap Score is that you can choose the right water test kit for you unique water supply.
Pros
Each water sampling vial has sterilization.
This home water testing kit includes over 100 tests.
Receive lab results within ten days
Includes advice for how to clean water
Return shipping is free.
Cons
These home water test kits are not ideal for the hardest water conditions.
This water quality test can be pricey if you want to test more than one source
---
#2 National Testing Laboratories Water Test Kit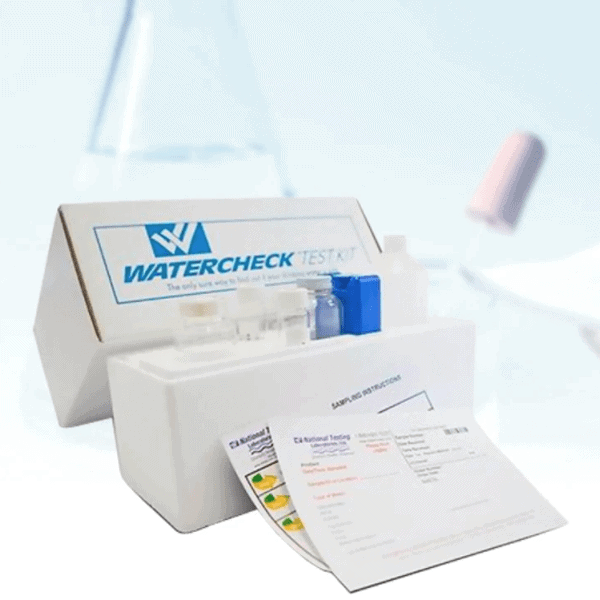 National Testing Laboratories is one of the most recognized labs in the industry.
They offer a comprehensive lab test that includes:
pH, aluminum, barium, cadmium, calcium, copper, iron, silver
Mangesium, manganese, nickel, potassium, silica, sodium, strontium
Zinc, lithium, arsenic, lead, selenium, mercury, uranium, turbidity, hardness
Tannin, total dissolved solids, total coliform, and more
The good thing about their test is that it works for both well water supplies and city water supplies and it's super easy to conduct. Simply order the kit, mail the sample in, and get results within 10-15 days.
This quality water analysis also compares your test results to the national standards as defined by the EPA's primary and secondary drinking water regulations so you will easily be able to tell how your water quality stacks up to the basic recommendations.
Pros
Tests for all the contaminants needed
Compares your results to national standards
Accurate professional lab test
Cons
Expensive
Return shipping not included
---
#3 Quality Water Treatment Well Water Test Kit (Best For Well Water)
The Quality Water Treatment well water test kit is a good kit for testing a well water supply.
It's an accurate and reliable lab test that you send in to Quality Water Treatment.
The Quality Water Treatment Well Water Test Kit is available in three different types: the Lite, Basic, and Standard water test kit.
You receive a water sample collection container to send back for lab analysis. Then, after the test is complete, you'll receive lab analysis results via email.
This water test kit performs the following tests:
Testing for 22 minerals and heavy metals
Seven inorganic chemicals
Five physical elements
Tests the water quality for inorganic chemicals and TDS (total dissolved solids)
Checks the water's pH level
If you want to test your home's water quality for bacteria, you must opt for the Basic Water Test Kit.
That includes an e-Coli and coliform bacteria test, in addition to the other testing featured.
Choosing the Standard Water Test Kit produces the highest level of results. It includes:
E-coli and coliform bacteria testing
22 materials and heavy metals, including arsenic, lead, mercury, and uranium)
Seven inorganic chemicals, including fluoride and nitrates
Five physical elements, including hardness and TDS
Four trihalomethanes
47 volatile organic chemicals, including MTBE, PCE, and TCE
They also offer the option to make payments on the kit if it's too expensive for a one time purchase.
Pros
Tests for 22 heavy metal and mineral water contaminants
Produces results for inorganic chemicals and TDS
Can check for the water pH levels
Basic and standard tests include a bacteria test.
Standard tests include results for volatile organic chemicals and trihalomethanes.
Cons
The packaging makes it difficult to understand which test does what
It's more expensive to test for bacteria and volatile organic chemicals, and trihalomethanes.
Doesn't include return shipping
---
#4 Safe Home Ultimate Test Kit
Out of each water test kit in this review, the Safe Home Ultimate Test Kit is the most expensive. This is because it's a quality lab kit that provides a comprehensive overview.
However, when looking at major retail outlets, this water test kit is also the best selling. Others like the Safe Home water test kit because it delivers value for the money they're paying.
Typically, a home water test kit produces results for between 10 and 50 pollutants. That's one of the main reasons they're not as expensive as the Safe Home Ultimate Test Kit. This home water test kit produces results for up to 200 pollutants. You'll also receive free shipping when returning your samples.
Each premium drinking water test kit includes collection vials to make sending samples back to the lab easier. This drinking water test kit produces results for the following:
130 VOCs
32 toxic metals
20 semi-volatile VOCs
12 contaminants with physical properties
Six inorganic contaminants
Not only does this test kit produce accurate results, but it provides you with actual numbers communicating your home's water issues. You'll receive pre-screen results and lab-confirmed results.
Pros
Test for up to 200 contaminants
Users receive results via email
The test comes with three sample tubes
Easy to use
Can test up to three different water sources
Cons
Does not include microbial results
It takes a long time to receive your results.
Some consumers believe that these home test kits are too pricey
---
#5 JNW Direct Test Strips (Best for Water Hardness Testing)
When looking for the best water test for hard water, JNW Direct Water Test Strips are worth considering. This drinking water test kit features a chart with clear ranging markings for easy reading. JNW Direct Water Test Strips also comes with an easy to read e-book for those who need additional guidance.
Because JNW Direct Test Strips don't test for bacteria, this isn't a good option for those who receive their water from a well. These test strips are an excellent choice for those wondering if your water softener is working correctly or if they need to install one. The package contains 100 strips that produce fast and accurate results.
Another notable feature of JNW Direct Water Total Hardness Test Strips is that they're easy to use. Not only are the results instantly, but they're also reliable. You can begin the process by dipping one of the JNW Direct Water Total Hardness Test Strips into the drinking water or well water sample. Then, compare the test strip with the color-coded chart on the outside of the bottle.
JNW Direct Test Strips produce results for the following:
Alkalinity
Bromine
Chlorine
Hardness
pH
Pros
Contains 150 hardness test strips
Easy to use
The water test kit comes with a detailed e-book.
It isn't required to send away for results.
Receive results nearly instantly.
Cons
The results produce rudimentary information.
Some consumers have difficulty reading the test results.
Others report not seeing any change in their test strips
---
#6 Test Assured Water Analysis Kit (Budget Option)
A water test kit doesn't have to be expensive to produce results. Test Assured makes a drinking water test kit that is not only affordable but also reliable.
Each Test Assured kit comes with ten testing strips to help you determine what contaminants are or are not in your water.
The Test Assured Complete Water Analysis Test Kit allows you to test for ten different contaminants. Each Test Assured package includes an instruction manual and color chart to help you read results easily. Choosing a Test Assured means you can use it as a city or well water test kit.
The Test Assured home water test kits produce fast results unless you are testing for bacteria. Coliform bacteria test results can take up to 48 hours to receive results.
Alkalinity
Bromine
Chlorine
Hardness
pH
Pros
It only takes 30 minutes to receive results.
Covers ten test types
Follows EPA standards
Doesn't require mailing away for results
Made in the USA
Cons
Cannot produce results for fluoride
Some tests produce false-positive results.
Consumers report lead test strips are missing from the package.
This test kit can only test one source of water
---
#7 Health Metric Test Kit
Having clean drinking water is a priority for many, particularly those using well water. Finding a high-quality well water test kit involves understanding what it includes, how it tests the home's water quality, and if it contains enough water test strips.
Health Metric is a simple to use drinking water test kit that produces reliable results.
The Health Metric drinking water quality tester offers step-by-step instructions for how to use this water test kit.
You can test for nine different water issues, including:
pH
Total alkalinity
Copper
Total hardness
Total chlorine
Nitrate
Nitrate
Lead
Bacteria
The Health Metric drinking water test kit is best for a water tester looking for quick results. While most results appear in as little as two minutes, it can take up to 48 hours to receive coliform bacteria test results. When opening the package, you'll find that Health Metric includes a color chart to compare the strip's colors.
Another notable feature of the Health Metric home water test kits is that they meet EPA standards. That feature means results are straightforward and easy to interpret. Because the test strip is sensitive, you must make sure they read the instructions carefully.
Pros
A Health Metric kit can detect the smallest traces of copper and lead.
Covers four test result types
The results deliver almost instantly.
Easy to use
No need to use the mail for results
Cons
Some users inaccuracies in the results
Health Metric only tests for nine pollutants.
A Health Metric kit cannot detect arsenic in the water
---
#8 Hone Forest Water Quality Tester (Best TDS Tester)
Out of each water test kit in this review, the Hone Forest Water Quality Tester is the most affordable. Featuring a three-in-one design and hardness test strips for tap water and well water, the Hone Forest Water Quality Tester includes an electric conductivity meter, a TDS meter, and a temperature meter.
This water tester involves turning on the TDS meter and is easy to use. You just need to remove the cap from the testing end before using it to stir the water sample. Within a few seconds, the test produces results on the LCD screen. For example, the LCD screen lights up if the TDS reading falls below 40. If the TDS reading goes above 40, then the LCD screen turns red. The screen's menu menu also features a large and easy to read display.
These home water tests are also versatile. Meaning, you can use the Hone Forest Water Quality Tester to determine if your RO system works appropriately. This water quality test kit also helps you understand if they need to add fertilizer to your hydroponic system's nutrients tank.
This system is best for anyone who wants to test their bottled water, distilled water, filtered water, refrigerated water, tap water, well water, and more. The water quality tester produces results for the following:
Total dissolved solids
Electrical conductivity
Temperature
Pros
The battery lasts a long time.
Includes an LCD screen
Auto-lock functioning
Receive accurate results fast
Comes with a three-year warranty
Cons
Some consumers report this test kit isn't easy to use
Others report that these water testing kits break easily.
This test is not for bacteria.
Does not test for lead or mercury
---
#9 Hach Total Hardness Strips (Hard Water Testing Option)
It isn't uncommon for you to have difficulties trusting budget options when looking for a premium drinking water test kit.
However, that isn't the case with this water test kit. For a cost-effective price, Hach Total Hardness Strips are an effective way of determining a home's water hardness level.
Typically, hard water occurs when calcium and magnesium ions are present. While potable water does contain divalent and trivalent metals, they're not in high concentrations.
When water is hard, it causes scale in boilers, affects the skin and increases soap consumption. So, determining if this is a problem using Hach Total Hardness Strips is a priority.
Depending on the water's hardness, the test strips change color. These water testing kits feature strips that are optimal for those who want to test their drinking water, industrial process water, pool water, spa water, wastewater, and more.
Alkalinity
Ammonia
Chloride
Chlorine
Hardness
Nitrate
Nitride
Pros
Results produce immediately
Includes 50 total hardness test strips
Budget pricing
Cons
Can only receive water hardness results
Doesn't test for iron or magnesium
Some consumers report test result inaccuracies.
---
Home Water Testing Kit Buyers Guide
If you're searching for the best water test kit for your home water supply it might become a little confusing searching through multiple different kinds of tests to determine which one will actually work for your water situation.
It's important that you get the right water test kit for your unique needs which is where this simple buyers guide will help you become more educated to determine what's best.
In this guide, we go over the different kinds of water tests, how they work, considerations to keep in mind, and answer some common questions.
What Does a Water Test Kit Test For?
The best water test kits are essential for determining concentrations and levels of specific chemicals and contaminants.
Examples of these pollutants include:
Bacteria
Chlorine
Copper
Hardness
Iron
Lead
Nitrate
Pesticides
Viruses
Disinfection byproducts
Much more
Types of Water Test Kits & How They Work
You might be new to water test kits and may not understand how they work or what's available.
Below we have detailed the different kinds of test kits and a simple explanation of how they work.
Lab Test Kits
Professional lab testing kits are the king of water testing. This is because they are the most expensive solution but also the most comprehensive and accurate.
If price isn't an issue, we always recommend people purchase a professional lab-grade test kit to get the most accurate results.
With a lab kit, you simply collect water from your home and send it in to the laboratory.
One of the best things about a lab testing kit is that there are many different options available for what you can test. For example, you can purchase a comprehensive kit which analyzes everything in your water or you can purchase a more specific test that would analyze just water hardness or specific contaminants like lead, chlorine, or iron.
Lab water testing kits have the ability to test for far more contaminants than a cheaper DIY kit.
The only downside of professional lab grade kits is that they are more expensive and take longer to get results. It usually costs around $100-$300 to purchase one of these kits and you usually receive your results from the lab within a couple weeks instead of instantly with some DIY kits.
Test Strips
Using water test strips is one of the most affordable and quickest ways to receive results and peace of mind, but they do come with drawbacks.
The main drawback is some of these tests are not as accurate as others and they don't usually offer the amount of detail that a lab kit can offer.
These tests typically include one single-use test strip. These strips change color according to the different contaminants in the water and the kits come with a color chart to help you understand if your water is contaminated or not.
That means the strips test for the concentration of a specific chemical or pollutant.
Some tests require you to activate the strip. Activating the strip involves dipping the strip into the water sample and swishing it around. Other tests require you to keep the strip underneath a steady stream of water. After waiting for a short period, you can compare the strips to the kit's color chart.
If you just want to test for a few different common contaminants testing strips are a good option but if you are trying to get a comprehensive analysis of your water they can't measure everything at once.
Overall, the benefit is these test strip kits are usually from $10-$50 and you get results instantly but the downside is that they can only measure a few different contaminants and they don't give you the level of detail and quality that a lab test would.
Color Disk Kits
You can find color disk kits available for testing a wide variety of chemicals.
These tests work by adding a few drops or a powder packet to a water sample in reusable test tubes. After that, the test tubes go into a viewing box.
The viewing box contains a plastic disk that includes color gradients. You must rotate that plastic disk until it matches the water sample's color. After comparing the color, the next step is reading the chemical's concentration.
Typically, these water tests occur in several steps and include wait times. Because they have added features, these tests are more expensive and produce fairly accurate results.
The downside of these disk kits is they are usually only used to test for one type of contaminant and not as comprehensive or accurate as a lab test kit.
Hand-Held Digital Devices
Digital water testing devices are another option to consider to get a quick and somewhat accurate reading of your basic water quality.
The most commonly used digital devices to test water quality are TDS or total dissolved solids meter and digital pH readers.
A TDS meter is a good tool to get an overall reading of your water quality. This is because it measures the amount of total dissolved solids or anything organic or inorganic in your water supply that could be causing contamination problems.
Total dissolved solids include both the good dissolved solids like beneficial minerals and the bad dissolved solids like herbicides and pesticides.
You simply stick the TDS meter in your water and it will give you a measure of the quantity of total dissolved solids in your water.
The only downside to using a TDS meter is that it doesn't give you specific readings on the contaminants in your water supply just an overall ballpark estimate. This means it won't be helpful in matching the correct type of filtration device for the contaminants in your water.
The other kind of digital device is a pH reader.
Water pH readers measure how acidic or alkaline your water is which can give you a reading on how contaminated your water is.
Typically, alkaline water with a higher pH contains more beneficial minerals and is a little harder with fewer contaminants and acidic water usually has the potential for more contaminants.
Overall, these types of digital handheld devices are ok for giving you a basic summary of your water quality but they don't give you the accuracy and specificity of using something like a lab testing kit.
DIY Kits vs. Mail-In Lab Kits: Which is Best?
DIY at-home kits and lab testing kits both have their pros and cons.
First, we would always recommend a lab testing kit first if you want the most accurate and comprehensive water analysis possible to help you make the best possible water treatment decision.
Lab testing kits are much more comprehensive and accurate compared to DIY kits. This is because the laboratory takes a sample of your water supply and uses the professional-grade scientific equipment to analyze everything in your water, not just a few contaminants.
These kits are more expensive and take longer to get results but if you want the best quality then opt for a lab test kit.
On the other hand, DIY kits have their use for people who are looking for just a basic picture of their water quality or some peace of mind to rule out a few harmful contaminants.
They aren't as comprehensive and will only cover a few contaminants but they will give you results instantly and cost much less at around $50 compared to $150.
Overall, if the price isn't an issue and you want a more comprehensive analysis then opt for a lab kit and if you want to save some money and are only concerned about a few of the harmful contaminants then opt for a DIY test to get a basic reading of your water.
How to Choose the Right Kit for Your Home
Water source
Before picking out a test, you must determine how water comes into your homes.
Is it coming from a well or city water supply?
Or are you testing pool water or water from a furnace?
You'll notice that water test kits are typically for a specific water source. That way, it can test the most common contaminants from that source.
Make sure to choose a test that is for the water source you're measuring.
Contaminants detected
Many water tests can produce results for various common contaminants, including chlorine, copper, iron, lead, and more.
Other cost-effective water test kits feature results for one or two different pollutants.
Tests producing a broad range of results is the best way to go if you want to determine if a specific contaminant or if several pollutants are in your water.
Make sure the kit you buy is testing for the contaminants you want to cover.
Accuracy
It's critical that the water kit tests you're using produce accurate results.
Most, if not all, water test kits tout that they produce accurate results.
However, the only way you can know for sure is by doing your research and reading consumer reviews about the product.
Price
While many affordable options produce high-level results, it isn't a good idea to choose the cheapest test kit. Otherwise, you might find that it has subpar results.
You might also find that it doesn't test for the contaminants for which you need information.
It also isn't necessary to opt for the most expensive professional water test kit if you don't need it.
Instead, you should choose one that falls within your budget and tests for the contaminants you need.
Water Testing Kit FAQs
Are Home Water Test Kits Accurate?
It really depends which kind of water test you purchase. If you purchase a professional lab test kit that you take a sample at home and mail it in they are very accurate.
If you purchase a water test strip kit that you do yourself at home then they can be pretty accurate for a limited amount of contaminants but not as accurate as a lab test.
What Are The Most Accurate Water Test Kit?
The most accurate water test kits are laboratory test kits. You simply purchase, take a sample of your home water, and mail it in to the lab to get results within a few weeks.
What Are Some Signs That Your Water is Unhealthy?
Some common signs of water contamination are dirty looking water with sediment, water that smells, water that tastes off or has a pungent taste, water that is colored and not clear.
But keep in mind that the only way you can really tell if your water is healthy is to get it tested since most contaminants are not detected by the human eye.
If The City Treatment Plant Tests My Water, Why Should I?
The city water treatment plant is only testing the water for the basic requirements. This means that your water will be safe enough to drink but it may not be pure and as healthy as you need it to be for your health standards.
Often times treatment plants also add disinfection to the water supply so your water may contain disinfection byproducts, chlorine, and other impurities at levels that don't promote optimum health.
How Often Do You Need to Test Water From a Private Well?
It's best to test your well water once a year for common well contaminants such as pH, TDS, nitrates, coliform bacteria, e coli, VOCs, hydrogen sulfide, manganese, lead, copper, iron, arsenic, radium, and many others.
Conclusion
When you need to know what's in your water, or its hardness, picking out the best water test kit is a critical priority.
A lot of the time getting the best lab test kit is a smart choice.
However, other DIY kits produce immediate water quality results and can give you a good reading on common contaminants.
The most important thing before choosing a home water test kit, is selecting the option that fits your water quality and contaminant goals.
Our overall best pick is the Tap Score Lab Testing Kit. It's the best kit on the market if you want a comprehensive analysis of your water.
For those who want to test the hardness of their water, we recommend Hach Total Hardness Strips. If you are looking for the best water quality test kit for wells, we recommend the Quality Water Treatment test kit.