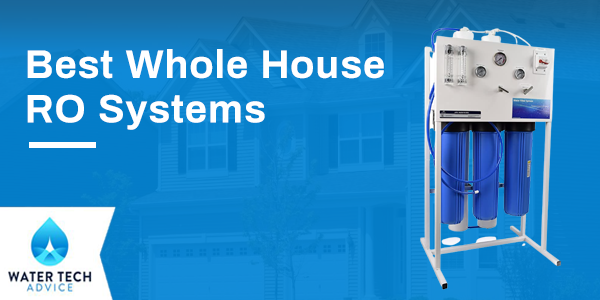 So you've decided that reverse osmosis filtration is going to be the most effective for your house and you're considering a whole house system to filter all your incoming water.
Sure, you could just install a RO unit under your sink, but it's more effective to get a unit that filters all the water in your house or business.
Installing the best whole house reverse osmosis system will give you the purest and cleanest water possible throughout your whole house or business.
The main thing to look for in a whole home RO unit is the efficiency of the model and the flow rate that it enables since regular RO filtration is known for being less efficient than other types of filtration.
Don't worry, we've got you covered.
After countless hours of research, testing, and comparing products we have determined the best whole house reverse osmosis systems on the market for your home or commercial business.
Find The Right Section…
Best Whole House RO Water Systems Compared
IMAGE
PRODUCT
FEATURES
 

Capacity: 2000-8000 GPD

Filter Stages: 3-stage

Waste Water Ratio: 80% efficiency

CHECK PRICE

Capacity: 1.04 GPM

Filter Stages: 3-stage

Waste Water Ratio: 50-75% recovery rate

CHECK PRICE

#3 WECO Hydrosense Commercial

Capacity: 0.34 GPM

Filter Stages: 4-stage

Waste Water Ratio: 50% recovery rate

CHECK PRICE

Capacity: 500 gallons per day

Filter Stages: 5-stage

Waste Water Ratio: 1:1

CHECK PRICE

#5 iSpring RCB3P Commercial

Capacity: 300 gallons per day

Filter Stages: 5-stage

Waste Water Ratio: 1:1

CHECK PRICE

#6 Express Water Commercial

Capacity: 600 gallons per day

Filter Stages: 5-stage

Waste Water Ratio: 3:1

CHECK PRICE
Evaluation Criteria to Consider in a
Whole Home RO System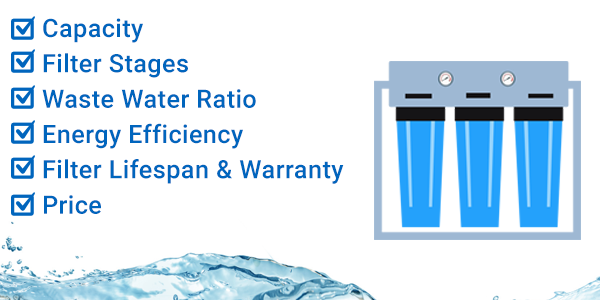 Picking the best option for your first whole house ro water filter system can be overwhelming.
That's especially true if you don't have much experience with water filtering systems. These systems are an excellent solution for reducing harmful contaminants, including aluminum, mercury, chlorine, radium, lead, and more.
You should have specific items on your list of criteria to check when considering a whole house ro system.
For example, hard water might be at the top of your list. But what else should you check when picking the best system?
Here are our suggestions:
Capacity
When picking out a reverse osmosis system, you must consider its capacity. That way, the unit meets you and your family's needs effectively. Because the average American uses between 80 and 100 gallons of water daily, that means you must consider how many people are living in your home before choosing a unit with the correct capacity.
For example, if you have three family members, you'll need to account for four people, including yourself. That translates to an RO system being able to filter at least 400 gallons of water daily.
You can also look at your home's appliances to determine the estimated flow rate and capacity you'll need. Since most whole home RO systems are tankless and provide filtered water on-demand, you'll need to understand the amount of water the unit produces within a specific timeframe. That water production is measured as the unit's GPM (gallons per minute).
Here are some examples:
Bathtubs: 4.0 – 8.0 GPM
Dishwasher: 2.0 – 3.0 GPM
Faucets: 2.5 – 3.0 GPM
Showers: 2.5 – 3.0 GPM
Toilets: 2.2 – 5.0 GPM
Washing machine: 4.0 – 5.0 GPM
Say your home has one bathtub, one dishwasher, three faucets, two showers, two toilets, and one washing machine. Then, your home's estimated water flow rate calculates to 26.9 GPM.
Keep in mind that the capacity listing you see for the RO system's tank size is less than what the tank can actually hold. Our recommendation is to account for at least twice what your estimated home's water usage is—meaning that you'll take the 320 gallons of water, multiply it by two, and receive your estimated tank size.
Filter Stages
Pre-treatment
Depending on the condition of your home's water supply, ensuring pre-treatment is available is critical. Not only does this apply to a whole house reverse osmosis system, but commercial reverse osmosis systems as well. Here are examples of pre-filters we recommend to help your system last longer:
Carbon filter: If there's a backwashing carbon filter, that means your system's filter reduces chemicals, including chlorine.
Softener: Depending on the hardness of your home's water, you'll need a water softener to prevent the system's RO membrane from blocking.
Specialized filters: If your water contains iron, manganese, sulfur, or other common well water problems, you'll need specialized pre-filters.
Pre-treatment typically involves removing larger contaminants and particles, including sand, silt, and rust. The best way to tell which pretreatment filters you need is by completing a water test before picking out a whole house ro system.
Post-treatment
Post-treatment typically involves using calcite filters that work to raise the water's pH level. That way, you don't have to worry about your fixtures or pipes corroding. Increasing the water's pH also improves its taste. We recommend using this type of post-treatment filter because an RO membrane reduces the water's mineral content. That means its pH lowers below seven.
Another post-treatment we recommend is ozonation or ultraviolet disinfection. These post-treatments are particularly beneficial if you don't use your water for several days in a row. If the water stays in the system's storage tank for too long, that can cause microbes to accumulate. These filters render those microbes harmless.
Waste Water Ratio
The system's waste water ratio varies significantly due to the feed water condition, the system's configuration, its operation, and the type of membrane it uses.
Typically, larger systems have recovery rates that are between 40 and 60%. That means that you can expect between four and six gallons of wastewater for every 10 gallons of feed water entering the reverse osmosis system.
We recommend looking at modern models because they're more efficient and waste less water.
For example, you can find systems with a 1:1 wastewater ratio.
Energy Efficiency
One of the things we love the most about whole house reverse osmosis systems is that they reduce energy consumption. Because an RO system uses less energy than a similar water filtration system, they're ideal for people who want to save energy.
Typically, a reverse osmosis system requires at least 35 pounds per square inch (psi) to operate efficiently. You'll find that the majority of city water supplies have excellent water pressure.
However, that pressure drops when passing through a reverse osmosis system significantly. If your water is from a private well, using a pump helps prevent the pressure from dropping too low.
Filter Lifespan & Warranty
Your home's water quality is the deciding factor regarding how long your reverse osmosis system is going to last. Most of the time, the porous membranes need replacing once every two or three years.
Aside from the necessary maintenance, all you have to worry about is ensuring cleaning and sterilizing it occurs annually. Keeping up with those takes helps your whole house reverse osmosis system last between ten and 15 years.
Every manufacturer features separate warranty guidelines. Most offer a limited one-year warranty on the parts, while other higher-end models offer a limited lifetime warranty. However, you might also find some lasting for only 30 days for manufacturer defects.
Price
Pricing for whole-home reverse osmosis units varies considerably.
While operating the unit itself is cost-effective, the initial upfront costs can be significantly higher than other water filtration systems.
For example, you could spend over 3,000 for a whole house reverse osmosis system without the delivery pump, storage tank, or plumbing. Expect each of those things to cost extra.
Our Top Whole Home RO Systems Reviewed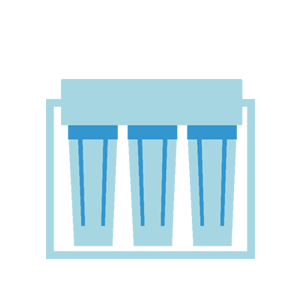 Review Order
#1 US Water Systems Defender (Overall Best Whole House RO System)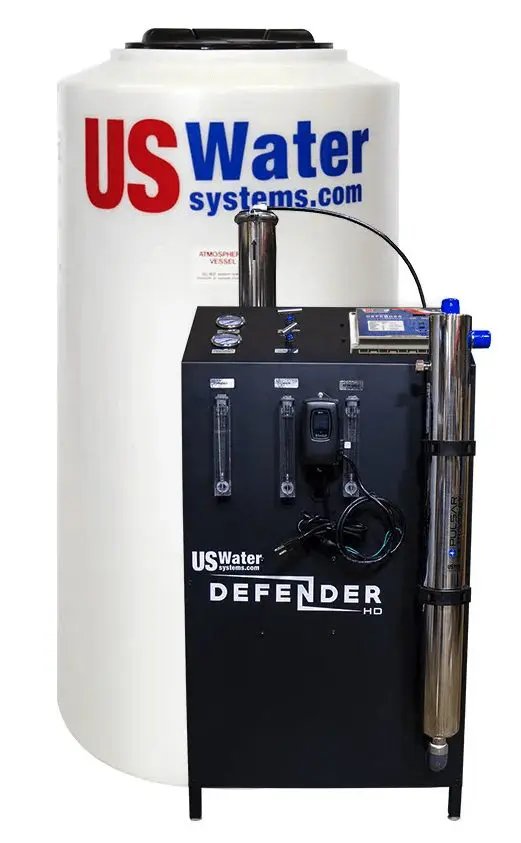 Our top recommendation for a whole house commercial grade reverse osmosis system is the US Water Systems Defender Unit.
The first thing that stands out about this ro system is the high-quality parts, technology, and durability.
This system is made in the USA and has the option to be used in a home application or a commercial business application.
It's made with stainless steel housings and pumps and has a 2-year warranty. If you use the correct pre-treatment (anti scalant injection or bodyguard) that US Water Systems recommends with the unit it can last for 20 years which is outstanding.
One of the best features of this light commercial reverse osmosis system is the efficiency it offers. It has an 80% efficiency rating meaning it wastes only 1 gallon of purified drinking water per 5 gallons made.
This is amazing for a reverse osmosis system because if you compare this to most other under sink or whole-home units you will find they usually have a 50-60% efficiency rating.
Lastly, this system can eliminate 99% of tds total dissolved solids and it comes with a TDS meter so you can make sure it's working correctly.
Overall, the USWS Defender is a durable, effective, customizable, green reverse osmosis system that you won't be disappointed with.
Main Features & Benefits
Capacity: 140-250 Gallon tank with 20 GPM flow rate
Filter Stages: 3
Waste Water Ratio: 80% efficient or 1 gallon wasted per every 5 gallons
Filter Lifespan: Not specified
Warranty: Lifetime on tanks and 2 years on all other parts
Price: $6800
Who The USWS Defender is Best For:
The defender is best for people looking for the highest quality whole house ro system that is customizable, efficient, and which contains everything needed in a commercial grade unit including pre and post treatment to maintain durability.
It's not cheap so if you're someone looking for a budget option this isn't for you but if you are willing to spend the money it's the best you can get.
Pros:
80% efficiency
TDS meter
20 Year lifespan
3 filter stages for highest level of filtration
Cons:
Expensive
Filter specifications not detailed
---
#2 Apex Commercial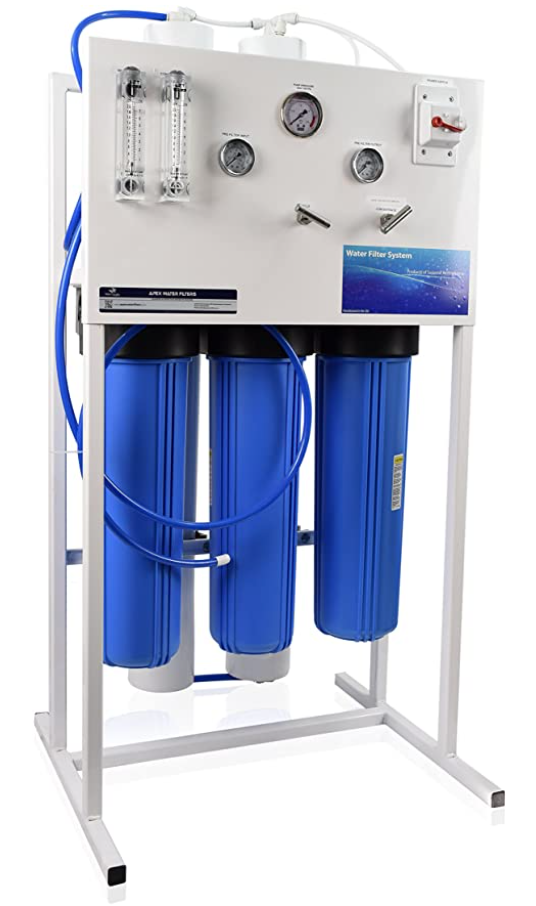 We're showcasing Apex Commercial as one of our top whole-house RO systems because the water it produces has no odor and it doesn't have a chemical taste.
The APEX comes with a delivery pump and storage tank, making this whole house unit ready for installation. We also love that this unit's high-pressure pump guarantees 1.04 gallons per minute or 1,500 gallons daily maximum water output.
This unit's steel frame makes it easy to install, maintain, and move. Those benefits, coupled with this system's inlet and outlet pressure gauges, make it easy to use, maneuver and determine when it's time to change the water filters.
Speaking of water filters, you don't have to worry about the ones in this whole house reverse osmosis system being difficult to change. Each water filter is a standard size, making them easy to replace with off-brand models if you want to customize your specific filtration needs or reduce costs.
Main Features & Benefits
Capacity: 1.04 gallons per minute
Filter stages: Three-stage filtration reduces chemicals, toxins, and visible impurities
Waste water ratio: It's between a 50% and 75% recovery rate.
Filter lifespan: 3-5 years
Warranty: up to 25 months
Price: $3,500
Who it's Best For
This unit is ideal if you're looking for a unit with everything you need at the time of installation. It's our top pick because, in addition to providing exceptionally pure water, the flow rate is excellent.
Pros
5-micron sediment filter prevents rust, sand, and other debris from clogging the system
10-micron carbon block filters remove chemicals and contaminants, including chlorine and herbicides
Three RO membranes reduce fluoride, heavy metals, nitrate, salt, and up to 99% of other pollutants.
Cons
Costs significantly more than competing models
You might need to install a pre-filter depending on the quality of your water
---
#3 WECO HydroSense Light Commercial
The WECO HydroSense Light Commercial reverse osmosis system lands in the third spot of our top five, but not because it has any shortcomings. We love that it uses four filtration stages to produce the purest drinking water possible.
In addition to being ideal for homes, it's an excellent choice for businesses as well. Examples of those businesses include aquariums, hydroponic farms, laboratories, medical offices, and schools.
During the first stage of water filtration, you can count on this whole house reverse osmosis system removing tiny particles. Those particles include dust, insects, insect parts, rust, and silt. That level of filtration ensures that your water comes out clear and that your water filter system doesn't clog.
Carbon block pre-filters are in this RO system to remove organic chemicals, including herbicides, insecticides, pesticides, and other soluble industrial chemicals. The reverse osmosis process starts when water passes through an RO membrane, and up to 98.5% of the water's contaminants and total dissolved solids filter out. With this system's automated electric booster pumps, you can count on this system running in top condition.
The fact that it has a good flow-rate of 0.34 gallons per minute and up to 500 gallons per day makes this RO system dependable and efficient. Its water pressure ranges between 55 and 80, and we love that there's a pressure sensor and pump included with this system.
Main Features & Benefits
Capacity: 0.34 gallons per minute
Filter stages: Four stages remove up to 98.5% of contaminants, including fluoride and mercury
Waste water ratio: 50% recovery rate (1:1 wastewater ratio)
Filter lifespan: 20,000 gallons
Warranty: Limited one-year warranty
Price: $1,100
Who it's Best For
This RO system is ideal if you want something that comes pre-assembled and is easy to set up. We also think this is an excellent option because its activated carbon block filters can improve the water's taste while the other pre-filters remove particles, like dust, insects, sand, silt, and more.
Pros
Provides sufficient water pressure for you and members of your family
Reduces fluoride, hardness, nitrates, and more
The 20″ pre-filters are double the capacity, resulting in fewer replacements and cost-savings
Cons
Some consumers report that the instructions aren't easy to follow.
Other customers indicated that they needed to order additional components to install
---
#4 iSpring RCS5T Commercial
We're ranking the iSpring RCS5T Commercial system number four in our rundown because its commercial-grade quality supplies enough water to small businesses and households. Its design explicitly delivers clean water on demand for large families, small businesses, and small restaurants.
Thanks to its high-quality design, you'll find that this whole house water filtration system can produce up to 500 gallons per day. It lands on our list of the best whole house reverse osmosis water systems because it averages between 10 to 15 PSI for its clean water output.
One downside of this reverse osmosis system is that it doesn't come with a storage tank. We love that it's simple to add a delivery pump with a non-pressurized tank to make this whole house RO system ready to meet your needs.
You'll love that this tankless whole house reverse osmosis water filtration system features patented dual-flow RO membranes. The main benefit of this reverse osmosis membrane is that it keeps the water outflow consistent. We're also excited that this system features a 1:1 drain ratio, which is exceptional for water filter systems.
Thanks to the five stages in this reverse osmosis water filtration system, you can count on that as much as 99% of thousands of impurities and pollutants are removed from your home or business's water supply. Examples of these pollutants include arsenic, chlorine, fluoride, lead, and sulfur.
Main Features & Benefits
Capacity: 500 gallons per day
Filter stages: Five stages
Waste water ratio: 1:1 drain to clean water ratio
Filter lifespan: 2-3 years
Warranty: 1-year limited warranty
Price: under $500
Who it's Best For
This reverse osmosis water filtration system is ideal for anyone looking for a suitable unit for home or light commercial use. By adding a tank, it's possible to increase its water flow rate. That way, this RO system can consistently provide a continuous and stable supply of pour water within any light commercial business setting.
Pros
Five stages of filtration reduce more than 1,000 contaminants.
Tankless RO unit that's easier to fit into small spaces
You can use this system with water pressure as low as 25 PSI.
Cons
The water pressure would improve if there were a tank.
Some consumers report that the cartridges aren't easy to replace
---
#5 iSpring RCB3P Light Commercial
The next RO system on our list is the iSpring RCB3P Light Commercial unit. This whole house RO system is an excellent choice for residential and small business use. We love this water system because their feed water pressure ranges between 22 and 95 PSI, while their system's oversized 20-inch filters provide 30,000 gallons of pure water.
You'll love that this whole house RO system features three 100 gallons per day RO membranes, making this filtration system capable of putting out up to 300 gallons of clean water per day. We also think that this system's in-built booster pump and pressure gauge, along with its free-standing frame, make it convenient for any home.
When you use this whole house RO system, you can count on this unit reducing chlorine, hard water, heavy metals, toxins, and other pollutants. That, combined with its filtration capacity, makes this whole house RO unit ideal for families of three or four members.
One of the things we like most about these water treatment systems is that thanks to its booster pump, it has a 50% recovery rate. That means, for every one gallon of water it filters, one gallon of water goes down the drain. While this might sound like too many gallons of water waste each day, this ratio is excellent for a whole house system.
Main Features & Benefits
Capacity: 300 gallons per day
Filter stages: Three stages
Waste water ratio: 1:1 pure to waste water ratio
Filter lifespan: 20,000 gallons
Warranty: 1-year limited warranty
Price: $550
Who it's Best For
This whole house RO system is ideal for consumers who don't want to spend thousands of dollars to get purified water in their homes or businesses. Consumers also benefit from the built-in booster pump, which allows them to monitor when it's time to replace the filters.
Pros
Simple and straightforward installation process
Ideal for light commercial applications
iSpring has excellent customer service
Cons
Some consumers indicate that the quick connect filters are leaky.
Others state that the user's manual isn't up-to-date
---
#6 Express Water Commercial
Last but not least, we have the Express Water Commercial filtration system. Even though we're featuring this last in our list of RO systems, that's not because this system doesn't meet the industry standard. On the contrary, there are several benefits to installing this filtration system in your home or small business.
The first thing we love about this system is that it reduces contaminants in your water by up to 99.99%. Examples of those impurities include asbestos, calcite, chlorine, cyanide, fluoride, giardia, heavy metals, pharmaceuticals, radium, and other contaminants in your water.
We also love that these systems feature compact and durable designs. Thanks to its stainless steel frame, you can count on every component receiving protection. That frame also keeps everything compact and organized for those who want to maximize their storage.
These commercial water filter systems reduce the total dissolved solids in your water, which increases the lifespan and overall efficiency of this system. That ensures that the system makes the cleanest purified water for use in cafes, doctor's offices, offices, metal treatment facilities, spas, and much more.
Main Features & Benefits
Capacity: 600 gallons per day
Filter stages: Five stages
Waste water ratio: 3:1 (three wasted for every one gallon produced)
Filter lifespan: Information not available
Warranty: Limited one-year warranty
Price: Under $600
Who it's Best For
The density degrading of the reverse osmosis membrane layers offers the most surface area for your water filters. That means you can count on these water filters to catch more pollutants and last longer, giving you the best value in commercial RO water filtration.
Pros
Improves the taste of coffee, drinks, food, and ice
Protects appliances, boilers, dishwashers, steam equipment, washing machines, water heaters, and more
It is independently tested to meet NSF / ANSI standards.
Cons
Some consumers indicate that this RO water system is loud when it's running.
Others state that the water pressure goes above 100 PSI even though the manual states that it won't
---
Whole House RO Buying Guide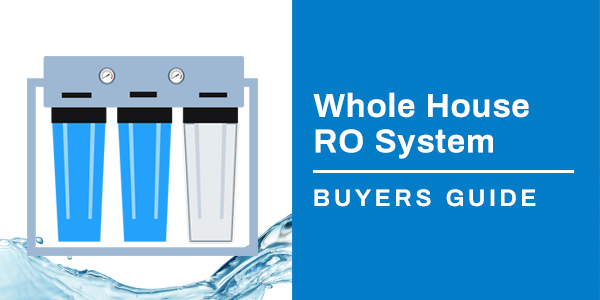 How Does a Whole House Reverse Osmosis System Work?
A whole house ro system is a filtration unit that is placed at the water point of entry of your home.
This means that all incoming water to your house will go through your reverse osmosis filtration system which contains a series of filters: pre-treatment filters such as carbon block, a reverse omsosis membrane, and any post treatment filters.
The system also contains a large tank to store the filtered water until it's ready to be used throughout your home appliances.
The reverse osmosis membrane in the system is responsible for filtering out the largest number of contaminants by the process of reverse osmosis. RO filtration is considered to be one of the most effective in terms of the number of contaminants it can remove.
Most reverse osmosis units are made for under sink use, so the main benefit of the whole house system is it allows you to get the purity of reverse osmosis water throughout your whole house.
Advantages of POE Reverse Osmosis System
Most Effective Option Available
Reverse osmosis filtration is considered the gold standard in water treatment and contaminant removal. RO removes more contaminants than most other filters. The only drawback is these units are usually not as efficient as standard whole house carbon filters but we have listed some of the whole house systems that provide optimal efficiency.
Improves Water Taste
Having every drop of water filtered with reverse osmosis throughout your home will give you the purest water possible at all times which tastes great. You can feel great knowing that you have pure water without contaminants at every appliance in your house.
Increases Lifespan of Appliances
Eliminating sulfur, limescale, iron, and many other contaminants from your water supply will prevent scale buildup on your home appliances and extent their lifespan. This helps in making back your upfront investment cost of a system.
Disadvantages of Whole Home RO Systems
Expensive
Whole-home reverse osmosis systems are not cheap. You can expect to pay around $3000 to $10000 for a high-quality unit as they are the most expensive home water treatment option. Not to mention the need for filter replacements or maintenance throughout the lifespan.
Can Require Pre or Post Treatment
If you want your whole home ro system to last for a long time it's best to install pre and post treatment filters to keep the RO membrane running effectively.
It may be necessary to install a water softener if you have really hard water to limit damage to the RO membrane as well as a post treatment pH neutralizer. Last, a UV filter add on may also be necessary if you're storing a lot of water in the tank and bacteria accumulates.
Wastes Water
Reverse osmosis is known for being the most effective method of filtration but also wasting the most amount of water.
This is true in most whole home ro systems where the water waste ratio is around 2-3 gallons wasted per 5-6 gallons purified. You can find some of the better models to have an efficiency rating around 80% though if you are willing to spend a little more money.
Large Amount of Space Required
Whole house RO water systems require a pretty large water tank to store the purified water until it's ready to be used in the home. This means you will need enough space in your garage or basement to fit the system and tank.
Most under sink RO systems don't require as much space and some of them are even tankless but this is not possible with a whole home RO unit because you need to have enough water for all your appliances at one time.
Whole Home RO vs. Under Sink RO
Before determining if a whole-home system is a right choice, start by understanding the difference between a whole home RO and under sink RO.
Whole-home RO water system: These are often referred to as point of entry filtration systems. Their installation occurs at the entry point of your home's water lines.
Under sink RO water system: These are also referred to as point-of-use or drinking water systems. They install underneath your sink and provide water from a designated tap.
Figuring out which is the best solution for your home involves a simple two-step process:
Step one: What contaminants or impurities do you need to filter out of your water?
Do you need to filter benign contaminants, including chlorine, sediment, or mild dissolved solids?
Does your water contain dangerous substances, including arsenic?
Learn about what's in your water by scheduling a water test and determine what kind of water filter you need.
Step two: Determine why you need a reverse osmosis water filter system
Do any of the members of your family have skin conditions? Does the way your laundry feels irritate your skin?
Does your home use a well or municipal water supply? Is anyone in your family an avid gardener?
If you answer yes to any of these questions, a whole house filter system is ideal. If you're looking for ways to improve your drinking water's quality and nothing else, then under the sink RO water systems are an excellent option.
Keep in mind that the main difference between whole home RO and Under Sink units comes down to how much of your water you need filtered by reverse osmosis. If you just need drinking water, then stick with an under sink unit. If you need the water in your whole home filtered using RO then a whole house system is best.
Components You Need in Whole-Home RO
Typically, you won't need much more than the RO unit and the storage tank. That way, there's a method for filtering and storing the water.
You'll find that most commercial and whole house reverse osmosis systems are compatible with an atmospheric water storage tank. These tanks store the filtered water and act as a buffer to ensure you don't run out of water. There are also pressurized bladder tanks that are compatible with these systems.
Pre & Post Treatment Filters (Make sure they are included)
Depending on your home's water condition, you might need pre-filtration. You'll find that this is also the case when installing commercial water systems with fast flow rates. Ensuring a pre-filter is present improves the unit's lifespan while decreasing operating costs.
The most common type of post-treatment filters includes calcite filters. These treatment filters are beneficial because they raise your water's pH levels. Another benefit of post-treatment filters is that they can also have UV light filtration. That's beneficial because the UV lights kill bacteria and viruses.
Sizing the System
Because a whole house water system comes in various sizes and shapes, you must ensure it's going to fit in the space allotted in your home.
Because you're not installing this unit underneath the sink, you have to make sure its dimensions fit its designated area. Start by measuring the space and assess how much space you have available for the whole house RO system.
What is the Normal Price Range for Whole Home RO Systems?
Pricing guidelines vary from manufacturer to manufacturer. The average price range for a whole home RO system falls within the following guidelines:
Average cost: approximately $1,500
High-end costs: up to $20,000
Low-end costs: $150 or higher
For example, on average, you'll find that a whole home reverse osmosis system costs between $800 and $2,800. If you're looking for a commercial-grade reverse osmosis system, you can expect to pay between $2000 and $20,000. That doesn't include the installation costs, which can range between $500 and $2,000.
Can You Install & Set Up the System on Your Own?
Yes, self-installation is possible with a whole house reverse osmosis system. If you're handy and used to completing DIY projects, you should be able to handle this installation without much difficulty. That goes for if you choose a commercial-grade reverse osmosis system, too.
Even though most of what you need comes with the system's installation kit, you'll still need to make a trip to your local hardware store. There, pick up a bucket, glue, CPVC, primer, and small towels.
If you're unfamiliar with how plumbing works, or any of the steps you read in the installation guide, we recommend hiring a plumber. That way, you're sure nothing goes wrong and that the system doesn't have any leaks.
Whole Home RO FAQs
Is a Whole House Reverse Osmosis System Really Necessary?
Honestly, in all cases a whole home ro filter is not completely necessary. It really depends what you're looking for. If you have a small business or home and you want the purest possible water at all appliances then it's a great option, but if you just need healthy drinking water in your kitchen then you can install an under sink reverse osmosis system instead.
There's also the option of installing a normal whole house water filter if your water quality isn't really bad.
How Long Does the Best Whole House Reverse Osmosis System Last?
Whole home RO systems can last for 15-20 years if they use the proper pre treatment and conduct regular maintenance. If you don't properly take care of your unit it can last much less around 5 years.
Do I Need a Whole House RO Filter if I have a Water Softener or Regular Filter?
If you have a water softener and your water contains contaminants other than hard water minerals then yes you will need another whole house filter either a carbon based solution or a reverse osmosis system.
If you already have a whole house water filter then it's not necessary to install a whole house RO system because most whole home water filters will remove a majority of contaminants although not as much as reverse osmosis.
Conclusion
We've covered a considerable amount of material here and hope that our research helps you find the best reverse osmosis water system for your home.
Determining whether you need a whole house RO system or a traditional under sink ro unit can be overwhelming. While we all know we need a clean water supply or to reduce hard water issues, that doesn't necessarily mean we know where to start. That's where our list comes in handy. We put together this list of industry-standard whole house units that are excellent choices for residential and commercial applications.
For example, our top pick is the USWS Defender whole house system. We love that it features three filtration stages with customization and has an 80% efficiency rate. We also love that it's an exceptional choice for commercial or home use.
Our other top pick is the WECO Hydrosense Light Commercial unit. Among many of the items this one checks off the list, we love that its four filtration levels offer the purest water possible. Its carbon block pre-filters make it an excellent choice no matter if you have a private or municipal water supply.