As anyone who has traveled to a developing country can tell you, we are very fortunate to have a clean water supply and quality treatment facilities in the United States.
Even so, there are still plenty of waterborne illnesses that spread through contaminated water.
Every homeowner wants clean water that's free of bacteria, cysts, viruses, and other microbiological contaminants.
Unlike other systems that filter out these impurities, UV light kills the microbes in your water instead.
It can be hard to determine which of the many products out there is the best UV water purifier – and we wanted to take some of the guesswork out of it.
We've reviewed the top UV purifiers on the market and judged them on their main specifications to see who performs the best, and our buyer's guide will give you all the information you need to make an educated decision.
Find The Right Section…
Top UV Water Purifiers Compared
IMAGE
PRODUCT
FEATURES

#1 Springwell UV5 Purification System

UV Strength: 30mJ/cm2

Flow Rate: 15 GPM

Price: $$$

CHECK PRICEGet 5% Off! Use Code: WTA5

UV Strength: 30mJ/cm2

Flow Rate: 12 GPM

Price: $$

CHECK PRICE

#3 Aquasana Rhino Whole House UV Filter System

UV Strength: 30mJ/cm2

Flow Rate: 7 GPM

Price: $$$$

CHECK PRICEGet 50% Off + Free Shipping! Use Code: AQWTA
What to Consider Before Buying a UV Purifier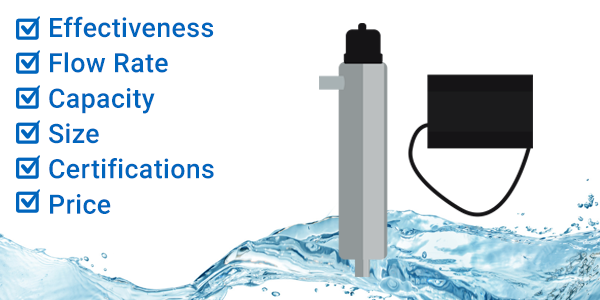 These are the most important features of any UV system, and they're the specifications we used to compare how well different products work.
Effectiveness
Even very low numbers of the wrong bacteria, protozoa, or virus can cause health issues, so the more effective the purifier is at killing them, the better.
The number and type of microorganisms in your water is going to determine how intensive the treatment needs to be, and you can get your water tested to see exactly what you're up against.
Flow Rate
The longer the contact time between the UV rays and the water, the more effective it will be.
Unfortunately, that also means the slower your water will flow from the tap. The best systems will be able to balance high efficacy with a reasonable flow rate.
Capacity
The capacity of a system refers to how many gallons the lamp can purify before it needs to be replaced. Larger capacities mean longer lifespans, less maintenance, and less money spent on replacements in the future.
Size
Where are you going to install your UV system?
That's the first thing you need to know to make sure the purifier you pick out will fit in its intended space. You don't want to purchase a system just to discover it's too big or too small.
Certifications
There are certain industry quality standards that water purifiers can be certified to meet.
The National Sanitation Foundation (NSF) and the Water Quality Association (WAQ) are two independent laboratories that test and certify different products, and certification is one of the best ways to determine the effectiveness of a system.
Price
No matter what purifier you end up with, you want it to be money well-spent. We made sure all of the contenders in our review offered excellent value for their price.
Also, while the sticker price is often what people jump to, don't forget to consider the ongoing costs of replacement lamps.
UV Water Treatment System Reviews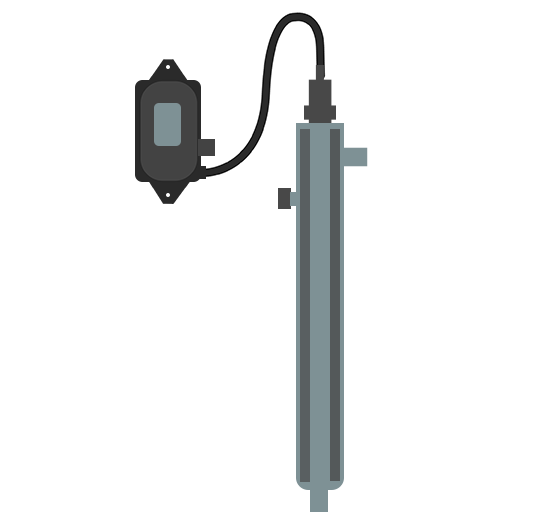 Review Order
We've reviewed each of the top UV water purifers in detail below so that you can make the best purchasing decision to solve your microbiological problem.
1. SpringWell UV5 Purification System (Best Overall)
Our top pick for the best UV water purifier is the BLACKCOMB 5.1 by Springwell and LUMINOR.
This system claims the top spot due to its innovative design and variety of perks including a state-of-the-art controller, LCD display, water quality indicator, and the ability to modify or upgrade the system with built-in ports.
This UV filter is designed for whole-house use where it can be used alone or in conjunction with a whole house water filter.
This unit offers a high 15 GPM water flow with 30mj/cm2 uv purification power making it one of the most effective uv filters on the market.
If you're purchasing the system without a separate water filter then Springwell recommends adding a sediment filter before UV purification.
Main Features & Benefits
Effectiveness: This purifier kills 99.9% of bacteria, viruses, and protozoa including harmful pathogens.
Flow rate: The flow rate is an impressive 15 gallons per minute (GPM) which should be plenty for most homes.
Capacity: The UV lamp's capacity in gallons isn't published, but SpingWell recommends replacing it every 12 months.
Size: At 48in tall by 6in wide, this purifier is compact enough to fit in a cabinet while being strong enough to service your entire home.
Certifications: This product has not been certified.
Price: This model is a little pricey for a standalone UV filter, but it definitely lives up to its price tag.
Pros
Kills 99.9% of microorganisms
15 GPM flow rate
1-year lamp lifespan
Low-profile design
Advanced controller in a splash-proof housing
LCD color monitor that gives you real-time feedback on the purifier's performance and water quality
Countdown to filter change
Can service homes with up to 7 bathrooms
Lifetime warranty
4.8 out of 5 star rating with 44 reviews
Cons
Expensive
Some consumers believe that the assembly instructions are difficult to follow
Who It's Best For
If you want to make sure your water is free from microorganisms and you like the bells and whistles that come with it, then this is a fantastic option. It's also perfect for those who can't afford to take a hit on flow with their UV purifier.
Get 5% Off! Use Code: WTA5
---
2. Viqua D4 UV Disinfection System (Best Bang for Buck)
The Viqua D4 is a whole house UV treatment system that is 99% effective at removing bacteria and viruses from water without the use of chemicals.
The Viqua UV Disinfection System increases its efficiency using low-pressure, high-output UV lamps.
This UV system offers a 12 GPM flow rate which ensures that your water flow won't be damaged by installing the appliance.
It's also a compact device and energy-efficient offering a lot of power in a smaller device similar to larger style UV filters.
It has a lamp life of 9000 hours which means you won't have to replace the lamp for one whole year of use and it has a constant current feature that keeps the UV lamp running even if your electricity runs out.
This unit from Viqua is an effective, high-tech, compact UV purifier at a very reasonable price.
Installation for this product features a DIY stainless steel design that works either horizontally or vertically (though the recommendation is vertical). This water purification system works with both well water and municipal water supplies.
Main Features & Benefits
Effectiveness: While the percentages have not been published, Viqua claims this filter is 99% effective at reducing bacteria, viruses, and protozoa to safe levels.
Flow rate: At 12 GPM you won't have to worry about this product hampering your flow rate.
Capacity: This lamp is rated to last 9,000 hours or about 1 year before needing to be replaced.
Size: At 23.5 inches tall and 3.5 inches wide, this is among the more streamlined systems on the list.
Certifications: This product has not been certified.
Price: This is a slightly cheaper alternative to some of the other filters on the list, without sacrificing quality.
Pros
Works against bacteria, viruses, and protozoa
12 GPM flow rate
9,000 hour or 1-year lamp capacity
Compact design
Less expensive than some models
There's a UV lamp change reminder that sounds when it's time to change the light
You can check the unit's performance using the digital countdown screen
Extended warranty
Easy to install
4.3 out of 5 star rating with 28 reviews
Cons
Maintenance includes cleaning build-up and scale every three months
Percentages of microorganisms killed not published
You need to purchase the fittings separately for this water treatment system to work
Some consumers report that the controller failed shortly after using the system
Who It's Best For
If you can't afford to sacrifice flow for purification and need a compact device, then this system has you covered. It's great for those who want a cheaper alternative to some of the other models as well.
---
3. Pelican UV Disinfection System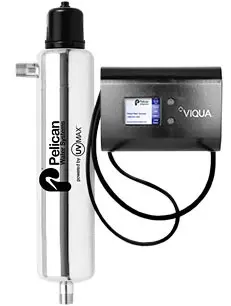 Another great UV filter option is this high-tech system from Pelican, a trusted brand in water filtration and purification.
This UV disinfection system from Pelican eliminates 99% of waterborne pathogenic organisms causing illness including bacteria and viruses.
The system offers a 9-16 GPM flow rate making it great for most average size houses and it doesn't affect the taste, color, or odor of your water supply.
It's easy to maintain and you only have to replace the lamp once a year.
Another perk of Pelican's UV system is it comes with a safety cap feature that prevents children from accessing the lamp and electrical components.
Lastly, this UV purifier comes with an advanced controller that tells you the status of the lamp's lifespan and other helpful information. One useful feature with this system is that it actually comes in two different sizes – one for small to medium households and one for larger households.
Main Features & Benefits
Effectiveness: This system kills 99.9% of bacteria, viruses, and protozoa and has been certified to do so.
Flow rate: The 9-16 GPM flow rate isn't as consistent as the SpringWell model but for small to medium-sized houses it should still be sufficient.
Capacity: This lamp has a 9,000 hour capacity and should be replaced every 12 months.
Size: This model is 20.5 inches by 4 inches in diameter, which makes it compact enough that it can fit in with other filtration systems.
Certifications: This product has been NSF certified for standard 55 B, which means it adequately reduces microbial contamination of pre-treated sources.
Price: You won't find a much better value for the price of this system, and it comes in under the Springwell model.
Pros
Removes 99.9% of microorganisms
NSF certified
Compact
Comes with a high-tech control panel
3 year warranty
Indicator and alarm to let you know when the lamp needs to be replaced
1-year lamp lifespan
Two sizes of the system available to make sure it works no matter the size of your household
Easy to install
4.2 out of 5 star rating with 20 reviews
Cons
Maintenance includes cleaning the quartz sleeve every couple of months
The water inside is heated and can potentially scald
Some customers believe the built-in fan is too noisy
Who It's Best For
If you're looking for a tech-heavy unit but you want to save a few dollars instead of getting the Springwell, then this is a good model to consider. It's even better for those who don't need a maximal flow rate and can go with the smaller Pelican system.
---
4. Best Combo System: Aquasana Rhino Whole House UV Filter System
We love that you can pick any combination of Aquasana filters according to the level of contamination in your home's water supply, and this is no different.
The Aquasana Rhino Whole House Ultraviolet System features three-stage filtration including the sediment pre-filter, KDF media, and activated carbon stage in addition to the UV purifier.
It has a smaller flow rate at 7 GPM so it's going to be best for smaller houses with less water appliances running at once.
If you're someone who doesn't have a separate whole house water filter and are looking for a complete water treatment solution that also includes UV purification then this system is your best bet for an all-in-one unit.
Main Features & Benefits
Effectiveness: This combined filter and purifier removes 99.99% of bacteria, viruses, and protozoa in addition to sediment and organic particles, chlorine, heavy metals, herbicides, pesticides, PFOA/PFOS, VOCs, and other contaminants.
Flow rate: The flow rate is 7 GPM, which is a little less than some of the other models.
Capacity: The main filter has a 600,000 gallon or 6-year capacity, whereas they recommend changing out the UV lamp yearly.
Size: The more you add to this system, the larger it gets. The length of the UV filter and the main filter alone is 37 inches, let alone adding a water softener.
Certifications: This product has been NSF certified for standard 42, meaning it improves the odor and taste of water.
Price: This is among the most expensive models on the list – but understandably so considering the whole-house filter that comes with it.
Pros
Removes 99.99% of microorganisms in addition to many other contaminants
1-year lamp lifespan
NSF certified
Digital countdown display to alert you to replace the lamp
You can mix and match filters/systems to meet your home's needs
Quartz sleeve for the lamp only needs to be cleaned yearly
1-year warranty
4.4 out of 5 star rating with 30 reviews
Cons
Larger than single UV purifiers alone
Lower flow rate
Can be challenging to install
Who It's Best For
If you need a whole-house filtration system in addition to a UV purifier, then this system from Aquasana is your best bet. It's also better for those with smaller households or lower water usage since the flow rate isn't ideal.
Get 50% Off + Free Shipping! Use Code: AQWTA
---
5. Pelican Whole House Filter with UV
This premium combo has both a whole house filter and a UV purifier like the Aquasana model.
If you like Pelican instead of Aquasana then this whole house filter and UV purifier is a good all-in-one home water treatment unit to consider.
This unit also has optional upgrades, like from the PC600 to the PC1000.
Having these options helps you determine which system might work best in your home based on its size and water pressure.
The PC600 is optimal for homes with between one and three bathrooms, while the PC1000 is ideal for homes with between four and six bathrooms.
These Pelican UV water filters feature four-stage filtration to reduce contaminants in your water significantly and they remove 99% of viruses and bacteria in your water supply.
Main Features & Benefits
Effectiveness: The UV purifier kills 99.9% of viruses and bacteria while the 4-stage filtration system removes sediments down to 5 microns, chlorine, chloramines, pesticides, herbicides, pharmaceuticals, industrial solvents, and heavy metals.
Flow rate: The flow rate for the PC600 is 8 GPM while the flow rate for the PC1000 is 12 GPM.
Capacity: The UV lamp will need to be replaced yearly or after 9,000 hours, while the main filtration media will last either 5 years (PC600) or 10 years (PC1000)
Size: The UV purifier itself is not that big, however once combined with the whole system it does become a rather large setup.
Certifications: This product has been IAPMO certified for NSF/ANSI standards 42 and 61.
Price: This is the most expensive system on the list, but it's worth it for the excellent performance from both the UV purifier and the filter system.
Pros
Kills 99.9% of bacteria and viruses
Filter cartridge changes only need to occur once every five years for the main system
8 GPM flow rate for the PC600 and 12 GPM flow rate for the PC1000
IAPMO certified
Limited lifetime warranty
Digital display
Audible alert for filter change reminder
Display alerts for filter change reminder
4.7 out of 5 star rating with 514 reviews
Cons
Doesn't work on protozoa
Expensive
Features plastic fittings instead of metal
Some consumers found this system difficult to install
Who It's Best For
If you want an alternative to the Aquasana whole-house system that is kinder to your flow rate, then this is definitely an option to consider.
---
UV Water Purifiers Feature Comparison Table
| Product | Effectiveness | Flow Rat | Capacity | Certifications | Price |
| --- | --- | --- | --- | --- | --- |
| SpringWell UV5 | 99.9% | 15 GPM | 12 months | - | $$$ |
| Viqua D4 | 99% | 12 GPM | 12 months | - | $$ |
| Pelican UV System | 99.9% | 8 GPM | 12 months | NSF | $$$ |
| Aquasana Rhino + UV | 99.99% | 7 GPM | 12 months | NSF | $$$$ |
| Pelican PC600 | 99.9% | 8 GPM | 12 months | IAPMO | $$$$ |
UV Water Purifier Buyer's Guide
Now that you know our picks for the best UV water purifiers, let's dive a little deeper into how they work and some of their other qualities.
There are several different kinds of house UV water purifiers, each with distinct features, benefits, and drawbacks.
In this section, we discuss how to make the best choice when selecting a UV sterilizer for your home's water.
What is Ultraviolet Water Purification?
Ultraviolet water purifier means that the system uses ultraviolet light rays to disinfect your water.
The size of the purifier and the system it's incorporated into may vary from brand to brand, but they all function mostly the same.
That commonality is that each purification system uses UV rays to destroy up to 99.9% of your water's microorganisms.
How UV Purification Works
Understanding how a UV purification system works means understanding its use of UV rays.
For example, we all use sunblock to protect ourselves against the sun's harmful UV rays from damaging our skin cells. Without the sunblock, those UV rays would damage our DNA by dimerizing the thymine in it. The cells would no longer be able to use their DNA to create new proteins and would eventually die.
An ultraviolet water purifier works similarly by incorporating a UV lamp that harms microorganisms in the water. While remaining in a quartz sleeve, the UV lamp renders bacteria and viruses harmless by altering their DNA to form thymine dimers. Even though the water has exposure to UV light, it never comes into contact with the UV lamp itself.
A stand-out feature for a whole-house ultraviolet water sterilization system is that it can destroy microorganisms without using chemicals.
A UV purifier also doesn't change the smell or taste of your water. That's because, unlike other filtration methods, a UV purifier doesn't actually remove anything from the water. That's why many manufacturers will recommend installing a sediment pre-filter to trap any large particles that may be coming into your supply.
Benefits of UV Purification
Every municipality must uphold safe water standards when providing drinking water to consumers.
However, sometimes cities aren't providing the best quality of drinking water. There are also specific microorganisms, like Giardia, that are resistant to the chlorine disinfectants used by municipalities.
Not to mention, we've all been under a boil-water ordinance at some point or another.
Installing a UV sterilizer into your home is an excellent way to address these issues. Or, if you use well water, a UV purifier works exceptionally well to ensure the water in your home is safe.
The following are other benefits that you get from using UV purification.
Non-Chemical Disinfection
Unlike other water filters, like an activated carbon system, UV systems don't use chemicals to clean, disinfect, and purity the water in your home. Instead, it uses a UV light that shines through the water to destroy harmful contaminants. Nothing new is added to your water and nothing is taken out.
Low Maintenance
A key benefit of a UV purification system is that it requires virtually no maintenance. You don't have to worry about changing multiple filters as you do with a reverse osmosis or whole house water filter system. Instead, all you need to worry about is ensuring the UV lamp is clean and that you change it at least once per year or per the manufacturer's recommendations.
Very Effective Purification
Because no one knows for sure if the drinking water entering their home – be it well water or from a municipal supply – is clean or safe, a UV water filter provides that extra assurance. That means, if the water in your home is compromised for any reason, a whole house UV water filter ensures that you will have safe drinking water.
As mentioned, getting your water tested will help you see where your current water quality is lacking and will help you pick the best system for your needs. You can see our review of the best water testing kits here.
When to Use a UV Purifier
One of the best things about house UV water filters is that you can use them anytime you feel like your water isn't safe. The bottom line is, though, that you should install these systems after completing a water test to determine what's in your water and at what level.
Home Purification System
A UV purifier features installation at the point of entry of your home. It doesn't matter if you have city or well water; it's critical to make sure this water is safe for your family to drink.
A UV water filter works to ensure water from the city, or a private well source doesn't contain harmful bacteria or other microorganisms.
Travel
If you're camping or traveling and don't have access to safe or clean water sources, you can bring a UV water purifier with you. You can find a wide variety of portable UV light filtration systems that are handheld or carry with you easily.
See our review of the best portable water filters for more information.
What to Know When Choosing a UV Sterilizer
Picking out the best UV water purifier involves considering several different factors beyond what percentage of microorganisms it kills and what the product's warranty looks like.
Let's look at what you need to know when choosing a UV purifier:
Water Purification Needs
Keep in mind that, while a UV purifier can destroy microorganisms, it won't get rid of chemicals or improve the taste of your water.
If you're looking for those features, then a UV purifier isn't the answer. You'll want to look into whole-house filtration systems and you can always add in a UV purifier from there.
Flow Rate
Every UV water system measures its flow rate in gallons per minute (GPM). This measurement indicates how much water is flowing through the UV water purifier and therefore how much is reaching your home's fixtures.
The recommendation is to get a system featuring the highest GPM, that way you can be sure you have enough water flowing to cover all of your potential water usage needs.
Price
Budgetary considerations are a reality for many consumers, and not every UV water purifier features the same pricing.
For example, you can find some stainless steel UV water purifiers for a few hundred dollars on up to under $1,000. Even though you don't have to pick out the most expensive UV system, keep in mind that the quality and price typically go hand-in-hand.
Available Space
Because UV systems are available in many sizes, keep in mind that some take up more room than others.
For example, if you intend to house this UV system in a small cabinet, choosing one with a long map isn't ideal. However, if this is the only place you have available for this system, it's best to select a compact model.
Whole House Filtration System vs UV Water Purifier
A whole house filter is meant to filter out the basic impurities in water such as chlorine, lead, disinfection byproducts, radium, taste/odor, and much more but it doesn't remove microorganisms.
On the other hand, a UV purification system works specifically to remove microorganisms like bacteria, viruses, and protozoa from your water supply.
So, determining whether you need a whole house filter and UV purification system will depend entirely on your water quality and if it tests positive for microorganisms as well as contaminants like chlorine.
The bottom line is these two types of filters work on entirely different sets of contaminants.
And, because contaminants and other particles can interfere with the ultraviolet purification process, it's a good idea to filter them away before the water flows through the UV light if you're going to be purchasing a UV filter.
On the other hand, if you have a well, it's usually necessary that you install a whole-house system in conjunction with the UV light. That way you're confident there are no unwanted contaminants in your home's water supply including bacteria, cysts, and viruses.
Installation & Maintenance Steps
Because some find it difficult to install a UV unit, it might be a good idea to hire a plumber.
If you have DIY skills, then it still might take you several hours to complete this installation but many customers do choose to do it themselves.
If you have questions along the way, contact the manufacturer's customer service department.
How to Install a UV Purifier
Every UV water unit features installation instructions for that specific model, which you should always use as a guide. Regardless of the model, the process always starts with turning off your home's water supply.
Here's a basic outline of what you'll find:
Determine the water filter's location: Remember that whole-home UV purifiers rarely install as a stand-alone unit. If this is the case and the UV purifier is an add-on feature for your whole house unit, install it last. That way, the UV filter is as close as possible to your home's water source.
Use wall-mounting brackets for the lamp: Each unit should come with a lamp housing that attaches directly to your wall with a mounting bracket. The recommendation is to mount it vertically with the wires coming out of the top.
Unfasten the lamp housing on one end: Here is when you insert the lamp into its housing. After doing so, seal up both ends with the O-rings in the package.
Connect the lamp to your home's water line: You'll find two threads, which are the traveling lines for water going in and out of the system. Follow the manufacturer's guidelines for making these connections.
Turn your water back on: The best way to check for leaks is by turning your home's water back on.
Plug the UV unit in an electrical outlet: You'll find a plug that goes into a standard power outlet. Make sure you follow the manufacturer's instruction manual for the safe handling of electrical wires.
How to Maintain a UV Purifier
Every water treatment system needs maintenance from time to time. Maintaining a UV purification system is often much easier than doing so for reverse osmosis or whole-house models.
For example, you'll usually just need to change the UV light once yearly, or for every 9,000 hours of use.
Failing to change the lamp often enough reduces its effectiveness.
You'll also need to clean the quartz sleeve in the UV filter periodically but this will vary from model to model. If you have hard water or if the water contains a substantial amount of iron, that creates cloudiness that prevents the UV rays from passing through your water so it's recommended you get a pre-filter.
UV Water FAQs
How is UV Strength Measured?
UV strength is measured in mJ/cm2 or milli-joules per centimeter square. The US Department of Health has determined that an effective UV purifier should provide at least 30,000 mJ/cm2 for drinking water applications.
Is It Necessary to Install a Whole House Filter Before UV lamp?
Installing a whole house water filter can help since it will eliminate the sediment and other particles which could cause problems in a UV filter but it is not entirely necessary if you just want to eliminate microorganisms and aren't worried about other contaminants.
What Happens if I Forget to Change My UV Lamp?
The UV light will simply lose its effectiveness and it won't eliminate the microorganisms as it should at full strength.
Is UV Filtered Water Safe?
Yes, UV water treatment is safe. It doesn't use harmful chemicals or change the composition of the water. It simply destroys the presence of bacteria and viruses in your water supply using UV-C light.
Which is Better UV or UF?
UV filtration is more powerful if you are trying to eliminate bacteria and viruses. It uses powerful UV light to kill microorganisms in your water.
On the other hand a UF or ultrafiltration filter works the same way a standard osmosis water filter works by filtering particles in your water through the passing of water into a membrane with small holes. The only advantage of UF over UV is that UF can also filter out sediment and other particles.
Conclusion
UV purifiers are a fantastic way to ensure your water is free of potentially dangerous microorganisms, and not all systems are created equal.
Our top pick is the Springwell UV5 Purification System for its high 15 GPM flow rate and state-of-the-art controller.
Right behind it is the Viqua D4 and Pelican UV Disinfection System for its 16 GPM peak flow and NSF 55 Class B certification.
We also want to make mention of the Aquasana Rhino Whole House UV Filter System for being the best-combined filter and UV purification system.
The bottom line is that it might seem like a confusing process when trying to find the best UV water filter for your home. We hope that this review and buyer's guide provided you with the information you need to make an informed decision.