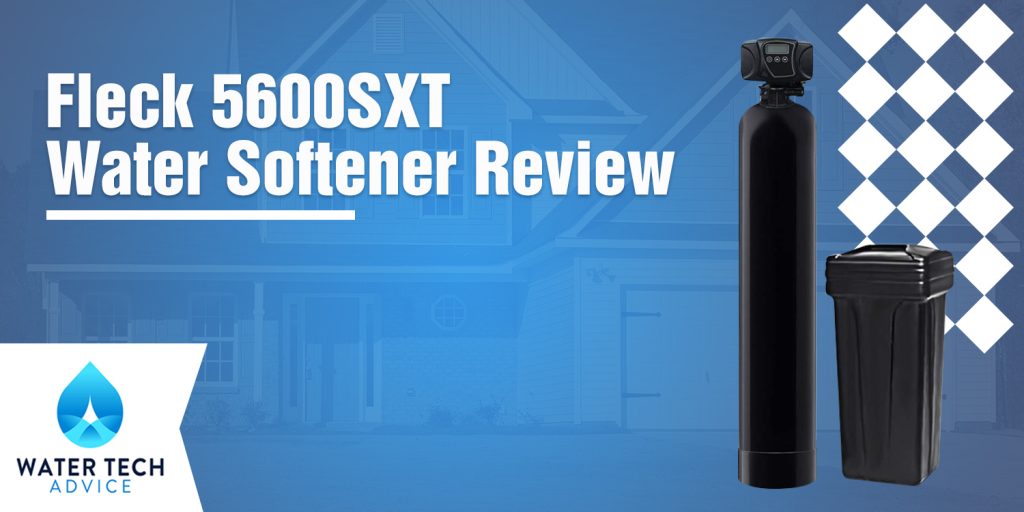 So you're thinking about buying a Fleck Water Softener?
You've come to the right place.
I had a chance to do extensive research, consult with water filtration experts, and compare Fleck's main softener the 5600sxt to other similar models on the market.
I learned that the Fleck 5600sxt is an industry-leading water softener and offers a lot of bang for your buck.
I've installed many water softeners in my plumbing career and will give you the real facts about how this fleck model compares to competing brands.
Let's get right into it and go over the 5600sxt model, it's features, benefits, pricing, and how this unit would be best for.
Also Check Out: Reviews of Top Water Softeners
Fleck 5600SXT Overview
The Fleck 5600SXT water softener by Pentair is a traditional softening unit with a tank and digital control head.
Compared to other water softeners on the market, this model is a low-cost leader offering very good value for the money.
It's important to note that the 5600sxt model is not a high-efficiency unit and it uses more salt and wastes more water than other more advanced water softeners.
While it's not the most efficient it will still do a good job if you're just looking to soften your water with an average flow rate of around 12 GPM and a 24000 to 64000-grain capacity.
Overall, if you're looking for a budget option that still does a good job softening your water with less efficiency than a more advanced unit the Fleck model is a great option.
Already effective, Fleck didn't stop there and neither does our review…
---
Fleck 5600SXT Product Details
Below are the product specifications of the Fleck unit.
Grain capacity: 24000 to 64000-grain capacity volumes (plenty for very hard water)
Flow Rate: 12 GPM
Dimensions: 27 x 17 x 62 inches
Weight: 20.8 pounds
Water Consumption: 45 gallons per regeneration
Color: black
Voltage: 120 volts
Warranty: 5 years on the control head and 10 years on the tank
Benefits of Using a Fleck Water Softener
The Fleck 5600sxt will eliminate your hard water problem and help you save you money on heating bills, home appliances, and give you pure soft water. This softener usually pays for itself within 2-3 years after initial investment.
This model is produced by Pentair which has been providing water treatment solutions for over 70 years.
Other Fleck models comparable to the 5600sxt include:
Below are the main features and benefits that the 5600sxt offers.
Fleck 5600SXT Main Features & Benefits
Warranty
Fleck offers a 10 year warranty on the tank and a 5 year warranty on the control valve.
On-Demand Regeneration
The 5600SXT has intelligent regeneration capability and regenerates the system on-demand when higher water flow rates are in action.
Metered Control
The unit looks at your actual water usage data and adapts to your daily needs with its smart digital controller.
Cycle Control
You have the ability to control each stage of the regeneration cycle if needed.
Digital SXT Control Valve
The Fleck 5600SXT has an integral controller, complete with backlit LCD display making its set up and commissioning quick and easy.
The SCT controller allows the user full control of the regeneration cycle timing and four modes of operation. It includes a display that cleverly estimates the number of gallons of soft water supply remaining before the salt tank will need to be refilled and uses an electronic meter to precisely record your usage. This allows you to accurately estimate your running costs and buy your salt stocks well in advance of running out.
Fleck even included a capacitor within the SXT controller, meaning that if the power is connected in a power cut or the course of relocation or routine maintenance, the memory and programming is stored for 48 hours – no more hunting for the manual when you accidentally flick the switch off.
Price
The price you will pay for a water softener varies hugely according to your water usage, the area in which you live, the quality you are looking for and the amount of hard water that will need to be treated by the unit.
In terms of price comparison of the Fleck 5600SXT compared to other water softener brands this unit is a budget option for around $600 compared to other higher-end models that run around $1200. It offers good value for money.
What the Public Thinks of The Fleck 5600SXT
Fleck's products have been around for a long time so it's impossible not to find reviews online if you go looking.
The experiences of users who have posted in open forums such as Amazon and other third-party sales sites are overwhelmingly positive, and although some negative reviews exist this is not surprising for products from a company who has been producing systems in the same market for so long.
Fleck puts a strong emphasis on ease of use and simplicity, meaning that customers can simply forget about the softener until it needs refilling – no more weekly trips to the basement to check that everything is still working.
Who is The Fleck 5600SXT Best For?
If you have a small or medium-sized family and are looking for more of a budget value softening model instead of a top-of-the-line unit that will cost more, this is a great water softening option.
It has a good level of technology with the SXT controller which allows some customization and intelligent capabilities without breaking the bank.
It also offers an average flow rate of 12 GPM which should work with most small to medium-sized families when using water around the home.
Keep in mind that it's not as efficient as some of the other top models and will waste a good amount of water but if you're not overly concerned with this then it's an awesome option to consider.
Fleck FAQs
Does the System Have a Low-Salt Indicator?
The 5600SXT doesn't have a dedicated low-salt indicator but the integrated SXT display gives a clear reading of the calculated softened water capacity remaining from the salt content in the brine tank.
This means that you can tell at a glance when your salt is getting low and either top up the tank or make sure that you have stocks ready to go when the tank runs low.
Can I use the 5600SXT with Well Water?
Yes, you can use the Fleck 5600 with well water.
Depending on the water's qualities you may need to install a pre-filter or install the softener alongside a whole house water filtration system to ensure the highest quality water in your home.
Iron can be particularly problematic for a resin tank water softener – it can damage the tank's construction meaning that repairs may be required over time.
If you are unsure about the quality of your home's incoming water we recommend having it tested, either with a home testing kit or by a professional.
Fleck's dedicated customer support team can advise which supplementary filters you may need once you have the test results.
How Long Does the Regeneration Cycle Take?
The regeneration cycle takes roughly two hours to complete but thanks to the intelligent integrated controller you can program the cycle to take place at a time that is convenient, such as late at night or early in the morning when you are in bed.
Alternative Option to Fleck 5600SXT
SpringWell FutureSoft Salt-Free Softener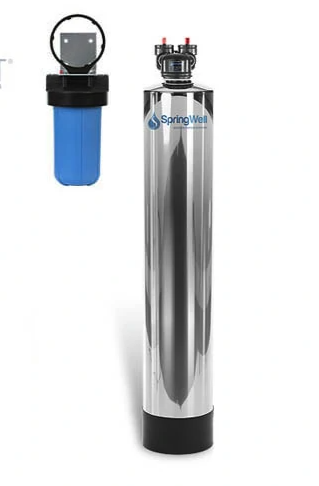 The FutureSoft from SpringWell is a whole house salt-free water softener that is made by one of the best companies in the water filtration and softening business.
The highly-rated Springwell FutureSoft Salt-Free Water Softener provides 99.6% scale prevention without the use of chemicals or salt and ensures you have a zero drop in water pressure throughout your home.
Unlike traditional salt-based systems, the Futuresoft water softening system wastes no water and does not discharge salt brine into the environment. Eliminate scale, extend the life of your appliances and make cleaning easier today!
SpringWell also has an excellent salt-based option if you still need the heavy duty water softening that a salt model provides.
Overall, we would recommend SpringWell as well as Fleck as our top recommendations.
---
Conclusion
Fleck water softener systems are some of the best budget solutions available on the market for treating hard water, a statement echoed by their time and position in the water softener industry.
There are certainly other options on our best-rated water softeners list,  however, Fleck has done a good job to make sure their products are user-friendly and cost-effective to run.  
Fleck has positioned their products and customer support to provide homeowners complete peace of mind when it comes to their water softening system.
We recommend both Fleck as a manufacturer and the 5600SXT as a water softener suitable for a standard family home. We think you, your family, and your water are in good hands with Fleck.