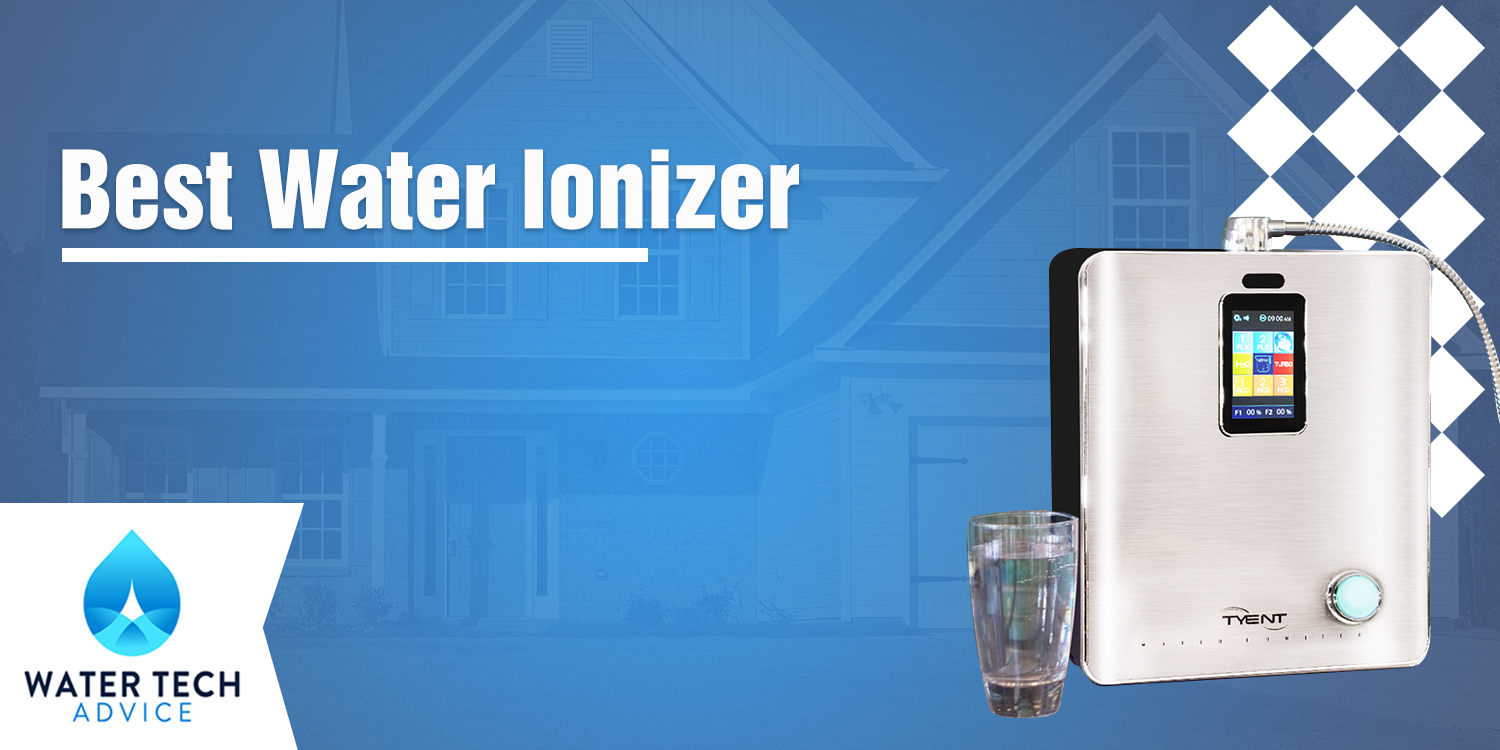 If you've discovered that alkaline water, unlike normal acidic water, helps you stay hydrated and healthy and are sick of purchasing bottled alkaline water from the store, you've come to the right place.
Alkaline water machines can save you time and money while offering the best water quality to improve your health and fitness goals.
Even professional athletes and high-performance actors are learning about the health benefits of alkaline water and molecular hydrogen to feel the best they possibly can.
Our water filtration experts have researched, tested, and reviewed all the best water ionizers on the market, comparing them on features such as pH range, orp range, filter capacity, price, and more to determine which ionizers actually live up to their claims.
Find The Right Section…
Top Water Ionizers Compared
pH Range:1.7 - 12.5
Number of Plates: 13 plates
Antioxidant Boost: -1150 ORP
Warranty: Lifetime
Hydrogen: 1800 PPB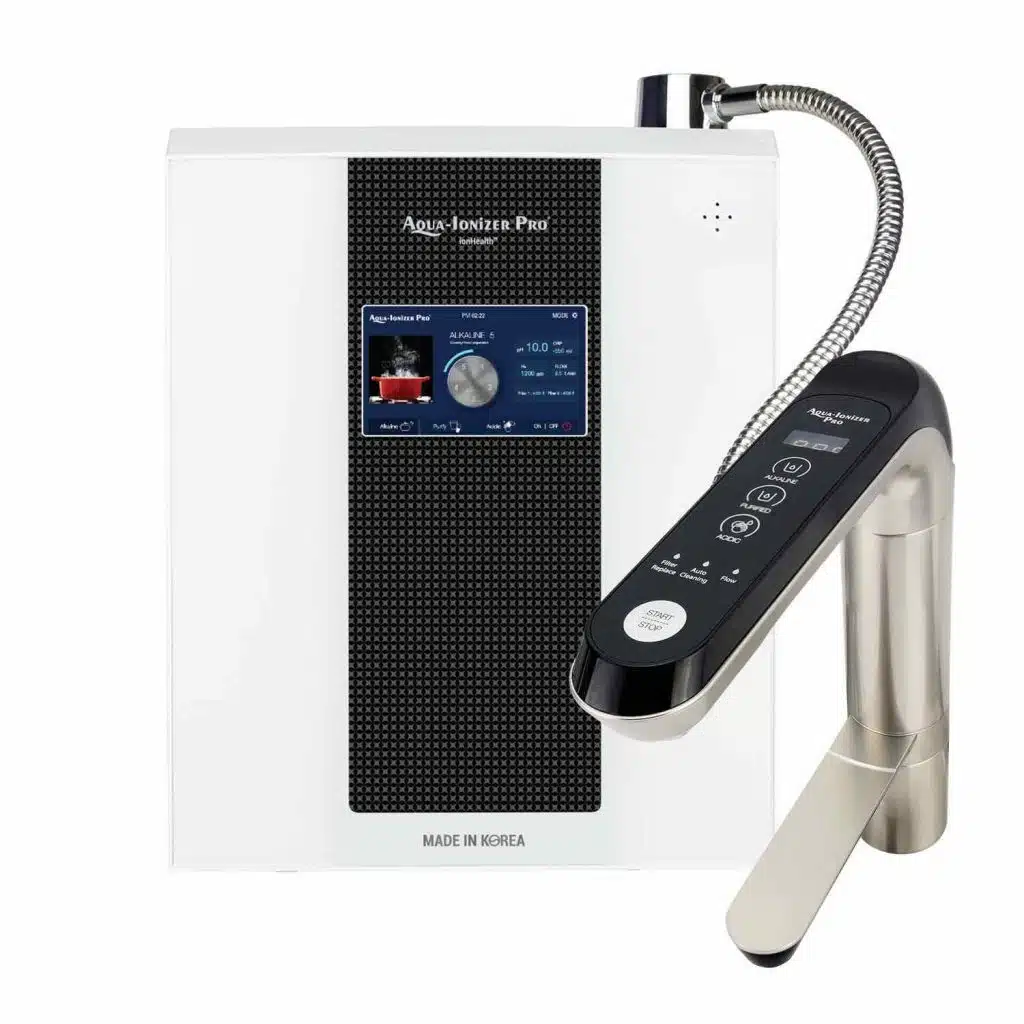 pH range: 2.7-11.5
Number of Plates: 7 plates
Antioxidant Boost: No
Warranty: Lifetime
Hydrogen: 1600 PPB
Ph Range: 4.5-11
Number of Plates: 5 Plates
Antioxidant Boost: No
Warranty: 2 Year
Hydrogen:N/A
Best Alkaline Machines for Ionized Water Reviewed
Review Order
Using our evaluation criteria below, we've narrowed down our list of the best water ionizers to a few top models we think will get you the results you want at a reasonable price.
1. Tyent UCE-13 Plus (Best Overall Water Ionizer)
The Tyent UCE-13 Plus is our #1 rated water ionizer on the market because of its high-end water purification and alkalization system.
It's Tyent's newest addition to their stellar line of alkaline water machines and it comes in 3 different colors: black, silver, and antique.
It stands apart because it contains a 13-plate ionization technology for maximum water ionization, an advanced filtration system including a pre-filter, anti-bacterial filter, and a bio-ceramic filter for removing impurities and bacteria, as well as the best technology of any ionizer on the market which allows for adjustable pH levels, automatic cleaning, and anti-flood capability.
Additionally, the UCE-13 has a touchscreen display with a variety of preset settings for different types of water and usage making it super easy to use and operate.
If you're looking for the best product on the market and money isn't an issue this is definitely the machine you should buy. You can't go wrong with this under-the-counter extreme ionizer if you want the highest quality alkaline water possible.
Main Features & Benefits:
pH range: 1.7-12.5 pH, up to 1150 ORP, 1.8 PPM molecular hydrogen
Number of Plates: 13
Filter Capacity & Efficiency: Not specified
Under Counter or Countertop: Under Counter
Price: $4,495
Pros
Highest rated specs (pH of 1.7-12.5, 1150 ORP, 1.8 PPM molecular hydrogen)
13 plates for highest level ionization
Smart technology and touchscreen
Cons
Use Code: WaterTechAdvice at Checkout for Free Shipping & Stainless Steel Jug
See our Tyent Water review for more information on the company.
---
#2 Aqua Ionizer Deluxe Pro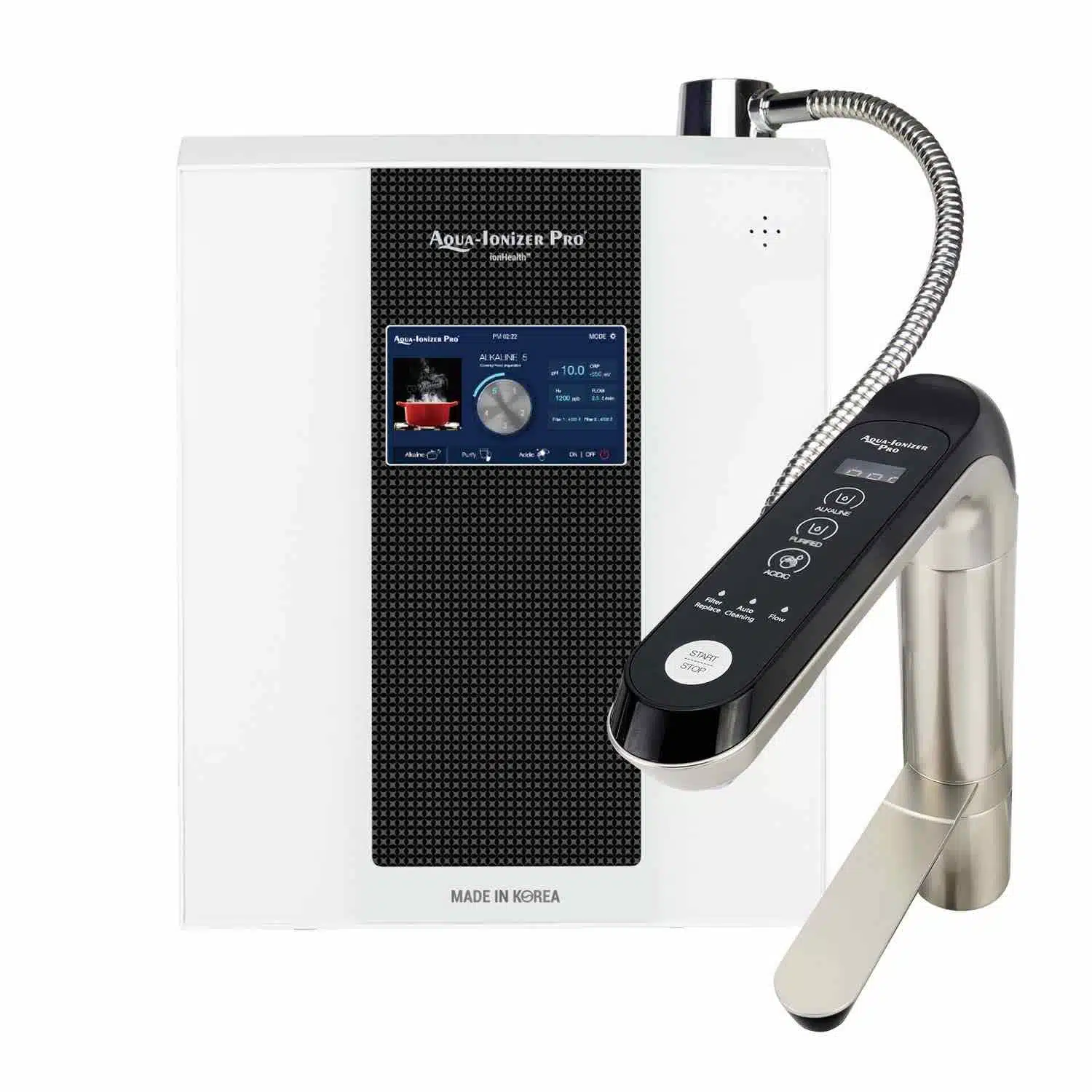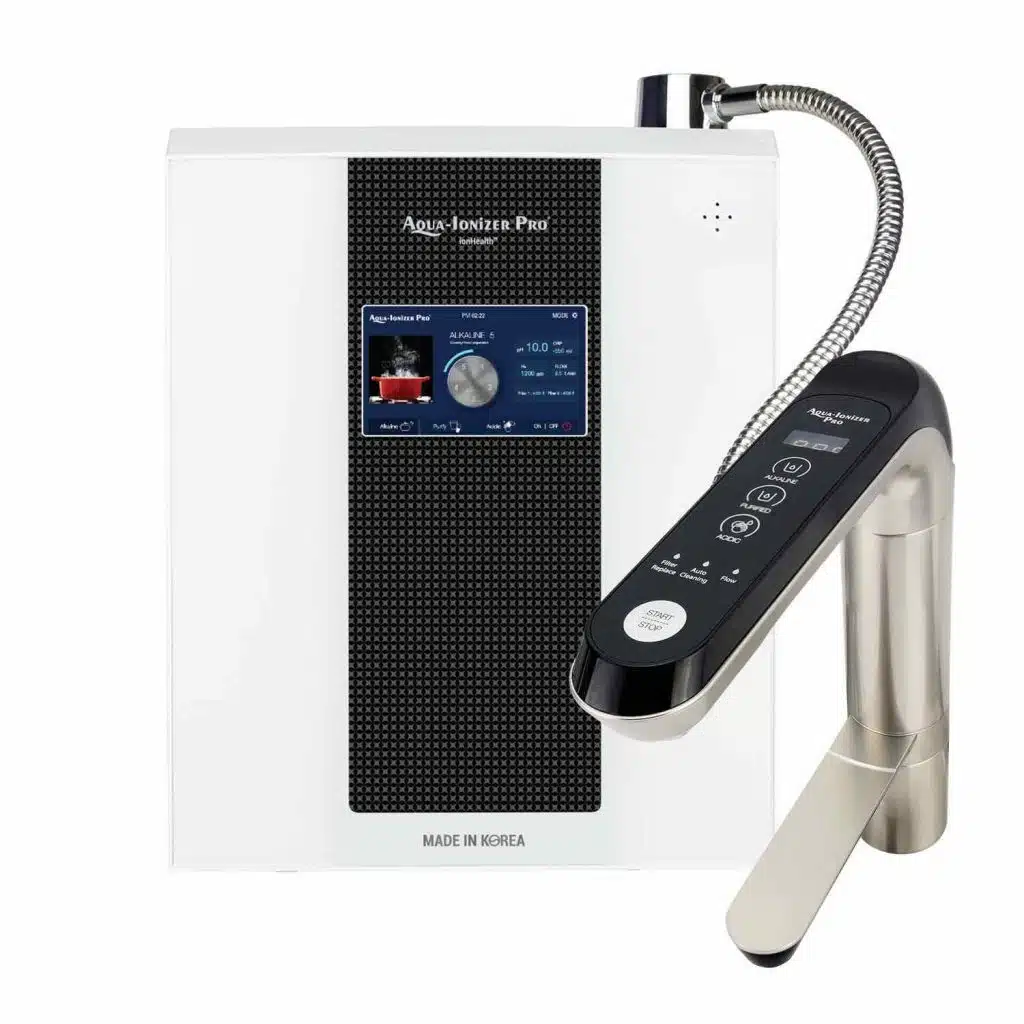 This ionizer is equipped with seven titanium coated platinum plates, capable of producing water with a pH range from 3.5 to 11.
The Aqua Ionizer Deluxe PRO + Smart Faucet, also referred to as the ionHealth Touch, is a unique water ionizer that stands out for its smart faucet feature. This model is designed for those who value a sleek, uncluttered kitchen setup without compromising on the health benefits of ionized water.
The standout feature is the smart faucet, which allows you to adjust settings directly from the faucet, keeping the ionizer tucked away under the sink for a clean, modern look.
Main Features & Benefits:
pH range: 3.5-11
Number of Plates: 7 plates
Filter Capacity & Efficiency: the one filter has 4000 liter capacity
Under Counter or Countertop: Under Counter with Smart Faucet
Price: $2195
Pros
Smart faucet for direct control and a clean look
Antioxidant Boost Technology for health benefits
Dual NSF-rated 10-stage filters for superior water purification
Easy installation under the sink
Lifetime Warranty & Support
Cons
---
3. Kangen Water Machine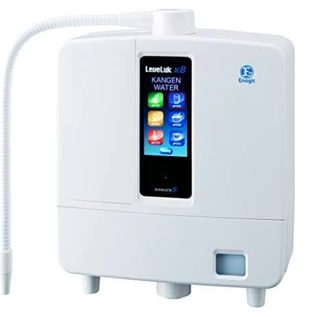 The Kangen Water Machine features eight platinum-dipped titanium plates and is Enagic®'s most powerful antioxidant ionizing machine.
The additional electrode plate improves water ionization, increases the electrolysis surface area, and increases the water's antioxidant potential.
This alkaline water machine is easy to install, but it also features on-screen cleaning instructions and easy filter changes.
One drawback of the Kangen Water Machine is that it requires a chemical additive to produce healthy alkaline water. That additive is an electrolysis enhancer. It's a drawback because it must be added and improper use could damage the water machine.
Main Features & Benefits:
pH range: 2.5-11.5
Number of Plates: 8 platinum plates
Filter Capacity & Efficiency: 1-2 gallons per minute
Under Counter or Countertop: Countertop model
Price: $5650
Pros
Can reach a pH scale of at least 10 without chemicals
Enagic® water machines are made in Japan as medical devices
The company has a long history of high-quality manufacturing devices
There's a wide pH scale range
Cons
The single-filter setup isn't as powerful and is expensive
This water ionizer takes up a significant amount of counter space
The warranty period isn't as long as the competition
---
4. Tyent ACE-13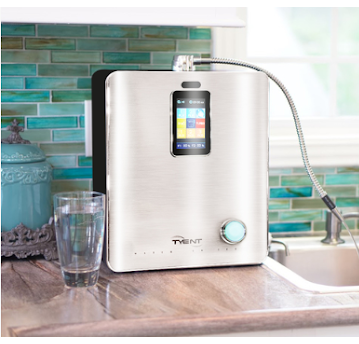 The Tyent ACE-13 countertop water ionizer features a sleek stainless steel design and top-notch technology, making it one of the best alkaline water machines available.
Users will receive the best-tasting water, but this alkaline water machine also looks great in high-end kitchen designs.
The interior of the water ionizer features 13 solid mesh hybrid platinum-coated titanium plates giving this machine powerful ionizing ability while allowing users to have greater control over the pH of their alkaline drinking water.
One of the most notable features of the Tyent ACE-13 Ionizing machine is that it removes solid contaminants from the home's water. These contaminants include mud, rust, sand, and sediments. This ionizer can purify water without using chemicals.
It also features a convenient touchscreen showing the water settings such as the unit's turbo modes, three acidic and three alkaline levels, as well as a hands-free motion-detecting flow sensor.
Main Features & Benefits:
pH Range: 1.7-12.0, allowing users to control
Number of Plates: 13 solid mesh titanium plates
Filter Capacity & Efficiency: 5 gallons per minute dual filter system
Under Counter or Countertop: Countertop Unit
Price: $4000
Pros
Powerful unit with 13 plates
Customizable pH from 1-12.5
Lifetime warranty
Cons
Use Code: WaterTechAdvice at Checkout for Free Shipping & Stainless Steel Jug
---
5. Bawell Platinum Drinking Water Ionizer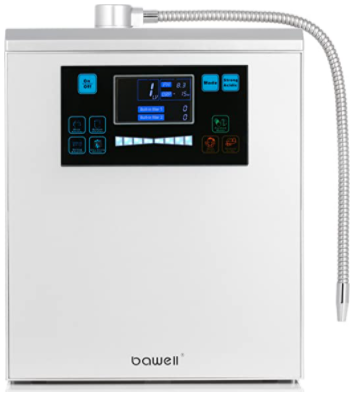 The Bawell Platinum Alkaline Water Ionizer is considered one of the best-valued machines on the market.
In addition to producing purified drinking water, Bawell Platinum Alkaline Water Ionizer also provides alkaline and acidic water. Users can choose the exact pH and ORP using the display features for the water settings on the water ionizer.
No matter if your home has well water or if it's from a municipal treatment plant, this water ionizer works at just the push of a button.
This water ionizer also boasts up to 1,320 gallons of altered water before a filter change must occur which means it has a longer filter life. As an added benefit, this water ionizer installs conveniently underneath counters, or you can use it as a countertop system.
The warranty also helps put consumers' minds at ease because if anything goes wrong with the alkaline water ionizer, they can return or exchange the system hassle-free.
Main Features & Benefits:
pH level: 3-12
Number of Plates: 7 platinum plates
Filter Capacity & Efficiency: 2 filters that last for up to 950 gallons
Under Counter or Countertop: Works either way
Price: $1400
Pros
Programmable using a touchscreen
It features thorough filtration by removing up to 99.99% of water's contaminants
This ionizer machine keeps the pH level consistent
The filter produce water for up to 950 gallons
This BPA-free unit has a lifetime warranty
Cons
It's expensive to replace filters
Unit needs electricity
---
6. Alka Viva Water Ionizer
The Alka Viva water ionizing machine comes in 4 main variations. These include the Vesta H2, Athena H2, Melody 2, and Delphi H2.
The main difference is variations in the pH and the number of plates inside each unit.
The best thing about the Alka Viva ionizers is they contain a quality filter as well as a water ionizer.
The ultra water filtration stage has been NSF certified to remove 249+ contaminants as well as produce highly purified alkaline water.
Overall, we think the quality of the filter/ionizer combo in these models is top of the line, so we rated them highly.
Main Features & Benefits:
pH range: 3-11
Number of Plates: 7-9 platinum plates
Filter Capacity & Efficiency: ultra water filtration removes 249+ contaminants, but the filter needs replacement every 1000 gallons
Under Counter or Countertop: Works either way
Price: $2000-$4500
Pros
4 variations
249+ contaminants removed
The high number of plates
Self-cleaning
Cons
Filter replacement after 1000 gallons
Expensive
---
7. Aqua Ionizer Deluxe 9.5
The Aqua Ionizer Deluxe 9.5 is a high-end model that offers a wide range of pH levels and a high negative Oxidation Reduction Potential (ORP). It's a great choice for those who want a versatile water ionizer that can provide a variety of water types for different uses.
This unit features nine titanium platinum plates and can produce water with a pH range from 3.0 up to 11.5.
It's a countertop unit that gives you control over your water setting and the ability to produce clean, alkalized water at a reasonable price.
Main Features & Benefits:
pH range: 3-11.5
Number of Plates: 9 titanium platinum plates
Filter Capacity & Efficiency: The filter lasts for 4000 liters
Under Counter or Countertop: Countertop
Price: $2,195
Pros
Wide pH range for various uses
High negative ORP for antioxidant benefits
Antioxidant Boost Technology
Lifetime Warranty & Support
Factory Direct Pricing
Cons
Higher cost option
It only works on counter
---
8. Intel Gadgets Iontech IT-757
The Iontech IT-757 by Intel Gadgets is a top-selling ionizer that offers a blend of aesthetics and functionality. It's a great option for those seeking a compact, stylish, and efficient alkaline water ionizer that simplifies operation and maintenance.
This unit features five platinum-coated titanium electrolysis plates and provides seven pH levels, including four alkaline levels, one purified level, and two acidic levels.
It's a countertop unit that gives you control over your water setting and the ability to produce clean, alkalized water at a reasonable price.
Main Features & Benefits:
pH range: 4.5-11
Number of Plates: 5 platinum-titanium plates
Filter Capacity & Efficiency: The filter lasts for approximately 1250 gallons or around six months
Under Counter or Countertop: Countertop
Price: $799
Pros
Sleek and stylish design
Easy to operate with soft-touch selection buttons and a colorful LCD display
Automatic cleaning cycles and alerts for maintenance
Adjustable pH levels for various uses
Quick change filters for easy maintenance
Cons
Not as powerful as some other models
It only works on counter
---
Main Criteria We Look for in a Good Water Ionizer Products or Alkaline Water Machines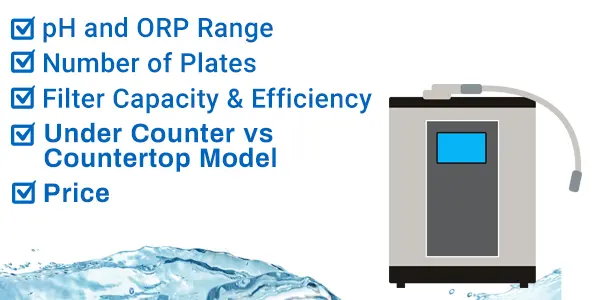 Finding the best water ionizer to remove acidic water might seem overwhelming, but it doesn't need to be that way.
You can narrow down your search for the best alkaline water machine by comparing the top models on a few common factors that all of the best water ionizers have in common.
pH and ORP Range
Water pH is a measure of how acidic or alkaline your drinking water is. Most people looking to buy a water ionizer are looking to produce purified water at a higher pH of around 7-10 for health benefits.
When selecting a water ionizer, make sure the pH range is between 4 and 11 with at least a negative 800 ORP. Water pH typically ranges between 0-14, with 7 being neutral, 1 being very acidic, and 10 being very alkaline.
The best alkaline water machine should be at around a 7-10 pH for alkaline drinking water. If you're using a water ionizer for cleaning and sterilizing, it would be in a lower pH range.
One other factor to check is the ORP or oxidation-reduction potential. This term refers to how capable a water ionizer is in reducing oxidation levels in the unit. The ORP is a measure of how strong an acid is. The lower the ORP, the better, so you should think about it. Look for units that produce negative oxidation-reduction potential water.
Number of Plates
One critical component in the best alkaline water machine is its plates. This is where the tap water converts into ionized water. Typically, the more plates used, the better since more plates equal more power in creating alkaline water and balancing alkaline and acidic components.
Consumers can choose from grid, mesh, flat, and slotted plate types. The grid is known for being the best quality, while the slotted is the lowest quality.
Higher-end models usually contain around 11 plates, while cheaper models usually have around 5. This is a factor to consider when purchasing your ionizer machine.
Tap Water Filter Capacity & Efficiency
Most water ionizers will also come with an activated carbon water filter to help remove contaminants, bacteria, and sediment in your water.
It's important to check to see if this filter is effective in removing impurities like lead and chlorine, as well as how long the filter will last before it needs replacement.
Some filters will last for 12 months before needing replacement, while others will last for 6 months. It's also important to change your filter when necessary to prevent sediment buildup.
Under the Counter vs. Countertop Model
Alkaline water ionizer machines come in 2 main styles. The first is a unit that fits under the counter for people who don't have enough space on the counter or don't want to showcase the machine.
They also make countertop machines that fit compactly on your kitchen counter. Make sure to choose the appropriate type of unit for your home needs and that you can easily fill your water bottle.
List Price
The best water ionizers usually cost between $1,000 to $4,000, with some being more expensive and some being less expensive in the $500 and less range.
If you want the best water ionizer, they are usually priced in the $1000 to $5000 range.
Alkaline Water Machine (Ionizer) Buyers Guide
What are Water Ionizers?
A water ionizer, which you might also hear referred to as an alkaline water machine, is a home appliance consumers can use to raise their drinking water's pH level.
These systems accomplish this goal through the use of electrolysis. Electrolysis separates the water streaming into the system into alkaline and acidic water.
Each water ionizer features platinum and titanium plates where ions transfer from the plate's exchange to the water. As a result, the water's pH level is more alkaline. That means the best ionizer water machines alter the water's pH levels to increase the alkalinity.
How Does a Water Ionizer Work?
Water ionizers usually attach to the kitchen faucet and have direct access to the home's water.
In doing so, all of the home's kitchen tap water is ionized by the alkaline water ionizer machine before using it for cleaning, cooking, or drinking.
Each time tap water moves through an ionizer machine, the carbon minerals convert to hydrate minerals. Carbon minerals include calcium and magnesium minerals. This process is also referred to as controlled electrolysis.
How Does Water Become Ionized?
When breaking down the process, it looks like this:
Water enters an ionizer machine through a faucet attachment, which is typically a flexible plastic tube.
The first stage involves the water going through an active carbon water filter to remove all harmful contaminants, including chemicals, metals, and pathogens.
The next stage involves the filtered water moving into a chamber that contains electromagnetic plates.
The last stage involves negative electrons attracting the water's positive ions and negatively charged ions attracting positively charged electrons.
That process produces reduced ionized water and oxidized water that flows separately from each other.
Difference Between Alkaline Water & Regular Water
The water pH is the main difference between alkaline water and regular tap water.
Regular tap water has a pH usually around 5-7, while changed water produced from an alkaline water ionizer machine has a pH of around 8-9.
Alkaline water usually contains more alkaline minerals than regular tap water and much more than acidic water.
The taste difference between alkaline water and regular water is also substantial. Regular water is usually less sweet than alkaline water, which usually has a light and slightly sweet taste.
Another main downside of regular tap water is that it usually contains many more contaminants and acidic components than water that has been filtered and ionized by a water ionizer.
Benefits of Alkaline Water
Drinking alkaline water has a few health benefits that make it superior compared to regular tap water:
A higher pH and more beneficial minerals like calcium, magnesium, potassium, and sodium
A sweeter, lighter taste that tastes better than often bitter tap water
It has been shown in some studies to enhance hydration unlike normal drinking water
The purified water may help improve bone health
It may help soothe symptoms of acid reflux due to the alkalinity that helps diminish acid
Overall, there has been some scientific evidence to suggest that fueling your body with alkaline water is beneficial for health and can help reduce acid reflux, especially in exchange for acidic drinks like coffee or alcohol.
As for how much you should drink compared to regular water, that's a highly debated topic among the health community. See our post on how much alkaline water you can drink a day for more information.
Downsides of Drinking Alkaline Water
Even though alkaline water is safe to consume and has many possible benefits, it's also important to talk about the possible downsides of alkaline water:
It could possibly lower your stomach's natural acidity
It could possibly lead to some skin irritation
It could possibly lead to some intestinal issues
Overall, alkaline water is very safe and healthy, and health professionals don't question the safety of drinking ionized water but instead question some of the claims some companies make when selling water ionizers.
Features The Best Alkaline Water Ionizer Machine Has
We highlighted the main things you should look for at the beginning of our guide, but we felt it was important to mention again the main features you are looking for in an alkaline water filtration system.
Included Water Filtration System
If your alkaline water machine is going to be your main water purification system, it's important that it includes a water filter capable of removing common contaminants in your water supply.
In general, water from a city water source is safe to drink, but it usually comes with contaminants and disinfection byproducts that the treatment facility doesn't remove.
Contaminants like chlorine or lead can give water an unpleasant taste, and odor, and make it more toxic to drink.
The bottom line is to make sure that the alkaline water machine you buy contains a high-quality built-in water filter if you aren't going to be installing a separate filtration system.
If you have a water supply with a high level of contaminants, it may make sense to check out a reverse osmosis system or whole house water filter to supplement your ionizer.
Powerful Ionizer Plates
The plates in an aqua ionizer are one of the most important components to obtain ionized or alkaline water.
This is because they are the main technology in the electrolysis process that water undergoes when moving through the machine.
In general, the quantity and quality of the plates determine how effective the best water ionizer machines are in producing ionized alkaline water and how it will affect water pressure.
There are 3 main kinds of plates: solid, mesh, and a combination of the two.
Solid plates are known to be more durable but less efficient, and mesh plates are known to be less durable but more effective in the ionization process.
The best is when a water ionizer uses a combination of both types of plates in a sufficient quantity, so they are powerful enough. You will usually see most of the high-quality water ionizers contain around 7-13 platinum plates.
Water Ionizer Installation Basics
Installing an alkaline water machine isn't too complicated, but each model has its own differences.
If you have some DIY experience, it should be a breeze, and if you don't, it should still be easily manageable.
Let's go over the basic steps that are needed when installing any water ionizer in your kitchen faucet.
Connect the faucet diverter to your sink (most units come with a diverter that allows you to switch from regular tap water to your alkaline water pitcher). You will need to remove your faucet aerator and then make sure to install the diverter accurately.
Next, you will need to connect the small hose to the diverter on one end and to your water ionizer on the other end.
Next, you'll need to connect your water ionizer to a power source so that it's ready to start filtering your normal water.
Lastly, the water ionizer may need to clean itself while the water is running through it until it notifies you that the water is purified with an alkaline Ph.
These are the core steps of installing any alkaline water ionizer, but each specific model will come with instructions on how to install it specifically.
Make sure to follow the manufacturers' guidelines as they will usually have videos on youtube as well.
Water Ionizer Maintenance Basics
If a water ionizer is not properly maintained, it runs the risk of sediment buildup and other malfunctions, which will prevent the machine from producing the molecular hydrogen alkaline water you're looking for and may reduce water pressure.
The good news is, that most of the reputable water ionizers will have self-cleaning technology included with the system, so you won't need to worry about cleaning it regularly.
If you choose a lower-priced model, it may require periodic cleaning.
Be sure to take a look at your machine's owner manual to determine what type of cleaning system it uses. There are usually manual and automatic cyclical cleaning systems.
If you have a unit with a manual cleaning system, you will probably need to clean it every 6 months.
Water Ionizer Additional FAQs
Are Water Ionizers Worth It?
If you are looking for water with high ph levels and molecular hydrogen that supports your health goals, then a water ionizer can be totally worth the cost. On the other hand, if you are someone who doesn't care as much about getting alkaline water and is fine with normal water, it may not be worth the cost.
Is Ionized Water The Same as Alkaline Water?
Yes, Ionized water is the same as alkaline water. You will see that the terms alkaline water and ionized water are used interchangeably because they mean the same thing. Ionization is the process that creates alkaline water with an at-home water ionizer.
Why Are Water Ionizers so Expensive?
Water ionizers are so expensive because they contain between 5-13 platinum-coated titanium plates or water filters used in the electrolysis process. Platinum and titanium are both very expensive metals.
Also, ionizer water systems require a lot of research and development in order to create the best alkaline water system that can produce healthy drinking water by removing acid minerals with water filters .
Is 9.5 pH Water Good?
9.5 pH water is considered alkaline water, and it is the range you are looking for in purified drinking water from an alkaline ionizer.
Can You Drink Alkaline Water Every Day?
Yes, it is safe to drink alkaline water every day.
What's The Difference Between Alkaline Water and Distilled Water?
Distilled water has a pH of 7 and is completely purified water while alkaline water has a pH of above 7 and contains more minerals in it. They are both good types of filtered water but alkaline water offers the benefits of alkalinity. See our guide to alkaline vs distilled water here.
Do You Use Normal Tap Water When Connecting The Faucet to the Ionizer?
Yes, normal tap water is used when connecting the faucet to the aqua ionizer. The water ionizer creates alkaline water out of tap water.
Can Dogs Drink Alkaline Water?
Yes, dogs can drink alkaline water as there have been no studies or evidence that it has a negative impact on them.
Conclusion
When you have the right alkaline water machine information in front of you, it's possible to choose the best water ionizer for your home.
Not only do you want it to contain a water filter with a long filter life, but you also want it to create alkaline water which can be healthy for your body.
Producing the best water means the alkaline water ionizer machine features the right pH, ORP, water filter efficiency, various water settings, and the highest quality plates without severely affecting your water pressure…and it has to be energy efficient as well!
We love the Tyent UCE-11 ionizer for its dual filtration and programmable touchscreen. We also like the Aqua Ionizer Deluxe because it's budget-friendly and can fit on the countertop or underneath the sink.