Culligan is one of the biggest names in water treatment, having been in business since 1936. From a small start in Illinois, Culligan now employs over 5,000 staff in 85 countries worldwide.
Culligan manufactures a range of water treatment systems including domestic, commercial, and industrial filtration plant as well as water softeners.
Culligan Customer Service
Unfortunately, while Culligan is a well-established brand, their customer service is generally rated very poorly.
A quick Google search for Culligan reviews reveals a lot of serious complaints, from the excessive price of installation and repair charges, problems with relatively new equipment not being covered under warranty, and hidden fees.
Given that the first place most people look to research a product is Google, this is not a good sign from the start.
As a huge name in the water treatment industry, we want our Culligan Water Softener Review to give a fair overview of their products to help you make an informed decision before you buy.
Benefits of Culligan Water Softeners
Technology and Features
The majority of Culligan water softeners work using ion exchange, using salt to draw scale inducing minerals out of the water supply, providing soft water to outlets within the property.
While a salt based water system softener has its drawbacks, they are a proven technology and the expertise and spare parts are very accessible should you ever need to have repairs carried out.
Many Culligan products use their patented smart technology to monitor the water usage and quality, adjusting the softener's operation to ensure that the unit's performance remains consistent and all water passing through is softened to a high standard.
Culligan soft water systems also use "Dial-a-Soft" valves, allowing the user to easily adjust the water softness according to their preference.
How They Work
Ion exchange is a commonly used process in water softener systems and most Culligan water softener systems rely on this process to treat hard water.
When passing through the softener, loosely held calcium and magnesium ions are replaced with sodium ions (from the salt solution), removing the minerals which cause scale from the water supply.
Top 3 Culligan Water Softeners
1. Culligan High-Efficiency (HE)
The Smart Technology within the Culligan's high efficiency water softener system calculates the soft water being drawn from the softener and adjusts its operation to ensure that no more water is softened than is needed.
This technology from Culligan also allows the user to adjust the softness level of water from the softener, meaning you can eliminate the soapy, slippery feeling often associated with softened water.
This Culligan water softener will also automatically send reports on to your Culligan Man, so you won't need to worry about scheduling maintenance visits – the water softener will automatically calculate when servicing is required from your water usage and contact you to book a convenient date and time for the visit.
A helpful low salt indicator light warns you when the salt within the water softener system is running low, giving you plenty of time to refill the tank.
Although the Culligan High Efficiency range provides an effective way to relieve hard water problems in the home, there are other more reliable options on the market at a better price.
2. Culligan High Efficiency (HE) Twin Tank And High Efficiency (HE) Progressive Flow
The Culligan High Efficiency (HE) Twin Tank with High Efficiency (HE) Progressive Flow water conditioner was designed to meet the demand for water softeners in larger homes and light commercial settings.
The twin tank system gives this Culligan water softener a higher capacity than single tank variants. This makes it suitable for larger properties and a smart sensor built into the water softener adjusts the softening process as it monitors the levels of hardness in the water passing through.
The twin tanks in these Culligan water softeners take it in turns when in use, meaning that there is no interruption to the water softener operation as the tanks cycle.
The built-in Smart Technology forecasts when the water softener will run out of salt, and also provides accurate information on flow rate, salt use and water hardness.
The Dial-A-Soft user control also features on these Culligan water softeners, allowing the user to finely adjust the operation of their water softener to ensure water quality and feel that they are happy with.
3. Culligan Gold Series
The Culligan Gold Series of water softeners are available in four different sizes, to suit a range of homes from small to large.
As with the High Efficiency series, these Culligan water softeners use Demand Initiated Regeneration, only running the regeneration cycle when the threshold for water usage from the device has been met. This reduces salt and water use, saving the homeowner money.
Many of the features of the High Efficiency Culligan water softener range are shared with the Gold Series models, and this NSF certified model of Culligan water softener has an advanced control valve built into the outlet, allowing the softener to regulate the water pressure from the softener into the home.
This is helpful where the softener is installed onto plumbing in older homes, to ensure that the water delivered by the Culligan water softener doesn't damage any weaker parts of the system.
With flow rates rated between 9 and 10.6 GPM according to the water softener model selected, the Culligan Gold Series of water softeners is more than capable of delivering water from the softener system to multiple bathrooms at once.
The softening capacity of these Culligan water softeners is 30,000 – 90,000 grains, and they are capable of storing up to 600lb of salt – a supply that will last a considerable amount of time under normal use within even a large home.
Disadvantages of Culligan Water Softeners
High Costs
While most of their competitors openly price their products and make them available for sale online, Culligan does not follow this model with their water softeners. Instead, if you want to have a Culligan water softener quoted for your home, you are put in contact with one of their representatives who will provide a proposal.
Culligan's process can make cost comparison considerably slower vs checking prices online, and we have heard some horror stories about people who were quoted very high costs to install seemingly standard systems, sometimes thousands of dollars more than a comparable unit bought online.
See our detailed guide on Culligan Water Softener Costs here.
Poor Customer Service
We touched on this earlier in the article however it is very difficult to ignore such negative feedback from previous buyers of Culligan products.
While online customer reviews must be treated with some skepticism, when it comes to Culligan, reviewers have not been kind.
From faulty parts, expensive repairs, overpriced maintenance visits and contracts that have tied consumers into bad deals for years. The aftercare Culligan offer and the customer service team responsible for dealing with these enquiries for repairs, advice and maintenance receive a lot of criticism.
While there are usually a few customers who have had bad experiences with any company, when it comes to Culligan the sheer number of complaints and their seriousness would suggest that Culligan could improve their processes, in order to resolve some of these issues without regularly upsetting their consumers.
Hard to Repair and Hard to Maintain
Salt based water softeners have been around for long enough that there are many capable repairmen who are able to fix common problems fairly cheaply and without much fuss.
Unfortunately, this does not seem to be the case when it comes to Culligan. Their systems are too complicated for even a competent DIYer to identify faults and undertake repairs.
This usually leads to the owners of faulty Culligan systems having to call in Culligan themselves to undertake the repairs, which in turn leads to very costly bills.
The difficulty in undertaking even basic maintenance means that service contracts are often required, which further increases the cost to the consumer for a Culligan water softener.
Complex
While advances in technology have added huge benefits to water softener systems over the last 20 years, this comes at a cost.
Mechanical systems are fairly straightforward in their operation, using common principles that apply to all systems. This means that a competent engineer can diagnose and resolve faults without much fuss.
With the advances in technology, Culligan has added more and more complex systems to their water softening equipment. Very often this means that faults cannot be diagnosed without a Culligan engineer's assistance and you might've guessed it… this won't be cheap.
Not DIY friendly
One of the most important factors in choosing a water softener system is the simplicity. Many of the most popular water softener models on the market are available with a "DIY installation kit", eliminating the need to pay a professional plumber/electrician to connect and commission the system.
Unfortunately, Culligan systems are widely reported to be so complicated that this is not an option, meaning that an installation cost must be added to the purchase price of the Culligan system.
Best Culligan Water Softener Alternatives
Springwell FutureSoft Salt-Free Softener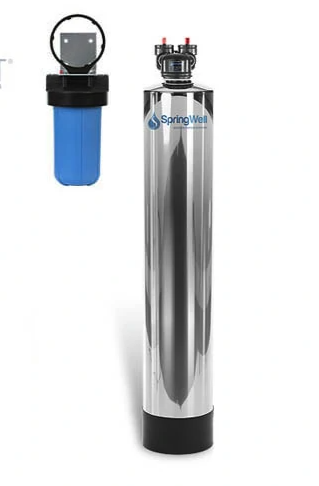 The FutureSoft model by Springwell is a salt-free whole house softener system.
The top-rated Springwell FutureSoft provides 99.6% scale prevention without the use of chemicals or salt and ensures you have a zero drop in water pressure throughout your home.
Unlike traditional salt-based systems, the Futuresoft water softening system wastes no water and does not discharge salt brine into the environment. Eliminate scale, extend the life of your appliances, and make cleaning easier today!
We believe that the FutureSoft is a better alternative to any Culligan water softener reviewed here, with the added benefit of having Springwell's highly praised customer support team on hand if you run into difficulties.
Springwell also has a great salt option here if you still want to stick to a salt-based softener.
---
Conclusion
Our Culligan water softener review has shed much light on the problems that Culligan customers have experienced in the past.
While the Culligan water softener range has some strong features but poor customer service, high price and the presence of cheaper, better supported and more reliable water softeners on the market means that our review cannot recommend Culligan water softeners.
The Springwell FutureSoft and salt-based systems are higher rated than any of the Culligan models we have looked at with a host of their own great features. The FutureSoft is readily available online at a lower price, is backed by expert customer service, and has a long warranty period included in the price.
For more information on our top recommended softeners see our guide here.