If you have found your way to this page, then most likely you are searching for a quality water softening system. In keeping with that theme, the Soft Pro Elite Water Softener is definitely a model that I feel is worth taking a look at.
This has everything to do with the reputation of the manufacturer, the several outstanding features this water softener has, and the large number of positive reviews that have been written by those that have purchased and used it.
In this review, I will take a much closer look at the many highlight features of this popular water softening system, why it performs so well, and whether or not DIY installation is possible with it.
I will even use my many years of water filtration experience to give you my well-informed opinion as to whether or not you should consider the SoftPro Elite when looking for a new water softener.
This SoftPro drinking water system will stop stubborn limescale from forming on bathroom fixtures, water heater element frequent replacement on home appliances, ugly spots on glasses & dishes, and clothes that are stained after using washing machines .
SoftPro Elite Softener Overview
This is one of the better-designed water softening systems that I have come across in my search for the most impactful ones to soften well water. It has many outstanding features built into it that tend to justify its higher sticker price.
It all starts with an advanced automated control system that gives you many programming options to simplify the system's operation. This includes such settings as vacation, auto system refresh, auto adjustable backwash frequency, automatic backwash override, and battery backup modes.
It's also easy to select these different functions because they are displayed and made easily readable by the control head's decent size LCD screen.
The SoftPro Elite control head and valve also make use of what's known as 'upflow technology'. As you probably guessed, this means the water flows up through the main resin tank which makes the resin beads work more efficiently and helps to keep them cleaner.
Something that results in both significant water and salt savings.
Also, not to be overlooked is the option to choose a model that comes with a preinstalled KDF filter that surrounds its advanced crosslink resin bed in the brine tank and removes chlorine.
It's a SoftPro Elite water softener model that is known to be user-friendly, highly efficient, comes with many available water treatment add-ons, and is backed up very well by the manufacturer.
As with most water softener models, this SoftPro Elite system is not a perfect water softening device. It takes some space to install it, is not an easy DIY installation, and there is still some wastewater produced by its regeneration cycle (cleaning and salt replenishment cycle).
But don't mistake these things for meaning the SoftPro Elite is not a quality water treatment system. SoftPro Elite systems do a great job of making soft water and adding to your overall water quality.
---
Features
These are some of the characteristics of the SoftPro Elite high efficiency water softener that set it apart from many other models:
Programmable Control Head w/LCD Screen
SoftPro has gone to great lengths to make their Elite Model water softener as user-friendly and efficient as possible. Its programmable upflow control valve is a big part of this. This valve automatically handles the many functions it takes to make soft water. .
Works Great for Well Water
If you have water coming into your home that is sourced from a well, chances are that you will need a quality well water softening system to remove calcium, magnesium, and other hard water minerals from your incoming water.
The SoftPro Elite high efficiency water softener can easily handle that task as it improves overall well and city water quality.
Added KDF Filtration and Crosslink Resin
More traditional water softeners use a fine mesh resin bed but that's not the case with the Soft Pro Elite Softener.
It uses a more efficient and easier to clean crosslink resin bed that is surrounded by preinstalled KDF filter media that also removes chlorine and a few other tap water contaminants. Rapidly depleted resin is not a problem with SoftPro water softeners.
Excellent Company Support
SoftPro has a reputation for giving outstanding customer service and backing up its products well. This USA-made water softener comes with a 6-month money-back guarantee, a lifetime warranty, and a neoprene brine tank jacket & condensation guard.
Many Add-Ons Available
If you want to not only have soft water but also make your water softening system into part of a well-rounded home water filtration system, this is made possible by purchasing the many add-ons that SoftPro offers with this model.
This includes an under-the-sink reverse osmosis system with additional catalytic carbon filter, a bacteria growth inhibiting UV light device, and a whole-house chlorine filter that removes this worrisome contaminant from city water.
Performance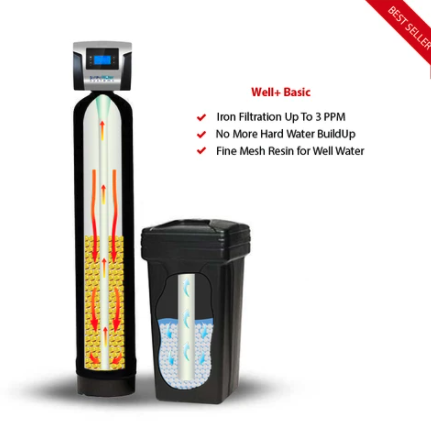 If you choose to purchase and install this SoftPro Elite softener system, then you can rest assured that even the most stubborn hardness mineral problems in your household water will become a thing of the past.
That's because of the high-efficiency technology that is placed inside of SoftPro Elite Water Softening systems that helps make the soft water that we all love. .
This includes 1" pipe connections for increased water flow through the system and added KDF filtration that surrounds its advanced crosslink resin bed (instead of a fine mesh resin) and removes a significant amount of the chlorine that passes through it.
Its upflow valve technology also makes better use of its resin bed by pushing water up through it instead of the more traditional way of having water flowing down through a softener.
This is the reason why this system uses 60% less water to clean the resin bed in the brine tank during regeneration than more traditional water softeners.
Advanced brining also produces 70% of the salt solution that's required for this system's hardness mineral removing ion exchange process only 15 minutes before a regeneration cycle.
This results in 50% less salt usage over water softeners that do not have this technology. You will find few water softener models where both the salt tank saves salt and the resin tank is used so efficiently.
As a bonus, this water softener will also reduce iron down to 3 parts per million (ppm).
Installation and maintenance
Is this a water softener that I recommend that you install yourself? The answer to that question is probably no unless you have a better than average amount of plumbing know-how.
That's because ingoing and outgoing plumbing lines have to be connected to the control valve, the salt tank and mineral tank have to be connected, a bypass line and bypass valve have to be added, and a separate drain line needs to be installed on the brine tank and resin tank.
If you have a professional hook up the plumbing system for it, you will get the benefit of having the technician teach you how to program its somewhat complicated programmable control head w/LCD screen. Something that you want to be sure to ask them to do.
Because of all of the advanced technology that has been built into the Soft Pro Elite Water Softener system, the maintenance that it requires is very minimal.
That maintenance includes periodically adding salt to its brine tank which does not have to be done as often as it does with most water softeners.
That's just about it as far as maintenance goes except for having to drain and clean the salt tank once or twice a year. These are just more traits that make it a quality water treatment system.
System Info
There are several different configurations of the SoftPro Elite Water softener that you can purchase. This includes having a wide variety of grain capacity choices. These grain capacities are 24,000; 32,000; 40,000; 48,000; 64,000; 80,000; 96,000; and 11,0000.
This company's water softening models also are available in different assigned flow rates. That way you can find a water softener that will feed water to your plumbing so there is no pressure drop-off even when using multiple taps and showerheads at the same time.
The available flow rates that will help avoid water pressure drops to your water supply include 10, 11, 13, 17, 20, 23, 25, and 32 gallons per minute (GPM) SoftPro elite city and well water systems.
This handy water softener size calculator the company provides will help you to determine the ideal grain capacity and flow rate for your new water softener system.
Pros/Cons
Here are some aspects of the SoftPro Elite Softener that I really like and other areas where it needs improvement:
Pros:
High-efficiency technology
SoftPro water systems have programmable control valves w/LCD screens
Works great for well water but can be used for city water too
Added KDF filtration with upgraded fine mesh resin
Upflow regeneration
Large brine tank (mineral tank)
Low maintenance
Neoprene protective tank jacket & tank condensation guard
Lifetime warranty
6-month money-back guarantee
USA-made
ANSI, NSF, and ISO 9001 certified company
Several add-ons available for whole house quality water supply
Bonus 3 ppm iron filtration
Cons:
Somewhat pricey
Produces a good amount of water waste when regenerating
Takes space to install
Professional installation may be necessary
My Summation of the SoftPro Elite Water Softener
I have to tell you straight away that although this salt based water softener model is somewhat pricey, takes up some space when in place, and may need to be professionally installed, I feel it's one of the better water softeners that's available in the marketplace.
This sentiment is backed up by the fact that we made the SoftPro Elite Softener the #2 pick on our list of the best whole-house water softening systems. Softpro Elite Systems even have better brine tanks and resin tanks than most other brands of water softeners.
Given that it not only removes hard water causing minerals very well but also removes a significant amount of iron and chlorine gives it some bonuses that most water softeners don't possess.
In my estimation, it's definitely a quality water treatment system worth taking a look at when you are shopping for water softeners. Especially if you have well water coming into your home. It's hard to beat when it comes to salt based water softeners.