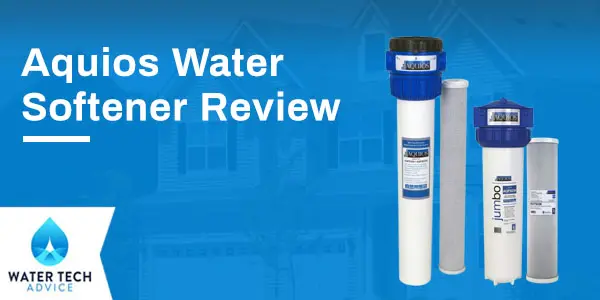 Do your faucets provide smelly, scaly water?
If so, a whole-home water softener & filter may be right for you.
If you're considering this option, you've come to the right place. We have a couple of great recommendations from Aquios for you.
In this article we will review the Aquios AQFS220 and AQFS234 water softener systems so that you can determine if they are right for your home water needs.
Also Check Out: Our Favorite Top Rated Softeners
Aquios AQFS220 Salt Free Water Softener and Filter System
Our first Aquios water softener review will be for the AQFS220. The Aquios FS 220 is a whole-house water softener and filter.
Aquios rates this system as 12gpm, which should be plenty of water flow for the average family.
It is compact and easy to maintain, and most people consider its installation process DIY-friendly.
The AQFS220 is a salt free filter system. This saves you money and it doesn't add all that extra salt into your drinking water.
The AQFS220 greatly improves your water quality. It filters contaminants, organic impurities, and other undesirable materials with 5 micron carbon block filtration. This improves the taste and eliminates chlorine smell.
This system conditions your water using natural technology to remove and prevent limescale and to remove some of the existing scale deposits in your pipes. And It helps prevent rust in your plumbing, too!
Some of the typical salt based water softeners leave the water feeling slippery or slimy. You won't get this with the AQFS220.
Unlike traditional water softeners that remove the hardening minerals from the water, this system uses a food grade polyphosphate additive that prevents them from building up in your faucets and water pipes.
You may still notice a difference in the feel of your water, but it won't be slimy. It also won't remove any of the healthy minerals from your water supply.
But, there are downsides to consider with this water conditioning system. It has a compact design, but it must be mounted in just the right orientation to function.
The Aquios water conditioning system is pricey but a whole-house system is usually more expensive. Aquios water softener systems are cheaper than most comparable systems. Not having to add salt all the time may help offset some of that, but you still need to replace the filters regularly.
Aquios rates the high capacity filter cartridge at 40,000 gallons, which should last about six months. That seems about right for average water. If your water is particularly scaly, hard, or contaminated, the filters may not last that long.
Pros
Low maintenance
Doesn't require an electrical connection
Scale reduction in your pipes
Prevents future buildup in water with a hardness up to 30 gpg
Doesn't require salt top-ups or regeneration cycles
Protects from corrosion
Chlorine reduction
DIY-friendly
Compact unit
20-year warranty
Cons
Not as good at softening water as some competitors, especially the salt based water softener
Some reports of leaks
Filter cartridge may not last as long as rated
Unresponsive customer service
---
Aquios AQFS234 Water Softener and Filter System
Our next Aquios water filter system review is for the AQFS234, which is basically the big brother to the AQFS220 system. The AQFS234 is a full house water softener and filtration system with a flow rate of 15-18gpm. Except in the most extreme cases, this should handle your home with no problems.
A salt based water softener dumps a lot of salt down your drain, which is not ideal. But what some people don't think about is that more salt also ends up coming out of your faucets. With salt free systems like the AQFS234 you won't drink that salt or be covered in it when you shower, unlike with the salt based systems.
The AQFS234 filters your water supply, removing contaminants and other undesirable materials with 5 micron carbon block filtration. You'll get a noticeable difference in the smell and taste of your water, mostly because this filter removes chlorine from your water.
Do you have scale deposits in your faucets and pipes? The Aquios water softener and filtration system can help remove that. It also reduces future scale buildup. While reducing future scale is great, the ability to remove existing scale deposits from your pipes is a huge plus. And this also helps protect and extend the life of water heaters.
You'll see some of the same downsides with this filter as with the one above. There are occasional reports of leaks and reports that it doesn't soften the water as well as Aquios claims.
Some people complain that the filters don't last as long as they are supposed to, especially for harder water or water that is dirtier than average water. Its compact design may be DIY-friendly, but it must be mounted in an upright orientation.
Pros
DIY-friendly installation
20-year warranty
Low water pressure drop- only 1PSI drop in pressure
Environmentally friendly (doesn't dump excess salt into wastewater)
Improves taste and smell of your water
Removes chlorine
No salt top-ups or regeneration cycles
60,000 gallon capacity, or about six months for a large family
Scale reduction in your pipes
Prevents scale in water with hardness up to 30 gpg
Compact unit
Cons
Filters sometimes need replaced more often than six months
No indicator to show when the filter is nearing its end of life
Filter may not last as long as rated
Complaints of cloudy water
---
Who is Aquios?
Aquios is one of the leading producers of salt free water softener and filter systems. They've been around for a long time, and many professionals and homeowners put their trust in them.
Their long warranty shows how confident they are in the quality of their water conditioning and filtration systems.
Aquios systems offer a salt free, lower cost alternative to many of the high end filters on the market. They are eco-friendly, require no electricity or programming, and are incredibly low-maintenance.
AQFS220 and AQFS234 vs. Competition Water Softeners
Our research shows that the Aquios AQFS220 and AQFS234 compare decently with the Springwell Futuresoft. The Springwell is better overall in some areas but comes at a much higher price.
All three of these water softening and filtering systems are whole-house systems, are salt free, and do a great job of eliminating scale in your water supply and pipes. They all require only periodic filter changes.
None of these water treatment systems require a drain connection like the salt based water treatment systems do. There are some important differences, though.
Springwell Futuresoft Filtration System Advantages
The Springwell Futuresoft works better on hard water. It handles water up to 81 gpg hardness, whereas both Aquios water filters only work on water up to 30 gpg.
More users notice a reduction in water hardness with the Springwell over both Aquios water filters.
Springwell offers a lifetime warranty, whereas the Aquios water filters offer twenty years.
We found fewer complaints about the Springwell Futuresoft filter cartridges. The Aquios filter cartridges sometimes needed replaced earlier than expected.
Overall, if you have the money we would recommend going with Springwell as the quality is definitely better
---
AQFS220 and AQFS234 Advantages
Price. The AQFS220 and AQFS234 are much cheaper than the Springwell Futuresoft. And by much cheaper we mean a fraction of the cost.
The AQFS234 has a higher flow rate than the other two. It is rated at 18gpm, whereas both the Springwell Futuresoft and AQFS220 are rated at 12gpm.
Overall, the Springwell Futuresoft is a better softening and filtering system. Having said that, many people with lower budgets will be happy with the Aquios AQFS220 or AQFS234.
The Aquios systems won't soften water as well or filter as well as the Springwell system.
An Aquios system doesn't offer the lifetime warranty that Springwell does.
Some people may find the high price of the Springwell a deal-breaker, making an Aquios system an attractive alternative.
Especially if you have hard water that is average hardness or just slightly hard, you'll be happy with the Aquios water filters. If you have really hard water then you'll be better off with the Futuresoft.
In Conclusion
The Aquios AQFS220 and AQFS234 water treatment systems are great choices for most people.
Both handle enough water, with the AQFS234 being the better choice for a larger family. A lot more people are looking for a salt free water softener these days, partly because of the hassle-free nature. For the price, you won't find many that are this good.