The Eddy Electronic Water Descaler is not your traditional water softener. It doesn't use salt so there's no salty taste to your water.
By descaling the water, the Eddy Electronic Water Descaler uses electricity to change the molecular composition of minerals like Magnesium, Calcium, and Manganese to prevent limescale build-up.
Eddy Water Descaler Technology
Hard water contains a lot of minerals that affect pipes and appliances. Electronic descaling doesn't change the composition of water, it alters the make-up of minerals so they become more soluble. That allows for less lime or "white stuff" on pots, pans, kettles, and other kitchenware to form. Here's what you get with this system:
Power Supply – 110 volt
Power Consumption – 5 watts
Descaling Technology – Electromagnetic Wave Projection
Components – Electromagnetic Wave Generator Unit w/ 4 RCA jacks & cables and 2 waterline coils, Power Adaptor
Dimensions – 6.69 inches (17 cm) x 1.57 inches (4 cm) x 3.54 inches (9 cm)
Pros:
Lower cost than traditional salt-based water softener
No filters or salt tablets to replace
No maintenance or upkeep
Environmentally friendly – no waste
Good minerals remain in water
12-month money-back guarantee
Lifetime Warranty
Cons:
Doesn't filter water or change pH
Doesn't "soften" water
Indoor installation only
Not as effective for super hard water
---
What to Consider Before Buying
If you've noticed a white film building up inside the washing machine or around the edges of the tea kettle, chances are you have high mineral content in your tap water and pipes.
Everyone knows about electric water softeners and how their salt-based systems work. The problem is that the minerals in water are good for people but bad for pipes and appliances. By changing the composition of minerals to make them more water-soluble, the problem of lime build-up is eliminated while maintaining healthy minerals in drinking water.
Problems the Eddy Electronic Water Descaler Solves
Many older homes have a lot of built-up calcium, lime, and other minerals clogging the water lines. On the other hand, homeowners of brand-new houses want to protect their investment from problems that occur because of limescale and calcification. In both these cases, an Eddy descaling system can help.
For older homes, the descaling process loosens existing scale built up over time, allowing it to be flushed out of the water lines and down the drain. For new homes, water lines, appliances, boilers, and other accessories can suffer from "hard" minerals building up through use and a water descaler can eliminate all those worries in one simple step. As an economically and environmentally sound solution, the Eddy descaler is a good option for these problems.
Ideal Customer for the Eddy Water Descaler
Consumers with water that tests out at over 25 Grains per Gallon (GPG) or 428.5 Parts per Million (PPM) should purchase a more expensive water softener system. This is considered very "hard" water and an electronic water descaler would not work well.
If the water tests at less than 25 GPG, then a water descaler/conditioner can do the job without difficulty in most cases.
Consumers who are concerned about keeping their appliances, cookware, boilers, and other fixtures in peak condition like the added protection a descaler provides. For a smaller household with two or three people or a small office, this is an ideal unit as opposed to a full water softener system for bigger homes or harder water.
Features and Benefits
What makes the Eddy Electronic Water Descaler initially attractive to many consumers is its low cost and ease of installation. These are important factors to consider, but there are many other features this product offers:
| Feature | Benefit | Value |
| --- | --- | --- |
| Wall-mounted | No tanks or barrels | Saves floor space and mess |
| Low power consumption | Lower operating cost | Saves $$$ |
| Easy to install | No plumber required | Saves $$$ |
| No maintenance | No filters or bags of salt | Saves $$$ |
| Lifetime Warranty | No limitations on repairs | Saves $$$ |
| Environmentally friendly | No salt or chloride produced | Saves plants and fish |
How Eddy Compares to Competitors
Water Descalers using similar technology are in the same price range as the Eddy descaler and other brands with roughly the same type of filtration process have similar results. Prices range from $49 for minimalist products to well over $500 for the high-end offerings.
The Eddy product is priced in the middle of the range at around $200 depending upon the vendor. As all products work under a variety of conditions, I would say that the Eddy Electronic Descaler does the job as well as its competition at a competitive price.
Eddy Electronic Water Descaler Social Proof
Customers purchasing and using the Eddy Electronic Water Descaler had positive things to say about their experiences. Here are just a few comments we found on the internet.
Reviewer:
"Gave the unit 5 stars and liked the way it worked on his hard water build-up problems."
Reviewer:
"Gave the Eddy 4 out of 5 stars after having it installed for 6 months. Although his scale problem didn't disappear, but it did clear up significantly."
Reviewer:
Liked the lower cost over traditional water softening systems as well as the fact the descaler helped remove built-up lime and calcium that existed prior to the unit's installation.
Looking through a number of comments, the overall consensus was the Eddy Descaler was easy to install and performed well. Both homeowners and commercial users gave the unit high marks in all categories. even when the unit was installed in areas with hard water issues.
Buyers liked the low price, lifetime warranty, 12-month money-back guarantee, and customer support. There were a smaller amount of negative reviews compared to positive ones.
Alternative Options to Consider
Since the technology involved in descaling water is mostly electronic, there are several alternative products available. Manufacturers in Europe, Asia, and many other locations have developed similar technology achieving similar results. Despite the similarities in technology, the prices for similar decalcifying and descaling products were generally higher.
Two of the most interesting and best alternative products were the SpringWell® FutureSoft® Salt-free Water Softener and the Aquasana® EQ-1000® Rhino filter and softener system.
SpringWell FutureSoft® Salt-free Water Softener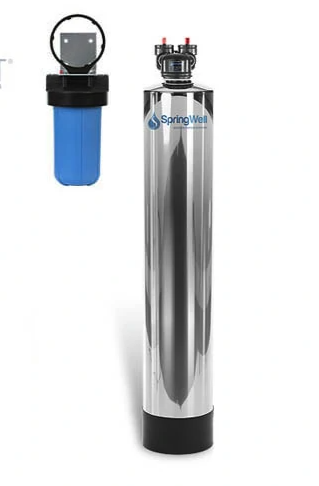 This is an in-line, whole-house system that reduces lime and calcification build-up similar to the Eddy water descaler. The SpringWell FutureSoft® advertises no drop in water pressure as a result of using its enhanced water flow design to eliminate scale in pipes and appliances.
The price is higher than the Eddy Electronic descaler but there is no requirement for a plumber to install the unit. For DIY enthusiasts, this unit is not a complicated product to install or to maintain. Overall, it's a very effective unit and we would recommend this unit over the Eddy if you're looking for a top whole house softening system.
---
Aquasana EQ-1000® Salt-free Water Softener and Filter
The Aquasana EQ-1000® is a whole-house water filtration system that also conditions the water without using salt tablets. It must be installed by a licensed plumber for the warranty to go into effect. As an inline filter and treatment system, the Aquasana EQ-1000® filter can handle up to 1,000,000 gallons of water before the filter requires replacement. Although the initial purchase price is significantly higher, and there is the need for a plumber, this is an excellent system for consumers who want a low-maintenance system that produces pure, filtered water that won't build up scale or lime deposits.
Overall, we would recommend this or Springwells product if you're looking for the best whole house softening and/or filtration system.
---
Conclusion
While there are other alternative solutions to descaling water, the Eddy product has enjoyed a good reputation for a long time. To decalcify hard water and eliminate the harmful effects of untreated Magnesium, Manganese, and other minerals, electronic water descalers work well.
Considering all the factors of price, technology, ease of installation, cost of operation, and warranty backup, the Eddy Electronic Water Descaler is a good option if you are on a budget.
If you're not on a budget we recommend checking out the Springwell or Aquasana models above or seeing our best water softeners here.