With so many water softeners on the market, you'd be forgiven for scratching your head while you try to work out which water softener is the best for your home.
We can't survive without water, and often we don't realize that many of the systems that we use in and around our homes every day cannot function without it.
Heating, eating, drinking, washing clothes, bathing… all of the systems associated with these everyday activities rely on high-quality water to keep working.
Our Clack water softener review aims to help you make an informed decision as to which device is best suited for your home or business and provides a comparison against water softeners from other leading brands.
Top Clack & Similar Water Softeners
IMAGE
PRODUCT
FEATURES
 

Cost: $$

Salt-Based

Flow Rate: Up to 27 GPM

CHECK PRICE

Springwell FutureSoft Salt-Free

Cost: $$$

Salt-Free

Flow Rate: 7+ GPM

CHECK PRICE

Aquasana Rhino Salt Free Softener System

Cost: $$$$

Salt-Free

Flow Rate: 7 GPM

CHECK PRICE
What Is a Clack Water Softener?
A Clack water softener is a device designed to be installed onto your home's incoming water supply that will remove minerals, such as calcium and magnesium, found in hard water that cause scale.
Water softeners from different manufacturers operate using different principles. In a salt based water softener, a process known as "ion exchange" replaces the mineral molecules within the water with sodium derived from the salt in the softener brine tank. The scale causing minerals are then flushed away when the softener performs its regeneration cycle.
By removing these minerals, soft water is available from outlets. This reduces maintenance costs, the frequency of repairs, and can also help improve the health of your skin, especially in reducing the severity of conditions such as eczema.
Benefits of Using A Clack Water Softener
Clack's background in resin moulding and control valves makes them ideally positioned to operate in the water softener market.
Clack has been in the water business since 1946, when they first opened a water softener exchange business in Wisconsin.
From there, Clack has expanded into a manufacturing and distributing company and in 2000 Clack introduced a brand new type of water control valve. They deployed the expertise which they had developed in the plastic moulding and water treatment industries which catapulted them to the forefront of the water softening market.
Clack strives to incorporate innovation into their products, which shows in some of the features in their water softeners.
Greater control of water flow, automation of the softening process and timer controls make Clack products user friendly in many ways, which adds to the appeal of their water softeners.
What Makes Clack Unique?
Hard water can cause a wide range of problems in the home.
By using a Clack water softener, the minerals within your water supply that cause scale are removed before they can enter your home's plumbing system. This means that rather than having to treat the effects of scale build up, you can eliminate the problem before it occurs.
The best water softeners treat hard water as it enters your home, which means that you only have one piece of equipment to run and maintain.
By using a water softener, homeowners are able to:
Save money on expensive repairs to home appliances such as washing machines and dishwashers
Reduce their use of shampoo and detergents
Avoid the need to expensive scale treatments to baths, taps, sinks and pipework
Clack Water Softener Features
Warranty
A 5 year warranty is offered on all of Clack's softener and filter controls.
Given that a salt based water softener requires regular maintenance in order to continue functioning effectively when installed in hard water areas, this is a bold position for Clack to take.
By offering a 5 year warranty, Clack is showing off the confidence they have in their product. When you consider that control valves are very sensitive, and often complicated pieces of equipment.
Clack has built their reputation over the last 20 years off the back of the superior effectiveness and quality of their control valves. By backing them with a 5 year warranty when they are installed within a salt based water softener, Clack sends a clear message of their faith in the quality of these valves.
Efficiency
Clack softeners are rated as some of the most efficient on the market, thanks largely to the superior control valve technology which they have built their reputation on.
Assembly Time
Of the most often repeated benefits of Clack water softeners from their previous customers is that they are very easy to install.
Should you prefer to use a professional installer to fit the system for you, you will likely have soft water coming from your taps in less than 2-3 hours. Although this may cost more money than a DIY installation, you are left with the peace of mind that your system has been checked over by a competent fitter. In addition to this, any leaks or immediate issues arising from the installation will be taken care of.
If you would rather save the money that a plumber would charge and fit the system yourself, you can reasonably expect to have eliminated the hard water in your home in less than a day, depending on your experience.
A competent DIYer fitting a softener to a fairly simple plumbing arrangement would not take much longer than a professional but with the comprehensive manual and telephone support if required, most issues are easily overcome.
Ease of Use
The control systems which Clack fit to their softeners are so popular largely due to the simplicity of their use.
An operating and maintenance manual is provided with every softener and telephone support is on hand should you experience any difficulties in using your equipment.
Manual
Clack publishes a wide range of their product literature online, which usually makes it very easy to find a document when you are looking for one.
Each Clack softener is delivered with instructions for installation and ongoing use. For added ease, most of these manuals are published online which means you'll never have to worry about trawling through drawers if there is ever a problem.
The manual gives clear guidance on all elements of the softener's operation, and includes helpful tips for problem solving and the best system setup for your home's needs. This includes advice on the usage within your property and the hard water in the area.
Price
The price you will pay for a water softener varies hugely according to your water usage, the area in which you live, the quality you are looking for and the amount of hard water that will need to be treated by the unit.
In our opinion, it is better to invest in a higher quality softener that will last longer so that you gain the benefit of high performance immediately.
Very often, the extra money spent when you make the purchase is saved over the time you have the product installed. This is thanks to low running costs, fewer repairs being needed and the fact that your system is designed to stand the test of time.
What the Public Thinks of Clack
Based on reviews of Clack water softener products, their customers are very happy with their purchases most of the time.
The Clack customer support team makes it very easy for you to contact them for advice on a new system, and they are able over the phone or by email to answer any questions you may have.
Most users report that their Clack water softeners were installed and running within a few days, even those who opted to install a water softener themselves without the expense and inconvenience of calling in a professional contractor.
Given that online reviews can often be biased and Clack water softeners can be quite difficult to find online, it is fair to assume that the customers who have left such glowing reviews of their products were fans of the company before buying. This would explain how they were able to maintain patience whilst hunting online for a Clack system.
Some of the most common praise for Clack softeners comes from the ease of their installation, where homeowners have been able to fit and commission the systems themselves.
Clack has an extensive library of manuals and technical advice online, which makes it much easier to resolve problems at installation as the information required is readily available.
Clack vs Aquasana vs Springwell?
While Clack softeners clearly have some great benefits, we thought we'd compare them to a couple of equivalent units from other manufacturers to see where they lie in the market.
The Aquasana EQ-1000 has been a top pick this year, and the Springwell FutureSoft is another top solution at a great price.
So how did they stack up?
Best Alternatives to Clack Water Softeners
SpringWell FutureSoft Salt-Free Softener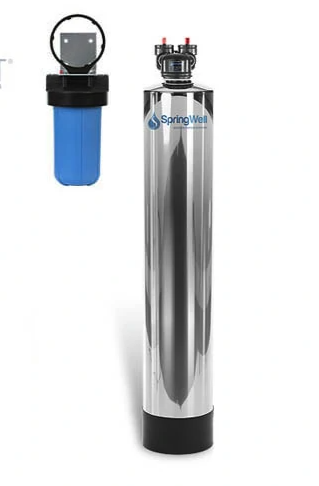 The FutureSoft from SpringWell is a whole house salt-free water softener that is made by one of the best companies in the water filtration and softening business.
The highly-rated SpringWell FutureSoft Salt-Free Water Softener provides 99.6% scale prevention without the use of chemicals or salt and ensures you have a zero drop in water pressure throughout your home.
Unlike traditional salt-based systems, the Futuresoft water softening system wastes no water and does not discharge salt brine into the environment. Eliminate scale, extend the life of your appliances and make cleaning easier today!
SpringWell also has an excellent salt-based option if you still need the heavy duty water softening that a salt model provides.
Overall, we would highly recommend SpringWell before Clack as our top recommendation.
---
Aquasana EQ-1000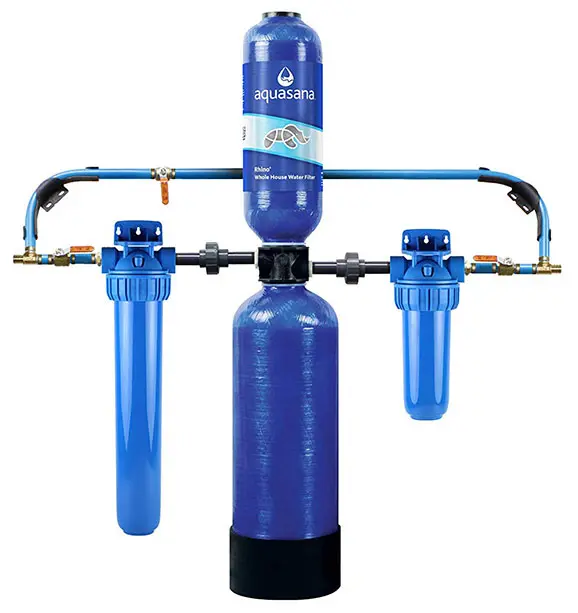 The EQ-1000 is a whole house water filter/softener bundle that operates without salt.
Its filter capacity is available in 600,000 or 1 million gallon capacities, meaning that this all-in-one softener and filter is intended to serve your home for years.
The EQ-1000 is easy to install without professional help and Aquasana offers a range of supplementary fittings such as water conditioners and UV filtration units, to provide a complete solution to provide high quality water, whatever characteristics your supply has.
The EQ-1000 is NSF certified to remove over 97% of chlorine from the water supply and was awarded a Gold Standard of water filtration.
Salt-free softener systems require very little maintenance. They operate without a backflushing cycle, which reduces the cost of operating the system in addition to the fact that they do not require the ongoing expense and inconvenience of regularly refilling the brine tank with salt.
In the rare event of a problem, spare parts are usually very quick and easy to source. Thanks largely to the popularity of Aquasana products, there are stocks of Aquasana equipment all over the world which means you won't have to wait long to restore your home's soft water.
Clack spare parts can also be very difficult to identify and subsequently buy which is a source of frustration for some consumers.
Overall, we would recommend this Aquasana EQ-1000 over Clack after Springwell.
Get 50% OFF + Free Shipping with Coupon Code: AQWTA
---
Conclusion
Overall, installing a Clack softener is certainly better than leaving your home to the effect of hard water.
Unfortunately, for the price of a Clack water softener there are much better products available on the market. This means that unless you are set on installing a Clack water softener, the most suitable softener for your home will likely be from another manufacturer.
See our best water softeners review here for the top models.
If we had to pick one alternative right now? Springwell FutureSoft is our highest-rated offering this year.
Between its superior features, excellent warranty, and huge capacity, we think this is the best solution to hard water you will find at such a reasonable price.