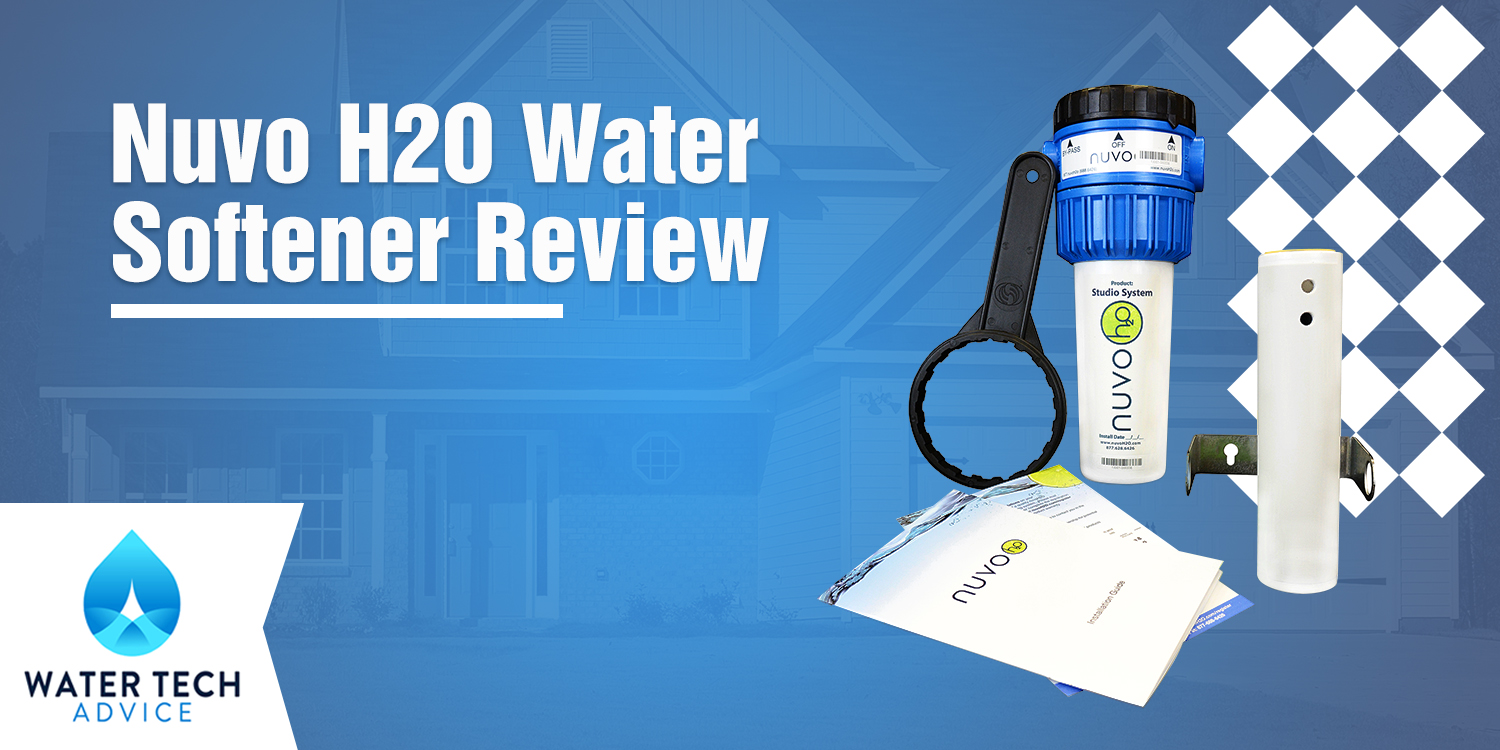 Many people are concerned about using ion exchange to soften water, as it adds to the amount of sodium in your water.
Besides, several salt-free methods are also effective — including the use of citric acid, which is the method Nuvo H2O uses.
In fact, conditioning water with citric acid is ecologically friendly, poses no health risks, and is affordable for most homeowners.
If you want to improve the appearance of your home without needing to spend hours cleaning to remove limescale, you'll love having a citric acid water conditioner. The soft water a Nuvo H2O provides you with is also great for drinking, bathing, maintaining your garden, and all other tasks that require water.
Also Check Out: Reviews of Our Favorite Softener Systems
Top 3 Nuvo H2O Reviews
IMAGE
PRODUCT
FEATURES
 

Best for homes

Best for homes

Cartridge Size: 50,000 Gallons

Dimensions: 10.5 x 10.5 x 28.4 (inches)

Gallons per minute: 18

CHECK PRICE
 

Cartridge Size: 20,000 Gallons

Dimensions: 5 x 5 x 24 (inches)

Gallons per minute: 15

CHECK PRICE
 

Cartridge Size: 10,000 Gallons

Dimensions: 7.3 x 7.5 x 18.8 (inches)

Gallons per minute: 15

CHECK PRICE
About Nuvo
Nuvo H2O is a US brand founded in 2006. The company is based in Murray, Utah, and specializes in salt-free water conditioners designed to both prevent and remove limescale.
Reputation
In citric acid water softener reviews, Nuvo H2O comes out on top. As few other brands have been in the industry as long, Nuvo has had time to build up a name for itself. It helps that the Nuvo water conditioners are highly effective for moderately hard water. Plus, Nuvo conditioners suitable for water with an even higher grain count when used in conjunction with another type of salt-free conditioner, such as magnetic water scaling or electric-powered desalination. In fact, it would be difficult to find a brand more effective than Nuvo H2O that doesn't use salt.
Does NuvoH2O Really Work?
Nuvo water conditioners use chelation to break down limescale that would otherwise build up inside your plumbing and leave stains on glassware, shower doors, and countertops. The process works by using the food-grade citric acid to raise the pH of water and therefore change the chemical structure of calcium and magnesium molecules.
Chelation is particularly popular in luxury hotels and resorts, where people want easy access to water that tastes great and owners want their bathrooms to shine — which is only possible when you get rid of limescale.
Types of Nuvo Systems
All Nuvo water conditioners work in much the same way. The main ways the three types differ are in terms of the dimensions of the units and the capacity of their filters. Choose the right system for you according to the size of your home and the number of people in your household.
1. Manor
The largest of the Nuvo water conditioners is the Nuvo Manor system. It is suitable for homes larger than 2,000 square feet. The Manor offers a flow rate of up to 18 GPM, which you should find provides enough water for at least four people.
Manor water conditioners come with a cartridge that will soften 50,000 gallons of water. It's worth fixing a meter to your supply line to accurately calculate when you've reached this amount. Otherwise, you may end up changing the filter too early or too late. The installation ports of the Nuvo Manor are designed for 1 ½-inch pipes. If your pipes are any other size, they'll still work — you'll just need some adapters.
---
2. Home
The NuvoH2O Home softener system is ideal for properties between 1,000 and 2,000 square feet or with two or three family members. The water conditioner offers up to 15 GPM, meaning it's unlikely you'll notice any change in water flow. The cartridge lasts 20,000 gallons before it needs replacing — or about every four to six months.
The Home model has 1-inch installation ports. If you have a ¾-inch supply line, you can still use this water conditioner — you'll just need to purchase a couple of adapters. As the system weighs almost 9 pounds, you should use the included bracket or install brackets on the supply line on either side of the conditioner.
---
3. Studio
As the name suggests, the NuvoH2O Studio system is designed for apartments and condos, but it's also useful for RVs. It is suitable for properties of up to around 1,000 square feet and it is best for single occupants. You'll need to change the cartridges once the conditioner has treated 10,000 gallons of water.
Like the Nuvo Home, the Studio offers up to 15 GPM. This means you can likely run all the water-based appliances in your apartment at the same time without noticing a drop in pressure. The Studio fits ¾-inch pipes, which is the standard size for condos. If you have larger pipes, just use adapters.
Just like the other two models, the Studio system does come with wall brackets. However, as it weighs barely more than 6 pounds, you may decide they are unnecessary.
---
Features and Benefits of a Nuvo Water System
Unlike many other water conditioners and softeners, Nuvo H2O systems need no salt or electricity to run. They are also much more compact than many other models, which means they fit in the smallest of spaces. Even if you live in an apartment or condo, you'll find space for a Nuvo H2O conditioner.
Why Is the Nuvo Water Treatment Unique?
Nuvo H2O is the only brand to use CitraCharge Cell Technology. This patented technology (approved by the FDA) balances the pH of water by using a chelating agent called citrine. The citrine binds to calcium and magnesium ions, stopping them from being able to leave a deposit of limescale on surfaces and inside pipes. It also helps to remove any limescale that already exists.
Nuvo Water Softener Reviews from Customers
Reviews from customers about Nuvo are mostly positive. Customers particularly like that water tastes better. Plus, people mention seeing improvements to their skin due to the softness of the water, which stops skin from becoming dry.
Overall Public Consensus
Reviews show that Nuvo H2O does work in many households.
Corrosion in appliances is reduced, which extends lifespan. It is also easier to keep homes clean and looking nice.
However, if water is especially hard, it's unlikely that any of the Nuvo H2O models will have much impact. For this reason, it is important to test your water first.
Customers who have very hard water report being disappointed with the Nuvo H2O, whereas those who have only slightly-hard water report having success with the conditioners. If you find that you have very hard water but you want to avoid salt, it may be worth pairing a Nuvo H2O conditioner with something like an electro-magnetic system.
NuvoH2O Complaints and Problems
Although most people are happy with their water conditioner, there have been some complaints about the Nuvo water softener:
Blue water — If the cartridge breaks, it will turn all your water blue. However, this is no cause for concern: simply shut off the conditioner, change the cartridge, and flush the blue water from your pipes.
Filtration — Unfortunately, Nuvo water conditioners are unable to remove contaminants from your water. If you're concerned about the quality of water for drinking, you should purchase a filtration system.
Iron — Some water softeners also remove iron from water. As the Nuvo H2O systems do not target this mineral, your water may continue to smell and taste of iron.
Warranty for Nuvo H2O Systems
No matter what Nuvo H2O system you choose, you'll receive a five-year warranty. To prevent voiding this warranty, it's important to install your conditioner out of direct sunlight. In addition, if you install it outdoors, it must be covered.
Nuvo Water Softener Installation and Maintenance
All of the Nuvo H2O systems are easy to set up and come with almost everything you need out of the box.
This includes the housing unit (housing body, housing head, black top, and cartridge), wall mounting panel (C bracket and L bracket), housing wrench, and screws. This all makes installation extra easy. The light weight of the Nuvo H2O systems means that anyone canl install these water conditioners. If you have basic DIY knowledge, you should be able to manage the installation. Otherwise, consider contacting a technician.
The best place to install your water conditioner is near the water heater on your main water line. It's important to check what type of piping you have (copper, PVC, or PEX) to make sure you have all the equipment you'll need to cut the pipes and install the conditioner correctly. For instance, in addition to the items that come with the water conditioner, you may need teflon tape, a pipe cutter, brass hex bushing, threaded pipe hex nipples, compression fittings, copper or stainless steel pipes, PEX tubing, and a plumber's wrench.
Recommended water pressure is 80 psi. If it water pressure may exceed 100 psi, you should also install a pressure regulator. The exact method of installation will depend on what type of Nuvo H2O conditioner you have.
In all cases, make sure you remove the padding and shrink wrap from the housing and cartridge. Also confirm that you insert the cartridge into the housing correctly. In addition, bear in mind that the two bypass holes need to be at the top — the water conditioner can only be installed vertically.
Finally, ensure that water will be entering the inlet port and exiting the outlet port. Once you've installed your water conditioner, there's no need to do anything else: there's no regular maintenance other than changing the cartridge. This means you'll spend less than with many other types of water softeners.
Nuvo Water Filter Replacement Parts
The simplicity of the Nuvo conditioners means it is unlikely you'll need any replacement parts. The only parts you'll need to buy are the cartridges.
Nuvo H2O Price
The price of a Nuvo H2O system depends on whether you choose a Manor, Home, or Studio. The type of system also impacts how much you'll pay for a Nuvo H2O replacement cartridge.
As you would expect, the Manor is the most expensive of the Nuvo systems, costing around $950. Cartridges cost $81.
The midrange model is the Home, which costs about $650. Its cartridges also have a lower price than those of the Manor: $63.
The most economical model is the Studio, costing around $575. Cartridges also cost the least, at $46.
If you purchase replacement cartridges from a third-party seller, you'll find they are more expensive than if you buy direct from Nuvo H2O.
Is a Nuvo H2O Water Conditioner Worth the Price?
If you want to extend the life of your appliances and of the fixtures in your bathroom and kitchen without adding sodium to your water, a Nuvo H2O system is a good choice for you. Once you've bought the water conditioner, the only expense will be the NuvoH2O replacement cartridges. Unlike with other models, there's no paying for operating costs, salt, or anything else.
Should You Buy a Nuvo H2O System?
The Nuvo H2O systems are ideal for small and average-size homes, particularly those that lack space for a larger water softener. The lack of salt provides you with double benefits: it keeps sodium out of the water and there's no need for large tanks of salt taking up space. Furthermore, chelation systems are allowed in every state, including in places where ion exchange systems are banned.
Whenever you don't want soft water, you can use the bypass valve that comes included with all Nuvo H2O systems. This is useful if you need a large amount of water that doesn't need to be soft and you'd rather not waste the cartridges.
Overall, we recommend Nuvo systems for smaller homes with normal water hardness.