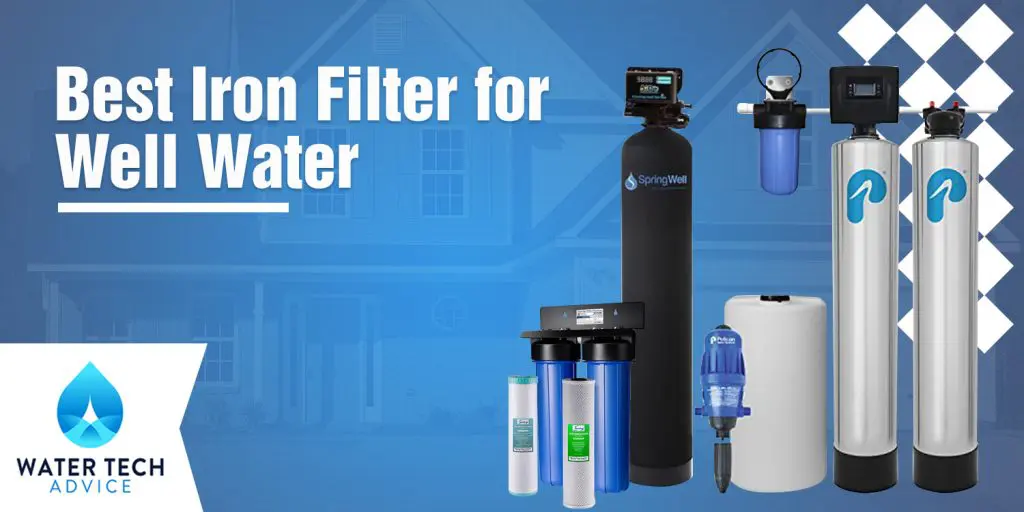 Iron is one of the most common contaminants in well water.
Not only is it a nuisance — causing stains in your showers, sinks, and toilets — it can damage appliances, cause a rotten egg smell, give your drinking water an unpleasant metallic taste, and lead to negative health effects.
The good news is many house water filters are effective for removing iron. But which of these is the best filtration system?
We've spent countless hours testing, researching, and reviewing various filters from the top manufacturers to find the best well water iron filter.
This guide breaks down our analysis of each iron water filter to help you choose the best system for your family's needs.
Find The Right Section…
Best Iron Water Filters Compared
IMAGE
PRODUCT
FEATURES
 

#1 SpringWell Whole House Iron Filter

Flow Rate (GPM): Up to 20

Iron Removal (PPM): 7

CHECK PRICEGet 5% Off! Use Code: WTA5

#2 Softpro Iron Master Filter

Flow Rate (GPM): 10

Iron Removal (PPM): 30

CHECK PRICE

#3 Air Injection Silver AIS10-25SXT

Flow Rate (GPM): 7-10

Iron Removal (PPM): 10

CHECK PRICE

#4 AFW Filters Iron Pro 2

Flow Rate (GPM): 2.4-4

Iron Removal (PPM): 4-7

CHECK PRICE

#5 Express Water Heavy Metal Whole House

Flow Rate (GPM): 15

Iron Removal (PPM): Not published

CHECK PRICE

Flow Rate (GPM): 15

Iron Removal (PPM): 3

CHECK PRICE
Things to Consider When Comparing Iron Filters
We've compared different home water filters specifically for their ability to remove iron from well water. The following are the main criteria we took into consideration:
Ability to Remove Iron & Other Contaminants
The best iron filter for well water must be able to remove iron efficiently, but most iron filters go above and beyond this by removing other common and potentially harmful contaminants as well.
For instance, some whole house iron filters also have a manganese water filter or carbon filters, such as a solid carbon block filter.
In the table below, you'll see the different types of filters used in whole house water filters and the impurities they remove:
| Filter Type | Contaminants Removed |
| --- | --- |
| Air injection oxidizing (AIO) filter | Iron, manganese, hydrogen sulfide |
| KDF filter | Heavy metals |
| Carbon block filter | Organic chemicals, foul tastes and odors |
| Sediment filter | Silt, suspended particles, rust |
| UV filter | Bacteria, viruses, protozoa |
Filter Lifespan & Capacity
Filter capacity refers to the number of gallons of water the filtration system is rated to filter before it needs replacing. In other words, it's a direct indication of the lifespan you can expect from a home iron filter.
The exact amount of time you can expect a water filter to last will depend on the size of your household and your water usage. Nonetheless, in the same house, a filtration system with a 1,000,000-gallon capacity will always last longer than a water filtration system with a 100,000-gallon capacity.
Flow Rate
Flow refers to the water pressure of your fixtures and appliances. A high flow system will have minimal impact on water pressure, whereas a water filter with a low maximum flow rate can significantly affect flow. Too low of water pressure is one of the most common customer complaints when it comes to water filters.
Ease of Installation & Filter Replacement
If you find a filtration system that is easy to install, you can save the cost of paying a plumber. Before you decide to take the DIY route, though, be aware that you may void the manufacturer's warranty if anyone other than a licensed professional installs your home iron water filter.
Also bear in mind that the installation of your filtration system is only the start — you'll also need to replace the cartridges on a periodic basis. This should influence your choice of the right iron filtration system for you.
Certifications
All manufacturers make claims about the performance of their water systems, but some back up these claims through testing by independent organizations. The National Sanitation Foundation (NSF) and the Water Quality Association (WQA) are the two main labs that certify different products for meeting pre-set industry standards.
Check out our guide for more information on certifications.
Price
We've made sure every single filtration system on our list offers the best value for money. This applies to the highest-costing well water filtration system down to the most economic system. When considering each filtration system, you should also look at the price of replacement filters and other maintenance requirements.
Best Iron Filters for Well Water Reviewed
Review Order
Now that you know what to look for in a great filter, these are the seven best iron filters we found using the criteria above:
1. SpringWell Whole House Well Water Filter System
This SpringWell Whole House Iron Filter is the best iron filter on the market. It is particularly well-suited for homes that receive their drinking water from private wells with high quantities of manganese or hydrogen sulfide in addition to iron.
With this filtration system, you'll receive clean, non-staining, great-tasting drinking water that is free from sulfur odors — and with a zero drop in water pressure.
Main Features & Benefits
Contaminants removed —Using an air injection oxidizing system, this house iron water filter offers maximum iron removal at up to 7 parts per million (ppm), manganese up to 1 ppm, and hydrogen sulfide up to 8 ppm.
As there is no built-in sediment filter with this filtration system, SpringWell recommends adding one if you have water with heavy particulate contamination. For instance, you could add a polypropylene sediment filter.
Filter lifespan & capacity —This iron filter system has an unlimited capacity. It also comes with a lifetime warranty from Springwell, which is a major selling point for any iron filter system.
Flow — The whole house iron filter has a flow of 12 gallons per minute (GPM), which should be more than enough pressure for most households. It's ideal for anywhere from one to four bathrooms.
Ease of installation & maintenance —This iron removal system is the definition of a maintenance-free filter. Plus, SpringWell includes a comprehensive manual and video guide for those who would like to handle the installation themselves.
Certifications —Although this product has not been NSF or WQA certified, SpringWell is an established and trusted brand in water filtration.
Price — At $2009.59, the price is definitely reasonable for the high level of iron and additional contaminants this filtration system removes. Also, the virtually maintenance-free design means you won't need to spend money in the future on filter replacements, making it a great long-term investment.
Who It's Best For: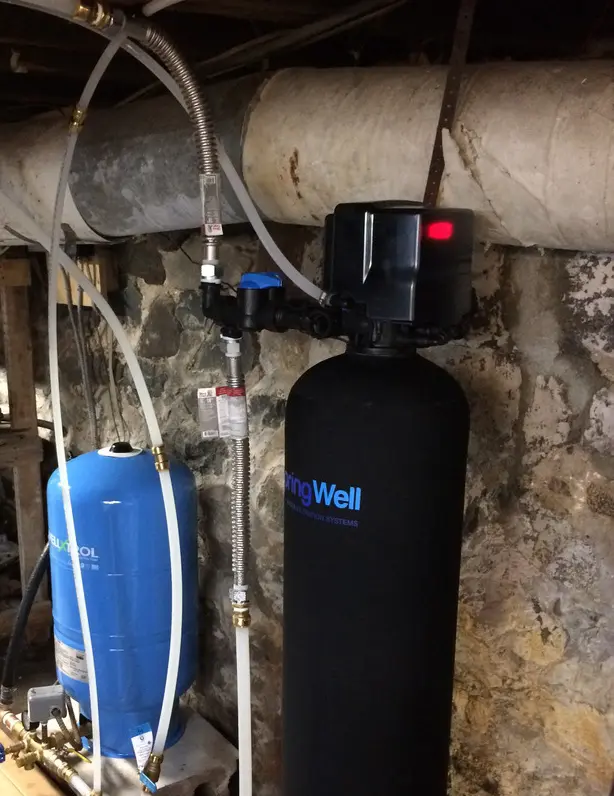 Overall, we recommend this filter for anyone who has a well and wants to remove iron, manganese, or sulfur. We've been very impressed by SpringWell's customer service and quality of filters. If you want a well water filter produced by a top company, this is the filtration system you need.
Pros
Removes up to 100% of iron, manganese, and hydrogen sulfide
High 12 GPM flow rate
Maintenance-free design
Bluetooth connectivity to the electronic control valve
Automatic backwash regeneration cycle
Lifetime warranty with a 6-month money back guarantee
DIY installation
Cons
Some users report that the electronic setup is complicated
No filter for sediment
Get 5% Off! Use Code: WTA5
---
2. Pelican Water Iron and Manganese Filter System WF4
The Pelican WF4 is an all-in-one, whole house filter system for well water designed to remove iron, manganese, and other contaminants from your water supply. 
The Pelican iron filter has one of the higher capacities for iron reduction of all the whole house filters on the market removing up to 10 PPM of iron.
It also comes with a lifetime warranty and is super easy to install which is why we rated it #2 on our recommendations.
Main Features & Benefits
Contaminants removed — The Pelican iron filtration system uses four stages of filtration to remove iron up to 10 ppm, in addition to manganese and particles larger than 5 microns. The chlorination system disinfects the water. Then, granular activated carbon removes the chlorine (along with any organic chemicals) in the final stage.
Filter lifespan & capacity —This Pelican iron house water filtration system has a lifespan of 600,00 gallons, which translates to roughly six years. It comes with a five-year manufacturer's warranty.
Flow — The flow is a strong 10 GPM.
Ease of installation & maintenance —The manual details the installation process for those who want to install the Pelican iron filter system themselves. You'll need to replace the sediment pre-filter every six to nine months and swap out the chlorine injector pump seals every three to six months.
Certifications —This house iron filter system has WQA Gold Seal certification and NSF-certified for standards 61 (meaning it is made with quality parts) and 42 (meaning it improves the appearance of your drinking water). Pelican is a trustworthy name for water products.
Price —This is one of the more expensive models on the list at $3,300. The chlorine pump seals are $75 each, whereas the sediment pre-filter replacements cost about $15 each.
Who It's Best For:
The Pelican WF4 is not the cheapest iron filter system on the market, but you receive fantastic filtration performance and brand reliability for this higher price. If you're looking to reliably remove high levels of iron and manganese and aren't concerned about spending a little more, this Pelican iron filter system is a great option.
Pros
Removes up to 10 ppm of iron as well as manganese, microorganisms, and organic chemicals
10 GPM flow rate- ideal for the average household
5-year warranty with a 90-day money-back guarantee
Can be adapted to your home's needs by adding other filters
DIY installation
Digital control interface
Automatic backwash regeneration cycle

WQA certification and NSF-certified components
Cons
Expensive
More maintenance than some other systems
---
3. Softpro Iron Master AIO Filter System
Our third pick is the Softpro Iron Master Filter. It removes iron, sulfur, and manganese from well water.
In fact, this house iron filter system could easily be in the top two because it has the largest iron filtration capacity — up to 30 ppm — at a very affordable price.
However, its lower flow rate means it receives the bronze since it doesn't quite stack up to our top picks in that regard.
Main Features & Benefits
Contaminants removed —The air injection filter technology with Katalox media removes iron up to 30 ppm, manganese up to 7 ppm, and hydrogen sulfide up to 5 ppm. This iron filtration system also has the capability to remove arsenic up to 120 ppb.
Filter lifespan & capacity — Depending on the iron content of your water, this house filtration system can last between four to seven years before you'll need to replace it. The manufacturer has not published the capacity in gallons.
Flow —The flow for the 1.0 cubic foot model is 6 GPM, which is better suited for smaller households. You can purchase the filter in a larger size to boost the flow, but it will be more expensive.
Ease of installation & maintenance —Whereas you may be able to manage the installation yourself, water iron filter reviews report that this filtration system is more difficult to install than some other models. There is no ongoing maintenance besides replacing the main filter as needed.
Certifications — The Softpro iron filter has been NSF certified for standard 61 for the quality of its parts. It has also been IAMPO and ISO certified (two independent organizations).
Price —At $999, you won't find a high-quality iron filtration system for a better price. The replacement Katalox media is $300, but you'll only need to swap it out every four to seven years.
Who It's Best For:
If you want to save money and are looking for the best value iron filter for well water, this is the unit we recommend, due to its filtration capacity and price point.
It's best for small households or lower water usage, but you can always purchase the larger version for a slightly higher price.
Pros
Up to 30 ppm of iron removal in addition to manganese, hydrogen sulfide, and arsenic
Minimal maintenance
NSF, IAMPO, and ISO certified
Lifetime warranty on the filter housing
Automatic backwash regeneration cycle
Digital control interface
Fantastic price
Cons
Some issues were reported with installation
Low flow
No filter for sediment
---
4. AFW Air Injection Silver AIS10-25SXT

The AFW iron filtration system is a cheaper alternative to our other top picks and does a good job of filtering iron, manganese, and hydrogen sulfide using an air injection oxidizing system.
The unit features a Fleck 2510SXT digital air injection control head which creates a pocket of air at the top of the tank to oxidize contaminants for easy removal. AFW filters also have solid customer support and the unit is relatively easy to install for a DIYer.
Main Features & Benefits
Contaminants removed —This well water filtration system removes iron up to 10 ppm, hydrogen sulfide up to 6 ppm, and manganese up to 2 ppm using air injection oxidation filtration. Although it lacks a filter for sediment, AFW says that the AIO Turbidex media will naturally clear most sediment.
Filter lifespan & capacity —Although the manufacturer has not published the filter capacity, you can expect to receive two to four years from the media before you'll need to replace the filter.
Flow —With a flow of 7 GPM, this filter will work best in households with lighter water usage.
Ease of installation & maintenance — You can easily install this filtration system yourself and there is no ongoing maintenance besides replacing the main filter media.
Certifications — The parts for this model have been NSF certified for standard 61.
Price —If you're looking for a budget version of something like the Springwell or Pelican, this is a great iron removal system to consider, as it costs just $909. Plus, the Turbidex replacement media only costs $79.
Who It's Best For:
This product is best for those who want a similar performance to the SpringWell for half the price. The cost is lower water flow.
Pros
10 ppm of Iron reduction, 2 ppm manganese, and 6ppm hydrogen sulfide
Low maintenance
Great price
Simple installation
Digital control head
Automatic regeneration cycle
NSF certified parts
Cons
Low flow
Loud regeneration cycle
---
5. AFW Filters IRON PRO 2 (Water Softener + Iron Filter)
The AFW Iron Pro 2 combination water softener iron filter is a great choice for anyone looking for a two-in-one unit.
Many private wells contain both iron and minerals that cause hard water, like magnesium and calcium. These are removed through the ion exchange process, which uses a water softener like the 64,000-grain capacity one in this model.
We rated this unit highly because for those who need both water softening and iron filtration this is a one-stop-shop solution.
Main Features & Benefits
Contaminants removed —This combined water softener and complete filtration system uses a fine mesh resin to remove iron and manganese up to 6 ppm. At the same time, it reduces hardness by 75 grains per gallon (gpg).
Filter lifespan & capacity — The filter resin will last from two to four years depending on your water usage and how much iron your water contains. You'll need to add salt periodically to the brine tank of the softener system, again based on your usage.
Flow —At 10 GPM, the flow should be sufficient to meet your home's needs.
Ease of installation & maintenance —According to the customer reviews, it's easy to install this house filtration system yourself. The addition of the water softener means there is more maintenance than with some of the other systems, but it's a small price to pay for less mineral scale.
Certifications — The parts for this system have been NSF certified for standard 61.
Price —At only $693, the price for a dual-system model is incredibly low. The replacement resin is around $300 and you will have to purchase salt to refill the brine tank, but these are small expenses.
Who It's Best For:
If you have well water with both a high grains-per-gallon rating and too much iron, this is the best combined iron filter and water softener system on the market, especially for the price.
Pros
Water softener up to 75gpg and iron filter up to 6ppm
Good flow rate
Super-low price
Long-lasting resin
Digital interface
Automatic regeneration cycle
Simple to install
NSF certified parts
Cons
More maintenance than a filter alone
Won't work for those with very high iron levels
---
6. Express Water Iron & Heavy Metal Whole House Filter
This three-stage system from Express doesn't have quite the same capacity as the other whole house iron filters on our list, but it's a budget-friendly option and offers an excellent flow if you just need some filtering.
It works on a wider range of contaminants than some of the other models reducing over 80 different impurities besides iron. This model is more geared towards standard whole home filtration so it won't remove the same level of iron that the other models do but it will act as a decent home filter.
Main Features & Benefits
Contaminants removed —The three separate filters (sediment, KDF, and carbon block filters) remove contaminants larger than 5 microns at the same time as reducing iron, hydrogen sulfide, lead, copper, mercury, chromium, aluminum, arsenic, chlorine, chloramine, pharmaceuticals, VOCs, sediment, rust, and compounds causing an unpleasant water taste or rotten egg odor.
Filter lifespan & capacity –The system comes with a one-year manufacturer's warranty and the filter cartridges for each stage have a capacity of 100,000 gallons, or six to 12 months.
Flow — The flow for this filter is 15 GPM, which ties for the highest on our list.
Ease of installation & maintenance —There's more maintenance associated with this system due to the smaller capacities of the filters, but the filters are simple to replace and installation is relatively simple.
Certifications — This product has been NSF/ANSI certified for standard 61.
Price —The price of this system is only $450 and the price of replacement filters is $149 for all three. Although this is a lower upfront cost than most of the other models, the expenses over time could mean this whole house water filter costs more than some others, depending on your water usage.
Who It's Best For:
Since Express doesn't publish their iron removal specifications, you should opt for a different whole house iron filter if your water has over 2 to 3 ppm. Having said that, for those with low concentrations of iron and who need high flow rate, this is still a worthy contender — particularly if you'd like to spread the costs out over time.
Pros
Removes many different contaminants
Stellar 15 GPM flow rate
Low initial costs
One-year warranty
Simple installation
Filter lifespan gauges
NSF/ANSI certified parts
Cons
Exact specifications not published for iron and other contaminants
More maintenance and ongoing costs
---
7. iSpring WGB22BM Iron Manganese 2-Stage Water Filter
This two-stage iron manganese water filtration system combines an iron and manganese filter with an activated carbon block filter.
It has a great flow rate and it's easy on the wallet. It removes iron up to 3 PPM and manganese up to 1 PPM so it doesn't have quite the same power as our other recommendations but it does a decent job if your iron levels aren't super high.
Main Features & Benefits
Contaminants removed —The catalytic media filter removes iron up to 3 ppm and manganese up to 1 ppm. The CTO carbon block filter also removes up to 99 percent of chlorine and up to 95 percent of herbicides, industrial solvents, pesticides, and other organic chemicals.
Filter lifespan & capacity —Both filters are rated for up to 100,000 gallons, or roughly one year, depending on your usage. However, the iron–manganese filter can be as low as 50,000 gallons, depending on how much iron and manganese is in your water.
Flow — This filter, like the one from Express Water, also has a flow of 15 GPM.
Ease of installation & maintenance — This system likewise requires a fair bit of maintenance to replace the filters, but swapping them out is easy, as is the initial installation.
Certifications — The parts for this product have been certified for NSF standard 61.
Price —The base price of this model is $398, which is the lowest on our list. The CTO replacement cartridges are $36.20 each and the iron–manganese filter is $99. This makes this the most budget-friendly whole house iron filter.
Who It's Best For:
The iSpring model is unique in that you can choose any combination of the available filters. For example, if you have well water that is free of most organic chemicals but has a heavy metal problem, you can swap out the CTO filter for a KDF one instead. If you're concerned about sediment, you can use a sediment filter along with the iron–manganese one.
This system is best for those who want the cheapest way to remove iron from well water while still maintaining a high flow. You can see our iSpring water systems review for more information about the company.
Pros
The iron-manganese filter removes up to 3 ppm of iron and manganese up to 1ppm, whereas the carbon filter removes chlorine and organic contaminants
Interchangeable filters with different media means you can customize the system to your water quality needs
15 GPM flow
You won't find a better price for this quality
Simple installation
The parts have been NSF certified
Cons
The cartridges have a low capacity of just 50,000 to 100,000 gallons or up to 12 months, depending on your iron levels
The connections can be leaky if you forget to use teflon tape
---
Top Iron Filters Feature Comparison Table
| Product | Iron Removed | Filter Lifespan | Flow Rate | Certifications | Price |
| --- | --- | --- | --- | --- | --- |
| SpringWell Well Filter | 7ppm | Lifetime | 12 GPM | N/A | $$$ |
| Pelican WF4 | 10ppm | 6 Years | 10 GPM | NSF & WQA | $$$$ |
| SoftPro Iron Master | 30ppm | 4-7 Years | 6 GPM | NSF, ISO, & IAMPO | $$ |
| AFW Silver-10 | 10ppm | 2-4 Years | 7 GPM | NSF | $$ |
| AFW Iron Pro-2 | 6ppm | 2-4 Years | 10 GPM | NSF | $$ |
| Express Water Well Filter | ??ppm | 6-12 Months | 15 GPM | NSF | $ |
| iSpring WGB22BM | 3ppm | 6-12 Months | 15 GPM | NSF | $ |
Iron Filter for Well Water Buyer's Guide
Now you know our top choices for the best iron filter for well water, it's time to move on to some of the other information you'll need to make the best purchase to achieve the water quality you want.
What Is an Iron Filter & Who Needs One
A whole house iron filter is a type of water system that removes iron from your well water. The vast majority of homeowners with well water will have iron in their water supply — and you can find out exactly how much your water contains by having your water tested.
A water test kit will specify the parts per million of iron in your water. The water test will also show you the amount of hydrogen sulfide and manganese in your well water – the other two most common well water contaminants — and reveal the presence of many more organic and inorganic chemicals. Knowing what contaminants your well water contains will help you pick out the right iron filter to optimize your water quality. Check out our review of the best water test kits to pick the right one for you.
If you have more than 0.3 ppm of iron, the USDA recommends a whole house iron water filter. If your water tests below that amount, you're likely to need another kind of filter for whatever contaminants are in your water. However, you won't necessarily need an iron filter.
The Science of Iron
By learning a bit more about what iron is and how it behaves, you'll be better-equipped to deal with this metal in your water supply.
Types of Iron
There are 3 types of iron found in well water:
1. Ferrous
2. Ferric
3. Colloidal
4. Bacteria-associated
Ferrous iron: is a water-soluble form of iron that stays dissolved in your water. Ferrous iron water is completely clear, meaning you'll need a water test to reveal if it's present. However, you may also be able to tell that you have ferrous iron water by the unpleasant metallic taste and the red-orange stains it leaves on appliances and in swimming pools. Only special filters, like the AIO or KDF systems, can remove ferrous iron.
Ferric iron: is an oxidized form of iron that turns the metal into a solid particulate. You can remove ferric iron simply by passing it through a filter for sediment. Ferric iron is essentially rust and can change the color of your water.
Colloidal iron: comes in the same form as ferric iron, but colloidal particles are much smaller – as small as 0.01 microns in diameter. Most sediment filters remove particles down to 5 microns, meaning they'll allow colloidal iron to remain in your filtered water. The good news is colloidal iron is less common. If it is present in your water, you can use a UV filtration system to remove it. However, most homeowners choose to ignore it and their iron concentration still stays below 0.3 ppm.
Bacterial Iron: Some species of bacteria use iron as an energy source by oxidizing ferrous iron to become ferric iron. This leads to patches of rust, bacteria, and slime that builds up in the pipes and pumps of your well as well as in other parts of your plumbing system. Usually, it's necessary to chemically treat your well water to remove the bacteria. Fortunately, iron bacteria are relatively uncommon in well water.
Iron In Your Tap Water
As you likely know if you've ever accidentally bitten your lip, iron is what gives blood its metallic taste. When iron is present in even moderate levels in your well water, it gives tap water that same metallic taste.
Another problem with iron in well water is that it can rust — and rust stains everything. It's the iron in your water that causes the orange-red stains in your sinks, showers and toilets, as well as in appliances from your washing machine to your coffee maker.
The most noticeable improvement you'll gain from having a whole house iron filter is the reduction of those reddish stains. Plus, when your well water is free from iron, water tastes better. These are the two factors that customers liked most about the whole house systems on our list.
Iron and Health
Well water naturally contains iron, along with calcium, magnesium, manganese, and other naturally occurring minerals. Whereas small amounts of these minerals cause no harm — and can even be beneficial to health — large quantities of iron and other minerals can be detrimental to the human body.
Certain medical conditions, such as hemochromatosis (which causes the body to increase absorption of iron), can lead to complications with the heart, liver, and pancreas if you do not reduce iron consumption.
Some skin conditions, like eczema, can be aggravated by high levels of iron. In fact, iron can even cause extreme reactions in some cases. All this means that using a whole house iron filter is an investment in your health as well as your home.
Terms to Know About Whole House Well Water Iron Filters
The following are some common acronyms and terms the manufacturers use to describe their whole house water filters:
Ppm:

parts per million, or the milligrams of a substance per liter, is a measurement of the level of a particular substance in water.

Gpg:

grains per gallon – hardness-causing minerals are measured as grains. In other words, whereas iron is measured in ppm, minerals like calcium and magnesium are measured in gpg.

GPM:

gallons per minute – this is how water pressure is measured. It is commonly referred to as the maximum flow rate.

Capacity:

the number of gallons of water a filter can process over its service life.

Four-stage, three-stage, etc

: this refers to the number of filtration steps present in each system. As an example, a three-stage system may mean water passes first through a sediment filter, then through a KDF filter, and finally through granular activated carbon or coconut shell carbon.
How Whole House Iron Filters Work
Whole house iron filters that target ferric iron are simple. The pore sizes are large enough that water passes straight through, but ferric iron particles become trapped, resulting in filtered water that is free from ferric iron.
Water with ferrous iron, however, requires a different filtration process. Since ferrous iron is dissolved, it is necessary to oxidize the ferric iron by adding an electron. This means the iron is no longer water-soluble and the whole house water filtration system can remove it.
Learn more about how iron is removed from well water here.
Types Of Filters
The main filtration methods to remove iron are air injection oxidizing filters (AIO), iron and sediment filtration media beds (like KDF-85), ion-exchange water softening media, and filters for sediment.
Air injection oxidizing filters oxidize iron and other metals by passing the water through a pocket of compressed air. This forces the iron to become oxidized to ferric form, where it then travels to the filter below and becomes trapped. Eventually, the oxygen in the air pocket becomes depleted and the filter becomes clogged with particulates. It is for this reason that these filters have a built-in regeneration process.
During regeneration, there is a backwash of water through the filter bed. The backwash cycles flush out the accumulated particles and replace the air pocket with fresh, oxygenated air.
KDF filters use catalytic media made from copper–zinc granules that oxidize dissolved iron to its ferric form. They do this by adding electrons to the particles as the particles come into contact with the media. The ferric iron is then captured by the filter bed. The media must be replaced eventually, but backwash cycles can help prolong filter life by removing the built-up ferric particles.
Most salt-based water softener systems use ion exchange media – sodium and potassium salts – to swap out the hardness-causing minerals in your water like calcium with salts like sodium. This process prevents limescale buildup in your home's pipes and fixtures and can be effective on small amounts of iron.
If you have less than 1 ppm of iron in your well water, you should find that a salt-based softener is effective at removing it. If you have more than this, you'll need to either purchase a dedicated iron filter or increase the grain capacity of your water softening system – i.e. from 32,000 grains to 64,000 grains.
Sediment filters, in addition to picking up the iron that's already in ferric form, are great at removing other suspended particles in your water that could otherwise clog your filters and shorten their lifespan. These filters are also effective for removing a range of other unwanted contaminants.
Advantages and Disadvantages of Iron Filters
There are several pros and cons of using a whole house water filtration system to remove iron from your well water supply.
Advantages
Reduces iron down to safe, USDA-approved levels

Depending on the filter type used, can also work on other heavy metals like manganese, other minerals, and harmful contaminants like arsenic

Improved taste of water and no more rotten egg odor

Reduced red-orange staining
Disadvantages
Iron filters are often specific for iron and only a handful of additional contaminants — if your well contains other pollutants, you'll need additional filters

Like with any water filter, there can be a negative impact on flow rate

Some iron filters don't come with a dedicated sediment filter, meaning you may need to add one

The backwashing regeneration cycle can be noisy on some models
What to Look For in a Filter to Remove Iron from Well Water
There are a few main features you should look for when considering a water filter for well water.
Filter Lifespan
The longer the filter for well water lasts, the less maintenance and upkeep involved. Durable filters at the same price as filters with a shorter lifespan will also cost less in the long term. The lifespan of the filter (or filter cartridges) usually appears on the packaging or the manufacturer's website. Lifespan can vary greatly, depending on the filter capacity and the water use of your household.
Max Flow Rate
You should search for a system that won't reduce water pressure beyond your household's flow needs. This depends on the size of your home, the number of occupants, and your average usage. For a better idea of what your flow needs are likely to be, reference the chart below:
| Appliance | Flow Rate (GPM) |
| --- | --- |
| Bathroom Faucet | 0.5 GPM |
| Kitchen Faucet | 0.5 GPM |
| Shower | 2.5 GPM |
| Dishwasher | 1.0 GPM |
| Clothes Washer | 1.5 GPM |
The maximum amount of flow you'll ever need is if every fixture and appliance is running at once. This will almost never be the case, but it can give you a high-end estimate of your water pressure needs.
Type of Filter Media
Filter media is the material within a water treatment system that interacts with the water supply and removes contaminants. It could be as simple as a fine mesh to remove dirt and sediments or KDF or activated carbon, which are effective at removing heavy metals and organic compounds, respectively.
Testing your water beforehand will help you best choose the filter or combination of filters for your water. For example, if you have iron and manganese as well as volatile organic compounds in your water, an AIO filter is unsuitable. Instead, you'd need an activated carbon block filter.
Installation
Many filtration systems are simple enough to install yourself. This saves the cost of needing to hire a professional to install the system.
Most manufacturers make their user guides and manuals available on their websites, which means you can read how to install a filter before you buy it and even speak to the customer care teams if you have any questions. Some manufacturers, like SpringWell, even include how-to videos on their websites.
Maintaining Your System
Routine maintenance of a water filter system is especially important when dealing with an iron filter. Although maintenance is fairly straightforward, no two filters are alike, meaning they all have varying maintenance requirements.
For water softeners in particular, it can be difficult to accurately predict ahead of time how often you'll need to change pre-filters or how regularly you'll need to top up the salt. You should do your research and select a softener that fits your home's needs, then monitor your salt consumption over a few weeks or a month. This will allow you to gauge how quickly you are consuming salt and set a schedule to refill as needed. Whether you're using a filter, softener system, or both, it's important to maintain your system as the manufacturer recommends to ensure that the warranty remains valid and to stave off the need for repairs.
Filter Replacements
Depending on the water filter you choose, you can expect to change the filters anywhere between every three months to every 20 years. Generally, you should expect correctly sized and properly fitted pre- or post-filters to have an average lifespan of six to 12 months.
You'll also want to make sure you can easily access any replacement filters or media. Most manufacturers will sell these where you bought the original system. You should check how long it takes to ship them to plan accordingly.
Iron Filter FAQ's
These are some of the common questions consumers ask when looking for the best iron water filter for well water.
Q: What Are The Most Trusted Iron Filter Brands?
A: Some of the most popular and trusted brands in iron and general water filtration are Springwell, Pelican, AFW, iSpring, HomeMaster, and Aquasana.
Q: What is The Difference Between a Water Softener and an Iron Filter?
A: A water softener removes total dissolved solids from the water, which includes minerals like calcium and magnesium and up to 1 ppm of iron (in most cases). This causes hard water to become "softer," meaning it won't form mineral scale.
An iron filter doesn't have any impact on hard water, but it does remove iron and sometimes manganese, hydrogen sulfide, and other contaminants. Although iron filters don't reduce the hardness of your water, some filters come with an additional water softener. For instance, the SoftPro Iron Master removes iron up to 30 ppm and turns hard water into soft water.
For more detailed information see our filter vs softener comparison here.
Q: What Removes Iron From Well Water?
A: There are three main filter types used to remove iron: air injection oxidization (AIO) media, kinetic degradation fluxion (KDF) media, and sediment filters for rust. Some water softeners use ion exchange systems that will also remove iron up to 1 ppm.
Q: How Much Does an Iron Filter for Well Water Cost?
A: The price of an iron filter for well water largely depends on the number of contaminants it removes and its lifespan. The most expensive filter on our list — the Pelican WF4 — is $3,300, but it removes more contaminants than the other filters and it has media that will last for about six years.
The iSpringWGB22BM, on the other hand, is only $398, but it is less effective at removing iron and other contaminants. Plus, you'll need to replace the filters every six to 12 months.
Q: How Long Does an Iron Filter Last?
A: Depending on the model, you can find iron filters like the Springwell Well Filter that never need replacing and come with a lifetime warranty. On the flip side, the filters in models like the iSpring WGB22BM need replacing every six to 12 months.
Conclusion
Having looked at all seven of the best iron water filters, we can only conclude that the Springwell Whole House Iron Filter is the best filter for a well water supply. It removes up to 7 ppm of iron, as well as manganese and sulfur. Plus, Springwell is a market-leading brand in the filtration industry. If your home suffers from high levels of iron in its well water supply, you can't go wrong with Springwell's filter.
The Softpro Iron Master also deserves a special mention, as it has the largest iron filtration capacity at a very affordable price. Overall, we recommend Springwell first and then the Softpro and the Pelican system as the best iron-specific filters.
If you're concerned about some of the other contaminants in your well water and want to find out what filters can remove them, check out our review for the best overall whole house water filters for well water.