Morton has been operating in the salt business for over 150 years, selling salt for highways, water softeners, food services, pharmaceuticals and the oil and gas industries.
Given their history, it is unsurprising that over time they have moved into related products. Morton water softeners are an example of the way they use their existing expertise to spread into new product categories.
In this article, we will take a look at a handful of Morton's water softeners and lay out consumer-friendly reviews to help you make an informed decision on the best water softener for your needs.
Morton's Top Water Softeners
IMAGE
PRODUCT
FEATURES
 

Best Price

Best Price

Capacity: 30,000 Grains

Warranty: 10 years - Tank, 1 year - Parts

Flow Rate: 11 GPM

CHECK PRICE
 

Capacity: 24,000 Grains

Warranty: 10 years - Tank, 1 year - Parts

Flow Rate: 6.5 GPM

CHECK PRICE
 

Capacity: 34,000 Grains

Warranty: 10 years - Tank, 1 year - Parts

Flow Rate: 8 GPM

CHECK PRICE

Highest Capacity

Highest Capacity

Capacity: 45,000 Grains

10 years - Tank, 3 years - Electronics, 1 year Parts & Labour

Flow Rate: 10 GPM

CHECK PRICE
1. Morton M30 – Iron Removal For Homes and Businesses

The Morton M30 is a salt based water softener, designed to provide enough soft water to serve an average to large sized family home (1-5 people), and even small business premises.
With a flow rate of 11GPM the M30 is capable of keeping up with the water demand from more than one bathroom at the same time, and the 30,000 grain capacity means that you won't be refilling the salt every other day!
The M30 also has the ability to remove iron (up to 7PPM) from the water supply is a helpful feature for homes where iron may be present in the water supply.
AN LCD display is integrated into the water softener unit, and Morton has ensured 8-hour protection from interruptions to the power supply. This means that programming isn't lost if the unit is disconnected for maintenance, or relocated within the home.
This Morton water softener also includes their "Look Ahead" technology, which identifies patterns in your water usage to forecast your salt consumption and soft water usage. The Look ahead Technology also controls an intermittent regeneration cycle which is initiated based on usage, reducing salt and water wastage when completing the process.
Pros
Compact size makes it easy to find room for installation

Eliminates hard water in the home

Easy Installation kit provides everything needed for a DIY installation

Removes Iron up to 7PPM

Look Ahead Technology reduces running costs
Cons
Salt based softeners require refilling, increasing costs

Lid does not feel secure when fastened – it is easy to see possible leakage issues if care is not taken after refilling
---
2. Morton 8706 27K
The 8706 27k Morton water softener is sized for smaller homes, delivering a flow rate of 6.5GPM which is enough to serve a bathroom but insufficient to provide satisfactory flow for multiple outlets running together.
Morton Water have included their patented Look Ahead Technology into the controls on the 8706, allowing the softener to intelligently adjust its operation according to soft water usage, reducing salt consumption and waste water.
As the Look Ahead Technology learns your patterns of soft water usage in the home, the 8706 also ensures that the regeneration cycle is carried out at a time when water is not required. This reduces the inconvenience associated with the process, ensuring that hard water doesn't bypass the water softener if water is needed during the cycle.
The integrated LCD controller also allows you to carry out the regeneration cycle on demand if needed, so you are able to program the cycle for a time which suits you.
Pros
Compact size allows you more options when it comes to positioning the water softener for installation

Look Ahead Technology reduces salt and water consumption, making the softener more economical to run

Softens water in the home, reducing scale build up

Attractive design
Cons
Low flow rate makes this Morton Water softener unsuitable for larger homes, or homes with multiple bathrooms

Salt based softeners require frequent cleaning to ensure smooth operation over time
---
3. Morton MSD34C Model
The MSD34C from Morton Water is a slightly larger unit than the M30 and 8706, thanks to its larger salt reservoir (175 lbs).
The design of the MSD34C is not as attractive as these other softeners from Morton Water either, and along with its clear space requirement of 1.3 sq. feet, it is better suited to installation within a garage or basement.
The flow rate of 8GPM makes it suitable for the whole house treatment of hard water where multiple bathrooms may be used at the same time. This flow rate is not high enough to recommend the MSD34C where this level of flow is likely to be required regularly.
Morton Water has incorporated their look ahead technology into the MSD34C, as with many water softeners in their range. This software intelligently learns the patterns of water usage within the home to reduce salt usage and waste water, reducing the softener's running costs.
Pros
Look Ahead Technology reduces running costs
Large salt capacity increases the time between refills
Removes low levels of iron from the hard water supply (4ppm)
Cons
Poor flow rate for the size

Unattractive design
---
4. Morton MSD45E
The MSD45E is another Morton Water whole house softening system that has sacrificed looks in favour of effectiveness.
Although better suited to installation out of sight, with a 45,000 grain capacity, integrated look ahead technology and backlit LCD display the MSD45E is able to carry out water softening operation to provide 10 GPM to outlets. This means it can comfortably treat hard water to multiple bathrooms in use at the same time, without compromising its efficiency.
MSD45E has a built in self cleaning system which removes dirt, rust, and sediments from the incoming hard water without using a filter.
The Morton MSD45E's LCD display also shows helpful operating information, including flow rate, daily water consumption and a percentage indicator of the salt remaining in the unit. This softener also offers control of the regeneration cycle, with a "Recharge Tonight/Recharge Now" option so that you can choose the most convenient time for the cycle to run.
Pros
DIY installation kit makes fitting simple

Intelligent controls with Look Ahead Technology makes the softener easy to use and ensures more efficient operation, saving you money.

Removes iron up to 12ppm

Flow rate capable of serving multiple bathrooms
Cons
Little thought given to the appearance

Most expensive Morton softener amongst our reviews

Widely reported issues with damage in transit
---
About Morton Brand
Morton Water is an offshoot of Morton Salt, which has been in business since 1848!
While Morton Salt has been providing salt for a range of key industries for over 150 years, their entry into water softening systems came very recently by comparison – in 2002.
Looking for further ways to help their existing salt customers, Morton Water was launched to provide a water softening solution for every home, to resolve the expensive problems caused by scale build up.
Review of Morton Customer Service
Unlike companies such as Aquasana and Pelican, Morton employs "factory trained representatives" to answer customer questions. While this approach can help resolve common installation and operational problems, their customer support staff do not have the same level as expertise as their competitors.
This can be a frustrating experience for customers who are struggling to install Morton Water systems.
Are Morton Water Softeners Reliable?
Once they have been installed correctly and subject to the right maintenance schedule, Morton's water softeners seem to be on an equal footing with other products on the market.
We have seen several reports of customers experiencing problems with their Morton water softeners due to damage in transit and a regular complaint is that the controls fully reset in the event of power outages.
This reset means that the controls must be fully reprogrammed when power is restored, interfering with the intelligent software that tracks your water usage. In resetting the tracking tools which adjust the softener's operation according to your home's usage, you can find yourself losing the benefits of the smart technology which makes the issue extremely frustrating for customers.
The Different Water Softener Salts That Go Along With Morton Softening Devices
Morton made their name in the salt business long before they started making water softeners, so it is no surprise that they offer a full range of softener salts to complement their products.
System Saver II Softening Pellets
Salt pellets which includes a system cleaning agent to prevent mineral deposits building up in your brine tank
Pool Salt
Pool Salt is made using high purity sodium chloride, this salt helps to maintain the correct ph balance in your swimming pool. It also dissolves quickly, leaving your pool water clear.
Potassium Chloride Pellets
A great alternative to salt pellets, and perfect for those who are worried about their sodium consumption, these pellets soften water without adding sodium chloride to the system.
Rust Remover Pellets
These pellets contain citric acid as well as sodium chloride, which helps to bind rust particles, preventing them from entering your plumbing. The removed particles are flushed away when the softener performs its backwashing cycle
White Crystal Rock Salt
Derived from underground salt deposits, this product is a standard, commercial grade softening salt.
What Are The Common Issues We Can Expect While Using A Morton Water Softener?
As with all of the salt based softeners we have reviewed, Morton Water's softening systems all have a higher maintenance burden than salt free softeners.
This means that regular maintenance is crucial to ensure that your softener stays working effectively which can be onerous, especially for busy homeowners who are looking for a "fit and forget" water softener.
The resetting of the softener built-in tracking history in the event of power outages is another common cause for complaint among owners. Although Morton have begun to add back up batteries into some higher end models, this doesn't help existing owners of Morton softeners.
How Long Does a Morton Softener Last?
A Morton water softener such as the Morton M27 or M30 should last 10-15 years with the correct maintenance, although it is likely that some parts will need to be replaced during that time.
Morton offers a 10 years warranty of their softener tanks but only 12 months on other parts, which gives an idea of the confidence they have in these components.
How Does Morton Compare to Other Brands?
As is the same for many of their competitors, Morton water softeners are sold online.
Morton has one of the broadest ranges of water softeners at Menards, a large online home store selling many home and garden products.
Although most Morton softeners have a 10 year tank warranty, their parts guarantees are much shorter than Aquasana, Pelican and other market leading brands.
Overall, we think that Morton is a decent brand but there are much better alternatives such as the ones listed below.
Recommended Alternatives to Morton Based on Reviews
Aquasana EQ-1000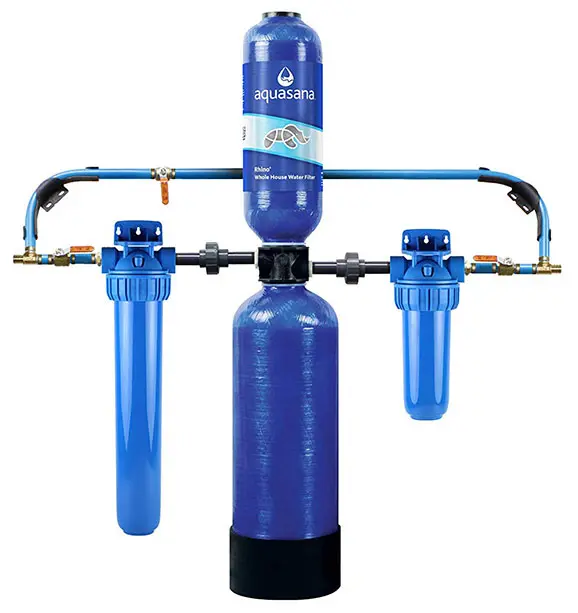 The EQ-1000 is a salt free, whole house water filter and softener system.
Its strongest selling point is its filter capacity – available in 600,000 or 1 million gallon capacities, this all-in-one softener and filter is designed to serve your home for years.
The EQ-1000 is easy to install even without professional help and it can be fitted alongside water conditioners and UV filtration units in order to provide a complete water treatment solution. It is NSF certified to remove over 97% of chlorine from the water supply and was awarded a Gold Standard of water filtration.
With a salt free water softener system requiring minimal maintenance, and operating without backflushing cycle, we believe that the EQ-1000 is a better alternative to the Morton Water range of softeners even when considering the highest purchase cost.
---
Pelican PSE1800
The Pelican Combo PSE1800 is a combined whole house water filtration system and descaler.
Using salt free technology, this system ensures that water does not feel soapy or slippery from the taps, whilst preventing scale build up in your home.
The Pelican PSE1800 has wireless features that allow users with a smartphone to effortlessly access guides, instructions and maintenance information from their phone when next to the unit, making maintenance and problem solving very simple.
With pre-filter, main filtration tank and descaler units all in the same bundle, the PSE1800 thoroughly treats the water to your whole house, meaning that clean, filtered water comes from every tap.
---
Soft Pro Elite
The Soft Pro Elite is a combined filter and salt based softener unit, aimed mainly at homeowners who draw their water supply from a well or borehole.
Able to filter up to 3ppm of iron as well as softening the incoming water, the Soft Pro Elite filter and water softener system also comes with a large, simplified 4" LCD display making it easy to use, as well as being backed by a lifetime warranty.
An Automatic System Refresh programming flushes stagnant water from the salt tank every 7 days to reduce the chances of bacteria growth in the system.
The integrated salt grid within the brine tank minimises clumping, which reduces the maintenance requirement.
The Soft Pro Elite is available with a range of "bolt on" accessories, including different types of water filtration systems to ensure that there is always a product suited to the water in your home.
---
Conclusion
While Morton Water softeners have some helpful features, our reviews have found them unspectacular.
The presence of Look Ahead Technology in many of Morton's products is a benefit however when compared to other combined softener and filter systems on the market, we don't see Morton edging out their competitors.
If you are looking for a solution to hard water within your home, we strongly recommend coupling your softener with a whole house filtration system to maximise water quality in your home.
If we had to recommend one alternative it would be the Aquasana EQ-1000.