The overwhelming sulfur smell in your shower is not just a coincidence.
The source of this unpleasant odor may be coming from well water that contains high levels of hydrogen sulfide, which has an unforgettable rotten eggs flavor when it comes to drinking water.
This gives your water an unpleasant taste, but it can also corrode metal pipes and tarnish silverware. Sulfur in water can also cause yellow or orange staining on your laundry and fixtures.
If you're ready to get rid of that obnoxious smell once and for all, then you need good water filtration equipment for your home.
Here are the best sulfur water filter systems that we've found to remove hydrogen sulfide from your water table supply and give you clean, great-tasting water again.
Find The Right Section…
Best Sulfur Filters for Well Water Compared
IMAGE
PRODUCT
FEATURES
 

#1 Springwell Well Water System

Type Filter: Oxidation & Filtration

Contaminants Removed: Sulfur, Iron, Manganese

Flow Rate: 12

CHECK PRICEGet 5% Off! Use Code: WTA5

Type Filter: KDF Oxidation & Filtration

Contaminants Removed: Sulfur + 75 others

Flow Rate: 15

CHECK PRICEGet $500 Off! Use Code: watertechadvice

#3 USWS Matrixx Infusion System

Type Filter: Hydrogen Peroxide Injection & Filtration

Contaminants Removed: Sulfur, Iron, Manganese

Flow Rate: 15

CHECK PRICE
What To Look For When Choosing The Best Sulfur Filter
Here are the traits of the best hydrogen sulfide filter system that you should key on when shopping for one of these filtration systems:
Sulfur Treatment Method
The water purifier works by removing hydrogen sulfide and sulfur-consuming bacteria, which cause sulfate-related issues in tap water. Most water filtration systems work very straightforwardly and do not require ultra-sophisticated processes.
Other Contaminants Removed Or Altered By The System
Sulfur water filters may also eliminate or reduce other tap water contaminants too. The more, the better, and this can be a deciding factor in your purchasing decision of a whole house water filter. For example, most catalytic carbon filters can remove chlorine, and more from water but not all water filters are created equal.
Ease of Installation & Maintenance
You certainly will want to know how easy the sulfur lowering system that you are thinking about purchasing is to set up, operate & clean, and what other types of regular maintenance it needs.
This includes a device with such features as a remotely programmable control head.
System Flow Rate
While it's true that you need to remove problematic hydrogen sulfide from your incoming water, you don't want to sacrifice a huge amount of water pressure in your home to accomplish this.
Ensure that you know the working flow rate of any sulfur filtration system you are thinking about buying so that it doesn't affect your water pressure.
Construction & Durability
The chances are that you will be installing your whole house water system in a garage or basement. These are generally tough working environments for equipment.
That's why you want your water systems that eliminate sulfur to have a tank that does not dent easily and is made using corrosion-resistant parts.
Warranty
Warranties and guarantees are also a nice little bonus that can impact your sulfur water filter purchasing decision. The better the warranty/guarantee, the more it indicates that a manufacturer has much confidence in their product being able to do what they claim it can.
Price
Not many of us have unlimited budgets when it comes to installing specialized equipment around our homes. So, the purchase price always has a role in choosing the best sulfur water filtration system that removes or reduces hydrogen sulfide.
Review of Best Hydrogen Sulfide Removal Systems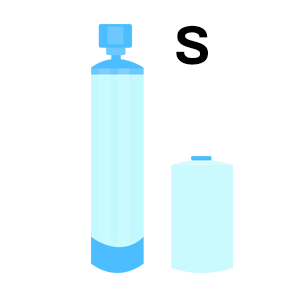 Review Order
If you have high hydrogen sulfide content in your incoming tap water, I don't think that you can go wrong by purchasing any of the best sulfur water filter systems on this list to correct that issue.
#1 SpringWell Whole House Well Water Filter System
This is a nicely designed and highly rated sulfur filter. Its main purpose is to treat incoming well water for problematic sulfur, iron, and manganese.
This sulfur water filter system does a very good job at this and getting rid of the rotten egg smell that goes along with sulfur in water conditions.
That's why this whole house water system is easily our top choice for reducing hydrogen sulfide content in your home's water.
It combines a 4-stage filtration process with advanced air injection oxidation. The SpringWell Whole House Well Water System also has a very constant flow rate and is built tough.
Although this water purifier's initial cost is somewhat high, you shouldn't overlook the fact that it does a great job reducing sulfur in the water, is virtually maintenance-free after the initial setup, and has a Bluetooth control head so it can be remotely operated.
This whole house water system is designed to last 20+ years and is also backed up by an outstanding satisfaction guarantee and warranty.
Main Features & Benefits
Sulfur Treatment Method: This water filtration system uses what is known as oxidation to eliminate the vast majority of sulfur (in the form of hydrogen sulfide) that passes through it.
In Layman's terms, adding an oxygen particle to the sulfur particles in water enlarges them and makes them easier to filter out.
Activated carbon filters then remove the bigger pieces of sulfur from the system. Springwell is confident that this system can remove hydrogen sulfide down to 8 PPM that they guarantee it.
Other Contaminants Removed or Reduced: These water filtration systems are specifically designed to reduce problematic iron, sulfur, and manganese in well water. In addition to removing all but trace amounts of hydrogen sulfide, it will also provide iron removal up to 7 PPM and manganese removal up to 1 PPM.
An optional bacteria-killing UV light can also be purchased for use with it.
Ease of Installation & Maintenance: Although not many parts have to be put together with the SpringWell Whole House Well Water System, you will still need to tap into your home's main water line. That is something that's best done by a professional.
Thanks to its remotely operated Bluetooth control head, it's a very simple system to operate. That enables you to program in the automatically backwashing cycles that are intended to keep this unit clean and operating efficiently.
There is also very little regular maintenance that has to be done to this tap water sulfur-reducing device.
System Flow Rate: Even if more than one person is showering at the same time in a home that uses this water filtration system, it should not impact the water pressure at all. That's due to its very good 12 GPM flow rate.
With this generous flow rate, it's a system that can handle the sulfur in water removal needs in homes that have 1 to 4 bathrooms.
Warranty: You will get excellent peace of mind when you purchase the SpringWell Whole House Well Water Filter System. You will get 60-days to try it out under the company's money-back guarantee, and a limited lifetime warranty also backs it up.
Price: There is no hiding the fact that this is an expensive system for treating sulfur from an incoming well water line.
Pros:
4-stage filtration with air injected oxidation
Reduces sulfur to less than 8ppm
It eliminates the rotten egg smell
A maintenance-free water hydrogen sulfide filtration system
20+ year lifespan
Bluetooth interface
12 GPM flow rate
6-month money-back guarantee
Lifetime warranty
Free shipping
Cons:
High initial investment
Professional installation is most likely required
Pricey UV light add-on needed to treat Bacteria
Large amounts of wastewater during cleaning
Get 5% Off! Use Code: WTA5
---
#2 Aquaox RE Edition
If you want to eliminate all but non-impactful trace amounts of hydrogen sulfide from your home's water and many other potentially harmful tap water contaminants, then this is a whole-house filtration system worth taking a closer look at.
It far and away removes the most water contaminants of any water filters on our list, and it's versatile enough to be used to treat both well and municipal household water supplies.
It does this through its superior combination of KDF 85, KDF 55, Garnet, Centaur Catalytic, Adsorptive Carbon, and Activated Carbon Coconut Shell filters to go along with gravel and filter-AG media.
These model sulfur water filtration systems have an excellent flow rate. It meets NSF/ANSI standards 42, 53, and 61, respectively, with chlorine removal, harmful contaminant removal, and certified safe components.
The Aquaox RE Edition is also produced in America by a veteran-owned company and is designed to last 20-years or more. It comes backed up by an outstanding warranty and guarantee.
Main Features & Benefits
Sulfur Treatment Method: Any sulfur that's present in your well water has a nearly impossible task trying not to be impacted by this advanced filtration system's KDF-85 treatment stage.
Its KDF-85 media uses an NSF-certified oxidation process to enlarge small hydrogen sulfide particles so that the system's catalytic activated carbon filters can remove them.
Other Contaminants Removed or Reduced: When using this system, you will get the peace of mind that comes from water that has had over 75 contaminants removed, including sulfur. This list includes VOCs, chlorine, chlorinated solvents, benzene, arsenic, iron, lead, nickel, chloroform, and carbon tetrachloride.
Ease of Installation & Maintenance: Once again, this is a whole house water filtration system that needs to tap into the main water line. For that reason and the fact that it needs an electrical connection, you will probably want to have it professionally installed.
It also comes with a programmable control head where you can control its automatic backwashing cleaning cycles, and it requires no other maintenance once it has been put in place.
System Flow Rate: This hydrogen sulfide treatment system's multi-stage filtration process still boasts a very good 15-gallon per minute flow rate. That's enough to handle the sulfur filtration system needs in homes with up to 4 bathrooms.
Warranty/Guarantees: With its higher price tag, the manufacturer would expect this system to be backed up well, and it does not disappoint there. It features A 12-month money-back guarantee and a 10-year warranty.
Price: While this sulfur-reducing system also offers you many other water purification benefits, this elite level of water enhancement comes with a hefty price tag.
It's easily one of the most expensive filtration systems for dealing with tap water sulfur problems on our list of the best ones.
Pros:
Advanced 7-stage filtration
Removes sulfur and over 75 other water contaminants
2,000,000-gallon capacity
20-year working life
Programmable control w/ auto-backwashing
Maintenance-free filtration system
15 GPM water flow
NSF and WQA certified
12-month money-back guarantee
10-year warranty
Cons:
Super expensive
It may be overkill for good quality incoming tap water
It needs to be professionally installed
Cleaning of the system produces large amounts of wastewater
Get $500 Off! Use Code: watertechadvice
---
#3 Matrixx Infusion Iron and Sulfur Removal System
This sulfur treatment filtration system is unique because it uses a combination of chemical injection and filtration system rather than a completely self-contained oxidation tank system.
This has proven to be a very effective way to eliminate sulfur (hydrogen sulfide) from incoming well water.
It will also remove significant amounts of iron and manganese. Other features include a control head that can be programmed using an app on a smart device, a 15-gallon peroxide tank, and a precision injection panel.It has a decorative and durable stainless-steel tank that can remove sulfur from water in homes with up to 4 bathrooms. It offers the convenience of being a maintenance-free well water treatment system.
Main Features & Benefits
Sulfur Treatment Method: This sulfur lowering system works based on what is known as continuous injection technology. It uses hydrogen peroxide in the oxidation process, making it possible for its catalytic carbon filters to remove sulfur and hydrogen sulfate from your tap water.
It will reduce sulfur content in your tap water to a level that is less than 30 ppm. This will eliminate all of the different sulfur-related problems that you are experiencing with your water.
Other Contaminants Removed or Reduced: These water filtration systems are specifically designed to target sulfur, iron, and manganese. It will also inhibit the growth of sulfur and iron-feeding bacteria and remove any silt, sand, sediment, and cloudiness that is present in your incoming water.
Ease of Installation & Maintenance: Because it's more complex to set up a hydrogen peroxide injection treatment system, you will want to have this professionally done.
The operation of this hydrogen sulfide lessening system is made simple by its control app and automatic backwashing feature, but at the same time, you will have to manually refill the hydrogen peroxide storage tank when it runs low.
Its Catalytic Carbon filtration media also needs to be refreshed periodically.
No other maintenance is needed to keep this sulfur in water removal working efficiently.
System Flow Rate: Here is another water filtration system that can be used in homes with up to 4 bathrooms. That's because it boasts of having a flow rate of 15-gallons per minute.
Construction & Durability: This hydrogen sulfide system has a decorative and durable chrome exterior tank that will resist corrosion over a very long time. All of the components in the system are designed to make it hold up well for 10-plus years.
Warranty/Guarantees: This is not the best warranty of the units on our list, and there is no satisfaction guarantee, but it is an acceptable warranty. It includes a lifetime warranty on the tank, 10-years on the control valve, and 5-years on the injection panel.
Price: There is no such thing as an inexpensive sulfur water purifier, the initial setup of this system is very pricey.
Pros:
Highly effective hydrogen peroxide injection system
Smart device app-controlled
15 GPM flow rate water purifier
It also removes iron and manganese
15-gallon peroxide solution tank
Precision Injection Panel
Chrome tank exterior
Cons:
Very pricey system
The backwashing cycle wastes water
Best sulfur filter for well water
Requires peroxide and carbon filter refills
---
#4 Pelican Sulfur House Water Filter
This is a dual-tank whole-house sulfur water filter system from Pentair's reputable water filtration company. It's an injection-type system that uses chlorine as a means to convert sulfur (hydrogen sulfide) into a filterable form.
You can count on it to remove several other contaminants from your well water too. This whole house water filter can also filter out any contaminant particle that is 5-microns in size or larger and kill bacteria.
The setup of this filtration system is a little complicated, and it takes some periodic maintenance, but overall, it's pretty simple to operate and maintain. It's also a well-made system, but several parts need to be connected to make it work.
Main Features & Benefits
Hydrogen Sulfide Treatment Method:
Adding chlorine to tap water where sulfur is present works in two ways. The first is that when sulfur contacts chlorinated water, it forms big yellow chunks that are easy to filter out.
Chlorine can also destroy the bacteria in well water that feeds on sulfur and, in turn, produces the hydrogen sulfide gas that causes the sulfur smell and other problems in water.
The sulfur system's chlorine to resolve hydrogen sulfide issues in tap water is then removed by the carbon filter in its main tank for pure filtered water.
Other Contaminants Removed or Reduced: With this combination injection and filtration tank system, you get much more than just odor-free water. Due to its 5-micron filtration ability will also remove high concentrations of chlorine, sediment, pesticides, copper, zinc, pharmaceuticals, industrial solvents, and herbicides.
Ease of Installation/Operation/Maintenance: Sulfur water filter reviews said that this is an easy unit to install, but I am not buying that. You will probably need professional installation to plumb an injection system into your incoming water line in its tanks.
Operation is easy because the system has no control head and just runs continuously. It does require periodic chlorine tank refills and changing out the sediment pre-filter when it gets dirty. A helpful metering pump comes with the system too.
System Flow Rate: At 14 gallons per minute, this has a more than acceptable flow rate. As with the other sulfur in water removal systems on our list of the best hydrogen sulfide filtration systems, it is more than serviceable for use in homes with 1 to 4 bathrooms.
Construction/Durability: This system is fairly well built, but it has more small parts to attach than any device to filter sulfur.
Some of that is offset by the fact that it does not have an electronic control head that can break down and its stainless steel filtration tank is very durable and corrosion-resistant.
Warranty/Guarantees: I am not a big fan of the warranty that comes with these water systems. That includes the manufacturer standing behind that tank, valve, and electronics for only 5-years and the rest of the parts on the system for 1-year.
Its 90-day satisfaction guarantee does give peace of mind when purchasing this unit.
Price: This is our list's lowest-priced sulfur lowering system, but don't let that mislead you. Many would still consider it to be a somewhat expensive piece of house water filter system.
Pros:
5-micron water filter
The effective chlorine injection system
Dual tank design
Filters out more than just sulfur
90-day satisfaction guarantee
No backwashing necessary
It does not need an electric hookup
Cons:
High initial cost
The warranty could be better for the price
Requires periodic chlorine refills and filter changes
Initial setup is difficult
Needs chlorine refills and sediment pre-filter changeouts
---
Sulfur Water Treatment Systems Buyers Guide
Here is some good information to know before you start shopping for hydrogen sulfide treatment equipment.
What is Sulfur or Hydrogen Sulfide?
Many people do not realize that sulfur is actually a non-metallic element that has its own place on the periodic table. It's naturally occurring and is often present in rocks, rock layers, and areas that have had previous volcanic activity.
This element is also an essential compound that's found in every living cell.
Health Issues with Sulfur
Although the CDC considers sulfur in water to have low toxicity, it still can contribute to such health issues as dehydration, diarrhea, and eye irritation. High sulfur concentrations in tap water can also cause that water to be a skin irritant, so it is important to filter sulfur out of house water.
It's also not good to breathe large amounts of hydrogen sulfide, so you shouldn't expose yourself to the sulfur smell for long. Good sulfur filter systems can eliminate this problem altogether.
Getting rid of the sulfur in your water will also prevent scale buildup on pipes. That's necessary because this buildup which contains trace metals, will eventually find its way into your body when it comes loose and goes back into the water supply.
This is why I will always recommend purchasing a sulfur removal system if you have any form of this element present in your water to get pure, filtered water to avoid health issues and eye irritation.
How Does Sulfur Get into Your Water?
As was mentioned, sulfur is often present in rocks and rock layers. It can end up in water table sources through chemical reactions that take place with soil, rocks, and coal deposits.
Sulfur-consuming bacteria that like low oxygen environments are found in groundwater, wells, and plumbing systems. These can also introduce hydrogen sulfide into your drinking water source.
How to Test Your Water for Sulfur?
Both lab and home testing can determine if you indeed do have sulfur water.
The Health Metric Well Water Test Kit is one of the simpler ones to use to detect the presence of hydrogen sulfide in your household and drinking water.
Our Best Water Test Kits article can read more details on this test kit and other reliable water testing options.
Seeing what contaminants you need to remove from your incoming water will help you better identify the water systems that eliminate hydrogen sulfide that should interest you.
It's also never a bad idea to know what other organic matter and contaminants are lingering in your water supply too. That will also help you determine what water filtration system best meets your iron and sulfur removal needs.
What Types of Water Filter Removes Sulfur?
Granulated activated carbon filters and reverse osmosis systems are the only types of filters that can eliminate sulfur from tap water, but neither of these is considered to be reliable and effective on its own.
A hydrogen sulfide water filter is often combined with oxidation or chemical injection equipment to make it easier for them to eliminate sulfur and hydrogen sulfide from drinking water. It then makes it easier for an activated carbon filter to do its job. Try to stay away from water filters that use the poisonous substance potassium permanganate.
Sulfur Water Filter FAQs
Here are some of the most common questions that I get when it comes to the presence of sulfur in the water and a water filter that can end issues related to the presence of hydrogen sulfide in the water.
Why Does My Water Smell Like Rotten Eggs Or Sulfur?
The rotten egg smell in water is caused by hydrogen sulfide gas. This is produced by the various types of bacteria that feed on sulfur that are often present in well water.
Do Typical Water Filters Remove Sulfur?
No, because oxidation or chemical injection is required, and most typical water filtration devices do not have that capability. So you need a special water filtration system to do this task.
Can You Drink Well Water With Sulfur In It?
Yes, but perhaps it's better to ask why you would drink water with hydrogen sulfide content in it. Although it's considered safe to drink, it may cause some minor digestive system problems, and its smell and taste may not make your water desirable to consume.
Will A Carbon Filter Remove Sulfur Smell?
No, because an ordinary carbon-based water filter cannot remove the hydrogen sulfide smell, which is the source of the rotten egg smell in tap water.
So an activated carbon filter alone will not get you odor-free water. A water filtration system that uses oxidation or chemical air injection is best.
Can You Find Sulfur In Hot Water?
If your cold and hot water both have a rotten-egg odor, it's most likely because of hydrogen sulfide in your water supply. The bacteria use the septic tank's contents as a source of food and, in so doing, produce hydrogen sulfide gas.
Some Final Thoughts On Sulfur Removal Systems
Even after experiencing just a few times the effects of smelling hydrogen sulfide in tap water and how it impacts water's taste, that's enough for me never to want to deal with the problems that sulfur in tap water causes.
Yes, I realize that the presence of sulfur in water does not cause serious health issues and the systems that remove it are expensive to install.
However, I still believe the drawbacks to sulfur-laden water far outweigh the investment that is necessary to get water filtration systems that eliminate hydrogen sulfide.
This is especially true if you buy a system that removes many other harmful contaminants in the water that you and your family drink every day.