I assume you want clean, purified, soft water for your home and have been considering purchasing a Pelican water filtration system.
You've come to the right place.
Pelican Water Systems makes water filter systems that give you exactly what you're looking for at the highest water quality and reasonable prices.
But that doesn't mean Pelican Water has no downsides.
Let's review why Pelican Water Systems is one of the leading water filtration providers so you can decide if they are the right brand for you.
Pelican Water Filters Compared
IMAGE
PRODUCT
FEATURES

Whole House Filter & Softener System w/ UV

Kills unwanted bacteria

Those who want a complete filter & softener whole house solution

Max Flow Rate: 10 GPM

CHECK PRICE

Whole House Water Filter System

Keeps family and co-workers safe and happy

Those who need just whole house filtration

Capacity: 600,000 gallons

CHECK PRICE

NaturSoft® Salt-free Water Softener System

Soften water without salt

Those who want a salt-free whole house softener

Max Flow Rate: 10 GPM

CHECK PRICE

Whole House Fluoride Water Filter System

Get rid of unwanted Fluoride in tap water

Homes with fluoride in their water

Capacity: 450,000 gallons

CHECK PRICE

Reduces scale and keep skin and hair healthy

Lifetime guarantee

Capacity: Filter lasts 15,000 gallons or 750 ten minute showers

CHECK PRICE
Overview of Pelican
Pelican water filtration products are made in the USA to exacting standards for consumers who care about the quality and contents of the water they ingest.
Since 2007, Pelican has focused on water treatment issues, providing cost-effective solutions for removing unwanted contaminants, and improving the taste of pure, clean water.
Pelican's whole house and shower filtration systems are designed and engineered to the highest standards.
Their water filters and filtration systems meet and surpass many government purity certification tests including the Water Quality Association and the National Sanitation Foundation (NSF) tests.
Simply put, Pelican Water filters are made to the highest quality standards and the company has been a reliable force in the water filter business for quite some time. You can't go wrong.
Pelican's Top Filters Reviewed
Let's review Pelican's variety of water filtration systems so you can figure out which one is best for your home's water quality.
1. Whole House Filter & Softener System w/ UV
Consumers concerned about water contamination from bacteria or viruses and who also want softened water now have the perfect whole-house solution in the Pelican PSE2000 or PSE1800 filter and softener systems.
Ultraviolet light (UV light) protection is used in combination with previously treated water and protects against chlorine-resistant bacteria including Cysts and Giardia.
This is a great water filter system for folks in rural areas with well water or in urban locations with hard water or poor municipal water.
This system rates as one of the best all-in-one water treatment solutions for homeowners who need a whole house system that contains both softening and filtration capability.
Pros
Catalytic granular activated carbon + bacteriostatic KDF-55

Low maintenance

High capacity filters

Long-life filters
Cons
Plastic Fittings

Filter cartridges should be pre-soaked before installation
---
2. Whole House Water Filter System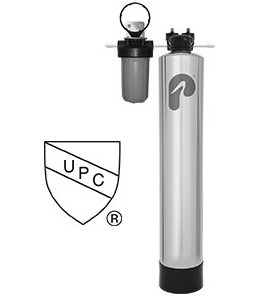 Pelican Water's PC1000 Whole House Water Filter removes Chlorine, Chloramine, and other common contaminants.
This high-capacity filtration system is virtually maintenance-free and can be easily installed. And the filtration system can filter 600,000 to 1,000,000 gallons of water over five years!
For homeowners and offices that want to filter water without all the bells and whistles, this is a great way to eliminate contaminants, improve taste, and drink healthier beverages.
This model from Pelican was also included as a top pick in our best whole house water filtration and softener system review.
Overall, this whole house filtration system stacks up as one of the top options on the market if you are looking for just whole house filtration.
Pros
Reasonable price

Stainless Steel tank

NSF Standard 42 certified

Long-life filters
Cons
Plastic Fittings

Filter cartridges should be pre-soaked before installation
---
3. NaturSoft® Salt-free Water Softener System
For consumers who don't want the disadvantages of salt-based water softening systems, Pelican has developed its patented NaturSoft® salt free softener system.
Those who suffer from hard water and high mineral content that scales on glass and tile have the answer they seek.
This Pelican water softener was also included in our overall best water softeners review you can see here.
Here are the reasons why a Pelican NaturSoft® Water Softening system makes sense:
| | Pelican | Salt Based |
| --- | --- | --- |
| Technology | Salt-free | Uses Salt |
| Limescale Prevention | 99.6% eliminated | 0% eliminated |
| Retains Beneficial Minerals | Yes | No |
| Electrical Power Required | No | Yes |
| Wastewater | No | Yes |
| "Slimy" Feeling | No | Yes |
| Requires Reverse Osmosis System | No | Yes |
| Reverse Osmosis System Cost | $0 | $100-$200/year |
| Monthly Maintenance | $0 | Yes (replace salt) |
| Annual Operating Cost | $0 | $550+/year |
This Pelican softener system is a great choice if you have hard water and are in need of a system for your house that doesn't use salt.
---
4. Whole House Fluoride Water Filter System
There has been a lot of concern about Fluoride being added to city water systems. Many people feel Fluoride has potentially negative effects on drinking water and water used for other household needs.
When you want to remove added Fluoride due to health concerns, the problem is easily solved with the Pelican Fluoride removal system.
The Pelican Fluoride Whole House filter system uses a calcium-based, Bone-char Adsorption Medium carbon filter designed to remove fluoride from water.
This is unlike standard coconut or charcoal-based carbon filters that don't filter out fluoride. "Adsorption" is a process where chemicals adhere to the surface of the adsorbent material.
Another important difference between the Pelican Fluoride filter cartridge and standard filter cartridges is Pelican uses a non-electric, zero-wastewater design that eliminates Fluoride without having to backwash filters resulting in minimal maintenance.
If you are having issues with fluoride in your water, this system from Pelican will get the job done effectively and reliably.
Pros
99.6% of Fluoride eliminated

450,000-gallon capacity

Zero Wastewater

Long-life filters
Cons
Plastic Fittings

Filter cartridges should be pre-soaked before installation
---
5. Shower Filter
If you're someone who doesn't want to spend the money or time to install a whole house water filtration system then individual solutions like a shower filter can be a great option.
With this filter, you will get a cleaner feeling stepping out of the shower.
That's the reason Pelican engineered the Shower Filter. Softer, smoother skin and healthier hair are just two of the benefits of having a shower water filter.
Nothing could be easier to install and use to gain the benefits of water treatment without all the hassle of installing a full filtration system for the entire house.
If you just need a filter for your showers then this product from Pelican will get the job done.
Pros
96% of Chlorine eliminated

Water conservation setting

BPA-free

3-stage Long-life filter

NSF Standard 177 certified
Cons
Plastic fittings might leak

Water flow reduced to 1.5 GPM
---
Features and Benefits of Pelican Water Products
Top-Notch Filtration Technology:
Pelican uses high-grade catalytic granular activated carbon as their primary filter media. The filter is NSF certified for 96.6% chlorine removal for more than 650,000 gallons.
Furthermore, Pelican guarantees the chlorine and chloramine reduction is below the minimum detection level for all 650,000+ gallons or 5 years!
The filter cartridge also uses catalytic carbon and copper-zinc oxidation media (KDF-55) that stops bacteria and algae growth. The flow rate comes in at 8 gallons per minute (peak water flow is 12 GPM) which should be more than adequate for small families or offices.
Ease of Use:
Pelican systems are easy to install with minimal system maintenance.
The company advises changing the pre-filter every 6 to 9 months. The filtration systems are supported by a Limited Lifetime Warranty (12 years), as well as a 90-day, 100% satisfaction guarantee.
Pelican company engineers also kept their water filter systems simple by eliminating the need for electricity to operate the systems. Water pressure powers the filtration process making the systems easier to install and operate.
Home DIY enthusiasts can quickly install any Pelican product and if they encounter any problems, they can call Pelican's customer support experts for help when needed.
What to Consider Before Buying a Pelican Water Filter
One of the questions many customers ask is which system is best for them?
That depends on a lot of factors and conditions.
Every area tests differently for water content and contaminant levels as well as water hardness.
Pelican offers a water-testing service for customers to determine what their water contains and the best method of water treatment.
Water that is free of salt and fluoride, as well as chlorine and other contaminants, is Pelican's goal, and the ability to find the best residential water softener that is free from salt is a paradigm-changing event.
Helping customers decide which filtration product(s) will work best is easy on the Pelican website.
The company's Education Center web page is a great first step to deciding which type of filtration system will work best for them. Pelican manufactures water filtration systems for low, medium, and high-use situations whether in a home, office, or industrial setting.
Pelican offers the following types of water filtration systems:
Whole House
Water Filter/Softener Combination
Well Water
Drinking-Water
Shower
UV Disinfection
You can see Pelican's top models which we reviewed above to determine which specific product would be best for your water needs.
What the Public Thinks of Pelican Water Systems
Comments from customers about the Pelican line of products are available on the company website and elsewhere on the Internet.
Here are just a few of those customer reviews:
Amazon Reviewer:
"Because of the smell of the water in the house, I looked for water filtration systems. The Pelican Water sales representative was amazing and he did a very good job. He was patient and he took the time to explain on the phone. And even after the purchase, he followed up. He gave a very nice service and he also walked us through setting up everything when I called him. I'm very happy with the salesperson and I'm very happy with the system too. My water now smells nice and clean. It's a big difference."
Amazon Reviewer:
"The water in Flagler Beach sucks. We went with Pelican Water Systems after seeing that there was no salt in their system and liking their marketing. Their consultant and I worked together really well and installation went great. When I ordered the filters for the system, their guys were very quick in returning my call the next day. We've been very, very happy with our water system. We don't buy bottled water anymore."
Amazon Reviewer:
"We got the whole house million gallon system from Pelican Water. Their reps were great and when I talked to them on the phone, they were very polite and helpful. I also used their website to do the refills and it was super easy to use. I like that they autoship their refills, too. I have the system for four months now and so far, the water is much cleaner. We had a salt water softener before and the water is much cleaner with Pelican. Plus, the water tastes better to my children."
Alternatives Options to Pelican Filters
Springwell (Our Top Alternative Recommendation to Pelican)
Springwell Water is a brand that has been in the water filtration business for a while with an excellent reputation.
They produce top-of-the-line water softeners and whole house filters and customers rave about their experience buying from them.
Below are a few of the models that are most popular and effective.
Based on the prices published on the Internet, Springwell products are priced a little bit cheaper than similar Pelican products.
If you're not going to buy a Pelican product then we would recommend Springwell as a second option as this is a top brand in the water business.
---
Aquasana
Aquasana is a well-recognized brand that has been in the water filtration business since 1997. In that time, the company has engineered and sold the following types of home filtration products:
Based on the prices published on the Internet, the Aquasana products were priced competitively with similar Pelican products.
Customer reviews indicated a high level of satisfaction with the products and the company's customer support and we have rated them as one of the top brands.
If you're not going to buy a Pelican product then we would recommend Aquasana as a third option after Springwell as both of these brands are top in the water filtration business.
See our Aquasana vs Pelican comparison for more information.
Conclusion
Looking over the variety of options offered by Pelican as well as by competitive products, the Pelican Water Filter System uses some unique technology to get the job done.
Their engineering and designs have developed processes and materials that defy traditional thought.
Overall, Pelican products are as good or better than their competition. That's because they've developed new ways to solve an old problem and they continue to provide the highest quality products at very reasonable prices. Another thing that makes Pelican attractive is the easy installation of the products.
That being said, if you are looking for one of the best water systems on the market look no further than Pelican or Springwell. You won't be disappointed.