Aquasana is a manufacturer of water filtration equipment based out of Austin, Texas, and with offices around the globe.
Their goal is to provide clean drinking water for everyone, and they have a wide range of products to suit different needs.
Specializing only in water treatment systems, Aquasana has focused on becoming a premium brand with a strong reputation for quality water treatment products.
From whole house water filtration to water softeners, Aquasana has a reputation for producing the best water filters that remove harmful contaminants backed by excellent customer service.
With some of the most popular products on the market, we thought it was time to see whether these Aquasana water filters live up to the hype.
Aquasana's Top Water Filters Compared
IMAGE
PRODUCT
FEATURES
 

Whole House

6 year lifespan

Requires Professional Installation

CHECK PRICEGet 50% Off + Free Shipping! Use Code: AQWTA

Under-Counter

6 month filter life

DIY Installation

CHECK PRICEGet 50% Off + Free Shipping! Use Code: AQWTA

Shower Head

6 month filter life

DIY Installation

CHECK PRICEGet 50% Off + Free Shipping! Use Code: AQWTA
Aquasana Whole House Water Filter & Softener Reviews
An Aquasana whole house filter is the most comprehensive solution to poor water purity.
A whole house water filter is fitted onto the home's incoming water supply and treats every drop of water that enters your home at the point of entry.
These systems often need to be installed by a professional, however, they are designed to treat and purify the water in your whole home to ensure that pipes are not overcome with scale, contaminants are removed by contaminant grabbing media, and every tap in your home provides only great quality purified water.
These systems are usually more expensive than point-of-use filters, so it is worth reading up before you buy.
We go into detail below reviewing Aquasana's best whole home filters.
Aquasana Rhino® 1,000,000 Gallons Whole House Filtration System + Salt-Free Water Conditioner + UV Filter
The Rhino is a whole house, dual tank design water system that provides treatment as water enters your home, meaning that organic particles impurities, scale, and chemicals are eliminated post filter BEFORE they can cause any damage to your plumbing.
Every tap in your home may provide clean, filtered drinking water by removing 97% of chlorine and reducing other hazardous pollutants such as lead, mercury, pesticides, herbicides, VOCs, organic particles and more when going through the activated carbon and whole house filters during the filtration process.
This system was one of our top-rated whole-house water filters.
With a max flow rate of up to 11.8 gallons per minute and no perceptible change in water pressure, the Rhino 1,000,000 Gallons' newly-improved divider valve allows for an impressive flow rate.
The Aquasana Rhino is a whole-house water purifier that can be easily swapped without the need for messy, time-consuming replacement tanks by using the shut off valves.
To naturally and safely reduce scale build-up on internal pipes and plumbing without the use of salt or chemicals, install a Salt-Free Water Conditioner.
With the optional UV Filter, you'll get overall house protection with this complete system and filter media for, remaining sediment and chlorine removal. It destroys 99.99 percent of viruses, germs, and chlorine-resistant cysts with its strong sterilization capabilities and post filter.
A Pro-grade install kit can be purchased with this whole house water filter.
---
EQ-1000 Base Aquasana Whole House 10-Year Water Filter + Salt-Free Softener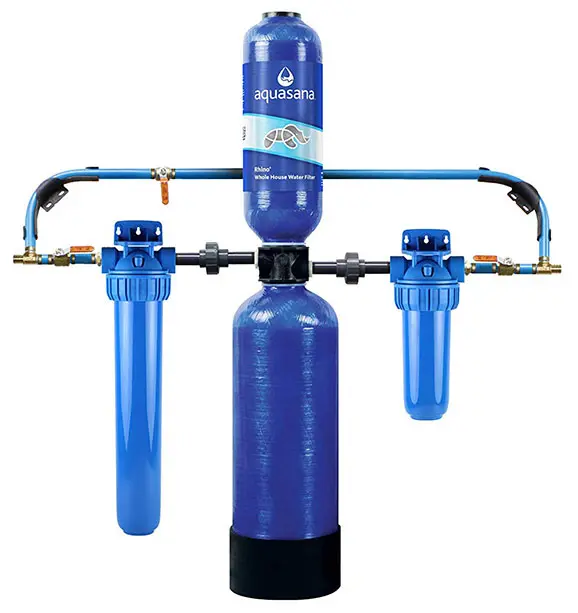 The EQ-1000 is a headline house water filter system & softener from Aquasana.
The entire system is able to treat ONE MILLION GALLONS that use a 5-micron pre-filter, salt-free descaler tank, UV disinfection, and activated carbon filter to ensure your house water is purified before it enters your plumbing.
This Rhino whole house system comes as a package, and with shut-off valves, giving your plumber all of the filter parts needed to install the system in one visit.
This Aquasana whole house water softener system doesn't use backflushing technology so no water is wasted in the filtration process and because the system treats the water without using salt, running costs are kept low with only the pre and post-filter media needing to be changed every 3-6 months.
Shower steam, which contains both chlorine and organic chemicals that evaporate in it, may pollute the air you breathe.The Rhino 1,000,000 Gallons is independently verified and certified for getting rid of 97% of chlorine-resistant cysts and chlorine removal from the water and improve indoor air quality by filtering it throughout your house.
Not to mention, we rated this water softener & filtration system as one of our top picks for best water softener brands.
---
Aquasana Sink Water Filtration Systems Reviewed
Sink water filters are an easy way to provide filtered water to your sink, without having to fit a bulky faucet add-on or call in an expensive plumber. These DIY kits are a quick way to provide high-quality drinking water without breaking the bank.
Aquasana AQ-5300 Under Counter Water Filter (3-Stage)
If you're looking for an under-sink filter, the Aquasana AQ-5300 Claryum 3-stage is a great option.
It filters out 99% of contaminants, including lead, chlorine, and more.
The AQ-5300 Claryum by Aquasana is a 3-stage water purifier system that sits below your sink, connected to a dedicated kitchen faucet.
The 3 stage filtration is achieved using Aquasana's trademarked Claryum Technology using:
A sediment pre-filter to remove sediment from the supply
An activated carbon filter system to remove chlorine, pesticides, pharmaceuticals, and chloramines
Ion-exchange to separate heavy metals such as lead and mercury
Filter life is up to 600 gallons, and the under-counter filter system has an audible alarm to warn you when the filter needs to be changed. The filters, including the activated carbon filter, have been designed for ease of maintenance so replacement is a simple task.
The Claryum provides delicious tap water at $0.09 a gallon, and the filter lifespan is the same as 15 standard drip filters, not to mention that the Aquasana unit provides drinking water on demand post filter… no more forgetting to fill the pitcher!
Besides the Claryum 3-stage, Aquasana has one other good under sink reverse osmosis water system that you can see on our best under sink reverse osmosis system review if you are looking for the added benefit of an Aquasana reverse osmosis system.
---
Claryum AQ-4501 Premium Counter Water Filter by Aquasana
The Claryum Countertop is an Aquasana water purifier designed to be fitted on your counter and connected to your existing faucet.
This neat, effective little unit uses a micron sediment pre-filter alongside ion exchange and activated carbon filtration while retaining beneficial minerals and eliminating odors and heavy metals before going through the post-filter to remove contaminants from your tap water.
The filter lasts for 500 gallons between changes – roughly 6 months for an average home.
The sleek countertop design of this water filter system means that it doesn't take up room below your sink like some other countertop water filters, and its faucet mount can be removed as required to ensure long life by only filtering water when needed.
---
Aquasana Shower Filters Reviewed
Shower filters are an easy way to reduce scale, contaminants, and sediments from your shower head.
Quick to fit an existing shower, these filter types are available in many options – with and without shower heads, with different filter grades available to treat the specific water quality issues in your home and they are available in different finishes to match your existing suite.
Find Aquasana reviews of the best two Shower Filters below.
Aquasana AQ-4105 Shower Head Filter
Complete with a handheld wand the AQ-4105 is designed for convenience with your health in mind.
Using two-stage water purification technology, this shower filter reduces chlorine and harsh chemicals from your shower that can damage skin and cause dryness.
Natural carbon from coconut shell fiber filters chemicals while the patented copper/zinc boosts the water's ph balance and further reduces chlorine levels.
The handheld showerhead, an optional extra on most shower filters, makes the AQ-4105 a great choice for fitting in family bathrooms and gives the shower excellent versatility.
Aquasana has had this model NSF certified and applied their patented filtration technology to provide an excellent product at a great value.
---
AQ-4100 Deluxe Shower Water Filter
The AQ-4100 Aquasana system is from the same range as the AQ-4105 we reviewed previously, which means you can expect the same benefits with a few changes.
Designed for fitting directly onto the shower outlet, this system is perfect for smaller showers where it doesn't take up much space.
Using the same two-stage system as the AQ-4105, chlorine, chloramines, and other harsh chemicals are removed from the shower water along with sediments and other contaminants.
Filters last for 6 months on average and are easily replaced.
Overall, the AQ-4100 Aquasana system is an effective package to improve the quality of shower water without making radical changes to their home's plumbing or spending a fortune.
---
About Aquasana – The Company
Specializing only in water purification systems, Aquasana has the benefit of being able to use their very specific expertise to help their customers.
Unlike some other manufacturers, Aquasana's dedication to only water filters means that their customer support is able to use their particular experience in the field to assist and advise customers in a way that would be impossible for other companies to replicate.
The customer care is very familiar with the products that Aquasana in a way that other manufacturers simply can't compete with.
Where problems are experienced, Aquasana products are guaranteed and many customers have reported that problems are solved quickly either over the phone or a visit from a professional installer at Aquasana's expense.
Aquasana Benefits
Lifespan of Products
The period between filter changes varies according to use in your home. However, Aquasana recommends that pre-filters, which are usually the first to clog with sediment removed from the water, are changed every 2-3 months.
Post-filters have a longer life and it is advised that these are replaced every 6 months.
The bodies of smaller units serving only one outlet can last upwards of 5 years, while the descaling and primary filtration tanks on a whole house water filter will need to be changed when they are at capacity – after a million gallons (roughly 10 years) filtered.
Design and Installation
Aquasana specializes in water purification systems, and this shows in the ease of use of their products.
Most Aquasana products are designed to be easy for the homeowner to install and maintain, including shut-off valves, without needing professional help which means that their customers see the benefits of Aquasana products without spending a lot.
Installation is clearly explained in the manual because Aquasana knows exactly how and where you're going to install it before you begin!
Some customers prefer to have a whole house water filter installed by a professional for both well water and city water, as the plumbing work is more involved than other filtration types but it can certainly be done by DIY'ers.
Aquasana's Proprietary Technology
Specializing only in water filtration systems, Aquasana has the benefit of being able to use their very specific expertise to help their customers.
The customer care is very familiar with the products that Aquasana in a way that other manufacturers simply can't compete with.
Main Features & Benefits
Contaminants Filtered:
Aquasana made a wide range of products that can be fitted to best serve the needs of your home. Our reviews cover only a fraction of their full range – an Aquasana water filter can be bought to remove:
Sediment
Scale-inducing minerals
Chlorine and chloramines
Lead, Mercury, and other heavy metals
Pesticides and herbicides
VOCs
A water filter system can remove the majority of chemicals in a water supply, but if you are unsure we always advise you to have your water professionally tested, especially if it is well water or from a borehole.
Flow Rates:
Put simply, the flow rate is the amount of water that your filtration plant can process at one time.
Many factors can affect flow rate, including water use elsewhere in your home.
Most water filtration systems are designed to provide a suitable flow rate for their application, however poor water pressure and incorrectly sized filtration systems can cause flow problems.
Filter Micron Size:
The filter micron size describes the "holes" in the filter through which water can flow but contaminants become trapped, preventing them from reaching your taps.
Pre-filters usually have larger micron sizes to capture sediments, while post-filters have smaller micron filters to filter as many particles as possible from the flow.
Generally, smaller micron filters usually require more regular replacement and can cause flow rate issues, while larger micron filters are less effective at removing debris.
Scale Inhibition System:
Scale can cause huge damage to pipework and plumbing systems in the home and is responsible for the deaths of many household appliances!
With the patented SCM technology, Aquasana filters are able to eliminate scale before it reaches your plumbing, giving you peace of mind and saving you from expensive home repairs!
Is Aquasana An American Company?
Yes, Aquasana is made in the USA and it is a great choice for those looking for an easy-to-use water purification system that is designed to last.
Do Aquasana Filters Remove Bacteria?
Their filters are able to remove bacteria from the water, ensuring that your family has clean and safe water to drink.
Conclusion
Aquasana is a brand that specializes in all systems of water filtration and their expertise and experience are evident in all of their products.
The efficacy of the Aquasana EQ-1000 Rhino system makes it a stand-out winner for us and is one of the best overall whole-house models.
The stylish design and wonderful simplicity of the Aquasana AQ-4105 shower head model make it an excellent addition to providing a modern bathroom with high-quality shower water at a great price.
For filtered water on demand, the Aquasana AQ-5300 under-counter unit with a dedicated faucet marries convenience with quality and it is packed with helpful features to make your life easier.
If you're still on the fence about Aquasana you can see our comparison of Aquasana vs Pelican another leading filtration brand.