Aquasana and Pelican are both top brands in the world of water filtration.
We have compared them side by side to determine which brand takes the crown for the best maker of home water filters.
After reading our comparison you will be able to decide which brand and products are best for your home water needs.
Pelican vs Aquasana Whole House Filters Compared
IMAGE
PRODUCT
FEATURES
 

Filter Capacity: 100,000 Gallons

Warranty: 5 year

Flow Rate: 8 GPM

CHECK PRICEGet 50% Off + Free Shipping! Use Code: AQWTA

Filter Capacity: 1M Gallons

Warranty: 10 year

Flow Rate: 7 GPM

CHECK PRICEGet 50% Off + Free Shipping! Use Code: AQWTA

Filter Capacity: 1M Gallons

Warranty: Lifetime

Flow Rate: 10 GPM

CHECK PRICE

Filter Capacity: 600,000 Gallons

Warranty: Lifetime

Flow Rate: 12 GPM

CHECK PRICE
Who is Aquasana?
Founded in 1977, Aquasana is a company based out of Austin, Texas that specializes in water treatment and filtration systems.
Unlike many other companies in the space, Aquasana produces only water treatment equipment meaning they have been able to use their knowledge and over 40 years of experience to know exactly what their customers want, and deliver it well.
Aquasana Customer Support are helpful and can provide useful advice as to the best water filter solution for your needs as well as telephone support if issues arise after installation.
Aquasana's Filter Systems
Aquasana are specialists in water filtration systems, and the filter technology varies across the products to provide the best results according to the home's requirements.
In the case of our reviews, the OptimH20 uses an ultra-dense carbon filter to maximize the water's exposure to the filter, allowing the carbon block to capture more contaminants than competitor's models.
The Rhino uses a sediment pre-filter to remove sand, rust, and sediments before the water is run through a copper-zinc filter which captures chlorine, heavy metals and scale while preventing bacteria and algae growth within the system.
Aquasana's range is designed to be adapted to the needs of your home, and their filters can be installed with optional ultraviolet and post-filters, as well as a conditioner so that the water from your tap is great tasting and fresh, no matter how it enters your home.
Aquasana's Top Whole House Filters & Softeners
Aquasana Rhino
The Rhino's biggest selling point is its filter capacity – available in 600,000 or 1 million gallon capacities, this filter is designed to serve your home for years, with the average home filtering approximately 100,000 gallons a year.
Easy to install even without professional help, the Rhino can be fitted alongside water conditioners and UV filtration units in order to provide a complete water treatment solution.
This model is NSF certified to remove over 97% of chlorine from the water supply and was awarded a Gold Standard of water filtration, backing up Aquasana's performance claims.
The Rhino reduces the levels of harmful contaminants such as heavy metals, organic chemicals and industrial solvents.
Get 50% OFF + Free Shipping with Coupon Code: AQWTA
Get 50% Off + Free Shipping! Use Code: AQWTA
---
Aquasana OptimH20 Whole House Filter
The OptimH20 by Aquasana is a whole house water filter that not only provides excellent drinking water, but is packed with features to help make your life easier and ensure your filtration system stays working effectively for years.
A LED traffic light system shows the status of the unit, giving you an early warning when your filter is nearing replacement and ensuring that your water quality never dips.
A single filter within the body simply lifts out, making maintenance a breeze, and filtration down to 0.5 microns reduces levels of lead, cysts, chlorine and chloramines while maintaining a flow rate of up to 8 gallons a minute.
The OptimH20 uses Aquasana's salt free SCM technology to safely and naturally prevent scale formation within your home's plumbing, reducing maintenance and potential catastrophes over time.
Get 50% OFF + Free Shipping with Coupon Code: AQWTA
Get 50% Off + Free Shipping! Use Code: AQWTA
---
How Do Aquasana's Filters Compare to Pelican
The ease of maintenance and simple filter changes make these Aquasana systems very easy to live with – the greatest benefit over the Pelican Water whole house water filters reviewed below.
Aquasana's knowledge and expertise around your water filtration system is passed on through their customer service department, and their whole house water filters have huge lifespans, outlasting all other types of point-of-use house water filters.
Achieving Gold Standard certification is a sign of the quality of Aquasana products and with high performing water filters like the 1 million gallon Rhino, Aquasana have earned their place at the front of the market.
Aquasana whole house water filters are more costly vs Pelican Water. This is unsurprising given that Aquasana are a premium house water filter brand, but it means they have to perform highly to compete with newer, more economical entrants to the market like the PSE1800 reviewed later in this article.
Who is Pelican Water?
Pelican Water is not as large a household name as Aquasana, but their drive to produce economical, environmentally friendly water filtration systems has seen them rise within the ranks of water filtration companies since they were founded in 2007.
Based in Florida, Pelican Water takes pride in being transparent with all of their performance testing results and partners with numerous charities to give back to the community. They are building a reputation for honesty and quality which they are rightly proud of.
Their policies offering hassle-free returns, free shipping, lifetime warranties and highly commended customer support shows the faith they have in their water filters.
Pelican's Water Filter Systems
Pelican Water's whole house water filtration systems are stylish in their design and backed by a strong guarantee for even the most expensive parts.
Pelican Water's performance guarantee even offers a five year window to call their dedicated customer service team if any issues arise with your filter system and they will provide product-specific guidance to solve the problem for you.
Pelican Water even provides a 90 day returns period, during which time you can return your product for a refund if you are not happy with its performance.
Pelican Water's products are salt free, do not generate waste water and require no electricity to operate, making them very economical to run and requiring very little maintenance. Pelican Water filtration systems are also available with a DIY installation kit, making it simple for a competent DIYer to install the system without needing to bring in expensive professional help.
Pelican's Top Whole House Filters & Descalers
Pelican Combo PSE1800
The Pelican Combo PSE1800 is a combined whole house water filtration system and descaler.
The salt free technology ensures that water does not feel soapy or slippery from the taps, whilst preventing scale build up within the plumbing systems in your home.
The PSE1800 incorporates wireless features, which allows users with a smartphone to pull up guides, manuals, instructions and maintenance information from their device when next to the unit, making maintenance and troubleshooting tasks very simple.
With pre-filter, main filtration tank and descaler units all in the same bundle, the PSE1800 thoroughly treats the water to your whole house, meaning that clean, filtered water comes from every tap.
Pelican Water have published their water testing results form the PSE1800 which show that the water filtration home system reduces chlorine, sediments, other contaminants and scale from the water supply, protecting your home and your family.
---
Pelican PC600
The PC600 from Pelican water uses the same filtration technology as the PSE1800 but it does not include the water softener tank. This makes the product ideal for areas which do not suffer from hard water, providing the same high quality drinking water without the expense and maintenance of descaling technology that isn't needed.
A whole house water filter, the PC600 is installed on the incoming water supply easily and can be fitted by the homeowner using the instructions provided. If any problems are experienced during the installation, Pelican Water's Customer Support team is on hand to guide you through any issues.
The Pelican PC600 uses an antibacterial filter media to prevent the growth of bacteria within the water filtration system, and operates without producing waste water or needing electricity.
Virtually maintenance free, the PC600 filtration system has a 600,000 gallon, 5 year filter capacity and comes included with a limited lifetime warranty on the tank and other parts.
---
How Do Pelican's Filters Compare to Aquasana
Pelican Water has managed to produce high quality products that directly compete with Aquasana for a much lower price.
Although some of the smaller touches found in Aquasana allude to the brand's long history in the water filter market, Pelican water have shown that even as a newer brand in the market they can provide effective products and excellent service to back them up.
The Pelican Water products reviewed here are missing some of the smaller features vs the Aquasana models, but the company's willingness to back their products with lifetime warranties shows their confidence in the products they sell.
It is inevitable that with such great testing results and continuous development, Pelican Water will soon be right at the top of the marketplace alongside Aquasana, if they continue to provide great products with great customer care as they have been doing.
Aquasana vs Pelican: Shower Filters
Pelican PSF-1
The Pelican PSF-1 is a shower head filter, that has clearly been designed with ease of use in mind. Where you might expect a shower head water filter to be mounted below the shower head, Pelican have cleverly moved their filter media so that it stands above the shower outlet so that it does not take up room within the shower enclosure.
Rated to a 15,000 gallon capacity, the filter within the PSF-1 uses activated carbon media to remove 96% of chlorine, as well as sediments and other contaminants and the unit has an adjustable flow rate, allowing you to reduce the flow to just 1 GPM and providing a huge saving in water use vs a normal shower outlet.
---
Aquasana AQ-4100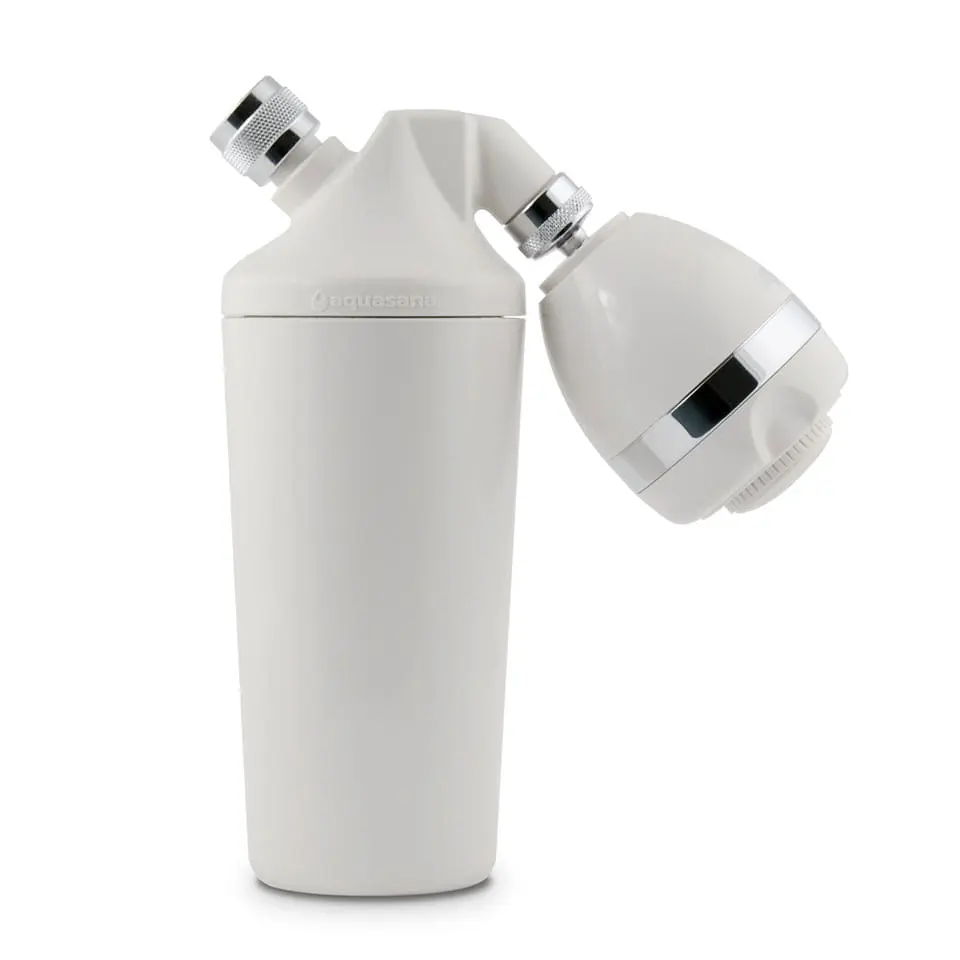 The AQ-4100 from Aquasana uses 2 stage filtration, through KDF-55 and activated carbon from coconut shell as the filter media, removing over 90% of chlorine from the water supply along with many other synthetic compounds and VOCs.
The AQ-4100 has a filter capacity of 10,000 gallons, a huge lifetime when you consider that the flow rate through the unit is 2.5 GPM… allowing through water filtration without compromising your comfort under the shower.
Get 50% Off + Free Shipping! Use Code: AQWTA
---
Our Recommended Pick
Both of these filters have a 12 month warranty and are sold with a 90 day money back guarantee, demonstrating the faith which both Pelican and Aquasana have in the quality of their offerings.
For anyone looking for an economical shower filter that allows them to improve water quality while keeping costs low, the PSF-1 from Pelican is undoubtedly the choice.
If you are looking for a subtle unit to fit within a smaller space, or a shower head filter that isn't going to interrupt your showering experience we would recommend the Aquasana model.
Aquasana Vs Pelican – Which Is Better?
Aquasana vs Pelican Water was the question we set out to answer, but this decision will come down to your needs and your budget.
Aquasana is an established brand, manufacturing some of the best whole house water filters on the market today. They use proven filtration technology and are continually adding new features to their ranges to improve performance and the user experience.
If you are looking for a reliable, high-performance solution to poor water quality, the best whole house water filter will be the Aquasana OptimH20 with optional UV module.
If you're looking for a filter and softener combo solution then Aquasana's Rhino is recommended.
If you are working with a tighter budget but want to improve the water quality in your home, Pelican Water's range is unbeatable for the price. You can also rest easy with the peace of mind that the manufacturer will always be on hand to help if you run into difficulties, and the optional DIY installation kits give you further opportunity to save money while protecting your family's well being.
We firmly believe that a water filter must be matched to the specific needs of every home. However, we are confident that whatever water quality issues you face, you will receive the highest level of care and service from both Aquasana and Pelican Water, leaving you with a water filter you can enjoy for years to come.