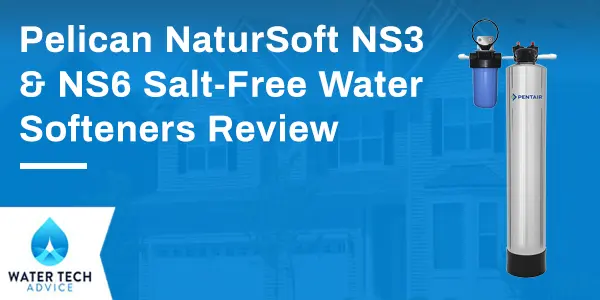 Hard water problems are nothing that anyone wants to mess around with.
That's because if you have an abundance of hard water minerals in your tap water it can do everything from causing unsightly and hard to clean limescale buildup to clogging up your pipes and ruining your appliances.
The problem is, traditional salt-based water softeners can be a lot of work when it comes to keeping them maintained and working efficiently. Fortunately, companies such as Pelican Water have developed water softener alternatives.
These NaturSoft NS3 & NS6 Salt-Free Water Softeners provide an easy way to eliminate many hard water-related problems while being almost maintenance-free while doing that.
They are definitely worth taking a closer look at as you are searching for a way to free you up from some of the hard water-related issues around your home.
The only difference between these two models is that NS3 can be placed in homes with 1 to 3 bathrooms and has a 10 gallon per minute (GPM) flow rate and the NS6 can soften water in homes with 4 to 6 bathrooms and has a higher 15 GPM flow rate.
Key Features on the Pelican NaturSoft NS3 & NS6 Salt-Free Water Softeners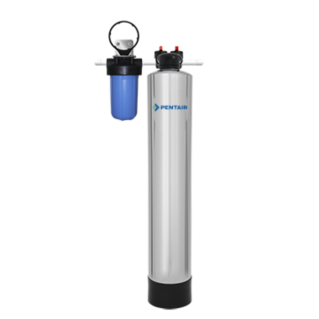 Here is what I look best about these two Pelican NaturSoft salt-free water softeners:
Provides an Impactful Water Softening Alternative
For years many decades people have been able to remove hard water-causing minerals from their water but sometimes that took a backbreaking effort.
That's because with traditional water softeners that use salt, you would have to haul 50-pound bags of salt from the store.
This salt is needed to put in their brine tanks to make the salt solution that's necessary for their hard water removing ion exchange process to take place.
This is not the case with alternative water softeners such as the Pelican NaturSoft NS3 & NS6 Salt-Free Water Softeners. They will condition your water by neutralizing hard water minerals such as calcium and magnesium so that they can no longer form scale.
As a result of this, you will no longer have bathroom fixtures and other surfaces that are unsightly and hard to clean and scale will not form inside your plumbing that can close clogs that are expensive to remove.
Best of all, unlike traditional salt-based water softeners, these systems do not remove beneficial minerals from your tap water. That means you will have healthier water to drink while you are preventing limescale buildup at the same time.
This is one of the main reasons why the Pelican NaturSoft NS3 & NS6 Salt-Free Water Softeners had no problem making an appearance on our list of the best water softeners that are available in the marketplace.
Durable And Attractive Stainless-Steel Tank
If you do not have a basement to place one of these water softening models in, then most likely you will install it in your garage. That's no place to have a water softener that will be an eyesore.
That's one thing that you will not have to worry about with the Pelican NaturSoft NS3 & NS6 Salt-Free Water Softeners because they have an outer shell that is made of good-looking stainless steel.
This material also makes for a very durable water softener tank and they come with a lifetime guarantee to back that up.
Included 5-Micron Pre-Filter
If there is one factor that can cause trouble with the effectiveness of any type of water softener it has to be large size particles getting trapped in their media. This is a problem that can inhibit water flow through the system and hurt the effectiveness of their water softening media.
Being an experienced water softener manufacturer, Pelican recognizes this fact and has included a 5-micron pre-filter right in the package.
This filter will easily filter out larger size particles such as human hair, rust, dirt, dust, pollen, sand, and more. That results in a water softener that will remain highly impactful for years into the future.
DVGW 9191 Certified Products
Of course, no manufacturer is going to come out and tell you the weaknesses that pertain to their water softening models. That's why it's always nice when any type of water softening product is backed up by third-party certifications such as these are.
That includes a DVGW 9191 which has to do with a water softener's ability to prevent scale. To achieve this standard a water softener model must prove to reduce scale formation by at least 80%.
According to this independent testing body, these two Pelican water softeners achieved one of their highest ever scale preventing percentages of upwards of 99%.
So, when Pentair states these can reduce scale formation by 97%, this certification certainly backs that figure up.
Environmentally Friendly Water Softeners
Are you someone that tries to live as green a lifestyle as possible? Well then if true, these are water softening devices that will help you in your effort to obtain that goal.
This is because these two water softening systems do not produce any wastewater as a byproduct of their functioning such as traditional salt-based water softeners do.
They also do not require any electricity to make them run. Hard water conditioners such as these can definitely help you lower your carbon footprint on the earth.
Check Out Pelican NS3 Softener
---
NS3 & NS6 Pros and Cons
Here are the advantages and disadvantages of installing and using a Pelican NS3 or NS6 water softener alternative:
Pros:
Impactful water softener alternative
Beneficial minerals are not removed
Durable and attractive stainless-steel tank
DVGW 9191 certified for effectiveness
Systems come with a 5-micron sediment prefilter
No slippery feeling water
Uses no electricity
Produces no wastewater
Almost maintenance-free once installed
Generous flow rates
DIY installation is very possible
Lifetime warranty
Cons:
High initial cost
Residue can cause water spots on drying dishes and glasses
Neutralizes hard water minerals as opposed to removing them
Not recommended for extreme hard water situations
Installation
Yes, these water softening systems have a high initial cost, but some of that can be offset by the fact that if you have even minimal plumbing knowledge, you can probably install them yourself without any problems.
That alone can save you as much as $500.
Even better yet, other than some plumbing pipe and fittings used for the connections, everything you need to install it comes right in the boxes that these systems come in.
That list includes:
Sediment Pre-filter
Mounting Bracket
Salt-Free Water Softener Alternative System Tank
Bypass Valve/Fittings
Owner's Manual / Installation Guide
So, once you have put all the parts together that are in the two boxes that these systems come in, then all you have to do is add a few plumbing connections that tap your new water softener into your home's water supply line.
Maintenance
As I mentioned before, this is one of the biggest selling points of these water softening systems. That's because these water softeners are virtually maintenance-free once they have been put in place and are working.
That makes them the ideal water softening choice for those who do not have the time or are not willing to do what it takes to maintain a traditional salt-based water softener.
About the only maintenance that you will have to do on these two water softener models is to replace the sediment prefilter cartridge every 6 to 9-months. Maintaining a water softener simply does not get any easier than that.
This is the reason why water conditioners such as the Pelican NaturSoft NS3 & NS6 salt-free water softeners are quickly starting to take a bigger share of the water softening system market.
My Verdict on the Pelican NaturSoft NS3 & NS6
If you want to completely remove hard water minerals from your incoming water supply, then systems such as the Pelican NaturSoft NS3 & NS6 Salt-Free Water Softeners are not for you because they will not do that.
Their higher initial cost may also be a turnoff and force you to consider a lower-cost water softening solution.
But with that being said, if your main goals for having a water softener are eliminating problematic limescale and doing it in a maintenance-free way, then you would certainly want to consider these two well-designed and often favorably reviewed water softeners.
I have no problem recommending either one for those that are looking for an impactful alternative to more traditional salt-based water softening systems.
You can also check out our Pelican Water Softener reviews page to see all the models they produce.