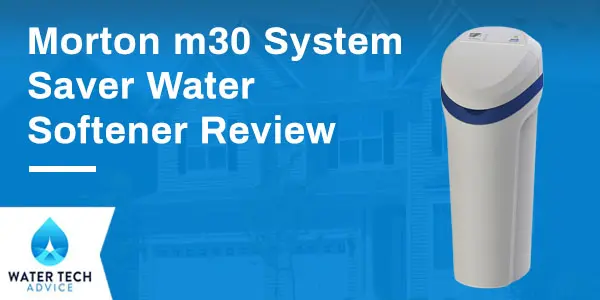 In this post, we'll review the Morton M30 water softener.
You may know that hard water can lead to itchy skin and flat hair. It also makes your water heater fail years before it typically would, and who wants that?
Let's look at the features and benefits of the Morton System Saver M30 so you'll have all the facts to see if it's the right water softener for you.
Morton System Saver 30,000 Grain Water Softener
The Morton M30 is a 30,000 grain water softener that works for homes with four people. Whether you're on city water or draw your water from a private well, this water softener is perfect for you.
M30's hardness reduction capacity is 95 gpg, so it'll work on very hard water. Its ion-exchange salt based system removes the hardness minerals calcium and magnesium from your water.
Excess calcium and magnesium in your water means your soaps and detergents won't work as effectively or rinse away as well. You'll get more soap scum and staining in sinks, tubs, showers, and on your dishes and laundry.
By using an efficient softener like the M30, you'll reduce that staining, extend the life of your appliances, prevent damage to your plumbing, and end up with brighter laundry.
If your water has a high amount of clear water iron, this Morton softener can help. The Morton System Saver M30 can reduce the iron level by up to 7 ppm. This reduces the rust stains you may see in your basins and around your drains.
This softener and its 7 gpm flow rate should have no problems providing soft water for a medium sized home.
The Morton System Saver M30 is an efficient system. It learns your water usage, then uses Look Ahead Technology to schedule regeneration times. This makes more efficient use of salt and reduces water usage. It can use up to 50% less salt than similar models that don't use this technology.
With some water softeners, you set regeneration cycle times, hardness settings, everything. And then your power goes out for two minutes and you have to do it all again.
Not with the Morton System Saver M30. It has power outage memory that can remember your setting for several hours in the case your electricity goes out.
There are some complaints from customers with this water softener, though.
Some customers have had problems with leaks after installing their Morton water softeners.
There are complaints about hard to understand instructions included with the Morton softener.
When there is a problem requiring assistance, some customers find the customer service unhelpful.
Pros
Softens very hard water
Power outage memory
Demand regeneration
Low maintenance
Compact single tank design
Easy to install
Low price
Cons
So-so customer service
Complaints of leaks
Lackluster 1 year parts, 10 year salt tank warranty
---
What's In The Box
When you buy the M30 you'll get the all-in-one resin and brine tank, and nearly everything you need to install the Morton System Saver M30 in your home.
Bypass valve
Adapter elbow
Clips
Drain hose
Hose clamps
Grommet
Installing the M30 Water Softener
The Morton M30 system is easy to install for anyone who has done a little plumbing around the house or is handy with tools. It does involve splicing into your existing plumbing, so if you aren't comfortable with that then contact a professional plumber.
Morton water softeners come with detailed installation instructions in the manual, but here's a less detailed version so you can see the installation process:
Find a flat location near a drain and power outlet to place your water softener.
Turn off water coming into your home.
Shut off your water heater and turn its gas supply or disconnect its power.
Open faucets in your home to allow the pipes to drain.
Remove the cover and lid from your Morton water softener.
Lift the brine valve from the brine tank. Make sure the float stem is parallel to the stand tube, then place the valve back into the brine tank. Reinstall the cover.
Check the inlet and outlet ports on the water softener for any debris.
Remove the two large plastic clips.
Verify that the turbine spins freely in the bypass valve.
Coat the O-rings with silicone grease.
Push the bypass valve into the water softener, then snap the two clips you previously removed into place to secure it.
Connect your Morton System Saver M30 to the incoming water pipe. This requires splicing into the main inlet pipe to place connections running to and from the valve.
If your home uses the plumbing for grounding, be sure to run a copper wire across the location you spliced into.
Trim the included drain hose to fit between your unit and the drain.
Connect the hose to your softener's drain fitting, then secure it in place with a hose clamp.
Run the hose to a floor drain and secure it in place.
Install the overflow hose to the overflow elbow and secure it in place with a hose clamp.
Run the overflow hose to the floor drain.
Open two cold water faucets in your home.
Place the bypass valve into "bypass" position.
Turn on your home water supply. Let water run through the open faucets for several minutes to work out air bubbles.
Move the bypass valve into the "service" position. Pause a few times along the way to let the unit fill with water.
After about three minutes, open a hot water faucet and let water flow until the air bubbles work out of the system.
Close all open faucets in your home.
Check for leaks around your water softening unit.
Add three gallons of clean water into the salt storage tank of your system.
Fill the salt tank with salt.
Plug your Morton water softener power supply into an outlet.
Install the cover and lid.
Using the control board, set the time, water hardness, and the time of day you'd like the system to regenerate.
Pour about 3 ounces of household bleach into the brine tank.
Initiate a recharge by holding the "recharge" button for three seconds.
After recharging completes, open a cold faucet in your home for 20 minutes.
Restart your water heater and reconnect the gas or electricity to it.
Maintenance for the Morton System Saver M30
The Morton M30 system is easy to maintain. Most of the time you just add salt.
Salt bridges may occur in your system. The manual details a process to remedy this situation, which involves using a broom handle to carefully push into the salt to break it up.
Morton M30 vs. the Competition
Let's see how the Morton system stacks up against two of our highest rated salt based water softeners, the Quality Water SoftPro Elite and the Springwell Salt Based Water Softener System.
These water softeners all use an ion exchange system to reduce calcium and magnesium, providing you with soft water. They all initiate regeneration based on demand and are NSF certified. Each has great efficiency and reduces salt and water usage compared to other softeners.
Morton M30 Water Softener Advantages
Installation is much easier with the single tank M30 water softener than it is with the other systems, which have both a brine tank and one for salt.
The Morton M30 water softener removes up to 7 ppm of iron, while the others remove only 3 ppm.
Both the Morton system and Springwell system have similar capacities, with the Morton having a 30,000 grain capacity and the Springwell having 32,000. The Softpro system is smaller, at only 24,000.
The Morton M30 water softener is much cheaper than the other systems.
Morton M30 Disadvantages
The warranty on the Morton is only 1 year parts, 10 years on the tank. Both the Springwell and Softpro units come with a lifetime warranty.
Morton doesn't offer as many add-ons for their system. The others offer add-ons for things like UV light water treatment, a water filter attachment, and more.
The M30 water softener only flows up to 7 gpm, while the Springwell allows for up to 12 gpm.
All of these are good choices. If you need to save some money or you have less space to work with, the Morton is a good choice. If you use a lot of water, have a larger family, or simply want the best product, the Springwell is our recommendation.
---
In Conclusion
The Morton M30 Water Softener is a terrific choice for a family of up to four people. Its 30,000 grain capacity should provide more than enough soft water, use less detergents for laundry and dishes, and save money compared to the competition.
While it is a great water softener, you should compare it to softeners on our list of the top 10 softeners for 2022 before you buy. That way you can rest assured that you made the right decision with whichever water softener you buy.