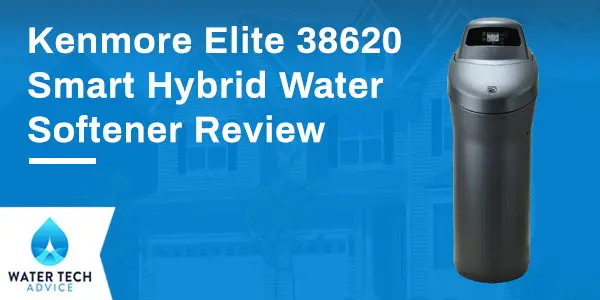 If you are looking for an in-depth Kenmore Elite 38620 Smart Hybrid Water Softener Review, you're in the right place.
This water softener will not only protect your pipes and appliances, it'll remove chlorine and improve the taste of smell of your water.
We dig into the details, explain the pros and cons, and help you decide if the Kenmore 38620 is the right softener for you.
Kenmore Elite 38620 Reviewed
If you've been looking at water softeners, you probably have already heard some of the great features of the Kenmore Elite 38620 Smart Hybrid system. It's one of the best whole-house water softeners available at the present time.
Efficiency
The Kenmore Elite is very efficient. It uses metered regeneration, leading to low salt consumption and reduced water usage.
It also avoids setting its regeneration time during peak times in water use. This uses up to 20% less salt and 32% less water than other water softeners available.
With this Kenmore Elite, you get a hardness capacity of 31,100 grains. It provides a lot of softened water between regeneration cycles.
By being a hybrid water softener, it adds a filter into the mix. The carbon filtration allows it to treat water and helps remove the gross chlorine taste and smell from your municipal water supply.
It removes iron up to 10 ppm. An ultra cleansing feature removes large sediment particles.
A salt storage capacity of 200 pounds increases the time between top ups. The previously mentioned efficiency helps limit that hassle even more.
This water softener will help keep you from forgetting to top up your tank. The 38620 Smart Hybrid water softener has the word Smart in its name for a reason, and that is the wireless connectivity and accompanying app.
Not only does the app notify you of low salt levels, it also lets you adjust hardness limits, bypass regen cycles, and notifies you if it detects a problem.
Older Kenmore models had a high flow valve, but the 38620 uses an ultra flow valve. This allows it a much higher water flow rate and fewer water pressure drops during use.
You can expect up to 11.8 gpm of continuous water flow through this system. This should be enough for most homes, and can easily handle as many as six people using the system at the same time.
With this Kenmore softener, you won't have to worry about hardness levels. It can handle water hardness level up to 100 gpg.
That's a higher hardness reduction than many water softeners provide. This is especially helpful if you have water with a high mineral content, such as well water.
Drawbacks
You do have some downsides to consider with this water softener. It's more expensive than some Available.
More than one Kenmore Elite review complained about problems with the wireless connection not working with some devices. Some customers complain about leaks, while at least one Kenmore Elite review mentioned unresponsive customer service.
Pros
Ultra flow valve
Low salt level alert
Wireless connection & app
Reduces scale-causing minerals and prevents scale build up
Efficient
Reduces tast and smell of chlorinated city water
Cons
Pricey
Warranty is short
Unresponsive customer service
---
What's in the Box?
The water softener package includes all of the following items:
Bypass valve
Drain hose
O ring seals
Installation adaptors
Clips
Hose clamps
Adapter elbow
Grommet
Resin/brine tank
Installation
Installation will require some minimal plumbing skills to connect to your home's main water supply, so a plumber may be necessary if you aren't comfortable doing that.
You also may want to leave it to a plumber if you've never worked on any plumbing. Otherwise, it's not too difficult for many homeowners to complete themselves.
For a more detailed installation process, view the included manual, but here is a quick overview:
Shut off the main water supply to your home.
Turn off the water heater and shut off the electricity or gas going to it.
Open the highest and lowest faucets in your home so the pipes can drain.
Remove the top cover from your 38620 water softener.
Remove the two large plastic clips.
Make sure the turbine and support are properly in place.
Coat the o rings with silicone grease.
Slide the o rings onto the bypass valve's inlet and outlet ports and snap large holding clips into place.
Coat the adapter o rings with silicone grease and slide them onto the installation adapters and snap the holding clips into place.
Connect the inlet valve into the main water inlet for the home.
Attach the drain hose to the drain fitting on your water softener and place a hose clamp on it to hold it in place.
Run the other end of the hose to a floor drain, clamping or wiring it into place securely.
Push the included grommet into the hole in the side of the tank.
Push the adapter into the grommet.
Connect the included brine tank overflow hose to the adapter and use a hose clamp to secure it.
Place the other end of this hose over the floor drain and secure it.
Install your water softener covers.
Connect the water softener to an electrical outlet.
Place the water softener's bypass valve into the "bypass" position.
Turn on the water supply to the home.
Initiate a regeneration cycle.
When the valve motor stops running, press the regeneration button. This will advance the valve to the "brine" position.
Slowly move the bypass valve into the "service" position, pausing a few times to allow the pressure to build gradually.
Let the softener complete a backwash and fast rinse cycle, which takes around 20 minutes.The softener's valve should return to the "service" position when complete.
Open two nearby cold water faucets.
After a few minutes, open a hot water faucet for a minute or until all air is expelled, then close the faucet.
Close all faucets.
Check the plumbing for any signs of leaking.
Restart your water heater.
Basic Maintenance
The Kenmore softener is an easy unit to care for. The main thing you'll need to keep up with is an occasional softening salt top up.
The filter on this unit is auto-cleaning, so you'll never have to worry about replacing filter cartridges.
Salt Bridges
You may have a salt bridge occur inside your unit. This is when a hard crust forms a bridge inside your brine tank. This lets an empty space form between the salt and the water beneath.
If this occurs, Kenmore recommends carefully pushing a broom handle down into the tank to break up the bridge. Be careful not to damage the tank.
Kenmore 38620 vs. Competing Water Softening Systems
The Kenmore 38620 31,100 grain system is great when compared to top of the top-rated system available, the Quality Water Softpro Elite and Springwell FutureSoft.
All three are great systems, but they have their own benefits and downsides to consider. The FutureSoft has a flow rate of 12 gpm and Kenmore has a similar flow rate 11.8 gpm, while the SoftPro is much lower at 7 gpm. While the 38620 and SoftPro have filters, the FutureSoft requires an add-on at additional cost if you want filtration as well as softening.
Overall, we recommend the Springwell Futuresoft as our top choice if you are looking for the best.
---
Kenmore Elite 38620 Advantages
The Kenmore, while still pricey, is more affordable than the other two.
With the Kenmore, you have a wireless connection to help you monitor your system and change your system settings.
Softens harder water than the other two.
Does a better job of removing chlorine than the FutureSoft.
Kenmore Elite Disadvantages
Warranty. Both other units offer a lifetime warranty, while Kenmore only offers 1 years parts and labor, with a 10 year warranty on the tank.
The FutureSoft doesn't use any salt. While both the SoftPro and Kenmore are salt based ion exchange systems SoftPro is an even more efficient unit than the Kenmore.
In Conclusion
You just can't go wrong with the Kenmore 38620. It's a great option for any home with up to six people. It's efficient and offers wireless connectivity so that you never have to wonder whether it is time to top up the salt.
While this is a great option, you should always check out the rest of the softeners on our 10 best softeners of 2022 before you buy to be sure this is the right softener for you.