Water is the essence of life, and clean water is a necessity, not a luxury. That's why we were thrilled to get our hands on the Kind E-1000 Whole House Water Filter, formerly known as the EVO E-1000. 
This water filter promises to deliver not just clean but also healthy water right from every tap in your home.
In this comprehensive review, we'll dive deep into its features, performance, and everything in between to help you decide if this is the right water filter for your home.
Kind E-1000 Water Filter Specs & Features
Before we delve into the nitty-gritty, it's worth mentioning that the Kind E-1000 comes in two different models: the standard E-1000 and the E-1000 UV, which includes an ultraviolet light for extra disinfection.
Here's a quick rundown of the specs and features: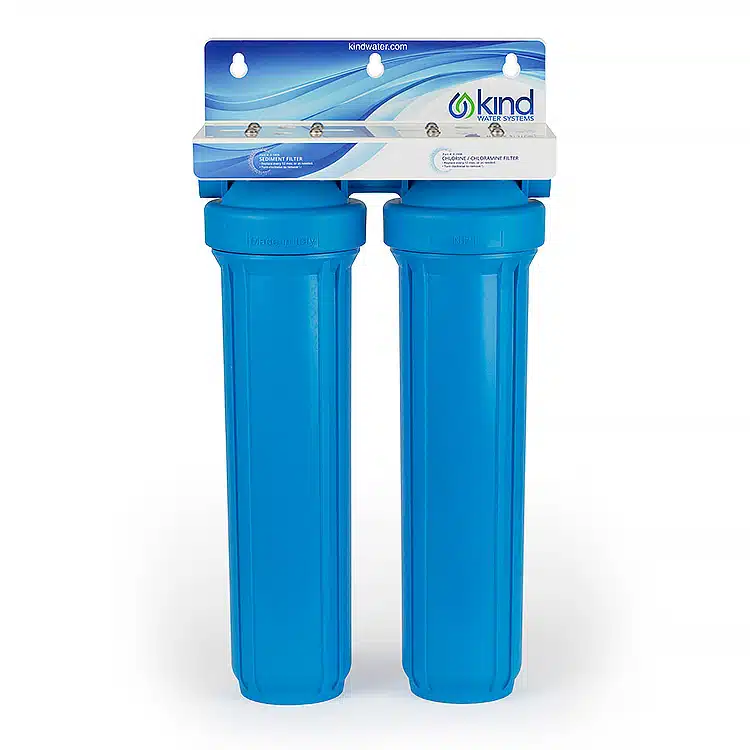 | | | |
| --- | --- | --- |
| Feature | E-1000 | E-1000 UV |
| Dimensions | 29" H x 15 1/2" W x 8" D | 29" H x 23 1/2″ W x 8 D |
| Max Flow Rate | Up to 15 GPM | Up to 15 GPM |
| Filter Type | Carbon, Sediment | Carbon, Sediment, Ultra Violet |
| Max Capacity | Up to 6 Bathrooms | Up to 6 Bathrooms |
| pH Range | 6.5 to 9.5 | 6.5 to 9.5 |
| Warranty | 120-day Satisfaction Guarantee; Limited Lifetime Warranty | 120-day Satisfaction Guarantee; Limited Lifetime Warranty |
Why Specs Matter
We believe that understanding the specifications is crucial when choosing a water filter.
The specs of the Kind E-1000 give you a comprehensive idea of what the system can do. From its flow rate to its warranty, these details help us gauge whether the filter meets our household's specific needs.
Kind E-1000 Water Filter Review
Design
We were immediately struck by the Kind E-1000's sleek, compact design. It's not just about looking good; this design is highly functional.
The compact size means it can easily fit into most utility rooms or basements without taking up too much space. The robust build quality ensures durability, and we found that the materials used are top-notch.
The unit is designed to be user-friendly, with easily accessible components for maintenance and a layout that simplifies installation.
Filter Performance
Upon testing, we found the carbon block filter to be highly effective. It removed a wide range of contaminants, including chlorine, sediment, and VOCs. We noticed a significant improvement in both the taste and odor of our water.
The carbon block filter is known for its efficiency in removing chlorine and other chemicals, which can be harmful when ingested or absorbed through the skin.
We also appreciated that the filter performance remained consistent over time, providing us with clean, healthy water whenever we needed it.
Contaminants Removed
We were pleased to find that the E-1000 effectively removes a variety of contaminants. It's not just about chlorine and sediment; this system also tackles VOCs and heavy metals like lead and mercury.
Contaminants Removed
Chlorine
Sediment
VOCs
Heavy Metals
And more!
Get a full list of the contaminants removed by the carbon filter in the E-1000 here.
This comprehensive filtration ensures that our water is not just clean but also healthy. It gives us peace of mind knowing that we're protected from a wide range of potential health hazards.
Installation & Maintenance
We found the installation process to be relatively straightforward. The unit comes with a detailed user manual and all the necessary installation hardware, making it a DIY-friendly project for those who are handy. 
For those who aren't, professional installation is also an option.
Maintenance is equally simple, thanks to the long-lasting filter. The system is designed for minimal upkeep, requiring filter replacement only after filtering 1,000,000 gallons.
This low-maintenance aspect is a huge plus for us, as it allows us to enjoy clean water without constant tinkering.
What's Included?
We were delighted to find that the package comes complete with everything needed for installation. This includes:
Kind E-1000 Filter Housing Unit
Sediment Filter
Carbon Filter
Mounting Hardware
Spanner Wrench
3/4″ Reducers
O-Rings and Lube
User Manual
Thankfully, we didn't have to make additional trips to the hardware store or order extra parts online. This comprehensive package made the entire installation process smooth and hassle-free, which we highly appreciate.
Warranty
We were particularly impressed with the warranty options that come with the E-1000. The system offers a 120-day Satisfaction Guarantee, allowing us ample time to test the unit and ensure it meets our needs. If we're not satisfied, we have the option to return it within this period.
Additionally, the E-1000 comes with a Limited Lifetime Warranty. This is a significant selling point for us, as it not only covers the unit for an extended period but also gives us peace of mind.
It's reassuring to know that the company stands behind its product, and this comprehensive warranty adds an extra layer of security to our investment.
Kind E-1000 Vs. E- 1000 UV
One of the key decisions you'll have to make when considering the Kind E-1000 is whether to go for the standard model or opt for the E-1000 UV, which includes an ultraviolet light for extra disinfection. We took the time to compare both models to help you make an informed choice.
Added Layer of Protection
The main difference, of course, is the UV light in the E-1000 UV model. This UV light adds an extra layer of protection by killing bacteria, viruses, and other microorganisms that may be present in your water supply.
This feature is particularly beneficial for homes that rely on well water or have concerns about microbial contamination. The UV light works in tandem with the carbon block filter, ensuring that your water is not just free from chemical contaminants but also from biological ones.
Added Maintenance
We also found that the UV option requires a bit more maintenance, as the UV bulb will need to be replaced periodically. However, the added peace of mind may well be worth the extra effort, especially if you live in an area where water quality is a concern.
How to Choose Between Kind E-1000 and E-1000 UV
Both models share the same core features, such as the carbon block filter, high flow rate, and long-lasting filter lifespan. So, your decision will ultimately come down to whether you need that extra level of microbial protection that the UV light provides.
We believe that if you're looking for comprehensive water treatment that tackles both chemical and biological contaminants, the E-1000 UV is the way to go. On the other hand, if you're primarily concerned with chemical contaminants like chlorine, sediment, and VOCs, the standard E-1000 should suffice.
Pros and Cons of The E-1000 Whole House Filter
What We Liked
High Flow Rate: The E-1000 boasts a flow rate of 15 GPM, ensuring that water pressure remains consistent throughout the home.
Long-lasting Filter: With a lifespan of 1,000,000 gallons, the filter requires minimal maintenance, saving us time and effort.
UV Option: The E-1000 UV model offers an extra layer of protection by killing bacteria and viruses, making it ideal for homes with well water.
Warranty: The 120-day Satisfaction Guarantee and Limited Lifetime Warranty give us peace of mind and confidence in our investment.
Easy Installation and Maintenance: The system comes with a comprehensive installation kit and user manual, making it DIY-friendly.
What We Didn't Like
Higher Upfront Cost: The initial investment is on the higher side, which might be a hurdle for some buyers.
Professional Installation for Some: While the system is generally easy to install, those who are not handy may require professional installation, adding to the overall cost.
Final Thoughts- Who's This Filter For?
We believe the Kind E-1000 Whole House Water Filter is an excellent choice for families looking for a reliable and efficient way to get clean, healthy water. Its high flow rate and long-lasting filter make it a convenient option.
The UV variant adds an extra layer of protection, especially for homes that are concerned about bacterial contamination. While the upfront cost may be on the higher side, the long-term benefits and peace of mind it offers make it a worthwhile investment.
We hope this review helps you make an informed decision. Cheers to clean, healthy water!