In the realm of water purification, reverse osmosis systems have always been at the forefront. Bluevua, a relatively new name in this sector, offers some of the best countertop RO systems.
In this Bluevua reverse osmosis system review, we delve deep into two of their popular products to provide you with an expert analysis.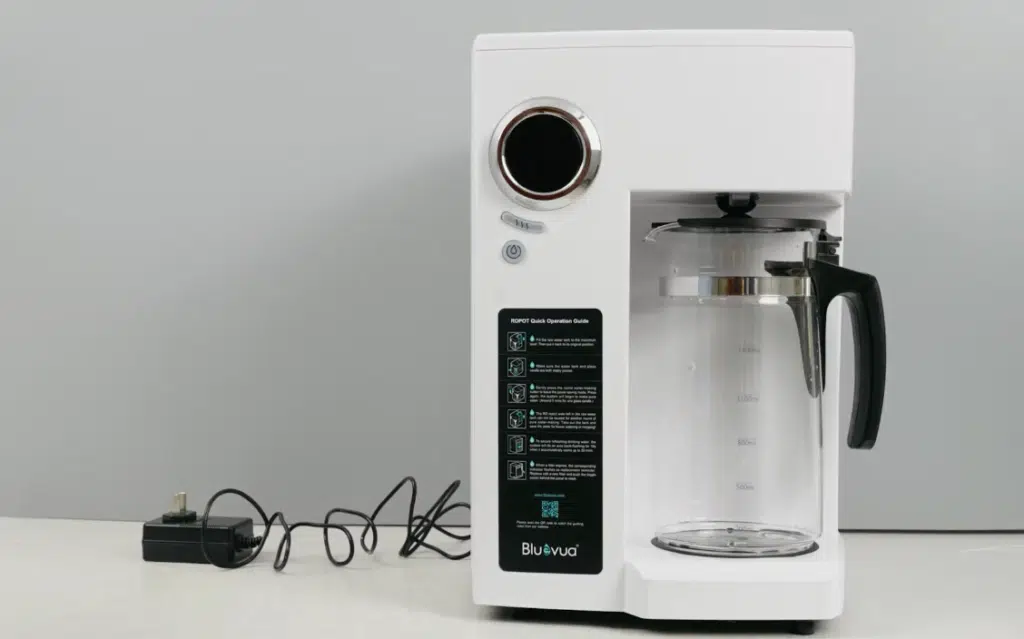 Bluevua Countertop RO System Comparison
Product Title
Dimensions
Dimensions
L 15.4" x W 10.9" x H 14.3"
L 9.7" x W 9.4" x H 14.1"
Filtration Process
Filtration Process
4-stage
5-stage
Grain Capacity
Grain Capacity
1700mL
1200mL
Drain Ratio
Filter Lifespan
Filter Lifespan
12-24 months
12 months
Warranty
Warranty
1-year warranty
1-year warranty
Possible Add Ons
Possible Add Ons
Mineral Filter
Fruit infuser
Bluevua Countertop Reverse Osmosis Systems Reviewed
When it comes to countertop reverse osmosis systems, Bluevua stands out with its innovative designs and efficient filtration processes.
But how do the two, Bluevua ROPOT and Bluevua ROPOT LITE, compare? Let's take a closer look.
Other Notable Countertop Systems:
Design
A system's design often dictates its user-friendliness and integration into daily life. Bluevua seems to understand this well, emphasizing a compact and sleek design. Their systems are not just functional but also aesthetically pleasing.
Bluevua ROPOT: The Bluevua ROPOT boasts a sleek and compact design, making it a perfect fit for modern kitchens.
Bluevua ROPOT LITE: The LITE version, while maintaining the brand's design ethos, is more streamlined and suitable for smaller spaces.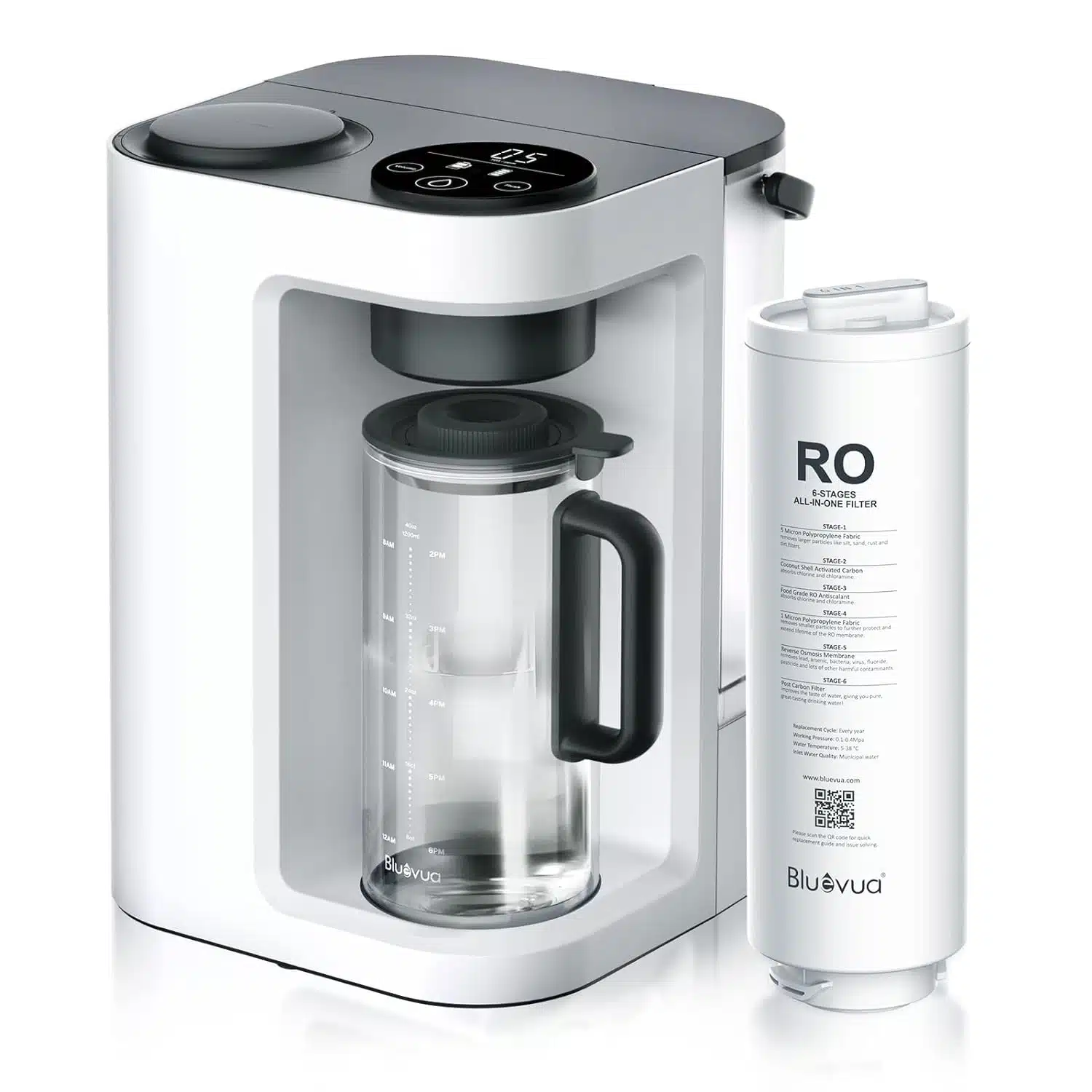 Filter
The heart of any RO system is its filter. It's where the magic happens, ensuring you get the purest water possible. Bluevua's filters are designed for optimal performance, ensuring contaminants are effectively removed.
Bluevua ROPOT: Equipped with a 4-stage filtration process, the ROPOT ensures pure and clean water every time.
Bluevua ROPOT LITE: The LITE version, while being compact, doesn't compromise the filtration quality. The ROPOT LITE offers an efficient 5-stage filtration process.
Contaminants Removed
Knowing what contaminants are removed gives peace of mind. After all, that's the primary reason for getting an RO system. Bluevua's systems are thorough, targeting a wide range of impurities to deliver safe drinking water.
Bluevua ROPOT: This model effectively removes a wide range of contaminants, ensuring the water is safe for consumption.
Bluevua ROPOT LITE: Similar to its counterpart, the LITE version also offers comprehensive contaminant removal.
Filter Lifespan/Maintenance
Longevity and ease of maintenance can make or break the user experience. Bluevua ensures that their filters not only last but are also easy to replace. This minimizes downtime and keeps the water flowing.
Bluevua ROPOT: With a long filter lifespan, the ROPOT requires minimal maintenance, making it a favorite among users.
Bluevua ROPOT LITE: The LITE version, while being efficient, also offers easy maintenance options.
Warranty and Customer Service
A company's support and warranty often reflect its confidence in its products. Bluevua stands behind its systems, offering robust warranties and responsive customer service. This ensures users have a smooth experience from purchase to usage.
Bluevua ROPOT: Backed by a robust warranty, the ROPOT also enjoys excellent customer service support.
Bluevua ROPOT LITE: The LITE version, too, comes with a warranty and the brand's signature customer service.
What We Like About Bluevua (Pros)
ROPOT
No installation needed like undersink RO filters.
Filters last between 12-24 months depending on use.
Ideal for apartments or rentals since it's easily movable.
Extremely effective at removing contaminants such as fluoride, pesticides, or even microplastics. A feature unattainable from jug filters like Brita or Zero water
Water tastes amazing, especially with the remineralizer. Awesome for infused water as well.
Easy to operate, get used to it quickly
Automatic backflush
High quality overall, especially the Glass carafe
ROPOT Lite
No installation needed like undersink RO filters.
Not as much waste water as expected
This machine is relatively quick and quiet.
Takes up less counter space than the ROPOT
Water taste great
What We Dislike About Bluevua (Cons)
ROPOT
Can be tedious to fill and refill
Has a fairly large footprint, in my small apartment it takes up a lot of counterspace
Expensive compared to undersink models like the APEC ROES-50
ROPOT Lite
Can be teidious to refill even more so than the ROPOT.
Does not have reminerization option but you can buy solution or add your own minerals.
| | |
| --- | --- |
| Bluevua ROPOT | Bluevua ROPOT LITE |
| Price | Shorter filter lifespan |
| Filter replacement | Manual re-mineralization |
| Still somewhat bulky | Limited capacity |
| Noisy filtration process | Hard to refill |
| Slower flow rate | Longevity issues |
Final Thoughts
In the world of water filtration, Bluevua has carved a niche for itself with its top-notch countertop RO systems. Both the ROPOT and ROPOT LITE are testaments to the brand's commitment to quality and efficiency. If you're in the market for a reliable RO system, Bluevua should definitely be on your list.