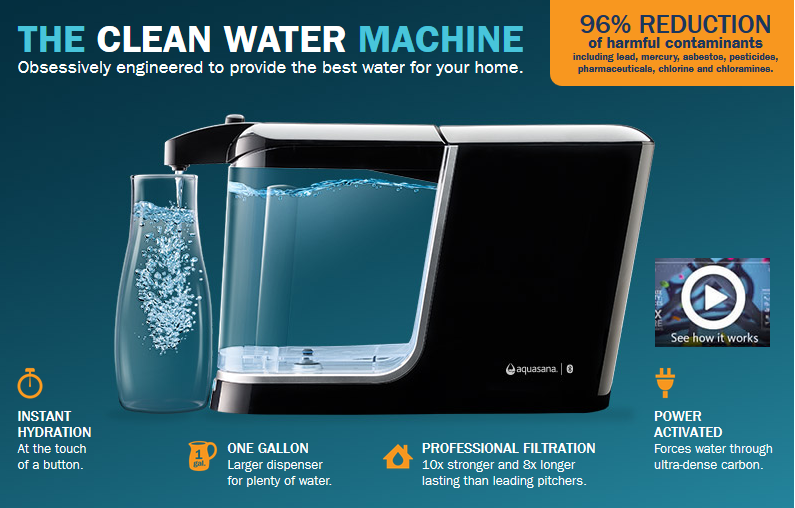 So you're interested in Aquasana's Clean Water Machine filter pitcher.
You've come to the right place.
In this review, we will detail everything you need to know about the clean water machine including how it works, the filtration capability, and how it stacks up to competing pitchers so that you can decide if this really is the best pitcher for your home.
Clean Water Machine Overview
The clean machine from Aquasana is a unique water filter pitcher. This is because instead of using a gravity filtration system like most other pitchers it uses power to move water through its Claryum smart filtration media giving you pure, clean water much faster than gravity-based systems.
This system is a little bit more expensive than your average gravity filter at $150 but if you're looking for the best technology and ultra-pure water this system won't let you down.
Here are the basic steps that the clean machine uses:
Unfiltered tap water containing lead, mercury, asbestos, chlorine, chloramine, herbicides, pesticides, and cysts is input into the system

The power filtration system uses power to push water through its Claryum filtration media

The Claryum smart filter contains 4 step filtration where the water moves through activated carbon, catalytic carbon, ion exchange, and absolute sub-micron mechanical filtration to remove contaminants

This results in more contaminants reduced plus healthy minerals for clean, pure water from the machine instantly
Technical Specifications & Benefits of the Clean Machine
Below are the main benefits & technical specs of the machine:
Has a 1-gallon dispenser for plenty of water
This is a power activated system instead of gravity
Removes between 90-99% lead, asbestos, chlorine, chloramine, mercury, cysts, bacteria, pharmaceuticals, and VOCs
NSF certified through rigorous testing
Retains healthy minerals in the water
Ultra-fast powered filtration
Uses Claryum 4 stage filtration media
Claryum filter lasts 3 months or 320 gallons
Pitcher fits easily in the fridge
Pros:
Filters last longer than other pitchers at 320 gallons or 3 months
Powered filter which gives you clean water faster than gravity
Superior 4 stage Claryum filtration
Removes 90-99% of most contaminants
Cons:
Most expensive filter pitcher on the market
Requires power outlet to operate
More cumbersome than a standard gravity pitcher
---
Aquasana Clean Machine Contaminant Reduction Data
This unit from Aquasana is one of the most effective pitcher filters on the market in terms of contaminant reduction. The only pitcher that tops it is the Clearly Filtered model.
Below are the contaminants it has been NSF certified to remove:
Contaminant Type
% Shown to Remove in Testing

Chemical Disinfectants (chlorine,
chloramine)
96%
Herbicides (Glyphosate, Acifuorfen,
Bemtazon, Chloramben, dalapon)
96%
Pharmaceutical Drugs (acetaminophen,
caffeine, ciprofloxacin, erythromycin, bpa,
triclosan, nitrate, ibuprofen, progesterone)
96%
Heavy Metals (antimony, arsenic, cadmium,
chromium-6, copper, iron, lead, nickel)
96%
Semi-Volatile Compounds (½-dichlorobenzene, ⅓-dichlorobenzene)
96%-99.9%
Volatile Organic Compounds (chloroform,
mtbe, bromoform)
96%-99.9%
Pesticides (aldrin, atrazine, bromacil,
butachlor)
96%-99.9%
Lead, Mercury, Cysts, Asbestos

96%-99.9%
The only thing to note in this testing is that it does now show fluoride removal and a few other contaminants. Other than that this machine is very very effective at removing contaminants from your water supply and definitely one of the top 2 systems on the market for filtration.
You can see the Aquasana test data here if you want to look at the exact percentages.
Filter Life & Replacement
One of the most critical components of any good water filter pitcher is the filter and how long it lasts.
With this machine, the filters last for 320 gallons or 3 months which is top on the market.
Most other pitchers last for around 40 gallons or 1-2 months.
Each replacement filter from Aquasana will cost you around $60 every 3 months when operating this system.
Overall, this is a very affordable filter for the number of gallons you get and it's super easy to replace and install putting the clean machine at the top of the market in this feature.
What to Consider Before Buying
Let's talk about what to consider and who this machine would be best suited for before you purchase.
As stated above, the machine is the most expensive pitcher on the market at $150 but this is because it has the most advanced technology and top filtration capacity.
You pay for the best quality.
If you are someone who wants the best machine that produces the cleanest water then this model is going to be an awesome choice for you.
Not to mention that over time it won't be too expensive because the filter capacity is far greater than most traditional gravity filters so you will be saving a lot of money on recurring filter costs over the lifespan of the product.
If you're someone who doesn't care as much about the high-tech features and quick ability to filter water then you may be best suited for a traditional gravity filter pitcher like Clearly Filtered's model.
So in summary, if you can afford the clean machine then it's definitely a great option but if you're more cautious about upfront cost then a model like Clearly Filtered will be a better option for you.
Clean Machine Compared to Competitors
Let's review the clean machine vs its top filter pitcher competitors.
Aquasana Clean Machine

Clearly Filtered

Standard Carbon Filter
Zero Water
Invigorated Water pH Restore
Aquagear

Capacity
16 cups

10 cups

10 cups

8 cups
8-10 cups

8 cups
Made in
USA
USA

China

Mexico
Not sure
Not sure
Filter Life
320 gallons or 3 months

100 gallons
40 gallons

20 gallons

96 gallons
150 gallons

Price
$150
$75
$30

$30

$40
$70

Fluoride
Removal
Doesn't state
98%
x
x
Yes, doesn't say how much
89.36%
Microplastic
Removal

96%

99.9%
x
x
x

Doesn't say
Lead
Removal
96%
99.5%
95.9%
Yes, doesn't say how much
99.9%

PFAS/PFOA
Removal
96%
99.9%
x
x
x
Doesn't say
Bacteria &
Cyst Removal
96%
99.9%
x
x
Yes, doesn't say how much
Doesn't say
As you can see from the chart above, the clean machine has the largest capacity and filter life. The filtering capability is second to Clearly Filtered but it still has one of the top filtration systems on the market removing the majority of contaminants.
The other important point about the Aquasana model is that Aquasana does show their test results and NSF certifications on the website like Clearly Filtered but a lot of other pitcher brands do not release any testing data.
Customer Reviews of The Clean Machine
I searched the internet, Aquasan.com, and Amazon to determine the overall consensus about the clean machine. Here is what I found.
Aquasana.com Reviewer:
"This was the greatest item I purchased this year. I was having water delivery of 3-gallon bottles once a month that was costing me about $5,000 a month. Now, I don't have empty bottles hanging around for a month and I'm saving about $600.00 a year. The water filters so clear and tastes as pure as any water that's bottled. If you're on the fence like I was over $150 price, just go for it. You won't be sorry. I hope the next one they come out with, makes the water cold and machine was a little quieter. I would pay a little more for cold water. Great size for small kitchen."
Aquasana.com Reviewer:
"I love that my coffee and tea taste like coffee and tea. I have a lot of chlorine in my water that boiling or letting the water sit on the counter was not getting rid of it. My system gets much use every day and my filters last at least 6 months. The set up is so easy and with in 5 min. you are enjoying fresh-tasting water."
Aquasana.com Reviewer:
"The system works perfectly, however, it makes a lot of noise when it runs. I wonder if this is normal. Water tastes great."
On Amazon, the clean water machine has 46% 5-star reviews and 26% 1-star reviews out of 447 reviewers. The main complaints were the noise and the price. Some people said that there was a noise issue and others didn't think it was worth it for the price and they would have rather bought a traditional gravity filter.
Overall, the majority of reviews seem to be positive but like we discussed before you have to be willing to pay for the best technology if you are going to be happy with your purchase.
Alternative Options to Consider
If we had to recommend any other pitchers that we have reviewed compared to the Clean Machine then the model we would recommend taking a look at is Clearly Filtered's gravity filter pitcher.
If you want a cheaper option that has the traditional gravity filtration system with top of the line filtration then this model is a good option to consider.
Check Out The Clearly Filtered Pitcher
---
Conclusion
After reviewing the Clean Water Machine from Aquasana we think that this is one of the top water filtration pitchers on the market with the most advanced technology.
That being said, it is also the most expensive at $150 so you have to be willing to pay double the price of a quality gravity pitcher to go for this option.
Overall, we would recommend the Clean Water Machine for its top of the line tech, high-quality filtration, and filter longevity. We would also recommend that if you are just looking for a cheaper gravity-based option then the Clearly Filtered model is one to check out.