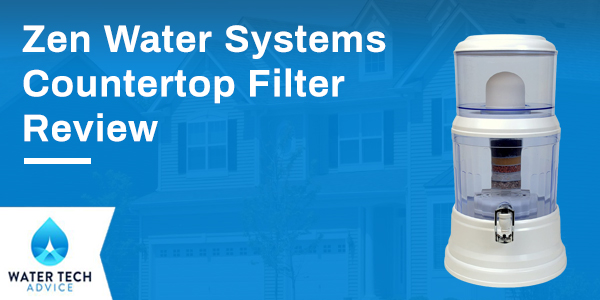 While you continue to search for a new countertop water filter, you will notice that they are either gravity fed or have a feed line that attaches to a water faucet.
Here is a gravity-fed water filter that is very well-reviewed by those that have purchased it.
Given that fact and my curiosity as an experienced water filtration professional, it's only natural that I wanted to take a closer look at this particular countertop water filter.
What will I look for as I attempt to find out more about this product?
I want to know what its best features and drawbacks are, how easy it is to set up and maintain, and why so many users rate it favorably.
After you are finished reading my Zen Water Systems Countertop Filter review, you will then have a much better idea as to whether or not you want to consider purchasing this particular countertop water filter model.
Zen Water Systems Filter Overview
Zen Water Systems LLC is a company that only makes gravity-fed water filters such as this one. Given that specialization, it's not surprising that one of their products made our list of the best countertop water filters.
It has a well-designed filtration system for a medium-sized countertop water filter and anyone can easily set it up and maintain it. The only thing about this water filtration device that is tedious is that you have to fill it up by hand.
This unit also has a generous storage capacity and the unique ability to produce water that is mineralized and has a higher-than-normal pH (alkaline water). Drinking alkaline water is something that many people consider to have health benefits.
While its initial cost may seem a little pricey to some, that is not the case at all with the replacement filter cartridges that it needs to have installed periodically.
This is a rarity in the world of countertop water filters where replacement filters routinely cost almost as much as an entire unit.
With its durable BPA-free plastic it poses no health risks and can handle being placed in most kitchen environments.
Pros
3-component 7-stage filtration
Easy Installation
Low replacement filter cost
Produces mineralized alkaline water
2.5-gallon storage capacity
Made of durable and safe BPA-free plastic
Optional use of included base
Cons
Spigot is a little low
No 3rd party certifications
Has to be filled by hand
Does not produce instant purified water
---
What to Consider Before Buying a Countertop Filter
When you first take a look at most countertop water filtration products, they may not look too impressive. Don't let that fool you.
That's because most manufacturers of the better countertop water filters go to great lengths to design characteristics into them that make their product stand out from the rest.
So, consider the following to make a sound countertop water filter purchasing decision:
What are the tap water impurities that it removes?
How much does it and its replacement filter cartridges cost?
Is it easy to set up and maintain?
Filtration flow rate
Water storage capacity
Its size/Where can it be placed in a kitchen
How long do the filters last?
Are there any 3rd party certifications (ANSI, WQA, NSF) that are attached to it?
Main Features and Benefits of the Zen Water Systems Countertop Filter
Here are the features of this nicely designed gravity-fed water filter that I like the most:
3-Component 7-Stage Filtration
Interestingly, this countertop water filter features a 3-component, 7-stage water filtration system inside of it. That's a more advanced filter setup than many in its class.
The manufacturer claims that its 5-stage main filter can effectively remove or reduce bacteria, sediments, chlorine, some man-made chemicals, and other impurities that are commonly found in household water.
As you can see above, these 5-stages include chlorine removing silver impregnated granular carbon, water softening Ion exchange resin, healthy far infrared balls, granular impurity removing silica sand, and micro-nutrient enriched mineral sand.
Its other 2 components include another stage that adds micro-nutrients and one that filters out bacteria that are in the 0.2-to-0.9-micron size range (most common bacteria are in this range).
Produces Mineralized Alkaline Water
Many carbon filter-based water filtration systems also remove some of the essential nutrients that are often found in tap water. That's something that this manufacturer clearly recognizes as they added not one but two micro-nutrient adding stages.
This countertop water filter also produces water that is higher in pH than normal tap water is. As was mentioned previously, a trait that many water drinkers consider to be healthy for them.
2.5-Gallon Storage Capacity
Although you can only add 1.5-gallons of water to this countertop water filter at one time, it will hold some 2.5-gallons of water in its storage section. That should easily be enough water for drinking and cooking purposes for a family of 4 in a day.
Zen Water Systems Setup & Maintenance
Even the most mechanically challenged people will have no problems putting this countertop water filter together.
This countertop water filter has what I would describe as average useful lives for its replaceable filters (1,000 gallons or 1 year on the ceramic filter; 500 gallons or 6 months on the 5-stage mineral filter).
Despite that, it's fairly simple to maintain as these reasonably priced filter cartridges are easy to replace.
Zen Water Systems Social Proof & Review Consensus
As was mentioned at the beginning of this review, the majority of the reviews that have been written Zen Water Systems Countertop Filter are in the 4 to 5 out of a possible 5-star range.
Those that like it much claim it produces great-tasting water. They also state that it's easy to assemble and the larger purified water storage tank is welcomed.
Drawbacks that were pointed out include leaking & broken spigots, the base may not be as durable as the rest of its components, and the top section needed constant cleaning to protect against mold growth (most likely algae from being placed near a window where sunlight hits it).
The Last Word on the Zen Water Systems Countertop Filter
For a countertop water filter, this unit seems to have some impressive filtration and other water-enhancing characteristics. It also stores a generous amount of purified water.
The Zen Water Systems Countertop Filter is also easy to assemble and has some of the most reasonably priced replacement filter cartridges of any countertop water filter that I have ever reviewed.
Although I really like the design concepts that Zen Water Systems LLC used when creating this product, I have some reservations about it too.
That includes the fact that I would have liked to have seen some 3rd party verification of some of the filtration claims the company makes about it.
You also have to consider that not everyone wants or needs water that has an alkaline leaning pH and added minerals.
After all is said and done, what I like about this product combined with its many positive reviews leads me to believe it definitely deserves a spot on our list of the best countertop water filters. This is especially true if you are a fan of drinking alkaline water.