If you have been looking for a way to significantly enhance the quality of your home's drinking water, then you will undoubtedly have heard about whole house water filtration systems (also known as point of entry water filters).
They are by far one of the most popular types of water filters because they will enhance 100% of the tap water that flows through your home.
You may even be at the point where you are so interested in buying one of these, that you are wondering how much they cost. Well, I am here to help answer that question.
I will do this by providing you with a detailed whole house water filter cost breakdown. This will include not only the obvious cost factors of these water filtration systems but also some of the intangibles that may drive their price up higher.
I will also give you my opinion as to whether they are worth their sometimes-high cost and do a cost comparison of two of the top point of entry water filtration systems that are available in the home marketplace.
How Much Does a Whole House Water Filter Cost?
This is a tough question to answer because of the wide variety of price ranges that are found on the many different point of entry (POE) water filtration systems that are available for purchase.
Cost variances have to do with such characteristics as the quality & effectiveness of a whole house water filter and the number of filtration stages that they have (Can be anywhere from 2 to 7).
You also have to figure in more than just the initial cost of the whole house water filtration unit that you are looking to purchase.
This includes such factors as how much plumbing needs to be done to hook into the incoming water line, if an electrical connection needs to be installed near where the system is going, and can the unit be self-installed, or is professional installation required.
So there is a lot more to consider than just the purchase price when you buy a point of entry water filtration setup.
If you factor in all of the following cost factors, this will give you a good ballpark figure of what you can expect to pay for your new whole house water filtration system.
1. Upfront Cost of System
This is the purchase price for the basic package of the whole house water filter that you have decided to buy. You can also expect to pay your state sales tax on this amount. Some systems come with add-ons too that are not included in the basic unit price.
For reference, here are the purchase prices of several point of entry water filters that made our list of the 'Best Whole House Water Filters':
AquaOx: $3,499 – $4,499
Springwell WS1: $2009
SoftPro Carbon Filter: $962
Pelican PC: $733
As you can see, there is a very wide discrepancy in initial costs as far as point of entry water filtration systems are concerned.
2. Cost of Installation
This is another cost aspect of whole house water filters that can vary greatly. That's because there is a significant difference in the installation cost of your new water filter when you self-install it or have this task professionally done.
Self-installation is something that you may not want to attempt if you cannot do such things as installing an electric outlet near your water filtration system, use a soldering iron to do copper pipe sweating, or if you are not confident when it comes to working with PVC glue fittings.
Most likely you will choose to have a professional plumber do the job for you if you decide not to self-install your new point of entry water filter. That means you can expect to pay around $50 – $100 an hour for their help and the job should take 4 or 5 hours to complete.
This timeframe will vary depending on the number of stages that make up your whole house water filtration system.
You can also expect to pay an additional sum of around $100 for such incidentals as PVC fittings, PVC pipe, copper pipe, copper pipe fittings, solder, Teflon tape, and for other miscellaneous items that are required to complete the installation.
A few things that you have to keep in mind here too is that non-professional installation may void the warranty on your new water filtration system and a plumber or handyman in your area may not be willing to install a whole house water filter that you did not purchase through them.
Many manufacturers also offer ready-made kits that can be purchased separately to make the installation of their water filtration system go smoother. These generally run around $100.
3. Cost of Maintenance
Although I would not consider whole house water filters to be high maintenance devices, you will still have to do such things as clean & change sediment and carbon filters occasionally.
When replacement of these types of filters is needed, you can expect to pay anywhere between $10 and $75 for a replacement filter. Much of this depends on the size and type of filters that you are replacing. As a general rule, you will replace sediment filters every 3-months and carbon filters every 6-months to a year.
This is another area that you can expect to spend some extra money for labor if you do not wish to do this task yourself or simply do not have enough time to do it. One hour at the above-mentioned rate of $50 – $100 per hour should get the job done for you.
4. Other Costs
There may be some other costs associated with your whole house water filter installation project too. This would include needing an outlet installed near where your unit is going. This can cost you as much as $150 – $200 to get done.
There is also the possibility that you may have to move other devices in your basement or garage such as water heaters. This would be done to allow more space for your whole house water filter to be placed. Once again, if this type of work is going to be professionally done, you will have to pay extra for this part of the job.
Are Whole House Water Filtration Systems Worth the Price?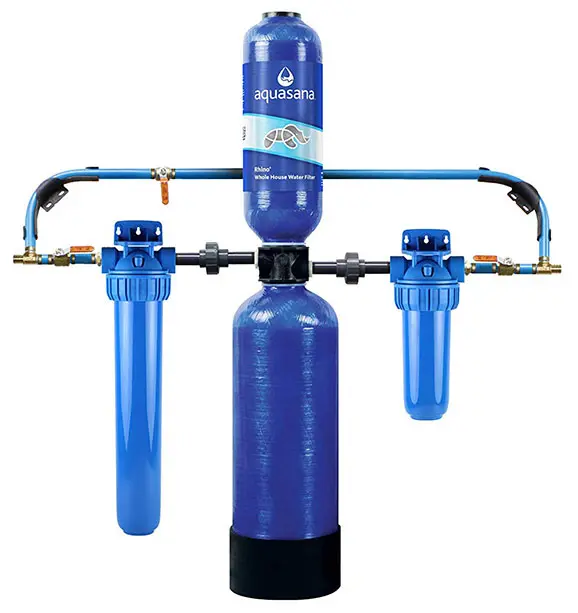 Perhaps the better question here is how much is you and your family's health worth? That's something that you really can never put a price on.
Especially when it's a given that your municipal water treatment system will most likely not remove all of the contaminants from the water that comes into your home. Some of which can be harmful if taken into your body even in small amounts over a long time.
If you use well water, then this can be even worse. That's because many impurities often find their way into the groundwater that will eventually end up in your well source.
So, for many people, the health benefits that they get from a whole house water filter can easily justify the price that they will pay for it.
It must also be noted that there are other benefits that POE water filtration systems usually offer. This includes:
Some can eliminate or cut down on problems caused by having hard water
These are cost-effective given the amount of time that they will last you
100% of your household water will be treated by them
They eliminate the waste associated with buying bottled water
As far as downsides go, whole house water filtration systems have some of these too. They include:
A high initial installation cost
It takes some space to set them up
They include filters that need to periodically be cleaned and replaced
There is usually some wastewater that is associated with their use
Comparison of Two Top Whole Home Filter Brands
Here is a cost breakdown of two of the best-selling point of entry water filters:
1. Springwell CF1 Whole House System
This is a company that brings over 20-years of experience to their water filtration manufacturing process. They are well-known not only for their whole house water filters' ability to purify water but also for the way they stand behind their products.
That includes the lifetime warranty and 6-month money-back guarantee that back up this water filtration setup. Warranties such as this show the extreme amount of confidence that this manufacturer has in its CF1 One Million Gallon Whole House System.
Its catalytic coconut shell carbon and certified KDF media types are designed to eliminate and reduce such impurities in tap water as chlorine, chloramine, perfluoroalkyl substances, pesticides, herbicides, halo acetic acids, and more.
This whole house water filter works through the use of 4 filtration stages. The process begins with the KDF media and then next in line comes the catalytic coconut shell carbon filter. Stage 3 is mainly designed to promote more contact time with the carbon filter and stage 4 consists of a 5-micron sediment filter that removes sand, silt, and other large-size contaminants.
Basic Unit Cost: $811 (for homes with 1 to 3 bathrooms)
Available Add-Ons: UV Water Purification +$980.
Replacement Filter Cost: Sediment Filter $40
Shipping Costs: Free
Warranty: Lifetime
Cost for Installation: Professional Installation $400
2. Aquasana Rhino Whole House Filter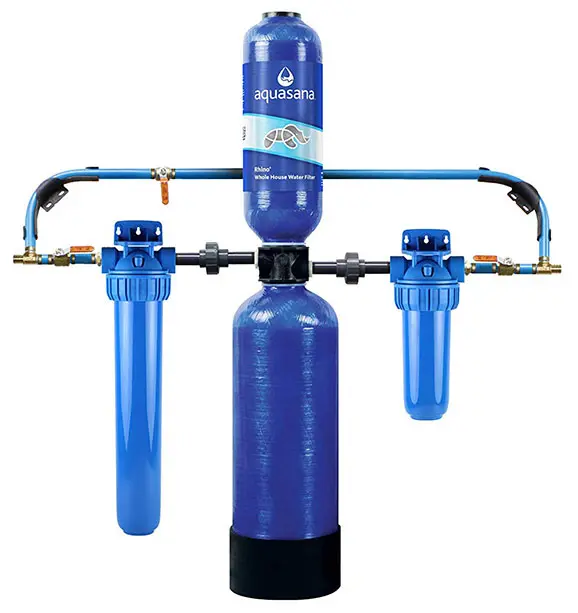 This is another very highly rated point of entry water filtration system. It's made by the popular water filtration manufacturer Aquasana. They call it their Rhino® 1,000,000 Gallon whole house filtration system.
The basic setup of this water filtration device consists of a sediment pre-filter and a proprietary copper/zinc and mineral stone filter. Add-ons such as a salt-free water conditioner and UV light purification system can be purchased separately.
Once set up, this water filtration system will use its carefully sequenced stages to significantly improve your drinking water's taste, smell, appearance, and purity. It does this by eliminating or reducing up to 97% of the chlorine, pesticides, lead, VOCs, and other contaminants that are commonly found in drinking water.
Basic Unit Cost: $899
Available Add-Ons: Salt-Free Water Conditioner +$670, UV Water Purification +$583
Replacement Filter Cost: Pre-filters $19.95 – $29.95
Shipping Costs: Free
Warranty: 10-years
Cost for Installation: Pro-Grade Install Kit +$83, Professional Installation $400
Where Do You Buy Whole House Water Filters?
There are several different ways that you can purchase a point of entry water filtration system. This includes visiting a store that specializes in water filtration products.
Most home improvement centers will most likely carry some brands of point of entry water filters in stock too but the selection here may be extremely limited.
You can also ask your local plumbing professional for help.
They usually have connections with water filtration equipment suppliers because they are the tradesmen that people seek help from when it comes to installing these sophisticated water purification devices.
Your best bet for gaining access to the largest selection of whole house water filters will come from shopping online.
This can be accomplished by going to the websites of point of entry water filtration manufacturers that sell directly or by going to a specialty website like ours that deals with water filtration information and product reviews.