One type of water purification device that can be found in millions of American households is whole-house water filters.
They are by far one of the most popular types of home water purification systems.
What's the reason for this popularity?
It has everything to do with all of the benefits that those that install them get.
The list of the advantages of whole house water filtration systems is a lengthy one and that's something that I would like to go over with you here along with giving you a brief explanation of each of these benefits.
Benefits to Installing a Whole House Water Filter

I will start by saying that whole house water filters are known by many names. This includes whole home, media, and point of entry (POE) water filtration systems.
The major advantages to owning them include:
1. They Treat 100% of the Water That Comes into Your Home
There are two types of home water filtration devices that are available for purchase. The first is point-of-use water filters such as under-sink systems, countertop water filters, and water pitchers.
The problem with all of these is they are only used to purify the water that you drink.
Whole house water filters are different because they are located very close to where the water supply line comes into your home, treating every drop of water that is distributed throughout your house.
2. POE Filters Address Many Different Water Purity Concerns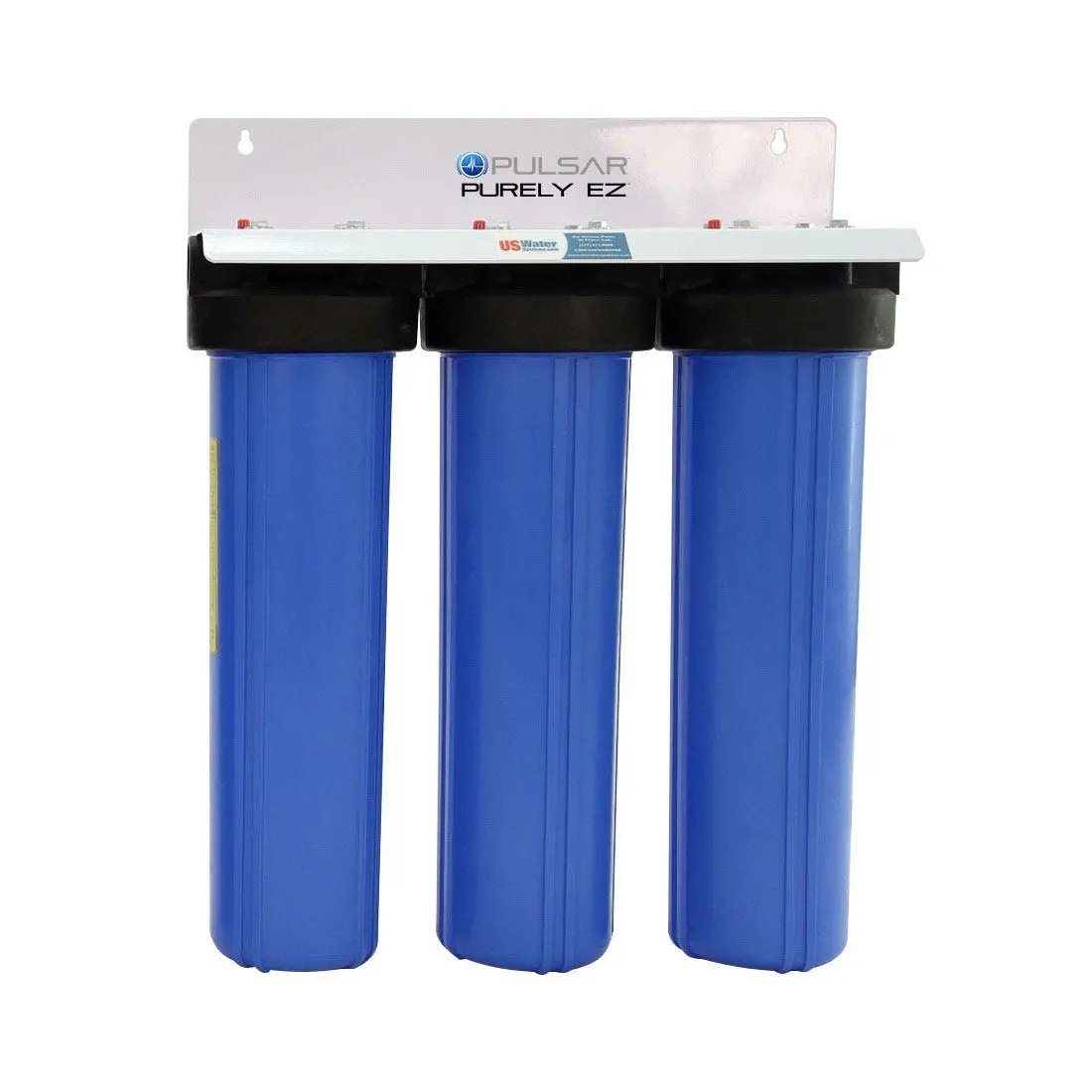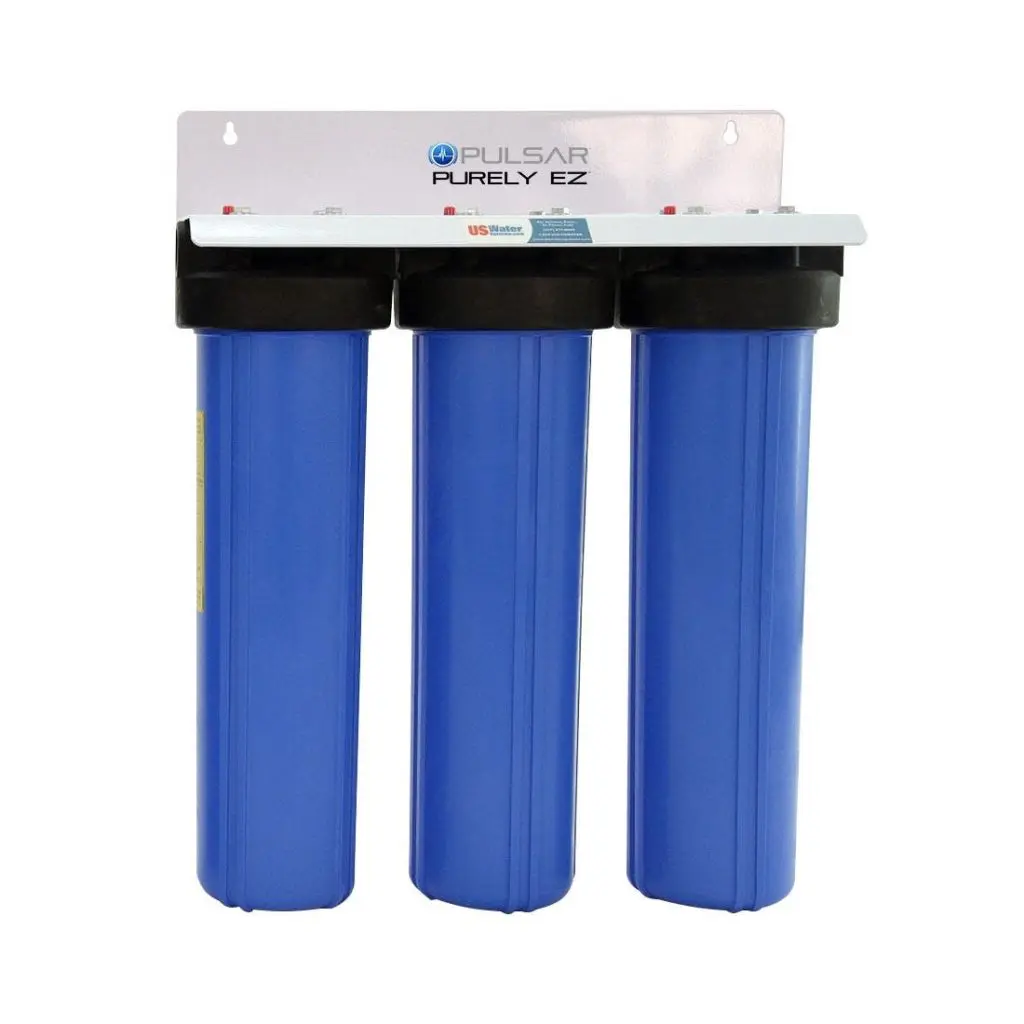 Not everyone across the country has the same water quality coming into their homes. Some have city water which has had some treatment performed on it and others have well water which the quality of it varies greatly from one household to another.
None of this is a problem if you want to purchase and install a media filter because they come in many different types and styles. This includes everything from basic whole house filtration systems to those that are made to target nuisance water problems such as sulfur, lead, and iron filters.
3. Whole House Water Filters Can Be Purchased in All Budget Ranges
Just about every household can afford a whole house filter. That's because they are available in everything from sophisticated models that are very pricey to less expensive ones where you can purchase separate filter canisters and build your POE water filtration system from scratch.
You can even do a DIY installation on many of them to save even more money when purchasing one of them.
4. Media Filters Will Make It Safer to Consume Your Household Water
Since whole house water filters can be purchased or assembled in a way that they will filter out a large amount of concerning water contaminants, the water that you and your family drink will be much safer by having one.
Depending on the sophistication of the POE system that you buy or put together, they can reduce or remove chlorine, chloramines, VOCs, lead, iron, sulfur, microorganisms, and many other harmful water impurities.
5. Water Enhancing Add-Ons are Readily Available for Them
While whole house water filters are made or can be designed to remove a wide variety of water contaminants, all of them are not designed to remove every type of impurity that's found in your drinking water.
That's why it's nice that the removal of some very concerning water contaminants can be addressed by the many add-ons that are available for POE water filters.
This includes bacteria-killing UV light devices, quality water softeners, and impactful reverse osmosis stages.
6. Point of Entry Water Filters are Easy to Maintain
Two types of whole house water filters are available for purchase. This includes single tank filters that contain many different media types inside of them and POE systems that are made up of several independent filter stages.
Single tank media filters require almost no maintenance once installed and those whole house filters that consist of several filter stages just need their filter cartridges cleaned or replaced once or twice a year.
7. They Promote Healthier Showers and Baths
Some of the contaminants that are found in the water supply coming into your home can do much more than cause internal health problems. They can also harm the outside of your body too such as drying out your hair and skin.
Unlike point-of-use water filters, since whole home filters treat 100% of the water coming into your home, they can address many exterior body health issues too.
8. POE Filters Help Avoid Costly Plumbing & Appliance Repairs
Some contaminants that are often found in household water can do such things as cause damage to your appliances and form clogs in or deteriorate your plumbing pipes. Whole house water filters can remove many of these problematic water impurities.
This can result in being able to avoid many costly repairs to these plumbing-related items over time.
9. Whole Home Filters Can Enable You to Live a Greener Lifestyle
Unfortunately the main alternative to home water purification is buying bottled water. The quality of the water in them is questionable and the leftover plastic often ends up slowly decomposing in landfills or as litter.
By having your own whole home water filter, you can avoid having to purchase bottled water altogether.
10. POE & POU Water Filters Can Be Combined for Optimal Home Water Quality
Not every whole house water filter that you want to purchase will reduce or remove all of the harmful contaminants in your incoming tap water that concern you.
That's why it's nice that POE water filters can easily be combined with such impactful point-of-use water filtration devices such as water filter pitchers, reverse osmosis systems, and countertop & under sink water filters.
Every Home Can Benefit from Having a Whole Home Water Filter
Different homes have different water purification needs and most of these can be addressed by choosing and installing the proper point of entry water filtration system.
They provide any homeowner with the means to significantly enhance the purity of the water that comes into their home and most importantly make that water safer to drink.
With the experience I have gained working around water filtration equipment for almost three decades, that knowledge tells me that everyone can benefit by installing a POE water filter in their home.
That's why I encourage you to look into buying a quality whole house water filter if you don't already have one installed in your house.