We're always on the lookout for the latest technology that makes our drinking water as clean and refreshing as a mountain spring. Enter the Waterdrop N1 Countertop Reverse Osmosis System – a sleek little number that's been making waves in the world of water filtration.
We've rolled up our sleeves and put this system through its paces to see if it's as good as it looks, and we're eager to spill the details in this review.
Waterdrop N1 Reverse Osmosis Specs and Features
Let's dive into the nuts and bolts of the Waterdrop N1. This little machine packs a punch with its advanced features, all while maintaining a countertop-friendly footprint.
Here's a snapshot of what it brings to the table:
| | |
| --- | --- |
| Feature | Description |
| Dimensions | 17.1" L x 7.0" W x 17.8" H. Compact and sleek, this product is designed to fit comfortably on most countertops. |
| Tank Capacity | A removable 1-gallon water tank allows the countertop RO system to purify water and store it in the internal tank automatically. |
| Filtration System | The 2-stage filtration system is equipped with a 0.0001 micron RO membrane that eliminates harmful impurities. It also features a UV light that can be utilized to kill bacteria and viruses on an hourly basis. |
| Membrane Technology | The two filter cartridges are powered by a combination of reverse osmosis membrane, carbon block, and PP cotton. |
| Drain Ratio | An impressive 3:1 pure-to-drain ratio ensures low waste and peak efficiency. |
| Flow Rate | A dispense flow rate of 75 gallons per day (GPD) provides easy dispensing for most common-sized households. |
| Filter Replacement | Replacing the carbon filter every 6 months and the RO membrane filter every 18 months is ideal to maintain optimal performance and purity. |
| Contaminant Removal | Chlorine, antimony, arsenic, chemicals, and more are removed. The complete test results can be found here. |
| Installation Options | Simply set this easy-to-install countertop reverse osmosis water filter near an electrical socket to access pure water. |
| Display | User-friendly LCD screen displays filter lifespan and TDS. |
| Automatic Cleaning System | Includes a self-cleaning feature that ensures the system remains clean with minimal effort. |
| Warranty | Waterdrop offers a 30-day risk-free return policy that applies to all items, including this product. |
As you can see, the Waterdrop N1 is not just another water filter. With its state-of-the-art features and user-friendly design, it's clear that this system is engineered to provide superior water quality without complicating your kitchen space or routine.
Waterdrop N1 Reverse Osmosis Review
The journey to selecting the right water filtration system can be as murky as unfiltered water itself. That's why we've taken a deep dive into the Waterdrop N1 Countertop Reverse Osmosis System.
This section aims to clear the waters, providing an in-depth look at each aspect of the N1, from its sleek design to the quality of water it delivers.
Join us as we filter through the details to help you decide if this system should be your next kitchen cornerstone.
Design
The Waterdrop N1's design is a blend of functionality and modern aesthetics. Its slim profile and clean lines mean it won't just be another appliance on your countertop but a conversation piece. 
The minimally designed removable 1-gallon tank is not only space-saving but also ensures that water is filtered on demand, providing a continuous supply of fresh water whenever you need it.
The thoughtful placement of the intuitive LED display complements the overall sleekness, offering easy access to the system's status without compromising on style.
Filter
At the heart of the Waterdrop N1 is its powerful filtration system. It employs a composite filter that combines multiple filtration technologies, including a pre-sediment layer, an activated carbon block, and a reverse osmosis membrane.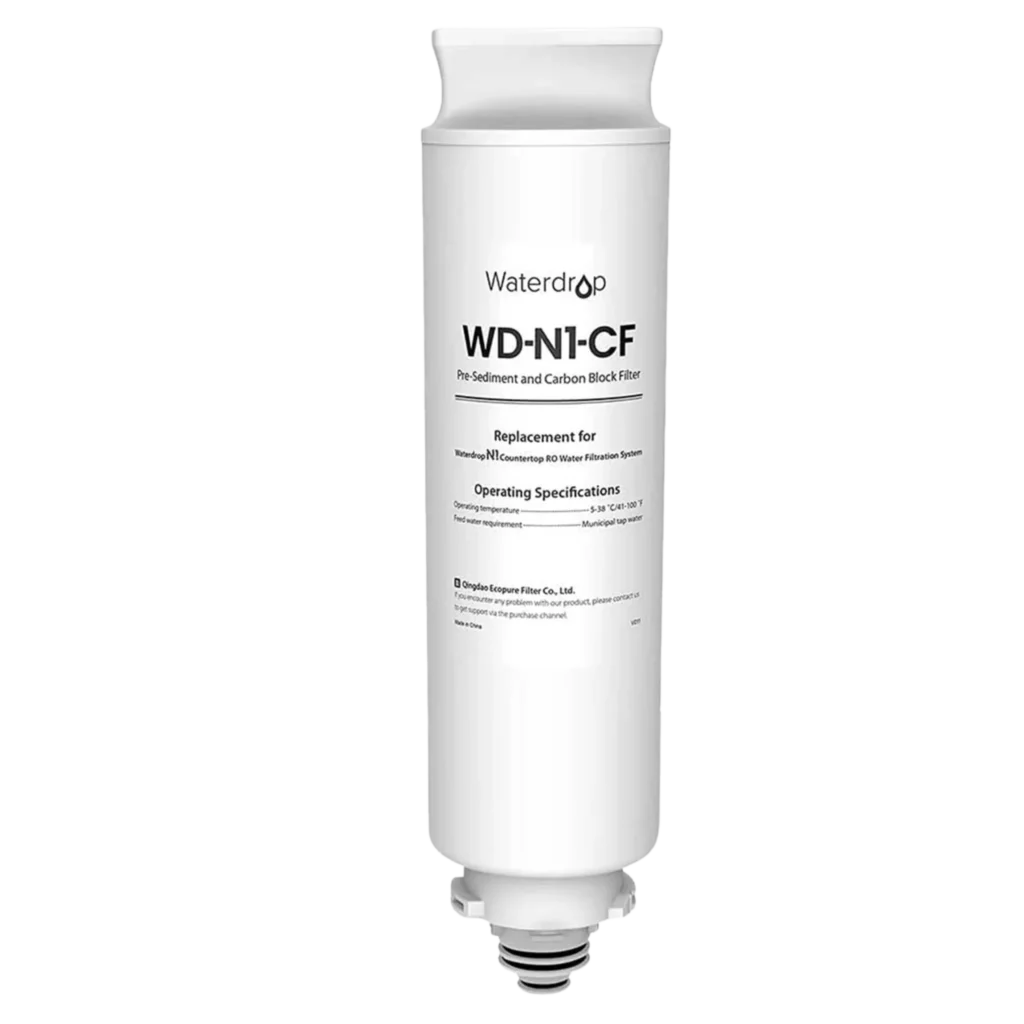 This multi-stage approach ensures that water endures a thorough purification process, tackling various contaminants, from large particles to microscopic impurities.
The ease of replacing these filters is a testament to the user-friendly design of the N1, requiring no tools and minimal effort to keep the system running smoothly.
Contaminants Removed
The Waterdrop N1 shines in this regard, with its reverse osmosis membrane filtering out up to 99% of harmful substances.
This includes common culprits like lead, chlorine, fluoride, and a range of pathogens, ensuring that your water is not just clean, but safe for consumption.
It's a relief to know that the water you drink is stripped of unwanted guests, leaving nothing but purity in your glass.
Filter Lifespan/Maintenance
One of the most significant advantages of the Waterdrop N1 is the longevity of its filters.
Replace the CF filter every 6 months and the MRO filter every 18 months to maintain optimal performance and purity. Designed to last, these filters reduce the frequency of replacements, saving time and money in the long run.
The system's automatic cleaning feature is a standout, minimizing the need for manual maintenance and ensuring the longevity of the filters. This self-cleaning function is a clear indicator of the N1's commitment to providing a low-maintenance solution to water purification.
Water Quality
The proof is in the pouring, and with the Waterdrop N1, the water quality speaks for itself. Post-filtration, the water is noticeably fresher and crisper to taste.
The removal of contaminants not only makes the water safer but also improves its taste and odor, making for a more enjoyable drinking experience.
Whether you're using the water for drinking, cooking, or brewing coffee, the difference in quality is palpable.
Warranty and Customer Service
Waterdrop stands behind the N1 with a solid warranty, ensuring that any issues you might encounter will be addressed promptly and effectively. The brand offers a 30-day risk-free return policy that applies to all items, including this product.
Their customer service has a reputation for being accessible and supportive, providing peace of mind that goes beyond the product itself. Knowing that help is just a call or email away adds an extra layer of confidence in the investment.
Installation
The installation process of the Waterdrop N1 is refreshingly straightforward. The system is designed for a hassle-free setup that can be completed without professional help.
Clear instructions and quick-connect fittings mean you can have the system up and running in no time, making it an ideal choice for the DIY-inclined.
The simplicity of installation is a nod to the user-friendly ethos that Waterdrop has woven into the fabric of the N1.
What's Included
Upon unboxing the Waterdrop N1, you'll find everything needed to get started. The package includes the filtration unit, equipped with all necessary filters, so all you need to do is plug it into a power source.
Also included are a user manual and quick start guide, which lay out the maintenance processes in an easy-to-understand manner.
Waterdrop N1 Vs. Waterdrop A1
For those looking for a more basic filtration system, the Waterdrop N1 might be suitable, whereas the A1 is for those who prefer a few more bells and whistles.
Aside from the price tag more than doubling that of the N1, the primary stand-out feature of the A1 is its ability to produce both cold and hot water at the push of a button.
Let's take a closer look at how the two products compare:
Price: $219-$299
Dimensions: 17.1" x 7.0" x 15.5"
Flow Rate: 100 GPD
Drain Ratio: 3:1
Capacity: 1-gallon
Filter Lifespan: CF-6 months, MRO-18 months
Warranty: 30-day risk-free return
Water Temp: Ambient
Price: $699.00
Dimensions: 18.3" x 7.8" x 17.1"
Flow Rate: 100 GPD
Drain Ratio: 2:1`
Capacity: 1.6-gallons
Filter Lifespan: CF-6 months, MRO-12 months
Warranty: 30-day risk-free return
Water Temp: 41° to 203° F
The Waterdrop N1 and A1 models cater to different needs and preferences. The N1 is a more budget-friendly option with essential features for pure water, while the A1 steps up with additional functionalities like hot and cold water dispensing, a larger capacity, and advanced filtration technology.
Your choice between the two will depend on your specific requirements, whether you prioritize cost savings with the N1 or the enhanced features and convenience of the A1.
What We Like About the Waterdrop N1 (Pros)
Compact Design: The Waterdrop N1 boasts a sleek and compact design, measuring 17.1" L x 7.0" W x 17.8" H, which allows it to fit comfortably on most countertops without taking up too much space.
Tank Capacity: It features a removable 1-gallon water tank that automatically purifies and stores water, making it convenient for immediate use without the need for continuous water supply.
Advanced Filtration System: The N1 is equipped with a 2-stage filtration system, including a 0.0001-micron RO membrane and a UV light that activates hourly to eliminate bacteria and viruses, ensuring exceptionally pure water.
Efficient Drain Ratio: The system operates with a 3:1 pure-to-drain ratio, which is quite efficient compared to many other RO systems, meaning less water is wasted during the filtration process.
High Flow Rate: With a flow rate of 75 gallons per day, the N1 can easily meet the daily water needs of most households, providing quick and convenient access to purified water.
What We dislike about The Waterdrop N1 (cons)
Limited Filtration Stages: While the N1 has an advanced 2-stage system, some users might prefer more stages of filtration for even broader contaminant removal.
No Re-Mineralization: Unlike some other RO systems, the N1 does not have a re-mineralization stage, which some users prefer for adding beneficial minerals back into the water after filtration.
No Hot/Cold Water Options: The N1 provides ambient temperature water only, lacking the feature of dispensing hot or cold water that some advanced models offer.
Final Thoughts
We appreciate the Waterdrop N1 Countertop Reverse Osmosis System for its blend of simplicity and effectiveness. It aligns with our ethos of providing safe, clean drinking water without complex installation or maintenance.
The system's compact design and advanced filtration, including UV sterilization, meet our standards for high-quality water purification.
While we do note the absence of features like re-mineralization, the N1's user-friendly interface and self-cleaning capabilities make it a standout option for households prioritizing ease and reliability.
The added assurance of a 30-day risk-free trial reflects a commitment to customer satisfaction that we value in our industry.