So you're looking to buy a filter from Waterdrop and want to make sure this is the best brand for your home water needs which will give you pure, clean, tasty water.
You've come to the right place.
We will detail everything you need to know about the company, its products, cost and value, and which model would be right for filtering your water supply in this Waterdrop filter review.
About Waterdrop
The company was founded in 2015 to provide trustworthy water solutions to problems like the Flint water crisis and other issues.
The thing is, today, Waterdrop has designed, engineered, and delivered more than 200 water purification products. They have over 100 patents and a team of professional product designers committed to excellence.
The company sources raw materials in accordance with the highest industry standards and a team of experts vet each piece of material ensuring it meets those standards. Waterdrops products have passed certifications and tests such as NSF, CSA, WQA, UPC, WARS, UL, FCC.
Waterdrop also believes in sustainability throughout all operations and is committed to making a positive impact in places where water is scarce like Africa where they donate 1 day of clean water for every product they sell.
The main products that Waterdrop sells are reverse osmosis systems, water filter pitchers, undersink filters, and fridge filters. Their main differentiator is the sleek design their products are made with as well as their quality reverse osmosis filtration technology.
Waterdrop Water Filter Comparison
| | | | | |
| --- | --- | --- | --- | --- |
| IMAGE | | PRODUCT | FEATURES | |
| | BEST RO SYSTEM | #1 Waterdrop GP 800 | Flow rate 800 GPD Drain ratio 3:1 UV sterilization | CHECK PRICE |
| | BEST COUNTERTOP RO SYSTEM | #2 Waterdrop A1 | Hot and cold water dispenser 2:1 pure to drain ratio UV light sterilization | CHECK PRICE |
| | BEST UNDER SINK FILTER | #3 Waterdrop Ultra Filtration TSU | 0.01μm Ultrafiltration membrane 3-stage filtration system Zero wastewater | CHECK PRICE |
| | BEST OTHER FILTER | #4 King Tank Gravity Filter | 98.95% initial chlorine reduction 4-stage high-efficiency filtration Filter life up to 6000 gallons/pair | CHECK PRICE |
Waterdrop Reverse Osmosis Drinking Water Filters
As experts in water filtration, we've closely examined the top RO filters from Waterdrop, a brand known for its innovative and efficient water purification technologies.
Waterdrop's RO systems stand out for their ability to remove contaminants, improve taste, and ensure a consistent flow of clean water.
Among their range, three models particularly caught our attention: the GP 800, K6, and D6.
G3P800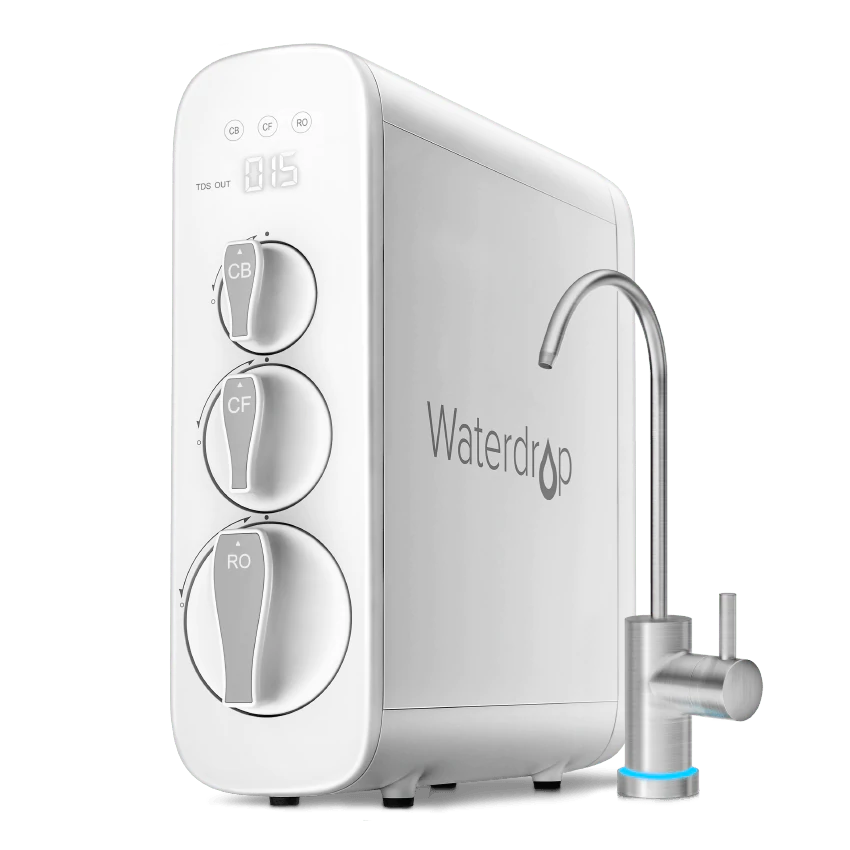 We find the Waterdrop G3P800 to be an exemplary model in the RO filter market. 
The Waterdrop G3P800 boasts an impressive flow rate of 800 gallons per day (GPD) and a highly efficient drain ratio of 3:1, meaning for every three cups of pure water produced, only one cup of wastewater is generated​​​​. 
This Waterdrop model features UV sterilization and a smart display faucet, enhancing both safety and usability​​.
The filter replacement of the Waterdrop GP 800 is remarkably swift, taking just 3 seconds​​.
The G3P800 employs a 3-filter setup with seven layers of RO membrane, effectively removing impurities larger than 0.001 microns, such as heavy metals and harmful chemicals​
Pros:
High filtration capacity, suitable for large households or commercial use.
Advanced filtration system maintains essential minerals.
User-friendly with a smart display faucet.
Efficient water-saving technology with a 3:1 drain ratio.
Cons:
Larger size may not be ideal for smaller spaces.
Higher initial cost compared to smaller models.
K6
The Waterdrop K6 stands out with its unique feature of providing instant hot water, a rarity in RO systems.
It can fill up one cup in just 6 seconds and offers a flow rate of 0.4 gallons per minute.
The Waterdrop K6's purification process includes a 0.0001 micron pore size, effectively reducing contaminants like TDS, chromium, and PFAS​​​​.
The K6 has a 2:1 pure to drain ratio, saving water and money, and the filters have a lifespan of up to one year​​.
This Waterdrop model has dimensions of 18 x 17 x 7 inches and weighs 31.9 pounds, with a maximum daily capacity of 600 GPD.
Pros:
Instant hot water feature for convenience.
Compact design, fitting easily in smaller spaces.
Efficient RO filtration with a 2:1 drain ratio.
Long filter lifespan of up to one year.
Cons:
Limited to 600 GPD, may not meet high-demand needs.
Hot water feature might not be necessary for all users.
D6
Last but certainly not least, the Waterdrop D6 is another excellent RO filter system.
The Waterdrop D6 is known for its upgraded 6-stage filtration, offering a filtration accuracy of 0.0001μm. It can reduce over 1,000 types of harmful substances, ensuring water purity and safety​​.
The D6 has a flow rate of 600 GPD and boasts a fast filling time of just 8 seconds for a glass of water​​. It features a 2:1 drain ratio, optimizing water usage and cost efficiency​​.
The filter can be replaced quickly with a simple pull-and-push mechanism and needs replacement only once a year​​.
Its tankless design saves space and prevents secondary contamination, and it includes features like automatic flushing and no leaking risk
Pros:
Advanced 6-stage filtration for high purity.
Fast flow rate with minimal waiting time.
Efficient water usage with a 2:1 drain ratio.
Space-saving tankless design and easy filter replacement.
Cons:
Suitable for 600 GPD, it may not suffice for very high usage.
Basic functionalities compared to higher-end models like the GP 800.
Waterdrop's range of RO filters – the GP 800, K6, and D6 – offer outstanding solutions for different needs, whether it's high-capacity filtration, the convenience of instant hot water, or energy efficiency.
Each model stands out for its unique features, but they all share the core qualities of effective filtration, ease of use, and reliability.
Waterdrop Countertop Reverse Osmosis Water System Reviews
Waterdrop's countertop reverse osmosis filters offer a compact and convenient solution for high-quality water filtration.
These models are designed for ease of use and efficiency, making them suitable for various settings, from homes to offices.
We will review three notable models: the A1, N1, and K19, each bringing unique features and benefits.
A1
The Waterdrop A1 Countertop Reverse Osmosis System is a hot and cold water dispenser that meets the NSF/ANSI 58 Standard.
It offers six temperature settings (41℉-203℉) and features a 2:1 pure to drain ratio, reducing a wide range of contaminants​​​​.
The A1 has an LED light system for sterilizing its double water tanks and a smart touch key with an LED screen, enhancing the user experience.
The filters have a long lifespan, contributing to its practicality​.
Pros:
Hot and cold water dispenser with multiple temperature settings.
Efficient 2:1 pure to drain ratio, reducing water waste.
Long-lasting filters and easy maintenance.
LED light system for tank sterilization.
Cons:
The process of refilling and emptying the reservoir can be tedious, especially for heavy users​​.
A direct connection to the waterline for refilling and draining the waste tank would be beneficial​​.
N1
The Waterdrop N1 offers a 4-stage filtration process with a daily production rate of 75G.
Its filtration accuracy removes 1,000+ impurities, including metals, chlorine, and large particles.
The system features a smart display screen providing real-time information on TDS levels, tank contents, and filter life​​.
The N1 also includes UV light sterilization for additional safety and quality assurance​​.
Its filters have a long lifespan of 6 to 18 months, and the system operates efficiently with a 3:1 drain ratio, minimizing water wastage.
Pros:
4-stage filtration process with high accuracy.
Smart display for easy monitoring of system status.
Long filter lifespan and UV sterilization for added safety.
Eco-friendly with a 3:1 drain ratio and minimal water waste.
Cons:
Limited daily production rate of 75G, may not suffice for high-demand scenarios.
Cannot be used with well water or high TDS source water
K19
The Waterdrop K19 is available in two versions: WD-K19-S and WD-K19-H, both with a 3:1 pure to drain ratio and a daily production rate of 75 GPD.
The models differ in power consumption and output water temperature, with the K19-H capable of producing hot water up to 203°F.
Both models have a 170 Oz water tank capacity and a filter lifespan of 12 months.
They require municipal tap water with a TDS level less than 500 and offer a one-year warranty.
Pros:
Choice of models with varying temperature outputs for versatile use.
Efficient 3:1 drain ratio and sizable water tank capacity.
Long filter lifespan with easy maintenance.
Convenient and suitable for various indoor settings.
Cons:
Daily production rate is limited to 75 GPD, which may not meet higher usage needs.
Not suitable for well water or high TDS source water.
Waterdrop's countertop reverse osmosis systems, including the A1, N1, and K19 models, offer versatile and efficient water filtration solutions.
Each model caters to different needs, balancing functionality with user-friendliness.
Waterdrop Undersink Water Filters
Waterdrop's range of undersink filters is designed for those seeking convenient, efficient, and space-saving water filtration solutions.
These models are suitable for various needs, from simple taste improvement to advanced contaminant reduction.
We've examined several notable models: the Ultra Filtration TSU, 3-Stage Ultra Filtration, 3 Stage Undercounter, and the Under Sink Dual Carbon Filter.
Ultra Filtration TSU System
The Waterdrop Ultra Filtration TSU model (WD-TSU-W) features a 0.01μm Ultrafiltration Membrane and a 3-Stage Filtration System.
It effectively reduces 99.99% chlorine and adsorbs lead, fluoride, heavy metals, VOCs, and more.
Notably, it produces zero wastewater and includes a smart indicating system for easy monitoring​​.
Pros:
High filtration accuracy of 0.01μm, effectively reducing a wide range of contaminants.
Integrated waterway to prevent leakage, enabling filter replacement without cutting off the water supply.
Smart indicating system for easy monitoring and maintenance.
Easy installation and no wastewater production.
Cons:
Not designed for Total Dissolved Solids (TDS) removal.
Limited to specific contaminant reduction, may not be as comprehensive as some other models.
3-Stage Ultra Filtration 
The Waterdrop 3-Stage Ultra Filtration model (WD-TST-UF) boasts a stainless steel construction, offering durability and resistance to corrosion.
It has a flow rate of 1.5 gallons per minute (GPM) and uses a 0.01μm ultrafiltration membrane.
The system includes a PP filter lasting 6-8 months, a UF filter for 12 months, and a CT filter with a lifespan of 12-24 months​​.
Pros:
Durable stainless steel construction, less prone to cracking and leakage.
Six layers of premium filtration materials, including an ultrafiltration membrane and activated carbon block.
Long filter lifespan, with the CT filter lasting up to 24 months.
Easy installation with no drilling required and two placement options.
Cons:
Higher maintenance due to multiple filter stages.
May require more space under the sink due to its robust design.
3 Stage Undercounter
The Waterdrop 3 Stage Undercounter Filter (WD-TSB-10) features a dedicated faucet and a high flow rate of 1.7-2 GPM.
Its filters have a lifespan ranging from 6 to 18 months.
The system efficiently reduces rust, chlorine, bad taste, odor, and other contaminants​​​​​​.
Pros:
High flow rate, providing clean drinking water quickly.
Includes a lead-free brushed stainless steel faucet.
Long filter lifespan, reducing maintenance frequency and costs.
Hassle-free assembly and replacement, taking less than 3 minutes for installation.
Cons:
Requires a dedicated faucet, which might not be preferable for all users.
Filter replacement process, while easy, could be more frequent compared to single-filter systems.
Under Sink Dual Carbon Filter 
The Waterdrop Under Sink Dual Carbon Filter (WD-TSC-W / WD-TSC-B) includes a PP filter, CS filter, and CT filter.
This model operates at an operating temperature range of 5-38℃ / 41-100℉ and features an integrated waterway to prevent leakage.
The system comes with a set of necessary components for installation​​.
Pros:
Multiple filters for comprehensive water purification.
Compact design suitable for indoor use with a wide operating temperature range.
Includes all necessary components for installation.
Energy-efficient with a low power specification of 4.5V.
Cons:
Might require more frequent filter replacements due to multiple stages.
The dual filter system may have higher initial cost and complexity compared to simpler models.
These Waterdrop undersink filters offer a variety of options to cater to different water filtration needs, combining functionality with ease of use.
Whether you're looking for a simple filtration solution or a more comprehensive system, Waterdrop's range has you covered.
Other Waterdrop Filters
Exploring alternative Waterdrop filters reveals a variety of options catering to different needs.
Let's delve into three distinct models: the King Tank Gravity Filter, the Waterdrop Electric Dispenser, and the Chubby Pitcher, each offering unique features and functionalities.
King Tank Gravity Filter 
The Waterdrop King Tank Gravity Filter stands out for its comprehensive filtration capability, effectively reducing a wide range of contaminants.
It utilizes black and fluoride filters alongside a premium carbon block to absorb impurities like sediment, rust, sand, odor, and bad taste. This filter system is efficient in chlorine reduction and improves water taste and quality significantly.
Its white fluoride water filters are adept at reducing up to 98% of fluoride, ensuring better-tasting and odor-free water.
The King Tank's large size is ideal for meeting household water needs, and it comes with handy accessories like a water-level spigot and an anti-slip stand.
Pros:
The King Tank offers comprehensive filtration, effectively reducing contaminants in water with black and fluoride filters.
Efficiently absorbs several impurities such as sediment, rust, sand, odor, and bad taste.
Ideal for meeting household water needs due to its ultra-large size.
Jointless and user-friendly, ensuring ease of use and maintenance.
Cons:
At a higher price point, it may not be the most budget-friendly option for all users.
Users mentioned a noticeable taste associated with the filter.
Waterdrop Electric Dispenser
The Waterdrop A1 RO Hot and Cold-Water Dispenser is a countertop system providing both hot and cold purified water.
It features a 6-stage deep filtration system, removing impurities, chlorine, heavy metals, and contaminants. The reverse osmosis technology ensures exceptional purity, suitable even for children and the elderly.
This model is environmentally friendly with a 2:1 low drain ratio, conserving water effectively.
Its OLED touchscreen interface is user-friendly, offering easy control over functions like temperature adjustment, filter life tracking, and child lock activation.
Pros:
Ensures the removal of a wide range of impurities, chlorine, heavy metals, and contaminants.
Provides unparalleled water purity, making it suitable for all household members.
Features a 2:1 low drain ratio, minimizing wastewater production and promoting environmental sustainability.
Equipped with an intuitive OLED touchscreen for easy operation and monitoring.
Cons:
Filters may require replacement every 6 to 12 months, depending on water quality and usage, which could be a concern for some users.
Despite being energy efficient, the rated power of 1,700W for heating might be a consideration for those mindful of electricity usage​​.
Chubby Pitcher
The Waterdrop Chubby Pitcher is a 10-cup water filter pitcher known for its efficient filtration, ergonomic design, and ease of use.
It features a 7-stage filtration process, NSF 42 certification for chlorine, taste, and odor removal, and NSF 372 certification for lead-free water.
The pitcher filters out various contaminants including heavy metals and sediments.
It also has an intelligent indicator for filter replacement and can filter up to 200 gallons before needing a replacement. Its design is BPA-free, durable, and fits easily in most fridges
Pros:
Ensures effective removal of heavy metals and other contaminants, providing clean and safe drinking water.
NFS 42 certified for chlorine, taste, and odor removal, and NFS 372 certified for lead-free water.
Automatically detects water quality and indicates when filter replacement is needed.
Easy to use with a spout lid that opens automatically and doesn't require lid removal for refilling.
Cons:
Not specifically designed to handle hard water, which may limit its effectiveness in certain regions.
Difficulty in removing stickers from the product can be a minor inconvenience for user
Each of these Waterdrop filters offers unique advantages and some considerations to be mindful of, catering to different user needs and preferences in water purification.
Why We Like Waterdrop (Pros)
Waterdrop products stand out for various reasons, each contributing to their growing popularity:
Advanced Filtration Technology: Waterdrop filters use multi-steps in its filtration systems, including reverse osmosis, to effectively remove a wide range of contaminants, ensuring cleaner and safer drinking water.
Eco-Friendly Features: Many Waterdrop products feature water-saving designs, like the low drain ratio in the A1 RO dispenser. Tips for the eco-friendly buyer, Waterdrop is constantly demonstrating their commitment to environmental sustainability.
User-Friendly Design: Waterdrop's products are designed with the user in mind, featuring intuitive interfaces, such as the OLED touchscreen on the A1 RO dispenser, for ease of use.
High Capacity and Efficiency: Products like the King Tank Gravity Filter offer large capacities, meeting the daily water needs of households efficiently.
Quality Certifications: Waterdrop's commitment to quality is evident in their certifications, such as NSF 42 and NSF 372 for the Chubby Pitcher, ensuring the removal of harmful substances and lead from water.
Innovative Features: Unique features like the intelligent indicator in the Chubby Pitcher, which automatically detects water quality and indicates when to replace the filter, set Waterdrop apart.
Durability and Longevity: Waterdrop products are built to last, with robust construction and long filter lifespans, reducing the need for frequent replacements and maintenance.
Versatility: Offering a range of products from pitchers like the Chubby to countertop dispensers like the A1 RO, Waterdrop caters to diverse needs and preferences in water purification.
These features collectively make Waterdrop a preferred choice for many seeking reliable and effective water filtration solutions.
Why We Dislike Waterdrop (Cons)
While Waterdrop products offer many advantages, there are a few aspects that could be viewed as limitations:
Filter Replacement Frequency and Cost: Some Waterdrop products require frequent filter replacements, such as every 6 to 12 months for the A1 RO dispenser, which could add to long-term costs.
Initial Investment: Higher-end models like the King Tank Gravity Filter might have a significant initial cost, making them less accessible for budget-conscious consumers.
Limited Effectiveness Against Hard Water: Products like the Chubby Pitcher are not specifically designed to handle hard water, potentially reducing their effectiveness in certain geographical areas.
Energy Consumption: Certain products, particularly those with heating elements like the A1 RO dispenser, may consume more energy, which is an important consideration for energy-conscious users.
These points are essential to consider when evaluating Waterdrop products for personal or household use.
Waterdrop vs. AquaTru
When comparing Waterdrop and AquaTru, several distinguishing factors emerge, shaping the decision-making process for consumers.
Filtration Technology and Product Range
Both Waterdrop and AquaTru utilize advanced filtration technologies, but they differ in their specific stages and methods, impacting the quality and taste of the water.
Additionally, Waterdrop offers a broader product range, including pitchers and under-sink systems, whereas AquaTru is more focused on certain types of systems like countertop reverse osmosis filters.
Cost and User Experience
Pricing is a crucial differentiator, with Waterdrop generally offering more budget-friendly options compared to AquaTru.
In terms of ease of use and maintenance, both brands emphasize user-friendly designs, but they vary in their requirements for filter replacement and installation ease.
Certifications, Environmental Impact, and Support
Certifications are key in assessing reliability and performance. Both brands boast various certifications, but they differ in specifics.
Waterdrop is noted for its eco-friendly features, such as water-saving designs, which may contrast with AquaTru's sustainability efforts.
Additionally, the level of customer support and warranty terms offered by each brand significantly influences consumer satisfaction and trust.
Consumer Reviews and Feedback
Lastly, understanding user perceptions and reviews can provide valuable insights into the real-world performance and reliability of both brands.
It's important for consumers to consider these aspects when choosing between Waterdrop and AquaTru, as each offers unique advantages and potential drawbacks depending on individual needs and preferences.
Conclusion
Our comprehensive Waterdrop filter review highlights the brand's commitment to providing advanced, effective, and user-friendly drinking water filtration solutions.
From the robust King Tank Gravity Filter to the versatile A1 RO Electric Dispenser and the convenient Chubby Pitcher, Waterdrop caters to a wide array of household water filtration needs.
While considering factors like cost, filter replacement frequency, and suitability for specific water types, Waterdrop stands out for its innovative technology, eco-friendly initiatives, and diverse product range.
Ultimately, whether for individual use or family needs, Waterdrop offers reliable and efficient options for improving water quality and taste.
Disclaimer: Water Tech Advice is supported by readers. If you buy something through a referral link on our site, we may earn an affiliate commission at no extra cost to you. Learn more.
Last Updated on October 25, 2023