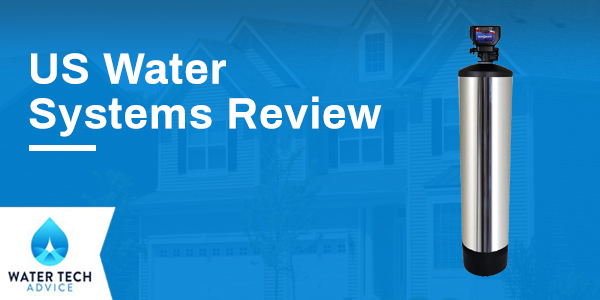 US Water Systems (USWS) is a company that has made a big impact in the water filtration marketplace in just a short time.
That's something that certainly has gotten our attention here at Water Tech Advice.
That's why we thought it was important to take a closer look at its products by taking the time to review some of this company's reputable residential and commercial water filters.
About US Water Systems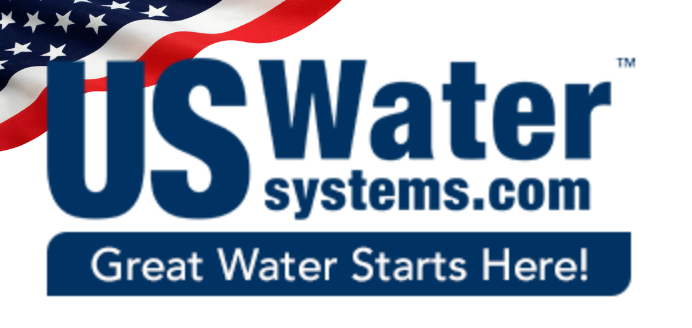 At just 20 years old, US Water Systems is one of the newer players in the water filtration marketplace, but don't let that fool you as far as the quality of its products is concerned.
The top management at the company has over 300 years of combined water treatment experience and its products are on par with some of the best water filtration equipment that we have reviewed such as those made by Springwell and Pentair.
This includes water softeners, reverse osmosis systems, and whole-house water filters. The company is also well-known for its unique commercial water filtration equipment, some of which we will also take a closer look at.
US Water Systems Top Products Reviewed
1. Bodyguard Plus Whole House Water Filter
You would be hard-pressed to find a better whole-home water filter than this one made by USWS. It features an advanced design that includes everything from remote Bluetooth control connectivity to a multi-stage filtration system that significantly reduces or removes Chlorine, pharmaceuticals, Pesticides, VOCs, THM, TCE, PCB, herbicides, industrial solvents, bacteria, cysts, viruses, and many more.
Main Features & Benefits
Among its most important features are smart valve technology with Bluetooth capability, its VortexTM water distribution technology, and the generous flow rates as water passes through it. It also eliminates water waste and is a carbon-neutral product.
Other Benefits & Drawbacks
One of the nice traits of the Bodyguard Plus Whole House Water Filter is that while it eliminates many harmful water contaminants it does not remove minerals that are important for the body and help make water taste better.
One of its biggest drawbacks is that even though the company recommends it be used in conjunction with a sediment pre-filter, they do not include one with the purchase.
Overall, we think this whole house filter is a great product if you're looking for one of the top of the line units.
---
2. US Water Matrixx Smart Metered Water Softener
As is the trend with modern-day salt-based water softeners, this one by USWS has built-in water and salt-saving features while at the same time, it uses a very efficient ion exchange hard water mineral removal process.
Main Features & Benefits
Some of its most important features include a Matrixx Smart Metered control system (Bluetooth compatible) with one-touch programming that saves as much as 70% on salt consumption and wastewater produced. Its main tank also includes advanced VortexTM water distribution technology.
It offers an impressive hardness removal capability with models from 27000 to 70000 grains and an awesome flow rate max of 27 GPM.
Other Benefits & Drawbacks
The US Water Matrixx Smart Metered Water Softener is an eco-friendly product that almost completely removes all of the limescale-causing minerals that pass through it.
Those that look at purchasing this quality water softening system are often hesitant because of its price. Salt-based water softeners also require more maintenance than salt-free water softener versions.
---
3. Defender Whole House Reverse Osmosis System
USWS has come up with a very unique product in the Defender. That's because most reverse osmosis water treatment systems only service the water that comes out of a kitchen sink tap. This one provides purified water that is drinkable quality to every faucet and water tap in a home.
Main Features & Benefits
Its reverse osmosis technology can eliminate or significantly reduce such waterborne contaminants as Protozoa, Bacteria, Viruses, Lead, Chromium, Copper, Chloride, Sodium, and more.
An additional built-in ultraviolet light sanitizer physically alters bacteria, viruses, and cysts into a harmless state to provide extra health protection.
Overall, the technology on this whole home RO unit is legit and if you can afford it you won't be disappointed.
Other Benefits & Drawbacks
Very few types of water filters do as good a job of purifying water as reverse osmosis systems such as this one does. The fact that it provides whole-house quality drinking water is a nice bonus.
This system does not remove chlorine very effectively, so it's best used in conjunction with a carbon-based whole-home water filter that does. Of course, this will drive up the price of your water filtration setup.
---
4. US Water All American 6 Stage Alkaline RO System
Here is a very good point-of-use reverse osmosis water treatment system that also offers some of the supposed benefits that come from drinking slightly alkaline water. It produces water that's alkalinity typically ranges from 8.5 to 10.0.
Main Features & Benefits
Six built-in filtration stages do the heavy lifting as far as contaminant removal in this under-sink style reverse osmosis filtration system.
These effectively remove chlorine taste, odor, and smell plus Chloramine, Lead, Cysts, and many other industrial chemicals, solvents, heavy metals, herbicides, and pesticides.
With this unit you will be getting high quality filtered water that's also alkaline which offers the benefits of alkalinity.
Other Benefits & Drawbacks
Not only is this a very impactful water filter, but it stores nicely out of sight under a sink and includes everything needed for easy installation.
Reverse osmosis filters are known to remove some healthy essential minerals too.
---
5. Commercial Cannabis RO Filter
Here is a water filtration product that provides the high purity of water that is recommended when growing cannabis. The water this treatment system produces can also help in the cannabis oil extraction process.
Main Features & Benefits
The purified water that this unit produces is known to promote bigger yields and a higher-quality end product. This product comes in sizes that can support large and small cannabis growing operations.
The main benefit USWS offers with a more expensive investment like this is that they are willing to customize your solution and work with your business to create the right cannabis filter for your operation.
Other Benefits & Drawbacks
It comes highly recommended by those hemp/cannabis growers that have used the water it produces. They even work well with even the poorest quality water supply.
The downside is these systems have a very high price tag but it's often worth it for the return on investment.
---
6. Commercial Food Service Filter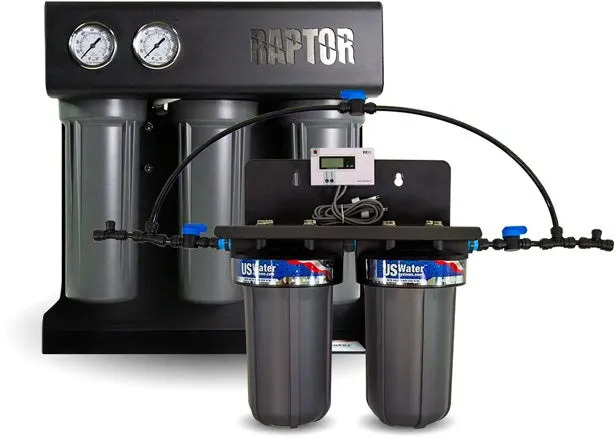 With this product, USWS has shown that it understands that water makes up over 95% of most of the beverages that are provided to customers by the food service industry. Even slightly poor-quality water can significantly alter the taste of a beverage. It provides filtered water for coffee shops, restaurants, and many other types of commercial food service businesses.
Main Features & Benefits
It can be used for both large and small operations to make purified water for beverages. These can also be placed on the lines of ice-making machines.
Another main benefit is it contains a 7-step purification process as well as a compact design that will fit in and look nice in your service business.
Make sure to reach out to USWS if you're interested in this high-quality commercial system as they do a great job working with customers to fit the ideal solution.
Other Benefits & Drawbacks
USWS has established a leasing program for these somewhat costly specialty water purifiers for beverages.
When not leased, these systems can run over $2000.
---
7. Commercial Craft Beer Filter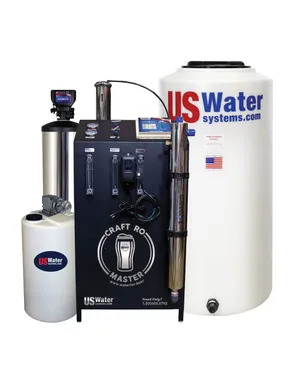 Making craft beer commercially and at home has become all the rage over the last decade. USWS smartly realized that there was a void when it came to providing purified water for the craft beer-making process which would not impact the taste. Hence its popular Commercial Craft Beer Filters were born.
Main Features & Benefits
These ground-mounted systems that provide purified water for craft beer making can produce 5 to 120 barrels per day of reverse osmosis treated water.
The system also offers a 99% reduction of contaminants, smartphone total system control, and 75% recovery rate where most commercial RO system offer 15%.
Other Benefits & Drawbacks
They remove or significantly reduce the main contaminants that can impact the taste of custom-created beers.
USWS Commercial Craft Beer Filters can take over a month to be shipped once ordered and come with a high price tag.
---
US Water Customer Service and Guarantees
The 'about us' page on the US Water Systems website goes out of its way to mention that they are a woman and minority-owned family business enterprise that likes to go above and beyond when it comes to customer service.
I found nothing in my research of many customer reviews that would refute the latter part of that statement. Most reviewers even applaud the company's customer service in reviews.
US Water Systems warranties are above average in my opinion too. While they do not offer any money-back guarantees, many integral water filtration equipment parts such as tanks come with a lifetime warranty. There are also generous 10-year warranties on valves and other important components and even 5-year warranties on the media in its water filtration products.
Overall, they have great customer service and guarantees.
US Water Systems Specialty & Downsides
USWS tends to be an innovator when it comes to residential water filtration products. A good example is the advanced Bluetooth control valve in its BodyGuard Plus Whole House Water Filtration Systems. It has also carved out a niche for several useful and unique commercial water filtration needs.
After reviewing their products we believe they are right at the top in terms of quality of parts and systems. You can't go wrong with getting a great product with USWS.
Like with any type of product, US Water Systems' water filtration equipment is not problem-free, but issues with them seem to be very infrequent and well-covered by the company's warranties.
Among the biggest complaints about US Water Systems products is that they are priced to the high side of those in the water filtration marketplace.
How Does US Water Systems Compare to Competitors
US Water Systems vs Springwell
Very few companies can go pound for pound when comparing their products with ones made by Springwell, but those made by USWS come very close. That's a testament to the thought that goes into the designs of the water treatment products that US Water Systems Manufactures.
We would say that USWS quality and effectiveness of products stands up to Springwell but Springwell takes the crown on guarantees and bang for the buck.
---
US Water Systems vs Aquasana
Aquasana is a reputable producer of such notable water treatment equipment as salt-free water conditioners and whole-house filtration systems. They are among some of the best that are made.
After comparing and reviewing both brands we believe that USWS is better quality than Aquasana although Aquasana offers one of the best combination systems that allows for customization.
US Water Systems vs Pelican Pentair
We have already favorably compared USWS water treatment equipment with two heavyweights in the industry, Aquasana, and Springwell. They also compare very favorably to water treatment equipment made by another reputable company Pentair. Its Pelican brand of water filtration equipment is also top-rated in many cases.
Similar products made by US Water Systems such as its whole house filters and salt-based water softeners are as good or even better than those made by Pentair in my opinion.
Conclusion
As you read through these reviews on US Water Systems products, you most likely noticed that there were not many negative comments about this company's water filtration equipment.
That's why we here at Water Tech Advice have no problem recommending them for purchase. They are truly among the best water treatment products that we have taken a closer look at.