Founded in 1983, Richmond is a branch of the renowned tankless water heater giant, Rheem.
While upholding Rheem's quality standards, Richmond differentiates itself by creating its own advanced technology for diverse residential and commercial heaters.
Let's take a closer look at some of Richmond's top tankless water heaters of 2023.
Top 5 Richmond Tankless Hot Water Heaters
IMAGE
PRODUCT
FEATURES

4.4 GPM

Electric, Point of Use and Whole House

99% Energy Efficiency

CHECK PRICE

8.8 GPM

Electric, Whole House

99% Energy Efficiency

CHECK PRICE

7.0 GPM

Gas, Whole House

81% Energy Efficiency

CHECK PRICE

8.4 GPM

Gas, Whole House

82% Energy Efficiency

CHECK PRICE

2.68 GPM

Electric, Point of Use

99% Energy Efficiency

CHECK PRICE
About Richmond
Selling to customers throughout the U.S. and Canada, Richmond manufactures a variety of water heaters. These use electric, gas, and solar as their fuel sources and are available as tank, tankless, or hybrid models.
Although the majority of Richmond heaters are tank models, the most energy-efficient and technologically-forward models are all tankless heaters. These are designed to meet a diverse range of water needs.
Where Are Richmond Water Heaters Made?
Richmond has separate manufacturing plants from Rheem. It manufactures its water heaters in Canada, Mexico, and Australia. The company also has a corporate office in Atlanta, Georgia.
Richmond Tankless Water Heater Reviews from Consumers Online
Customer reviews for Richmond water heaters all mention the high quality of these units.
Quality is assured by the extensive testing every unit must go through before it becomes available for sale.
The same process also ensures that the water heaters are reliable, that performance is consistent across every product line, and that models all meet government regulations.
Testing takes place at the Richmond laboratory as well as at third-party locations to ensure impartial results.
In addition, customers report that they were able to receive a replacement water heater straight away when they received a heater with even just a minor flaw.
Installing Richmond Tankless Water Heaters
Electric tankless heaters from Richmond are particularly easy to install. They are small enough to fit almost anywhere in your home. Some models (such as the RMTEX-18) have bottom ¾-inch NPT water connections.
Installing gas water heaters is always more complicated. As working with gas has the potential to be dangerous, you will need to hire an experienced HVAC technician. However, installation should be simple, even for professionals who have never worked with your model of Richmond water heater before.
All gas models are compatible with a ½-inch gas line and have a 3-inch/5-inch concentric vent system along with an integrated condensate collector. Plus, they connect to Metalfab 3-inch/5-inch concentric venting without needing an adaptor.
Richmond Tankless Water Heater Problems
Water heaters from Richmond rarely suffer from problems, provided the owner carries out basic maintenance and uses the heater as intended.
For instance, to prevent problems, all the tankless heaters from Richmond are fitted with corrosion-resistant heating elements. As a result, the heating element lasts longer, other components are protected from damage, and the heater maintains its efficiency for many years.
Heaters in the Encore RMTG series even have an optional maintenance notice setting. You can activate this if you want to receive an alert when your heater has run for 500 hours. It will remind you that it is now time for a service check.
Richmond Tankless Water Heaters Warranty and Customer Service
You can easily reach the Richmond customer service department. On the Richmond website, you'll find an online form to submit a question, complaint, or comment. Alternatively, you can speak to someone directly during business hours.

All water heaters in the Essential series come with a 5-year warranty for the heating chamber and a one-year warranty for parts. This is similar for most tankless heaters on the market.
The warranties for the Encore RMTG series are even longer. You'll receive a 12-year limited warranty on the heat exchanger, a five-year limited warranty on parts, and a 1-year warranty for labor.
Types of Richmond Water Heaters
All Richmond tankless water heaters are compact, including the most powerful model: a gas unit that provides 9.5 GPM. Even some of the Richmond electric heaters are suitable as whole-house units in any climate, although the smaller models are better for use with a single appliance.
Richmond Essential Series
The Essential series consists of just tankless electric water heaters. The series is made up of a number of whole-house and point-of-use heaters. Some of the models are suitable for both multiple appliances or a single application — it all depends on the incoming water temperature.
The smallest model in the range is the RMTEX-04 (a 3.5 kW-unit), which provides just 0.9 GPM. This is just about enough for a single sink in a hot climate. The largest is the whole-house, the RMTEX-36 (a 36 kW-unit), which is suitable for average to large homes.
RMTEX-18
Although Richmond markets the RMTEX-18 as a whole-house unit, it only supplies 4.4 GPM. This is likely to be enough for a condo or a small house in a warm climate, but it is more suited as a point-of-use water heater for homes in cold climates.
Like other water heaters in the Essential series, the RMTEX-18 has copper immersion heating elements with brass tops. These are threaded to make them easy to replace, although users will only need to change them infrequently, as they are designed to be durable. The RMTEX-18 has two of these elements.
Additional features of this model include advanced self-modulation and external digital thermostat control. The first ensures that the unit adjusts power to meet your demand for hot water while avoiding wasted energy. The thermostat is accurate to within one degree, which gives you great control over the temperature of the water.
RMTEX-36
The largest of all the models in the Essential series, the RMTEX-36 is ideal if you are looking for a solution for an average-size or large home and you'd prefer to have electric than gas. Offering 8.8 GPM, it can provide enough hot water to supply most (if not all) of your appliances at the same time, even if you live in a cold climate.
Like the RMTEX-18, the RMTEX-36 has a highly-accurate thermostat that controls the knob on the front of the unit. The temperature appears on an LED screen. As the unit is more powerful than the RMTEX-18, it has four copper immersion heating elements. Again, these are field serviceable.
RMTEX-11
The RMTEX-11 is one of the larger point-of-use units in the Essential series, providing 2.68 GPM. Extremely energy efficient, it is a great option for replacing a tank water heater, as it will give you hot water on demand for as long as you require it. You can set the temperature anywhere you want from between 80 and 140 degrees Fahrenheit, changing the thermostat in single-degree increments. The temperature appears on a digital display on the front of the unit.
Similar to the RMTEX-11 are the RMTEX-08 (it has a flow rate of up to 1.95 GPM) and the RMTEX-13 (with a flow rate of up to 3.17 GPM). Other than the power, there are few differences between these three models in the Essential series.
Encore RMTG Series
Gas water heaters are never as high efficiency as electric heaters. However, since gas as a fuel source is cheaper, they cost less to run. All the heaters in the Encore RMTG series are mid-efficiency, but they still more energy efficient than those of many other brands. This is mainly because of the low-input pilot, which reduces the amount of gas that the heaters use when on standby. In addition, they have low-emission burners to reduce fuel needs, making the models more environmentally friendly and cost effective.
All water heaters are non-condensing. Some are designed for indoor use; others for outdoor use.
7.0 Outdoor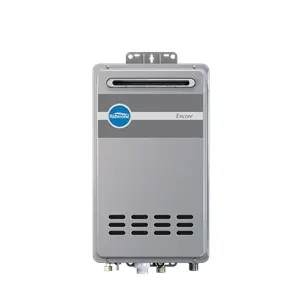 It may be the smallest model in the Encore RMTG series but the 7.0 outdoor model is ideal for all situations when you need hot water, since it reaches a maximum of 7.0 GPM. It has a minimum activation flow rate of 0.40 GPM and an even lower minimum flow rate of just 0.26, meaning you'll receive hot water even when the flow is extremely low.
To prevent wastage of heated water, the 7.0 model is recirculation kit ready. Although recirculation kits incur an additional cost, they can save you thousands of gallons of water every year, meaning they are cost effective. To improve comfort, the unit also has hot-start programming — this keeps it in a ready-fire state at all times. As a result, you'll have hot water at the instant you need it, preventing a cold stream of water when you open the faucet.
Some additional features of the 7.0 outdoor model include a digital remote control, the best side-to-side clearance in the industry at ½ inch, and 10 feet of thermostat wire included with the heater.
There is also an indoor version of this model. It has a slightly higher energy efficiency of 0.82 UEF (compared to 0.81 UEF). However, it is necessary to have a suitable setup to install a gas heater indoors (including 120v of power). Otherwise, you'll need to undergo more expensive installation. The outdoor version comes with freeze protection for temperatures as low as -30 degrees Fahrenheit, making it suitable for almost any setting.
8.4 Indoor
For greater hot water needs, you have the 8.4 indoor model in the Encore RMTG series. With 8.4 GPM, it can heat enough water for most homes, including in the coldest environments. Better still, it functions at up to 8,400 feet above sea level.
In addition to having an energy efficiency rating of 0.82 UEF, its ultra-low NOx burner makes this model a green choice. It is also safe, using Guardian OFW overheat film wrap. This allows you to set the thermostat high and avoid the heater reaching a dangerous temperature. You can set the thermostat has high as 140 degrees Fahrenheit (just like the electric models). If you need to reach a higher temperature, such as for commercial usage, you can purchase an upgrade kit.
This is another model that is available in both an indoor or outdoor version. If you choose the outdoor model instead, you should note that it has a lower energy efficiency rating of 0.81 UEF — which is only a minor difference. It is still significantly higher than the energy efficiency of any tank model.
Where to Buy Richmond Water Heaters
You can find all the above Richmond water heaters for sale on Amazon, where you'll also find the technical specifications for each model. In addition, you can find many other top-rated Richmond water heaters, including larger models in the Encore RMTG series and a wider range of sizes in the Essential series.
If you still want to review all the top brands before purchasing, see our overview here.