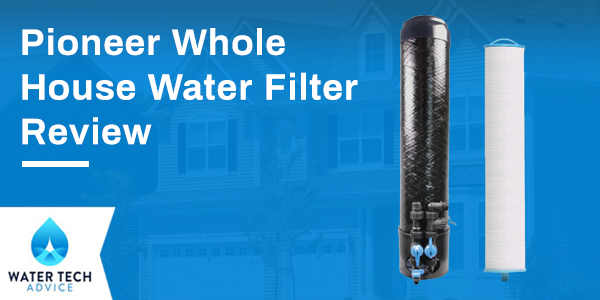 If you are one of the 8-million Americans that has an increased chance of having harmful lead in your drinking water, then looking for a whole house water filter to remove or reduce these things is a great idea.
The problem is most normal whole house filters are not made for that. You will need one that's specially designed to remove or reduce lead and some other very specific water contaminants.
One of the better water treatment systems for doing that is the Pioneer Whole House Water Filter.
It has been proven to be an effective means of removing both particulate lead and soluble lead, cysts, and other harmful impurities from your drinking water
That's why I've written a full review on the Pioneer Whole House Water Filter.
Pioneer Whole House Filter Key features

Here is what I like best about the Pioneer whole home lead filter:
Impactful Carbon Block Filtration
By far, the highlight feature of this water treatment product is how well its carbon block filter element removes several different types of water contaminants.
This is made possible by its filter element's small 5-micron pore size.
It's something that enables this water filter to remove up to 99.62% of the lead particles that pass through it. This filter also can eliminate up to 97.8% of the PFOAs and PFOSs from the water that is treated by it.
99.95% bacteria, virus, and other types of waterborne cyst removal are also accomplished by its advanced carbon block filter.
This system is great for city water because it also removes a significant amount of chlorine (around 90%) and chloramines (around 85%) that come into contact with its filter media.
In addition, it will also filter out such large particle sediments as sand, dirt, and rust that Are 5-microns in size or larger.
This is better performance than you will get with most types of whole home water filters.
100,000-Gallon Useful Life
The replacement filter cartridges for this system are a little pricey (around $500). But don't let that turn you off too much as far as purchasing this whole-home water filter goes.
The reason for this is the system's filter cartridges have a very long useful life. That is up to 100,000-gallons of water.
That means you are more than likely to go a year or more before having to change out your Pioneer Whole Home Filter cartridge.
Filter Status Indicator Lights
One of my biggest complaints with many different types of water filters that use cartridges is that they don't have any means to indicate when a filter cartridge needs to be replaced.
That is not the case with the Pioneer point of entry (POE) water filter. That's because the manufacturer (Enpress) decided to put filter cleanliness indicator lights on the system.
Green lights indicate the filter element is good, yellow lights mean that there is 10% remaining on the filter's life (time to purchase a new one), and red means the filter element needs replacing.
Space-Saving Design
Some people are opposed to purchasing POE filters because some models may take up too much space in a garage, basement, or other installation location.
That is most certainly not the case with this Pioneer point of entry filter with its space saving design,
The tank on this whole house filtration system is only 8" in diameter and 40" tall.
NSF/ANSI 53 & P473 Certifications
Very few whole house filters come with as many respected 3rd party certifications as the Pioneer water filter does.
Those certifications include NSF/ANSI standard 53 for impactful lead removal and cyst elimination. There is also an NSF/ANSI P473 certification for PFOA PFOS removal.
So you can rest assured that particulate lead removal in your drinking water will be performed well by this whole house
Pros & Cons
Here are the good and bad traits of this whole house water filter:
Pros:
Impactful carbon block filtration
Removes particulate lead, soluble lead, cysts, and more
5-micron sediment removal
100,000-gallon useful life
Filter status indicator lights
Rustproof non-metallic surface
Space-saving design
Good filter life
Low maintenance
NSF/ANSI 53 & P473 Certifications
Great for those on city water supplies
Cons:
Not recommended for well water
Allows for only a low 8 GPM flow rate operating pressure
Poor warranty
Requires an electrical outlet or hookup
High initial cost
Expensive replacement filters
---
Installation
Are you a DIY type when it comes to installing different home improvement items? Then you will be a big fan of this Pioneer Whole House Lead Water Filtration system.
That's because it does not require much to get it set up and running. All that you really need to be able to do is connect its top valve to the incoming water line and set up a bypass to use when changing the filter element.
The trickiest part of the installation of this whole house water filters installation comes if you do not have an outlet close by to where you want to install it.
It requires a small amount of electricity to run its control head, so in that scenario you will either have to install an outlet near it or hardwire it.
The tank on this whole house filter can also be moved by just one person fairly easily in most cases.
Maintenance
Part of the appeal of this whole house product is the fact that it's virtually maintenance-free once it has been purchased and put in place.
All that is required is that you replace this whole house system's filter cartridge when the filter cartridge status indicator lights turn red.
How Does It Stack Up Against Competitors?
It's not so easy to compare these whole house water filters to those made by other manufacturers.
That's because it has a unique design that enables it to perform efficient soluble lead reduction, particulate lead reduction, remove cysts, and reduce other water impurities.
Its NSF/ANSI 53 & P473 certifications are something that really jumps out at you when taking a closer look at this product because so few POE filters have those types of confidence-boosting 3rd party certifications.
This POE filter also does not show up on our list of best whole house iron filters.
Some Final Words on the Pioneer Whole Home Water Filtration System
If lead reduction and cyst removal are two of your biggest concerns with your drinking water, then I don't see how you can go wrong with this whole house filter. It removes both of these impurities at a better than 99% clip.
It will purify your home's drinking water in many other ways too, that will help you keep you and your family healthier.
This will of course be a trade-off for its high initial cost and its expensive replacement filters (these will last over a year). The low flow rate may also be of concern to you.
So, the bottom line with the Pioneer POE Water Filtration System is that if you are willing to pay its higher price tag, it will do a nice job of lead removal and cyst problems in your household water.
Check out all of our top iron water filters here.