Noritz is one of the most important companies in tankless water heaters.
The company invented the first modern tankless water heater back in 1981 — an electric model.
Since then, Noritz has been producing high-quality units that are affordable for the average consumer, including some of the most energy efficient models on the market.
Top 5 Noritz Tankless Water Heaters
IMAGE
PRODUCT
FEATURES

11.1 GPM

0.91 Energy Factor Rating

Propane or Natural Gas

CHECK PRICE

9.8 GPM

0.96 Energy Factor Rating

Propane or Natural Gas

CHECK PRICE

9.8 GPM

0.94 Energy Factor Rating

Propane or Natural Gas

CHECK PRICE

6.6 GPM

0.91 Energy Factor Rating

Natural Gas

CHECK PRICE

6.6 GPM

0.87 Energy Factor Rating

Propane or Natural Gas

CHECK PRICE
About Noritz
In 1951, Noritz was established under the name Noritsu Bath Industry. From that moment on, the company has been a pioneer in heating technology. For instance, Noritz opened its own research center looking into the development of gas boilers and furnaces just five years after its inception. A short time later, in 1966, Noritz released the first ever tankless water heater.
In the 1970s, the company began experimenting with instantaneous water heaters. This lead to the introduction of models like the first auto-off bathwater heater and the first combination instantaneous heater.
However, only in the 1990s did Noritz become a global company. It first expanded into China, then Australia and Europe. It hit the US market in 2002, opening a branch in Lake Forest, California. Since then, it has opened branches other parts of the country.
Despite having produced the first modern tankless electric water heater, today the company just manufacturers gas heaters.
Where Are Noritz Water Heaters Made?
The development and production of Noritz water heaters takes place in Akashi, a city near Kobe, Japan. At this factory, the company produces around 1.1 million water heaters every year. Noritz manufacturers almost all of the components for its heaters in house, outsourcing only a few parts.
Types of Noritz Water Heaters
Noritz currently manufacturers two series of tankless water heaters for residential use: the NR series and the EZ series. The NR series features mid-range heaters, whereas the EZ series has water heaters with medium to high energy factors. The EZ series also has several Energy Star-certified models.
The company also has two series of combination boilers: NRCB and CB. These work as a water heater and small furnace in one.
Noritz Tankless Water Heater Reviews from Consumers
Most consumers report being very satisfied with their Noritz water heaters. In particular, they appreciate that the heaters have the capability to maintain a constant temperature. This is true even when the flow rate of the water entering the water heater from the source fluctuates or when someone turns another faucet on or off.
Other qualities that consumers mention include the quiet operation and the possibility for very low flow rates, which allow for instant hot water in places like bathroom sinks. Customers are also happy with the high efficiency of Noritz water heaters, which leads to savings on utility bills.
Customer Service for Noritz Heaters
Noritz offers several options for customer service. The company has an emergency number, which customers can use to receive support for urgent matters. There is also an online form to receive timely feedback to any queries — customers can even set the priority of their question. To further improve customer support, Noritz has a variety of useful information on the company website, which answers most frequently asked questions.
Warranty for Noritz Heaters
The warranty for Noritz heaters differs according to how you are using the water heater. When you have a heater in a residential setting with one family, you receive a 12-year warranty on the heat exchanger. Commercial products, however, have a five-year warranty on the heat exchanger. Residential products used in a commercial setting or with pre-heater or circulated water receive a three-year warranty on the heat exchanger.
Other parts in the heater come with a five-year warranty. You'll also receive a one-year warranty for labor.
Installing Noritz Water Heaters
As Noritz water heaters are all gas units, an HVAC professional needs to handle the installation. The process is simpler when the heater is installed outdoors than indoors because of the venting needs. Make sure to use the right type of PVC for venting and installation should be easy.
Noritz Water Heater Maintenance
Like all tankless water heaters, Noritz units do require regular maintenance, although less so than tank heaters. The high quality of the parts means that they rarely need any replacements.
NR Series
Some of the water heaters in the NR series are designed for natural gas, others for propane. A few are suitable for either, although you cannot change gas source later. Many of the models can be installed either indoors or outdoors, although many are for indoor use only.
Depending on the model, you may be able to set the temperature to as low as 100 degrees Fahrenheit. All the models reach up to 140 degrees Fahrenheit — they go no higher than this for safety reasons.
NRC661-DV
One of the smaller options in the NR series is the NRC661-DV. With 6.6 GPM, it is suitable for apartments and small homes. If you live in the south, it will provide you with enough water for two bathrooms at the same time or for washing laundry while showering. For homes in a northern climate, it can heat enough water for one and a half bathrooms at once.
The heater has a compact design, which makes it perfect for homes with limited space. You can fit an NRC661-DV comfortably in an attic, garage, or closet — you just need to make sure that it has proper ventilation. The heater can even be installed in a cold area of your home, as it features freeze protection.
Furthermore, there is no need for the heater to be accessible, as you have the option to purchase a remote to control the unit. Better still, you'll find that it is very quiet with no clicking relays.
The NRC661-DV is low NOx and has an energy efficiency rating of 0.91. This means that when you choose this model, you know you'll be minimizing your impact on the environment. It also comes with two heat exchangers: one made of copper and other of stainless steel. They are both corrosion resistant.
Unlike some of the other models in the NR series, this heater only works with natural gas — there is no option for propane. It is also only for indoor installation. However, the similar NRC661-OD is for propane and outdoor installation.
---
NRC98-DV
The NRC98-DV is one of the best water heaters in the NR series. With a GPM of 9.8, it has sufficient flow for almost all homes, including large homes with many occupants in cold northern climates. It is also fast to heat water — about 50 percent faster than a similar electric water heater.
A top feature of this water heater is its condensing system, which reduces the harmful properties in fumes before it expels the gas. Combined with a decent energy factor rating of 0.94, this is an excellent choice for anyone looking to reduce their carbon footprint.
With the NRC98-DV, you can choose between a propane and natural gas model, according to what source of gas you currently have in your home. You can also install the water heater indoors or outdoors — it has freeze protection and overheat prevention to keep it safe.
---
NR111-SV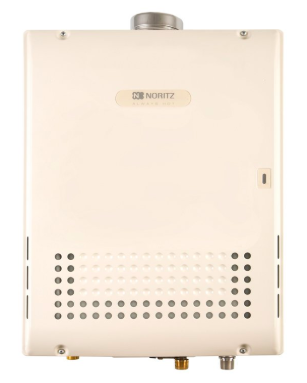 The most powerful option on the list is the NR111-SV. With a GPM of 11.1, it is suitable for the largest of homes. In fact, you'll struggle to find a residential tankless water heater with higher water flow capabilities. With this heater, you can provide hot water to between four and six bathrooms (depending on the climate) and likely still have enough hot water for another appliance.
Although it is almost a commercial grade heater, it is still compact and lightweight. Any HVAC technician will find this heater easy to install.
However, you should decide if you really need this much power before you purchase the heater, as it does come with a high price tag. If you decide it will be worthwhile, its high energy efficiency should mean that your investment will pay off.
Similarly, if you have a very low incoming temperature, this water heater may give you the flow rate you need. For instance, it has a GPM of 8.4 for 50 degrees Fahrenheit rise and 5.2 GPM for a temperature rise of 80 degrees Fahrenheit.
---
EZ Series
There are three models in the EZ series, all of which are ideal for replacing outdated tank models with tankless units using your existing connections. The heaters range greatly in size, the smallest providing 6.8 GPM (sufficient for a small home) and the largest 11.1 GPM (like the NR111-SV above), which is suitable even for some commercial uses.
EZTR40
The EZTR40 was the first tankless water heater to reach the market that allowed homeowners to easily change form an indoor 30- or 40-gallon tank heater to newer tankless technology. It was designed specifically to help homeowners make the switch, no matter whether their tank unit uses natural gas or propane.
Everything you need to make the transition from tank to tankless (such as vent kits and isolation valves) are included with the heater. Depending on your home, you may need a few extras, but the heater does come with all the basics. Plus, its condensing technology means that you can use your existing vent — no expensive renovations are necessary. All this makes it easy to install. In fact, you can expect a shorter installation time than with many other types of tankless gas heaters.
One of the quietest units around, the EZTR40 operates without the clicking relays that are often an issue, particularly with natural gas tankless heaters. For families with no more than two bathrooms, it has a great flow rate of 6.6 GPM. To make it even more appealing, it has an energy factor of 0.87 and is Energy Star rated.
---
EZ98-DV
Another Energy Star-rated heater, the EZ98-DV has an excellent energy factor of 0.96. Like the EZTR40, it is designed to be a direct replacement for a tank water heater, but this time for heaters of 50 gallons. It has many of the same qualities as the other EZ model, including easy installation. For instance, you can vent the heater with a flexible polypropylene vent pipe through your existing metal vent. This saves both time and money.
The EZ98-DV is a good option if you are looking for something similar to the EZTR40, but you have higher hot water needs. This model has a GPM of 9.8, which is perfect for an average-size, or even a large, home. If you need something larger still, you can take advantage of the fact it is Quick Connect compatible. This allows you to link two units together for double capacity. You can control the units by remote control.
---
Where to Buy Noritz Water Heaters
You can find all the Noritz tankless water heaters in the NR and EZ series, including the top five named above, for sale on Amazon. If you are looking for a top Noritz model check out our top pick, the NR-111 SV.
You can also see our roundup review on all the best rated tankless water heaters here.