Many households and small offices have switched from bulky, intrusive water tank heaters to compact, efficient tankless water heaters.
The Navien NCB 240 Combo Boiler and Heater are popular with consumers. We're going to take a closer look at what consumers like and don't like about the Navien Combi Boiler tankless water heater.
Overview of the Navien NCB 240 Combo Boiler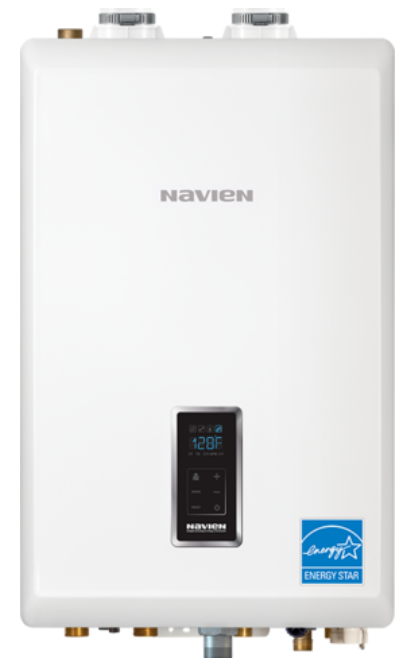 The combination of both a water heater and hydronic system boiler makes the Navien product unique among its competitors.
Domestic hot water demands don't always include a lot of space for a large water tank to service a hydronic heating system. In addition to higher energy demands that tank water heaters require are issues like proper venting, residue build-up, and other concerns that make Navien products a great alternative.
The Navien NCB 240 Tankless Water Heater solves all those concerns.
Technical Specifications
Dimensions – 17 inches (43.2 cm) x 12 inches (30.5 cm) x 28 inches (71.2 cm)
Ignition – Electronic
Fuel – Natural Gas or Propane
Thermal Efficiency Rating – 3%
Flow Rate – 4.5 gallons per minute
Weight – 84lbs (38.1 kg)
Location – Indoor mounting
Venting System – PVC, CPVC, or Polypropylene Cent
Heat Exchange – Stainless Steel (2)
Warranty – 1 yr for labor, 5 yrs for parts, 10 yrs for heat exchangers
Pros and Cons
There are some real bright spots with respect to the Navien NCB 240. But there are also some other aspects which I found troublesome and concerning. Here's my quick rundown:
Pros:
2-in-1 Unit – Tankless Heater and Hydronic System Boiler
Compact Design
Energy Efficient
Eco-friendly
Easy access Front Control Panel
High Flow Rate – 4.5 GPM
Dual Stainless Steel Heat Exchangers
No need for two separate heating solutions
Cons:
Price – $2,200 to $3,600 depending on source
Durability issues
Control Panel hard to operate
The Navien NCB model is currently not available. See our top tankless heater pick with the button below.
---
What to Consider Before Buying
For a home, condo, apartment, or office the Navien combo boilers are a great way to enhance a hydronic heating system with the added benefit of on-demand hot tap water as well. The equipment is well-designed and engineered to last. The Navien system heat exchanger technology combined with simpler venting and waterline connection points enhance the installation of the compact, wall-hung residential water heating solution.
In situations where homeowners want a high-efficiency heating system that also provides hot tap water, this design handles both jobs very well. As a combination boiler and heater, the engineering required to manufacture the NCB 240e makes the inner-workings a little more complicated, but the installation process is made less difficult. Experienced DIY homeowners might be able to handle the installation but it is recommended to employ an HVAC professional to avoid potential problems.
Social Proof & Reviews
Looking through the internet for comments and reviews of the Navien Boiler combo made by buyers of the system gave me some concerns. There were positive and negative comments attributed to the combi boiler Navien manufactures. Here are a few examples:
Reviewer:
"I just put that exact unit in this week, I own a plumbing & heating business in Massachusetts, YES it's a good deal."
Reviewer:
"The guy (Felix?) wouldn't tell me anything to look for as far as troubleshooting. He said only a licensed plumber should look at it. I assured him I wasn't going to work on it, I just wanted help with what I could look for first like error codes. After still refusing to help me in any way, I hung up."
Reviewer:
"I've read many negative comments of early Navien products. Apparently the original products fall into two areas; either faulty parts or poor installation and unfamiliarity by plumbers and diyers with troubleshooting. Fortunately, my choice seems to be an exception to negative reviews as my installation occurred two months ago and now using heat for its first winter. "… already cutting my monthly gas bill in NYC. Heating is perfect and silent."
What I gather from the wide disparity in reviews is that the Navien product is best installed by a professional and it's important new owners read the Owner's Manual thoroughly before using the system.
Navien Features and Benefits
Efficient water heating – saves money on utility costs.
Advanced Heat retention technology – unique condensing efficiency reduces system temperature loss.
Stainless Steel construction – increases product durability while reducing maintenance.
Eco-friendly – 75% reduction in NOx and CO emissions
Illuminated Control Panel – provides easy-to-see temperature information and diagnostics.
Automatic Water Filling System – reduces the need for consumer maintenance.
Combination Boiler and Heater – eliminates the need for two water heating systems.
Competitive Comparison
Given all the technological advancements incorporated into the Navien tankless hot water product, you'd think there wouldn't be a lot of competitors in the marketplace. However, there are a couple of products that come into view that are similar to the Navien NCB domestic hot water system.
Stiebel Eltron Tempra Plus – The Hydro Shark® Modular Panel hydronic water heating system provides both boiler and domestic hot tap water. It requires more wall space as it incorporates two separate units, one water boiler, and the other an in-line water heater. The cost is comparable to Navien NCB 240e costs, depending upon the area to be heated. Stiebel offers the Hydro Shark® in both natural gas and electric-powered configurations.
Rinnai RUR – For tankless domestic hot water boilers and in-line heaters, Rinnai has a broad choice of products. The RUR model line-up includes low-capacity and high-capacity systems with stainless steel heat exchangers like the NCB 240. The Rinnai products come in smaller, compact designs and some models can be placed on the exterior of a building. Product prices are also comparable.
Ecosmart Eco 27 – The Ecosmart domestic water heater is a high-flow system capable of heating up to 6.5 gallons of water per minute. This system is not specifically designed to be a boiler system but rather it is engineered as a whole house tankless hot water system. The Eco 27 would need to be added to a separate hydronic boiler system, requiring additional wall space. The cost for the Eco 27 domestic whole house tankless heater is less than the cost of the Navien NCB 240 due to its limited capabilities for household thermostatic heating.
Conclusion
After looking over the value equations for the Navien NCB 240 tankless system I find some conflicting realities. The system itself is well-designed and engineered, however, I discovered some less-than-glowing customer reviews. There are many advantages to the Navien NCB 240e when it comes to engineering but I had some concerns about customer support and product durability.
Overall, given the unit's higher cost and the need to have it professionally installed, I find this not to be a good candidate for most consumers. Despite claims of easy installation, most of the comments concerning the product's functionality and operation dealt with issues related to improper installation. Competitive products may not have exactly the same specifications when it comes to flow capacity or compact size, however, the advantages of lower cost, lower maintenance, and consumer satisfaction tend to fall in favor of the competition.
In summary, we would recommend checking out one of our top water heater picks from our review here before deciding to purchase the Navien product.