The CuZn UC 200 water filtration system is a good option for an under-sink water filter.
If you're looking for something easy to install and at an affordable price range then this product from CuZn is something to consider.
Compared to other under sink filters I've reviewed I found it to be rather easy to install and maintain.
IMAGE
PRODUCT
FEATURES
 

Filter Stages: 3

Dimensions: 5 x 5 x 15

Other: Compact option

CHECK PRICE
About the CuZn UC 200
What I found most surprising was the CuZn UC 200 hits all the main considerations for a water filter under the sink. Here's what I found:
Installation – by far, this is the simplest installation of any under counter water filter system. There are only two water lines to install. Nothing could be simpler.
Simple design – there's no need for a plumber to install a complicated water tank with multiple filter cartridges and a bunch of water lines that can leak.
Filter life – the UC 200 under counter water filter lasts for up to 50,000 gallons of water. That's as long as 5 years before changing out the filter. That's a very high capacity filter.
Set and forget – after the filter is installed there's no maintenance or upkeep until it's time to change out the filter.
Tech Specs
Size – 4.5 x 4.5 x 15 inches (11.4 cm x 11.4 cm x 38.1 cm).
Filtration – 3 stages with a sediment pre-filter, a carbon filter, and a KDF-55 filter.
Filter Capacity – 50,000 gallons or approximately 5 years of use by a family of four.
Water type filtered – Treated municipal water.
Contaminants eliminated – Mold, algae, herbicides, pesticides, Volatile Organic Compounds (VOCs), heavy metals, sediment, chlorine.
Install – Do-it-Yourself, no plumber needed.
Certifications – National Science Foundation tested to NSF Standard 42 and 61 for improved taste and clarity as well as safe filtration components inside the filter cartridge.
Warranty – 5 years (prorated).
Pros and Cons
With all of the advantages, a CuZn UC 200 under sink filtration system brings to the table, there are a few disadvantages that should be considered as well.
Pros:
High capacity – 50,000-gallon life filter
Easy installation – no plumber needed
3-stage filter – sediment, carbon, KDF-55
Extended warranty – 5 years
Excellent customer service support
Cons:
Tall filter cartridge – 14.5 inches
Not for well water or chloramine-treated water
Doesn't reduce TDS or microbes
---
What to Consider Before Buying a CuZn UC 200
For homeowners, offices, and other environments where flow rate, water supply consistency, and ultra-high capacity is important, this is a great product to install under the sink with little effort. For anyone who wants to avoid a counter water filter system that takes up valuable counter space, this solves that problem as well.
Features and Benefits
The CuZn UC 200 under counter water filter comes with many great features. Here are a few that I found most beneficial:
Micro-sediment filter membrane – filters out rust, silt, debris, and other unwanted sediments.
Coconut Shell Carbon filter – cleans chlorine, heavy metals, and organic chemicals.
Kinetic Degradation Fluxion (KDF) membranes – reduce heavy metal, chlorine, and hydrogen sulfide contamination.
Easy to install – no need to hire a professional to install.
50,000-gallon filter – lasts up to five years for a family or office.
Single cartridge – no additional filters with different replacement schedules.
Low cost – the annual cost of filters averages out to $20 per year, much less than other systems.
Bacteriostatic – not susceptible to bacteria or mold growth.
Made in USA – meets and exceeds many industry standards for water quality.
How the CuZn UC 200 Stacks Up Against Competitors
The number of under counter or under sink water filtering systems in the market is astounding. One thing that jumps out when looking at what competitive products have to offer is the UC 200's simplicity and lack of maintenance. The Aquasana Claryum® Direct Connect system is similar in design and engineering but more powerful if you want a higher quality system.
Another easily installed under sink product is the ClearlyFiltered 3-stage system. This system, like Aquasana's is one of the higher-quality models and we would recommend these over the CuZn if you have the money to purchase them.
Filtering Technology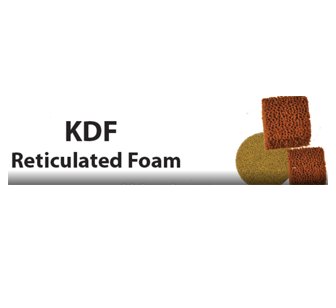 The three filtering stages in the UC 200 cartridge each use a different method for purifying water.
Stage 1 – Micro-sediment membranes remove dirt, rust, and other unwanted solids with a pore size of 0.1 to 10 µm.
Stage 2 – Acid-washed Coconut Shell Activated Carbon eliminates organic contaminants as well as Chlorine, herbicides, pesticides, Trihalomethanes (THMs), and improving taste and clarity.
Stage 3 – KDF 55 membranes eliminate bacterial growth in water along with inorganic toxic minerals like lead, mercury, hydrogen sulfide, bacteria, algae, and other toxins.
**Please note – In those areas where Chloramine is used, CuZn offers its UC 200-85 filter unit. Consumers with well water should consider a Reverse Osmosis system for purification of their water.
Social Proof
Looking through the internet I found purchasers of the UC 200 filter that have given the product some encouraging reviews:
Online Reviewer:
"I emailed CuZn support suggesting that their already good instructions could be improved by including a diagnostic tip that low flow may be relieved by using the sprayer. In this age of lousy support I did this to vent. I didn't expect a response. Imagine my surprise when I checked my email the very next evening and found a reply that included their updated instructions incorporating my suggestion, a nice personal message, and a small goodwill refund. CuZn are a class act. I am all the more impressed because the uc-200 is class leading value, once properly installed, had almost no impact on water flow, and our water tastes great. I have never before wished I could give more than 5 stars, but I'd give this purchase 10 stars if I could."
Online Reviewer:
"I highly recommend water filter. It makes our water taste great, removes the chemical taste and smell usually associated with municipal water sources. We also bought 10 reusable water bottles so as to reduce our plastic waste. The CuZn customer service is exemplary as well. If you need different hoses or fittings to do the installation, just contact the company and they will send you the hoses and/or fittings at no extra charge. I did not have the correct hoses as I had non-standard plumbing under the sink, so I had to go to the local hardware store and get $10 worth of fittings and a hose to get the filter installed. I contacted customer service afterward to see if they had hoses the correct size to work with my set-up. They did not but offered to custom make a filter for me with different fittings at (no extra cost) so I could hook it up more directly. I thanked them and said that wouldn't be necessary as I had found fittings to adapt to what I had. They issued me a $12 refund to cover the cost of what I had spent at the hardware store."
Alternative Products
Before making a big purchase decision like buying a whole house water filter most people will do a good amount of research to make sure they pick the right model for their needs.
Here are a couple of other brands/models that we reviewed and felt were worthy of consideration alongside Aquasana as the best filtration options on the market.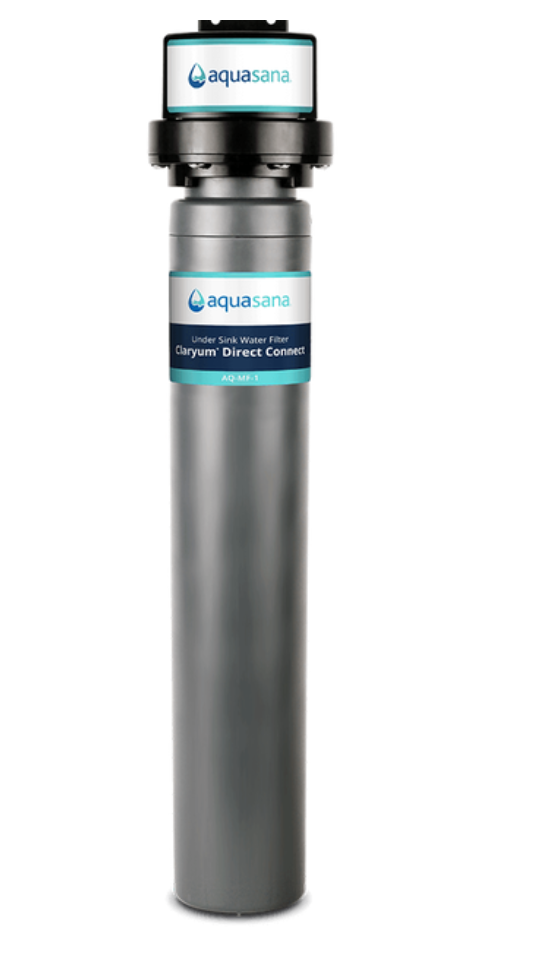 After looking over several under counter systems I found the Aquasana Claryum® Direct Connect cartridge.
What I liked about this product was that it too was easy to install, unlike most under-counter or under sink products available. There were many other similarities between the two systems, however, one drawback to the Aquasana system is that the filter must be replaced after cleaning 784 gallons of water. That means replacing a lot of cartridges over time which raises the maintenance cost significantly.
---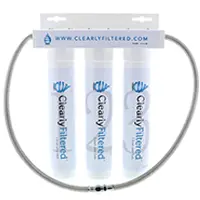 The other alternative, the ClearlyFiltered 3-stage under sink system, is a simple-to-install product with only two connections to join.
The filter cartridges last up to 2,000 gallons, which is superior to the Aquasana cartridge. I also saw that there was a customer who installed the entire system in two minutes. That's impressive!
---
Conclusion
Based upon several factors including customer support, engineering, installation, cost, and ease of use, I find the UC 200 to be good value. It is simple to put in place and takes zero maintenance for up to 5 years.
While the CuZn filter is a good option, I pref the ClearlyFiltered and Aquasana products due to their long filter life, ease of installation, overall filtration capacity, and the kind of customer service people really appreciate. If you're looking into water filtration systems for some ideas and recommendations, I'd consider Aquasana or Clearly Filtered models before CuZn.