So, you have come across the Culligan WH HD200 C during your search for a new whole house water filter.
That's great because Culligan products usually are a reliable option when it comes to improving the water quality in your home.
The problem is, this one may not meet all your water filtration needs.
That's why I am going to help you get a closer look at this filter whose main function is to remove sediment from the water entering your home.
I will go over its best features, some aspects of it that you may not like, and even talk about the maintenance and installation that go along with having it.
This is the best way to determine if the Culligan WH HD200 C will or will not meet your water filtration needs.
Culligan WH HD200-C & WH S200-C Whole House Filter Key Features
If you purchase this model whole house filter (also called a whole home or point of entry water filter), here is what I feel you will really like about it:
Very Impactful for Removing Sediment from Water
Although this is technically a whole house water filter because it will filter 100% of the water that comes into your home, I prefer to call it a sediment filter.
That makes it much more useful in homes with well water compared to city water in most cases. Well water is totally untreated, so it will usually have more sediment type impurities in it than city water.
That's not a problem for the filter cartridges that come with this model point of entry (POE) water filter.
Its different size filter choices do a nice job of removing sediment, rust, scale, dirt, all types of sand, silt, and some turbidity (water cloudiness).
Several Filter Options Available
One of the more unique features that go along with owning the Culligan WH HD200-C filter (1" inlets) or its WH S200-C Whole House Filter system cousin (¾" inlets) is that you can choose different types of filters to use with them.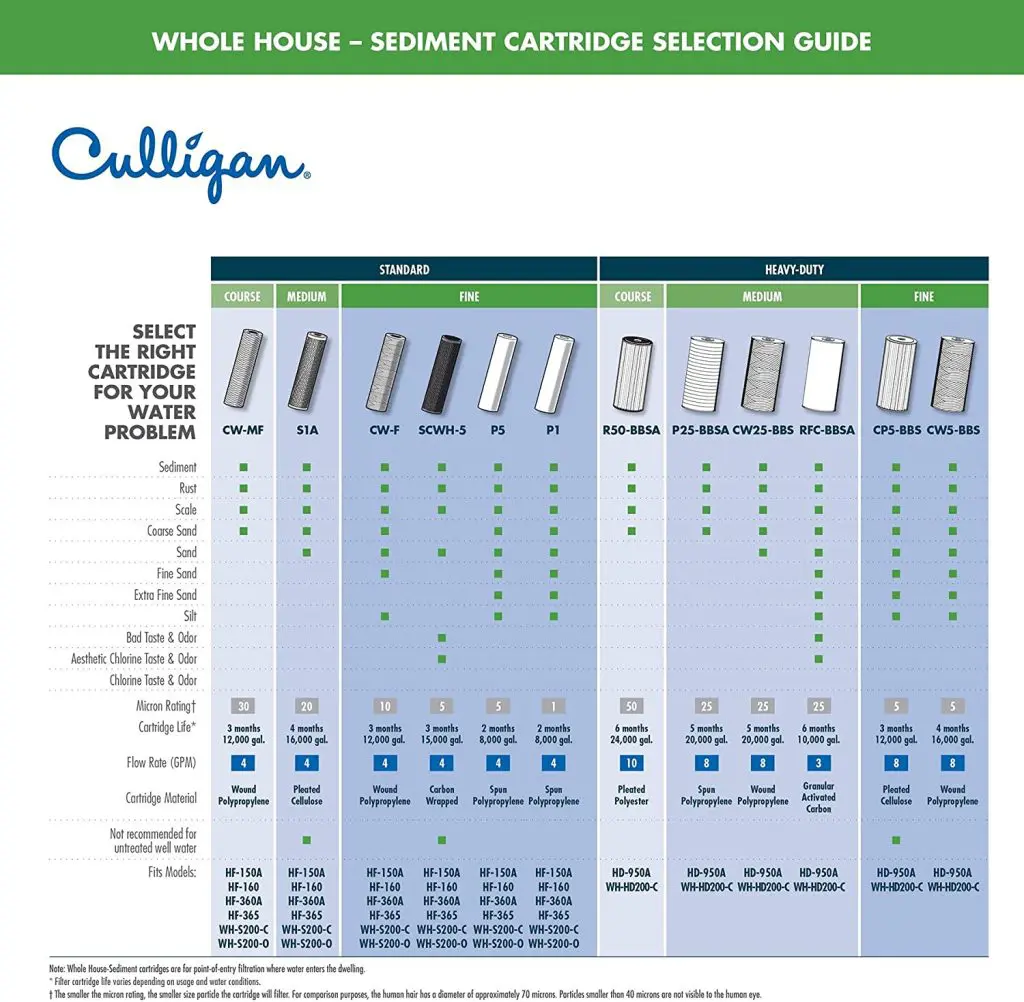 All of them will filter out sediment to some degree but some will do other filtration tasks too.
Such as the RFC BBSA filter that will also increase the aesthetics of your water by removing chlorine and improving it's looks, smell, and taste.
There is also the carbon wrapped SCWH-5 filter which will also remove chlorine to some extent.
The filters that can be purchased for use with this whole home water filter come in all different micron ratings and are made from a wide variety of materials.
Look at the chart above to determine which filter element you can buy for it to meet your water filtration needs.
Durable Body
Although you do have to replace the filter elements on the Culligan WH HD200-C every 3 to 6 months, you will probably never have to replace its filter body.
That's because it's made from a tough and durable Styrene Acrylonitrile material and it's inlet and outlet are made of tough stainless steel.
Even if you drop this water filter on the ground while installing it, there is very little chance that you will damage it because of how sturdy it's made.
Filter Life Monitor
I admire products that take the guesswork out of when you need to replace the filter element such as this one does.
This is accomplished on the Culligan WH HD200-C by means of its included filter life monitor.
You just set it according to the type of filter you purchased for the unit and then it will tell you when that filter element needs to be changed.
Comes with 2 NSF/ANSI Certifications
Third-party certifications let you know that certain aspects of a product have been closely looked at.
This whole home water filter has two of them that are attached to it.
These certifications include NSF/ANSI 372 for low lead compliance and NSF/ANSI 42 which has to do with material safety and structural integrity requirements.
Pros/Cons
Here are the advantages and disadvantages of using the Culligan WH HD200 C:
Pros:
Very impactful for removing sediment from water
Treats 100% of your home's incoming water
Several filter options available
Durable body
Built-in bypass valve
Comes with NSF/ANSI certifications
Excellent price point
DIY installation compatible
Includes 2 NSF/ANSI 3rd party certifications
Inexpensive replacement filters
Stainless steel reinforced inlet/outlet connectors
Low maintenance
Cons:
Not useful for much more than removing sediment and turbidity
Poor filter useful life
Not necessary if you have city water in most cases
Culligan has a strange way of doing business
---
Installation
If you have even minimal knowledge of how to put together plumbing connections, then you should have no problem installing this Culligan product.
It even comes with most of the parts that you will need to do the job except for plumbing pipe and connections.
Included in the package are:
WR-HD housing wrench
Mounting bracket
Filter life monitor and battery
Heavy Duty Clear Sump
Heavy Duty Inlet/ Outlet cap
Maintenance
Taking care of this point of entry water filter is very straightforward and does not involve much.
The filter changes that need to be done every 3 to 6-months are the most common maintenance step that has to be done.
Other than that, it just needs to be checked for wear and tear or leaks.
How Does It Stack Up Against Competitors?
I will start by saying that if used properly as a sediment filter, the Culligan WH HD200 C does a very nice job of removing larger size water contaminants.
It does not, however, do much more than that no matter what type of filter element that you purchase to place inside of it.
That's one of the main reasons that this water filter did not make it onto our list of the best whole house water filters.
My Opinion of the Culligan WH HD200 C
As I stated right away at the beginning of this article, I really do not consider this water filter to be a true whole house filter.
It's much better suited to be used as a sediment filter that nicely compliments a more sophisticated point of entry water filtration system.
The Culligan WH HD200 C does an excellent job of removing large particle-sized contaminants from your tap water and will do that for an affordable price.
There is no way though that I would recommend you to buy this product if you are looking to do more than just remove sediment from your home's water supply.
It also makes an excellent complementary piece for other more extensive POE filter water filter choices.
Check out our list of the best whole house water filtration systems here.