Distilled water, with its 99% purity level, is a preferred choice for many households and medical establishments. Its uses range from CPAP machines and dentistry to steamers and home water use.
However, the vast array of water distillers and complex technical terms can be daunting.
This guide simplifies the process, reviewing the top countertop water distillers and providing a comprehensive buyer's guide to help you make an informed choice.
Best Home Water Distiller Table of Contents
Top 5 Best Countertop Water Distiller Machines Compared
Image
Product
Features
Price

Best Overall

Production Rate: Production Rate: 1 Gallon 5 hours
Materials: Steel & Glass
Price: $$

Check Price

Best Stainless Steel Distiller

Production Rate: 1 Gallon 4 hours
Materials: Steel & Glass
Price: $$$

Check Price

Editor's Choice

Production Rate: 1 Gallon 4 hours
Materials: Steel & Glass
Price: $$

Check Price

Production Rate: 1 Gallon 4 hours
Materials: Steel & Glass
Price: $$

Check Price

Production Rate: 1 Gallon 6 hours
Materials: Glass
Price: $$$

Check Price
Best Water Distillers Review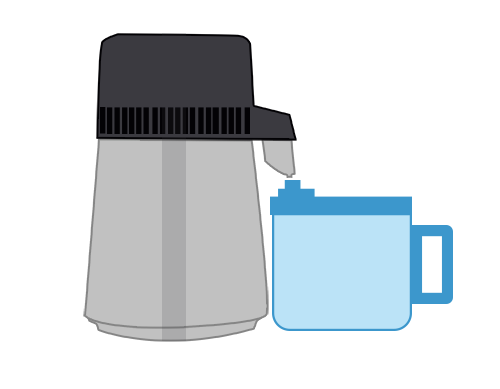 Water Distillers Review Order
We've reviewed each of our top water distiller machine picks below in more detail so that you can decide which product will best solve your water purification problem.
1. Megahome Countertop Water Distillation Chamber
One of the most popular distillers on the market is the Megahome Countertop Water Distiller.
The Megahome water distiller features a glass container and an exterior made of stainless steel.
Those features create a classic and clean design that can blend well within your home's interiors.
A stand-out feature of the Megahome Water Distiller is that it's one of the few on the market that receives approval from the Underwriters Laboratory (UL). A UL certification means that the Megahome Water Distiller is safe and effective to use, and the best water distiller for CPAP users.
Another stand-out feature of the Megahome Countertop Water Distiller is its fast distillation process. The Megahome distiller can produce one gallon of water in five and a half hours.
That makes this unit ideal for households with small families.
You'll also love the wide range of safety features of the Megahome water distiller.
For example, as soon as this device finishes distilling, the heating element automatically shuts off. That feature helps prevent the unit from overheating while simultaneously avoiding potential accidents.
Additional features of this water distiller include:
Boiling chamber cleaner
Glass collection bottle
Porcelain-lined nozzle
This unit also features a stainless steel interior. That helps prevent your purified water from touching any of the unit's plastic parts during the filtration process.
Pros
High-quality safety features.
UL-certification.
Quick water distillation speed.
Practical and sleek design.
Cons
This unit's power cord is too short.
Higher priced.
---
2. Pure Water Mini Classic Stainless Steel Countertop Water Distiller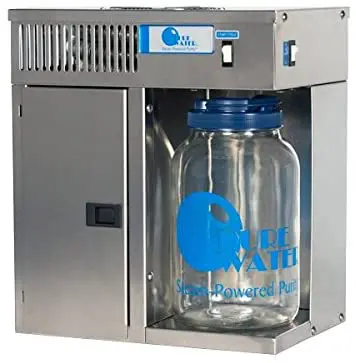 The Pure Water Mini-Classic CT is a best-in-class stainless steel water distiller.
Its stainless steel exterior gives the Pure Water Mini-Classic CT countertop unit a durable and classy feel.
These design features make this water distiller easy to fit into any kitchen design.
Thanks to the Pure Water Mini-Classic CT countertop container, this distiller can purify up to three liters of distilled water every three and a half hours.
That makes this unit ideal for small-to-medium families.
A stand-out feature that makes Pure Water one of the best water distillers is that it's hygienic and easy to use. That means there's no need to connect a Pure Water unit to your kitchen's tap water line. That makes the Pure Water CT Counter Top Distiller easy to use anywhere throughout your home.
Another stand-out feature of the Pure Water CT Counter Top Distiller is that once the water is distilled, it never comes into contact with the unit's plastic parts.
Thanks to this system's activated carbon post-filter, you don't have to worry about anything re-contaminating your water. You'll find seven activated carbon filters in the Pure Water distiller that work to remove contaminants from your water.
Like other water distillers in this round-up, the Pure Water Mini Classic ct counter distiller automatically shuts off its heating element when water distillation is complete. It's also easy to use and maintain. This unit is also self-sterilizing, which makes maintenance quick and straightforward.
Additional features include:
Automatic shutoff
Produces 0.8 gallons (around 3 liters) of water every 3.5 hours
15-year warranty on stainless steel
Pros
Quick water distillation speed.
Easy to maintain and self-sterilizing.
Safety features increase longevity and prevent accidents.
High-quality stainless steel exterior.
Cons
Some consumers find this water distiller too big and bulky.
Others believe that the Pure Water Mini Classic is too expensive.
---
3. CO-Z Stainless Steel Water Distiller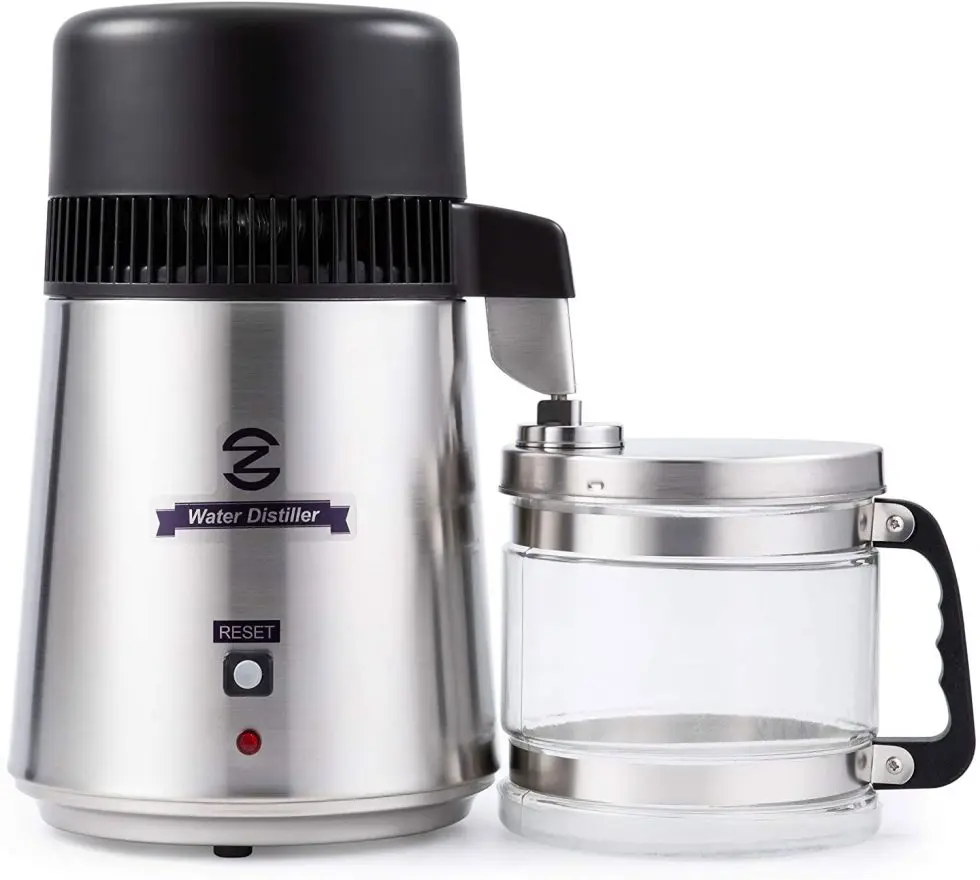 The first thing you'll notice about the CO-Z Stainless Steel Water Distiller is its classic and sleek design. Its design features a combination of glass and stainless steel, making it an attractive addition to your kitchen appliances.
Because this water distiller's manufacturer created this distiller with practicality and comfort in mind, making this unit easy to use and maintain. All you do is press one button, and it's ready to go. Its stainless steel design is easy to clean by wiping the outside down whenever dirt accumulates.
A stand-out feature of this unit is how quickly the water is distilled. Compared to other water distillers on the market, the CO-Z features a distillation process of a quarter gallon of water every hour. At this rate, you can get up to six gallons per day.
Another stand-out feature of this unit is its built-in safety control. For example, when the CO-Z reaches 300 degrees Fahrenheit, the heating element shuts down automatically. Not only does this increase this unit's lifespan, but it also prevents potential accidents.
The CO-Z water distiller's water container features a plastic design that's BPA-free. The unit also comes with surge protection, which further adds to its safety and longevity.
Pros
CO-Z water distiller has many safety features.
It's easy to clean and maintain.
These distillers feature a stainless steel exterior.
Quick distillation process.
BPA-free water container.
Cons
The CO-Z water distiller features a bulky design.
Some consumers believe that it's too heavy (9.6 pounds).
---
4. ROVSUN Countertop Water Distiller
We love the ROVSUN Countertop Distiller because it's comfortable to operate, highly functional, and practical.
Using this water distiller is straightforward because all you have to do is add tap water, and the system is ready to go.
After adding the tap water, just press the button, and it's ready to start water distillation. When it's complete, the unit shuts off automatically.
Because its design is hassle-free and uncomplicated, assembling the ROVSUN Countertop Water Distiller is a breeze. This system's design also ensures that this distiller is easy to use and maintain. Thanks to the wide mouths on the carafe and the stainless steel distiller, cleaning this unit isn't difficult.
These water distillers also feature C-Glass, which is shockproof. It's also a compact unit, making it a space-saving unit that looks professional and sleek in any room or office.
Using this water distiller provides you with plenty of purified water, eliminating the need to buy plastic water bottles.
A stand-out feature of these countertop water distillers is their 750-watt heating elements. Those heating elements allow these water distillers to produce up to one liter of distilled water every hour. Its auto-shutoff feature helps you save money on energy after this unit finishes removing contaminants from your water.
Additional features include:
The system automatically shuts off when it reaches 320 degrees Fahrenheit.
Includes an instruction manual for ease of use and set-up
This water distiller comes with activated charcoal filters.
Pros
Comes with high-quality activated charcoal filters.
User-friendly as easy to maintain.
The unit shuts off automatically when the distillation process is complete.
Uses high-quality food-grade materials.
Cons
The lid on the carafe is fixed and won't come off.
Some users believe that these water distillers are challenging to clean.
---
5. H20 Labs Stainless Steel Water Distiller
If you want the best portable water distiller, the H2O Labs water distiller won't disappoint. It ranks as the best water distiller for its thorough assessment and testing processes for dependability, functionality, quality, and user-friendliness.
Following every water distillation process, you'll receive better-tasting, clean, and pure drinking water. One of the first features to notice about the H2O Labs Water Distiller is its activated carbon filter process. Not only do these filters contain three times as many components, but they also feature designs that make them last twice as long.
This water distiller also removes the highest level of volatile organic compounds (VOCs) compared to its competitors. Not only does this filtration process ensure that your water is pure, but also free from harmful contaminants.
The unit's steam chamber and condensing coil both feature a 304 stainless steel construction. 304 stainless steel is the most used and versatile of all the stainless grades. All the plastic found in this water distiller is food-grade and BPA-free.
A stand-out feature of this water distiller is its porcelain nozzle insert. That insert prevents pure water from coming into contact with the unit's metal or plastic components. Another stand-out feature of this water distiller is its heating element. It's a 565 heating element whose size is optimal for ensuring your water boils at the correct speed and temperature.
Pros
Easy to use and maintain
The integrated element ensures water boils correctly.
BPA-free plastic
Contains exclusive carbon filters
Cons
Emits a low humming sound when on low power
Doesn't produce instant water because you have to add tap water to the carafe manually
---
6. VEVOR Water Distiller
If you love kitchen appliances featuring high-tech and modern appearances, then the VEVOR water distiller is worth considering. This system is small, measuring 11 inches across its base and just under 15 inches high. It also comes with a 4.2-liter glass carafe to hold the distilled water.
All components inside of this water distiller are food-grade and don't leach. That way, these home distillers are producing the most purified water possible. Its stainless steel construction also increases its durability, making it a top-rated product among homeowners.
The VEVOR countertop water distiller also features a unique handle on top. That way, it's easier to move from one place to another.
You'll find a 1.06-gallon water storage tank, as well as a shockproof glass container for those who want to take this unit on the road. You can produce up to six gallons of distilled water per day using this system. There's a digital display screen on the front of the water distiller, allowing you to view and adjust the water's temperature. Both the distiller and the carafe feature wide openings, making them easy to clean.
For those who want to distill alcohol, that's possible using this system. You'll need to control the temperature to do this, however. You don't have to worry about this system burning out or burning your hands when it's in use. This water distiller features temperature protection that shuts it off automatically when it reaches more than 320 degrees Fahrenheit. The distillation process doesn't exceed 226 degrees Fahrenheit.
Pros
Many features for a budget price
High-tech and modern design including a digital display
Sturdy steel construction
Safety features are temperature controlled
It's not loud if you want to use it overnight
Cons
Some consumers state that the distillation cap doesn't fit securely
Others complain about having to set the temperature manually
---
7. Waterwise 3200 Water Distiller
The Waterwise 3200 water distiller runs using 800 watts and 120 volts when producing one gallon of distilled water every four hours.
After the water distillation process is complete, this unit shuts itself off automatically. A feature that we love about this distiller is that, once it finishes, you can put the water pitcher into your refrigerator to cool off.
This water distiller looks different from its competitors because it seems like two carafes attached to a plastic unit. However, this design makes this a space-saving system compared to many others.
For those who feel like four hours is a significant amount of time to produce distilled water, we have an explanation. These water distillers purify water using steam distillation. During system operation, water temperatures reach 212 degrees Fahrenheit.
That water temperature kills bacteria, cysts, viruses, and other harmful pollutants. Examples of these pollutants include trihalomethane, arsenic, sulfate, aluminum, sodium, chloride, nitrates, chloroform, mercury, chlorine, lead, chloroform, lead, copper, and fluoride.
The process starts when you add tap water to the stainless boiler. After pressing the "reset" button, this water distiller does the rest of the work. These systems are ideal for those who don't mind paying a little extra for a high-quality and dependable water distiller.
The seven-inch wide opening on this countertop water distiller makes it easy to remove and clean periodically. Routine maintenance is necessary, including changing the carbon filters and scrubbing away hard water deposits.
Additional features include:
Automatic shutoff
Produces one gallon of stilled water every four hours
One-year warranty
Pros
It features a space-saving design.
This system shuts off automatically after each cycle.
There's a stop-and-serve dripless feature.
The heating chamber is hidden and easy to clean.
Cons
Some consumers feel this countertop water distiller is too expensive.
Others prefer using a glass carafe instead of plastic.
---
8. Waterwise 9000 Water Distiller
In addition to featuring high-quality construction, these water distillers also feature an affordable price. The Waterwise 9000 comes in two parts, which include the boiling chamber and collector with dispenser. Like the Waterwise 4000 Water Distiller, this one is compact and doesn't require assembly or installation.
And, just like the Waterwise 4000 Water Distiller, the Waterwise 9000 is portable and ideal for those who want distilled water while traveling. Because it features plastic construction, that means these water distillers are shatter-proof. While you may not like the plastic construction, keep in mind that it makes this small water distiller lightweight and portable.
The Waterwise 9000 is an electric water distiller that can produce up to five gallons of water per day. It uses a standard plug and operates using 750 watts and 120 volts. These water distillers weigh just under 12 pounds, making them a great countertop option. Even though the boiling chamber is plastic, the bottom of the distiller is metal. Because the company uses non-leaching polymer, that means this unit is BPA-free.
This unit features a heating tank in its back, which means there's less of a chance of you accidentally burning yourself. That design feature also means that these water distillers are a great choice for families with children. Because the bottle is in front, instead of sitting next to the distiller, there's no risk of accidentally knocking it over.
Additional features include:
Automatic shutoff
Produces one gallon of distilled water every 4.3 hours
One-year warranty
Pros
The water distillation process is quick.
Customers receive excellent support.
This distiller is cost-effective.
This water distiller is easy to use and maintain.
Cons
Some consumers believe that this unit doesn't produce enough heat.
Others feel that the fan is too loud.
---
Water Distiller Buyers Guide
What is Distilled Water?
You may see distilled water sitting on the shelf next to other bottles of water. While some may think that distilled water is better for them than tap water, you may wonder what it is and what the difference is.
Even though distillation isn't a new technology, it remains one of the most effective water filtration methods.
Distilled water doesn't differ much from filtered or purified water because it results in clean and safe water.
The main difference is that some filtered water contains minerals, whereas distilled water doesn't have any compounds or minerals because it removes 99% of all impurities in tap water by the process of steam distillation.
Basically, distilled water is water that has been heated to remove all the impurities it contains to produce the purest form of water possible without any additional substances.
What is Distilled Water Used For?
Distilled water isn't only for drinking. There are many other uses for this water, including:
Adding to Humidifier
It's beneficial to add distilled water to your home's humidifier. If you use regular tap water, you're running the risk of mold growth.
Drinking
Many love the purity of distilled water, which makes it appealing for drinking. You won't find any harmful chemicals, contaminants, or pathogens when you drink distilled water. It's an excellent idea to drink distilled water from a distiller that remineralizes because that improves its taste.
Medical Sterilization
Doctors' offices and hospitals use distilled water for various medical sterilization purposes. Because this water doesn't contain any minerals, it doesn't leave behind deposits when using it to clean instruments.
Vehicle Maintenance
Corrosion or mineral build-up may occur if you add ordinary tap water to your vehicle's cooling system. The lack of minerals in this water makes it a practical choice to use in your car. Distilled water is also an excellent option for rehydrating your vehicle's battery.
Canned foods
Many canned foods are available with water mixed in with the can's contents. These foods retain their color thanks to the addition of distilled water. If manufacturers used regular tap water, that could result in the product sitting in cloudy water. Regular water could also alter the taste of the food in the can.
Ironing
You can prevent dry steam from splattering onto your clothing when ironing by using distilled water. Using normal faucet water in your iron can result in limescale build-up and corrosion inside your iron.
Other common uses for distilled water include:
Hydrating cosmetic products
Filling home aquariums
Watering plants
Cooking and baking
Hair and skin hygiene
Mixing baby formula
Overall, it's super clean water that's safe to use for different applications. We went over the safety basics of distillation here.
Benefits of Distilled Water
Because distilled water is contaminant-free, nothing alters its quality, smell, or taste. It's beneficial to use distilled water in many areas throughout your home. Here are some of the most beneficial reasons for using distilled water:
No More Bottled Water
After making an initial investment in the water distiller, you don't have to spend more on bottled water. If you typically purchase a lot of bottled water, that adds up to significant savings in the long run.
Space-Saving Appliance
Even if you have a small kitchen, countertop units don't take up much space. These distillers are typically the same size as a coffee maker.
Cheaper Water Filtration Alternative
Water distillers are usually $100 or less, making them an affordable water filtration option. For example, some reverse osmosis systems can cost $1,000 or more. Water distillers do an excellent job removing the same number of contaminants as a standard filter.
Remove Contaminants
Even though standard water filtration systems remove contaminants and other harmful pollutants, water can still pick up minerals from your home's plumbing system. Distilling water ensures it doesn't contain any pollutants or pathogens.
Body Detoxification
Using distilled water is an excellent way of detoxifying your body. Over time, minerals, chemicals, and other harmful toxins can build up. Drinking distilled water helps flush these toxins from your body without causing any additional problems. When doing a distilled water cleanse, make sure you add more calcium and magnesium to your diet.
How is Water Distilled?
There are various ways you can purify drinking water, including using an activated carbon filter or reverse osmosis technology.
However, it's an entirely different process when producing distilled water. While some do contain a carbon filter, many distillers can create purified water without them.
We go over the difference between distilled water vs purified water here.
The best water distiller is easy to use, and a beginner can handle producing distilled water after reading the instruction manual and setting the unit up. All you have to do is add water to the boiling chamber, where the water heats up to a boil. As the water creates steam, all impurities catch on a condensing coil. You get distilled water when the steam cools and is free of contaminants. While these systems can't remove all pollutants, it can remove bacteria, organic chemicals, and minerals.
Here's a breakdown of how the distillation process works:
Step one: water heats up in the boiling chamber
Step two: steam from the boiling water travels into a condenser
Step three: the steam converts into liquid
Step four: Impurities filter out of your water supply
Step five: if you have a remineralization filter, this is when water flows through that
Step six: the holding tank collects water droplets
What to Consider When Buying a Distiller
Contaminants Removed
Depending on the type of filter in the distiller, it should result in contaminant-free water. However, some contaminants may remain. The top 10 best water distillers feature an activated carbon filter that removes VOCs.
Price
Distillers are typically cost-effective, making them an excellent option for budget-conscious consumers. For example, you can find units for as little as $50. Keep in mind that every price bracket is going to include different features. It's also good to remember that the most expensive distillers don't always have the best reviews.
Countertop vs. Under Counter Unit
Most distillers feature a countertop design. However, if you have an outlet underneath your counter, you can keep these units out of sight. Be sure to check with the instruction manual to ensure that you can use the distiller underneath the counter. If you can't use it as an under-counter unit, measure the space available on your countertop.
Distillation Speed
Some water distillers take between four and six hours to purify water. For example, the CNCShop water distiller takes one hour to produce just under one gallon of water. However, it takes up to four hours for Waterwise to make one gallon of water. Compared to the CNCShop water distiller, that's a slow distillation speed.
Distillation Chamber
The distillation process begins when you add water to the distillation chamber. Depending on the size of the distiller, it may feature a large or small chamber. That means if you choose a unit with a small chamber, you'll need to fill it more often. However, if you select a larger unit with a bigger chamber, that unit could take up more counter space.
Materials Used
The most common material you'll find in water distillers is stainless steel. It's best to choose a system containing a stainless boiling tank. It's also best to make sure the condensing coil is also stainless. Those two elements and anything else coming into contact with the water should feature stainless construction.
Quality and Certifications
All water purification manufacturers can apply through third-party companies like NSF International or the WQA (Water Quality Association) for certifications. These third-party companies determine if the quality of the product matches the manufacturer's claims. While water distiller reviews give you a significant amount of information about the product, it's still confusing to determine which manufacturer to trust. Look for reviews that link to information about the distiller's certification.
Water Distiller Installation & Maintenance Quick Steps
Compared to other water filtration products, distillers are the easiest to install. Because they don't require much set-up, it won't be long before you're enjoying the benefits of this water.
How to Install
After opening the box, spread its contents on your countertop.
Screw the handle onto the unit's holding tank
Flush the filters before placing them into the filter housings
Place filters into their housings
Plug the distiller's cable into its back
Add water and start the distillation process and throw away the first batch.
Use a scouring pad to clean out the distiller and then refill with water.
How to Maintain Properly
Because the contaminants can't leave the distiller, you must clean it regularly. You'll also need to clean away limescale and other build-ups. Keeping the unit clean is the best way of preventing build-up from occurring. Avoid using household cleaning products because residue from them can remain in your distiller.
Drawbacks of Water Distillers
While water distillers provide high-purity water, they come with certain drawbacks that potential users should consider.
Time-Consuming Process: On average, it takes 4 to 6 hours for a water distiller to produce a gallon of purified water. Even higher-wattage systems can't make distillation an on-demand process.
Limited Capacity: Most distillers can produce up to a gallon of distilled water at a time, requiring frequent refills to continue the distillation process. Larger models are available but occupy more space.
Risk of Recontamination: Distilled water, being purer and having a lower pH than tap water, is more susceptible to recontamination, especially if not stored properly.
Flat Taste: Distilled water lacks the minerals and salts that give water its slightly sweet, alkaline taste, which some people find unappealing. This could potentially discourage adequate hydration, leading to symptoms of dehydration like fatigue, dizziness, and headaches.

Understanding these drawbacks can help you make an informed decision about whether a water distiller is the right choice for your needs.
Water Distiller FAQs
Do Water Distillers Actually Work?
Yes, water distillers are one of the most effective water purification devices for the removal of all contaminants in your water supply. They are so effective that they are even used in medical settings for sterilization.
How Long Does a Water Distiller Take to Produce Purified Water?
Usually, it takes around 2-3 hours to produce a gallon of distilled water, but this will depend on the water distillation unit you purchase.
Do I Need to Remineralize my Distilled Water?
No, you do not need to remineralize your distilled water. Some people choose to remineralize their water for the taste and added minerals, but if you eat a wide variety of foods, you will already be getting the minerals you need in your diet.
What is the Best Water for Distilling?
The best water for distilling is going to be water with a pH of around 5.5, which produces the best acidic environment for the fermentation process.
Are Water Distillers Expensive to Run?
No, they are not too expensive. Water distillers use around 3 KWH to make one gallon of water. Usually, it costs around 10 cents per KWH, which works out to be 30 cents for a whole gallon of water.
Is Boiled Water the Same as Distilled Water?
No, they are not the same. Boiled water has been heated and removes most contaminants, but distilled water is water that has been stripped of all impurities using distillation.
Is Distilled Water the Same as Bottled Water?
It depends on the bottled water process. Some bottlers use reverse osmosis or activated carbon filtration while others may use distillation in their purification process.
Is Distilled Water Eco Friendly?
Yes, distilled water is eco-friendly because it's safer and better than bottled water, costs less, and water distillers are convenient.
Why Do Water Distillers Need an Activated Carbon Filter?
Some water distillers also contain organic coconut shell activated carbon filters because they add an additional filtration step to remove substances such as volatile organic compounds, which are not removed by steam distillation. Most every other contaminant will be removed by the process of distillation.
Conclusion
Out of all of the reviews we mention above, our top pick is the Megahome countertop distiller.
We love this unit because it features an automatic shutoff and a one-year warranty. We also love that it produces one gallon of pure distilled water every four hours.
A close runner-up is the Pure Water Mini classic ct because it features a fast distillation rate and a 15-year warranty.