Drinking hydrogen water is excellent for preventative maintenance within your body.
In this guide, we're outlining the best hydrogen water machines to help you with your buying decision.
You'll also learn more about how they work, their benefits, how hydrogen water differs from alkaline water, and most importantly how to choose the best hydrogen machine for your home.
Top 3 Hydrogen Water Generators Compared
IMAGE
PRODUCT
FEATURES

Molecular hydrogen water ranging from 3.5-6.5 PPM

3 gallon water jug capacity

3 year warranty

CHECK PRICE

#2 Tyent UCE-11 Ionizer w Hydrogen Boost

.01 micron hydrogen filter

100 gallon water filter capacity

Lifetime warranty

CHECK PRICE

#3 Lourdes Hydrogen Water Generator

SPE/PEM technology

Hydrogen gas inhalation kit

One year warranty

CHECK PRICE
Top Hydrogen Water Maker Reviews
Several different kinds of hydrogen water machines exist on the market today, ranging from stand-alone hydrogen water bottle units to a high rich machine, like the hydrogen water generator by Lourdes.
Because all of these machines essentially do the same job, many consumers opt to choose one according to their budget.
The machine's performance plays a role for those who want to drink hydrogen water for daily health maintenance or if you're a nutrition or sports enthusiast. Once you start drinking this purified water, you'll feel the difference almost immediately.
#1: Best Countertop Hydrogen Machine: Trusii H2Pro Elite
No matter if your tap water source is city water or you get your drinking water from a well, the Trusii H2OPro Elite is an excellent option for creating ionized water. This machine is a pro-grade hydrogen water system that infuses a high concentration of molecular hydrogen into regular water.
This unit is easy to use, making it possible for you to enjoy hassle-free alkaline water featuring antioxidant-rich hydrogen. This machine features a proprietary process for generating and adding molecular hydrogen back into your home's water. The average hydrogen levels range between 3.5 and 6.5 PPM.
The package contains everything that you need for creating alkaline water. You'll receive H2 retaining water bottles, a BPA free three-gallon jug, and a six-bottle backpack.
Additional features include:
Front-display control panel
H2 levels are easily adjustable.
Three-gallon water jug capacity
Proprietary molecular hydrogen process
Molecular hydrogen water content ranging between 3.5
and 6.5 PPM
Compact 20.5″ high x 10″ wide x 18.5″ deep design
Made of safe and high-quality materials
One of the most noteworthy features of the Trusii H2Pro Elite is that you can place this unit anywhere in your home or office because of its three-gallon refillable jug.
Pros
BPA free
Retains the hydrogen water's natural pH
Simple fountain-like design
30-day money-back guarantee
Three-year warranty for replacements and repairs
Cons
Some consumers believe this hydrogen water maker is too expensive.
Other customers believe that it takes up too much space on their countertop
---
#2: Best Filtration: Tyent UCE-11 Ionizer w Hydrogen Boost
The Tyent UCE-11 hydrogen water maker is an under-the-counter system for creating hydrogen rich water. An added benefit of this hydrogen water generator is its Xtreme Molecular Hydrogen Boost. These hydrogen water ionizers are electric and are available at various pH levels ranging from two to 12. When you use this hydrogen machine, you'll experience hydrogen rich water containing anti oxidant and essential minerals.
This hydrogen water generator features designs for high-end kitchen use. This unit has more than a dozen certifications, and its manufacturing occurs under strict international-grade guidelines. This alkaline water maker can remove more than 200 different contaminants and pollutants from normal water. This hydrogen water maker creates alkaline water plus it also cleans itself.
You'll find technologically advanced features, which include the following:
11 sold, mesh hybrid plates
10-amp SMPS power supply
Interactive touchscreen display
0.01-micron hydrogen water filter
100-gallon water filter capacity
Automated self-cleaning
technology
ORP levels up to -1,200
One of the most notable features of the Tyent UCE-11 Ionizer w Hydrogen Boost is that it creates hydrogen water that's chemical-free and uses the strictest standards for durability, quality, and safety. You'll also find nine different settings and 55 water settings.
Pros
Six-month filter life
Smartphone touch technology
Three alkaline water levels
Three acidic water levels
Dual water filtration to remove over 200 contaminants
Cons
Some customers report receiving a nine plate hydrogen maker instead of 11 plates.
Others indicate that, instead of 10 amps, their machine featured 220 watts
---
#3: Best Overall: Lourdes Hydrogen Water Generator
Create hydrogen-rich water at home with the Lourdes hydrogen water generator. While this is the most expensive hydrogen water machine, it is also the highest quality. Even though this hydrogen water ionizer has many of the same design features as its previous version, there are some improvements.
During each cycle, this hydrogen water generator ionizes up to 1.8 liters of water. It's floating capping lid presents hydrogen gas from evaporating. You can choose to ionize your water in batches, with processing times that include ten, 20, and 30-minute cycles. Keep in mind, though, that choosing a longer cycle means the more hydrogen rich water you'll receive.
Like customer reviews on Amazon com, many indicate that they used to order individualized hydrogenated water pouches. However, since switching to this machine, they can make water with higher hydrogen content. This unit creates ionized water using advanced SPE PEM technology.
Additional features of this hydrogen water generator include:
1.2 PPM hydrogen concentration
-550 mV ORP
The advanced Separate Chamber Electrolysis (SCE) System integrates with the Solid Polymer Electrolyte (SPE) and Proton Exchange Membrane (PEM), or SPE PEM technology.
Full saturation occurs after 10 minutes for 500 ml.
It has a cartridge exchange indicator and a reset button.
Hydrogen gas inhalation kit
Hydrogen gas inhalation gives you inhalation of 26 mg or greater every minute.
One of the most notable features of this unit is that each ionization plate is slightly larger than in competing models. Plus, in addition to having a platinum coating, the plates feature a titanium silver combination.
Pros
Can purify RO water can electrolyze as neutral pH water
No chemical reactions create hydrogen water.
Other ions, including oxygen, cannot mix with the hydrogen rich water.
Produces approximately seven cups of hydrogen water
One year manufacturer's warranty
Cons
Some customers indicate that the plastic design breaks easily and is expensive to replace
Others report that the water filter is too expensive
---
#4: Best Portable Water Ionizer: H2 USB Sport MAXX Bottle
The H2 USB Sport MAXX Bottle is an Internet of Things (IoT) enabled portable hydrogen water maker. Because this hydrogen water bottle is small, it's ideal for home, traveling, and work applications. For example, if you're looking for a high-quality hydrogen water maker to use on the go, this is an excellent option.
This glass bottle hydrogen water generator features Japanese-backed technology for combating oxidative stress dehydration. This technology is also optimal for those who consume too much caffeine because it offers superior hydration.
This water ionizer puts hydrogen back into your drinking water to help keep cells healthy and prevent damage from free radicals in your body. The platinum-coated titanium plates are thicker and can produce hydrogen water faster. It accomplished this goal by using the most advanced SPE and proprietary PEM technology. That way, the water you're drinking is the safest and has the most benefits.
This hydrogen water bottle can concentrate H2 water molecules from 1.0 to 1 5 PPM in either five or seven-minute timer cycles. You'll also find a 14-ounce glass bottle with this unit and two plastic water bottle adapters. It works with a rechargeable lithium battery. You can also plug it into a standard USB port or AC connection. This glass bottle creates ionized water using SPE PEM technology to produce the highest water hydrogen content.
Additional features include:
14-ounce borosilicate glass bottle
DuPont PEM technology
The molecular hydrogen concentration level is between 1.0 and 1.5 PPM
This water bottle works with all water sources.
Can ionize distilled, water filter, RO, and tap water
Has platinum-coated titanium plates
The plates deliver a negative ORP range from -350 to 600 mV.
The plates on this water bottle remove chromium, molybdenum, nickel, and other heavy metals from regular water.
One of the most notable features of the H2 USB Sport MAXX Bottle is that it runs through at least 12 cycles before you need to charge the base. Another feature that many consumers love is that it contains a chamber at the bottom for waste collection.
Pros
It comes with a USB charger.
It works with all potable water sources.
Reliable polymer electrolysis proton exchange membrane technology
This water bottle concentrates H2 to 1 5 ppm.
Can use the hydrogen gas inhaler as a substitute for drinking from the hydrogen water bottle
United States company offering a one year warranty
Cons
Some consumers report having issues with base charging.
Others indicate that the system stopped working after a couple of months
---
#5: Best Warranty: Bawell Platinum Water Machine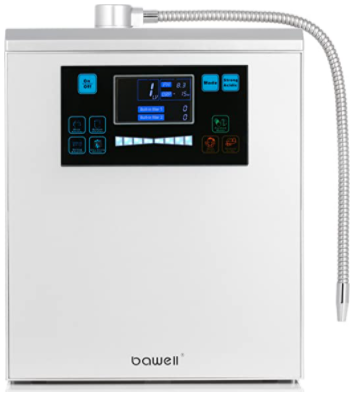 Bawell manufactures this platinum hydrogen water maker, which is a counter-top model. These are heavy-duty machines that feature the best warranty in this round-up. Thanks to its sleek design, it looks great sitting next to your kitchen faucet. You can't put it underneath the sink even though you can attach this unit to either a bathroom or kitchen faucet.
Not only is this machine easy to install, but it's also easy to use. All you need to do is connect this machine to your tap water inlet, and then it's ready to use. It takes around 30 minutes to install this unit from beginning to end. You'll find an instructional DVD to help you along with the process.
You can make alkaline drinking water in several different ways. However, it's only when electrolysis makes alkaline ionized water that the water has antioxidant properties. That's because of its oxidation-reduction potential and a slightly higher pH. The scientific community refers to this drinking water as "Electrolyzed Reduced Water," which you can make using a hydrogen water machine.
This water purifier uses two-stage internal filtration. Then, you can choose between acidic and alkaline water options. This unit is easy to maintain as you only need to change two interior filters once annually. Additional features of this water ionizer include:
When pre-programmed, the pH range is between 3.0 and 11.5 (2.0 to 12.0 capable)
ORP between +600 and -800 mV
Choose among four modes, including weak, medium, strong, and ultra-strong.
The lifespan is 5,000 liters.
The flow rate of one gallon every 30 seconds
Seven medical-grade plates
180 watt SMPS power system
One of the most notable features of this system is that it keeps track of your water usage. That information displays on the front of the machine, making it easy to track.
Pros
A two-stage water filtration system
Universal faucet adapter
Displays ORP and pH levels
Filter changes only occur once annually.
Automatic cleaning
"Forever" Lifetime warranty.
Cons
Cannot place this hydrogen water maker beneath the sink
Some customers report that their machine plugs up every five months.
Others report that the instructions are difficult to understand
---
Home Water Maker Buyers Guide
Even though a hydrogen water maker's upfront cost is expensive, they are inexpensive to operate in the long-run. This page outlines how a hydrogen water maker works, how alkaline water makers differ from a water ionizer, the benefits of hydrogen water, and how to choose the best water product to create hydrogen enriched water.
How Do Hydrogen Water Makers Work?
Instead of using hydrogen tablets to treat tap water, many opt for creating hydrogen rich water with a machine. A hydrogen water maker works by converting water from pure to hydrogenated. During this process, the water charges with a negative cathode. As water passes through the cathodes during this cycle, it enriches with hydrogen.
The enrichment process occurs during the dissolved and gaseous forms. In doing so, it reduces the ORP (Oxidative Reducing Potential) to minus 200 milli-volts. The symbol for that is mV. This process results in hydrogenated water that's ready for you to drink.
Benefits of Hydrogen Water
There are several benefits to drinking hydrogen enriched water, including boosting vitality and reducing fatigue. Those who drink this water also find that they suffer from allergies less, plus it also promotes cardiovascular health. Keep in mind that the recommendation is to consume between one and two liters of purified water per day to keep your body healthy.
Some drink hydrogen water during cancer treatment or to improve diabetes. Others find that drinking this water helps enhance their cognitive functions and memory. Hydrogen water also benefits those who are looking for anti-inflammatory properties. It helps to prevent and reverse degenerative diseases. Others like to drink this instead of regular water for its anti-aging and slimming benefits.
Hydrogen Water vs. Alkaline Water
While it isn't uncommon to believe that hydrogen water and alkaline water are the same, there are many differences between the two. For example, hydrogen water contains dissolved H2, while alkaline water receives treatment to raise water pH levels higher than seven.
There are several health benefits to drinking using an alkaline water ionizer. For example, you can improve hydration and lower fatigue when drinking alkaline water plus it also increases performance and improves gut health. Alkaline water is rich in minerals, protects the body, and fights chemical byproducts. Alkaline water is also a disinfectant and helps reduce your risk of diabetes.
Like alkaline water, drinking hydrogen water has several health benefits for your body. For example, hydrogen water promotes good health by fighting free radicals, promoting healthy blood circulation, and reducing blood pressure. Like alkaline water, hydrogen water also boosts energy and is rich in minerals. Hydrogen water also increases collagen production and detoxes the body.
How to Choose The Best Machine
When you have the right information site information, it's possible to create the best alkaline water plus find the right alkaline water machine for your drinking water needs. Finding the best water ionizer involves deciding which type you want, like a hydrogen water bottle or countertop unit, for example. You'll also need to look at the price, quality, reliability, and technology of the water ionizer.
Price
You can find hydrogen water machines in three types. Those include conventional machines, high-quality hydrogen water makers, and portable hydrogen water machines. Traditional machines range in price between $150 and just over $200. High-quality machines can start at only over $300 and run up to over $1,000. Portable machines can run between just over $50 to just over $100.
Keep in mind that the price is not always an indicator of the best choice. For example, smaller high-quality portable machines have lower prices compared to larger countertop units. Even though the price is an essential factor, look at each of these machines' features and technology when deciding which is best.
Quality & Reliability
One of the best ways to learn more about quality and reliability is by reading customer reviews. For example, these reviews indicate whether customers believe they received the quality and reliability they expected for the price. You'll also learn more about how long the system lasts and if it lives up to the claims the company makes. You'll also see how it compares to other systems the customers used in the past.
You can find this information on seller sites, retail websites, and the company's site. It's a good idea to look at seller sites for objective opinions of these products. The main reason is that many company websites feature the highest-ranking customer claims.
Technology
Look for hydrogen machines featuring SPE/PEM technology. That way, you're sure it's delivering the purest concentration of hydrogen water without adding any harmful chemicals. SPE stands for solid polymer electrolyte, and this is responsible for conducting protons, electrode electrical insulation, and separation of gas. PEM stands for polymer electrolyte membranes. The PEM is responsible for electrolysis of water cells equipped with an SPE.
It's also a good idea to look for advanced filtration technology. That way, you're sure the hydrogen water doesn't contain heavy metals or other contaminants. You can find this information by studying company info products resources on the company's website.
Conclusion
Drinking hydrogen water is an excellent option for anyone looking for ways to keep their body healthy and energized. Apart from the benefits of hydrogen water, it's easy to make using a machine. As an added benefit, some of these machines also include hydrogen gas inhalers. That way, you can use hydrogen gas as a substitute for drinking hydrogen water.
Our top pick is the Trusii H2Pro Elite. We love that you can place this unit on your countertop and receive both hydrogen and alkalized water benefits. The second runner-up is Tyent UCE-11. We love it for its high tech functionality and under-counter option to get pure hydrogen water. We also want to mention that, out of all of the items in this review, the Bawell Platinum hydrogen machine features the best warranty.