Best Tankless Gas Water Heaters
Every home and apartment, as well as many commercial buildings, need hot water. No matter your needs, tankless water heaters are the most efficient and economical choice. However, even the top tankless water heaters differ from each other in some way. This means it is crucial to know what you are looking for — to ensure you find the right type of water heater. If you need large quantities of hot water on demand, look no further than a tankless gas water boiler.
Hot water tanks are, on average, 40 to 50 gallons in size. They can take up a lot of space. Worse, most of the time, you won't even receive the full 40 to 50 gallons of hot water, as the water will cool off by 40 to 50 percent before you reach it. Then, your heater will need to use more fuel to reheat the remaining water.
In addition to being particularly inefficient when it comes to fuel usage, tank water heaters are also more expensive. This is because you will need to replace your tank water heater after just eight years, compared to 20 years for a high-efficiency tankless gas water heater. In other words, a top tankless gas water heater can provide you with the hot water on demand for less money, it will take up less space, and it is more eco friendly.
To help you upgrade to a tankless gas water heater, here are the tankless gas water heater reviews of the best models on the market. We will look at both propane tankless water heater reviews and natural gas tankless water heater reviews to help you find a unit that will meet your household's specific needs.
Top-Rated Tankless Gas Water Heaters Compared
IMAGE
PRODUCT
FEATURES

9.8 Max GPM

98% Efficiency Rating

Suitable for Whole House, Indoor

CHECK PRICE

9.8 Max GPM

98% Efficiency Rating

Suitable for Whole House, Indoor

CHECK PRICE

9.5 Max GPM

94% Efficiency Rating

Suitable for Whole House, Outdoor

CHECK PRICE

8.4 Max GPM

84% Efficiency Rating

Suitable for Whole House, Outdoor

CHECK PRICE

6.6 Max GPM

83% Efficiency Rating

Suitable for Whole House, Indoor

CHECK PRICE

6.6 Max GPM

82% Efficiency Rating

Suitable for Whole House, Indoor

CHECK PRICE

6.6 Max GPM

91% Efficiency Rating

Suitable for Whole House, Indoor

CHECK PRICE

3.5 Max GPM

79% Efficiency Rating

Suitable for Small Condo, Indoor

CHECK PRICE
Tankless Gas Water Heaters Reviewed By Type
Below, you will find individual reviews of all of our top gas tankless water heaters. We have organized the reviews by indoor whole-house units, outdoor whole-house units, best for large homes, and best for smaller homes and condos.
Best Indoor Whole House Tankless Gas Heaters
When it comes to power, the Rinnai RUR98iN packs a punch, offering 9.8 GPM. This makes it one of the highest-volume water heaters in our tankless gas water heaters reviews and, indeed, on the market as a whole. It is ideal for saving money in a large home. Plus, the recirculation capability means you'll never need to wait for hot water. With the dual heat exchangers, the RUR98iN is designed for maximum efficiency, but it is only the size of a small suitcase.
Best of all, it is a quiet tankless water heater. Gas indoor heaters can be loud and distracting, but this one can be installed anywhere without causing problems. Finally, it comes with a 12-year warranty on the heat exchanger, which only adds to its appeal.
Pros
You can have hot water simultaneously in multiple bathrooms

It's very quiet — perfect for small spaces

It can modulate flow rate to be very low, which prevents wasted water
Cons
You will need to make sure that your house is able to support the recirculation feature

It needs regular maintenance and you'll need to replace parts every few years
This little Rinnai natl gas tankless water heater may be small enough to fit anywhere in your house. Its space-saving design has no impact on the high energy rating or the ultra-low emissions. All this means that it is a great option for an average-size house — you can fit it nearly anywhere and heat your water to up to 140 degrees Fahrenheit.
Even better is the long warranty you receive with the RUC98iN — the company will replace your heat exchanger at any point in the first 12 years in the case of any defects. Do keep in mind, though, that as this water heater is very powerful, the price is triple the amount of an average gas on-demand tankless water heater. Despite the high upfront initial investment, you'll likely find that it's a good choice for your home if you're looking to save money over the long term.
Pros
Installation is straightforward

Temperature control is accurate and easy to control

It runs very quietly, making it great for small spaces
Cons
There may be a slight delay in receiving your hot water when you turn on the faucet
You may feel a drop in water pressure when running multiple appliances at the same time
You can receive an endless supply of hot water with the high-efficiency Noritz NRC661. Offering up to 6.5 GPM, this gas-fired tankless water heater is powerful enough to provide hot water to two bathrooms for homes in the south of the country, whereas 1.5 bathrooms are the limit in the north. No matter where you live, though, the energy-saving condensing technology will keep your energy bills down.
Pros
Runs quietly

Operates flawlessly, even many months after installation, and is durable

Very easy installation
Cons
Y

ou may experience a delay in receiving hot water when you turn on the faucets

Depending on where you place your heater, the time it will take for the hot water to reach the faucet may differ
Best Outdoor Whole House Tankless Gas Heaters
A powerful exterior tankless gas water heater with 9.5 GPM, the Rheem RTGH-95XLN will provide sufficient hot water to all the appliances in your house. It has the capability to supply up to two showers and a dishwasher at the same time. Even if you live in a cold environment in the north of the country, you'll never have any problems with hot water. You can adjust the temperature yourself to receive hot water of up to 120 degrees Fahrenheit.
Pros
Better flow and heat during the winter than other models

No need for venting
Cons
Water pressure may be lower with this system than with other units

Wait time of at least 30 seconds for hot water
Rheem has an impressive lineup of exterior heaters. In particular, the RTG-84XLN is an excellent outdoor tankless water heater, able to provide you with 8.4 GPM. You'll have no need to worry about it, even during the cold winters. Be aware that, depending on your incoming water temperature, the GPM may lower, but you should still be able to gain enough hot water for your entire house with this water heater. The RTG-84XLN requires no venting and the installation process is simple.
Pros
Plenty of hot water, even when several people are showering at once

Works great many months after installation
Cons
Installation requires multiple pipes and valves

Some people report issues with the remote control
Best For Money Tankless Whole House Gas Water Heater
This tankless water heater from Takagi offers a solid 6.6 GPM. You have the power to monitor your water temperature constantly, adjusting it to your needs. Plus, it's even possible to convert it into a direct vent unit once you have it installed indoors.
Small and energy efficient, the T-KJ2-IN-NG will save you money. It is perfect for light residential and radiant heating applications. The price may be a little high, but the rock-solid quality more than makes up for it.
Pros
Very durable and easy to maintain

Small and lightweight but produces up to 6.6 GPM

Easy to install
Cons
Installation requires multiple pipes and valves

Some people report issues with the remote control
The Rinnai V65IN is so lightweight and compact, you can install it anywhere you want indoors. This is one of the best propane on-demand water heater models on the market and it packs a punch — don't be fooled by its size. As well as heating your water, it will automatically shut off water if it detects a problem using its built-in leak detection technology. This can prevent property damage as well as wasted water. In addition, it has a temperature lock to ensure you don't have to deal with sudden changes in temperature that could affect your dishwasher, shower, or washing machine.
Sporting a capacity of 6.6 GPM, the V65IN can provide an average-size home with plenty of hot water. However, keep in mind that the initial investment for this water heater is significant, due to its high energy efficiency rating. If you're willing to spend the money, you won't be disappointed.
Pros
Very durable and easy to maintain

Small and lightweight but produces up to 6.6 GPM

Easy to install
Cons
Installation requires multiple pipes and valves

Some people report issues with the remote control
Best Gas Tankless Heater for a Small Condo
This Eccotemp fvi12-NG FVI-12 is one of the most affordable water heaters out there, at half the price of many of our other recommended heaters. If you live in a small house, this is a great unit for you, since you shouldn't need too much more than the 3.5 GPM. With the fvi12-NG FVI-12, you'll save a great deal of money.
With the digital temperature display, you can adjust the temperature to suit your needs for different times of the day. It's quiet, too, making your home life that much more pleasant.
Pros
Very well made, with high-end features that are usually only present in pricier versions

Simple to install

Water pressure may drop if you are using multiple appliances, but the temperature will remain constant
Cons
There is a learning curve to adjusting the temperature
Other Brands We Considered
You've seen our picks for the best instantaneous gas water heater models. We are only able to recommend a select few on this page, but there are actually many other great options available. Below is a list of all the brands that offer at least one excellent residential or commercial tankless water heater. Gas heaters from all of them can be found on our product pages.
Rheem

Rinnai

Takagi

Navien

Noritz

Richmond

State

Paloma

Marey

Bosch
How Do Gas Tankless Water Heaters Work?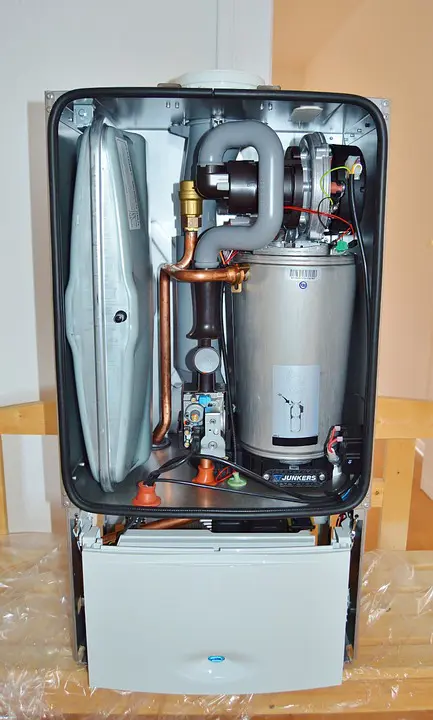 To understand how an on-demand hot water heater (propane or natural gas) works, you first need to understand how a storage water heater works.
Storage water heaters are big, cylindrical steel tubes that store that hot water. The cylinder design common across the United States. The tank of the water heater is most often filled with about 40 to 60 gallons of water at one time. To avoid burning fuel constantly, manufacturers insulate the tank to help keep the water warm. All the same, such a design uses a lot of energy — and that energy costs money.
An on-demand gas water heater is fundamentally different from a storage water heater. It heats water in the moment by running cold water through heating elements. As there's no tank involved, a whole-house gas tankless water heater can deliver a continuous stream of hot water at a rate of anywhere from 2 gallons a minute to more than 9 gallons a minute.
Such a system also means that the heater only uses the energy necessary, unlike a storage water heater, which heats the water in the large cylinder constantly. As a result, a tankless water heater is much more compact and environmentally friendly. Tankless water heaters have already become the norm in China, Japan, and most of Europe, and they are now gaining popularity in the U.S.
A top-rated tankless gas water heater with a max GPM of 9.8 can even supply large households with sufficient hot water. However, some lower capacity heaters may fall short, especially if you live in an area where incoming groundwater is quite cold.
To remedy this, one option is to install two or more units as point-of-use heaters. If you decide that you would prefer an electric water heater, you will probably need to do this. Most gas models, however, are able to supply all the hot water needed for a small to average home. This is because both natural gas and propane water heater units tend to have a much higher GPM than their electric counterparts. However, you will need gas lines running to your house to supply your water heater with fuel.
When is a Gas Tankless Water Heater the Right Choice for You?
In most cases, your home can benefit from installing an on-demand water heater. Gas is particularly desirable for average to large homes with high hot water needs. There are, however, situations in which it may be better to opt for an electric water heater.
Energy Cost Savings
The initial cost of a tankless gas water heater is rather high. You'll pay a couple thousand upfront, including for installation. Natural gas and LP gas tankless water heater units themselves are often more expensive than storage tank water heaters, and you will probably need professional renovation to your plumbing, electric, and gas lines. There's usually no way around it.
However, to make up for this initial expense, tankless heaters do save homeowners hundreds of dollars a year on energy bills. This is especially the case when it comes to gas tankless water heaters. Gas water heaters can save you an average of $108 in energy costs over the course of a year.
Lifespan/Good Investment
If you plan on keeping your home for the foreseeable future, you should definitely consider a tankless gas water heater. If you're moving soon and want to sell your house, you may prefer to look into electric models for the lower upfront cost.
In either case, switching to tankless does make sense. When you have a tank heater, the likelihood is that you'll have to change the entire system after about 8 to 10 years, as the tank will probably corrode and start leaking after around a decade. With a tankless model, you not only have a longer lifespan, but there is also no risk of the heater rupturing. This saves you money and increases the value of your home.
Continuous Hot Water & Larger Capacity
With a storage water heater, if your household or business uses several gallons per minute, the water will not be able to continue running hot. In contrast, a tankless gas heater allows you to enjoy a continuous source of hot water that will not run out. Furthermore, as tankless gas water heaters have a higher capacity than electric models, you will be able to power more appliances with one unit.
Less Maintenance
Tankless water heaters generally suffer from far fewer problems than tank heaters. With a gas model, you will still have to receive yearly checkups, but serious problems will happen rarely, if ever. With tank models, on the other hand, you are always at risk for major water leaks and other types of damage that can cost a fortune to repair.
Hard water (water that contains many minerals) will create limescale buildup in your water heater. This happens to both tank and tankless models. However, it is less extreme in tankless versions. You will need to carry out a similar limescale cleaning program as you have with your tank heater.
Tankless water heaters are very reliable. Most come with a 16-year warranty, but with regular maintenance, you can be sure that you will have continuous hot water for much longer.
How to Select the Right Size Gas Tankless Water Heater?
You need to make sure that the tankless gas water heater you pick is not too small. The higher installation cost associated with larger water heaters can make it tempting to select a smaller size to save money. However, you need to select your tankless gas water heater appropriately to ensure its effectiveness and longevity.
Determine the Desired Flow Rate
Appliances like faucets use a specific amount of water, defined in their GPM ratings. For example, a kitchen sink uses about 1.5 GPM, whereas a shower can use up to 3.0 GPM.
| Appliance | Flow Rate (GPM) |
| --- | --- |
| Bathroom Faucet | 0.5 GPM |
| Kitchen Faucet | 0.5 GPM |
| Shower | 2.5 GPM |
| Dishwasher | 1.0 GPM |
| Clothes Washer | 1.5 GPM |
Next, you need to figure out how many GPM you'll need at any given time. It's unlikely that you'll be using all your hot-water appliances at once. With that in mind, be realistic about what you need your flow rate (the amount of heated water) to be. If you have multiple showers, factor these into your equation. It's a good idea to expect to be running at least two sinks simultaneously.
For example: If you have two showers running at once and want to be able to have hot water in two sinks as well, you'll have a flow rate of 9 GPM (two showers at 3 GPM each, and two sinks at 1.5 GPM each).
Remember to check the GPM ratings of your appliances before doing your calculations. Although there are reliable standard GPM estimates for certain appliances, the actual GPM rating can vary. When you're calculating your flow rate, a difference of just 1.0 to 1.5 GPM can completely throw off your flow rate.
2. Determine The Temperature You Need
Calculating your temperature rise will ensure that you end up with a water temperature hot enough for your home. To figure out your desired temperature rise, you'll first need to figure out the starting temperature of the water coming into your home. You can see the image below to find the average groundwater temperature in your area.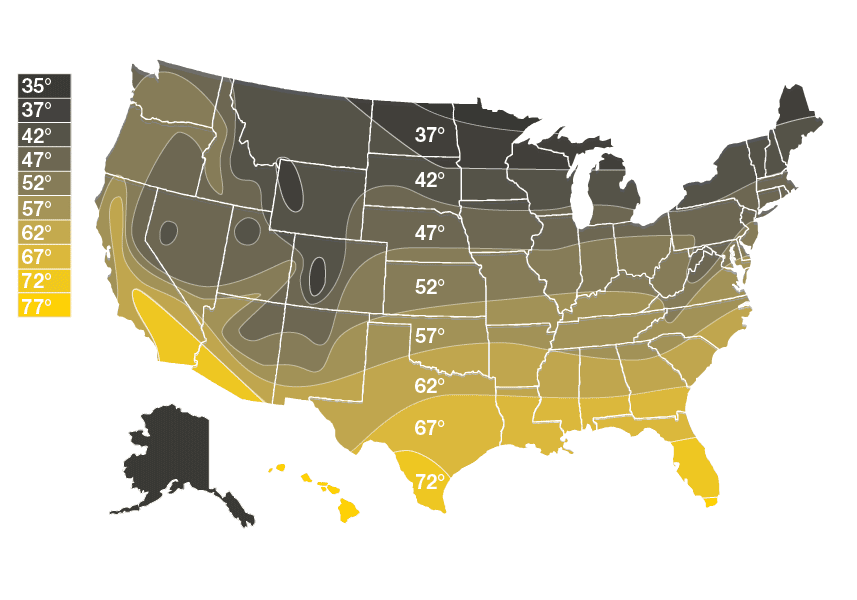 Naturally, if you live in an especially cool region, you may need to estimate even lower. In that case, it's wiser to just take out a thermometer to be sure. Many homes have incoming water that is warmer than 50 degrees Fahrenheit, but it's always better to estimate for a lower temperature. Although this may seem unnecessary, at least it will prevent you from purchasing a new water heater that ends up having a temperature rise that is too low.
Next, you need to determine the ideal temperature for the hot water for your appliances. For example, tubs and showers are typically best at 102 to 105 degrees Fahrenheit. Kitchen sinks need to be able to get a bit hotter — their ideal temperature is around 110 degrees Fahrenheit. These are solid guidelines, but if your preferences differ, you should use your own numbers.
To figure out the temperature rise needed, start with your incoming water temperature (for example, 50 degrees Fahrenheit). Then determine the amount your water temperature will need to rise from your starting temperature to your ideal water temperature. If you plan on using your kitchen sink while someone else showers, calculate using the higher temperature.
For example, assume your shower needs to be 104 degrees Fahrenheit but your kitchen sink needs to be 110 degrees Fahrenheit. In this case, you'd make your calculations based on the fact that you need to reach 110 degrees Fahrenheit. If your starting temperature is 50 degrees and you need to get your water up to 110 degrees: 110 – 50 = 60 degrees difference. That means the temperature rise you need is 60 degrees Fahrenheit.
Example Scenario: Figuring Out the Correct Size for a Gas Tankless Water Heater
Once you combine your desired flow rate with the necessary temperature rise, you'll be able to select the best tankless gas water heater for your home. Gas water heaters are rated in BTU units and they specify their heating capacity.
You may see a tankless water heater with 'X' BTUs that can raise water temperatures 60 degrees at a total of 10 GPM. All these figures can seem confusing, but, really, the process is simpler and easier than you might think.
Here's an example of how a family of four in an average-size home chose their tankless water heater. This example will show how you can use your own flow rate and temperature rise to find the right tankless gas water heater.
Step 1: They Figured Out Their Needs
This family knew that they wanted to purchase a whole-house gas unit that could power most of their water needs at once. They decided that they needed to be able to run two showers and one sink at the same time. They also needed to power a washing machine, but they decided that they could run the washing machine at night or at other times of low hot water usage.
Potential Hot Water Needs at Same Time:
Step 2: They Determined Their Flow Rate
To figure out the flow rate, they needed to find the GPM rating of each appliance they wanted to run at the same time and add these ratings together. Assuming standard GPM ratings, we get these figures:
Showers: 3 GPM each, so 3 GPM x 2 showers =

6 GPM

Sink:

1.5 GPM
That gives us a total of 7.5 gallons per minute.
Step 3: They Calculated Temperature Rise
Second, they needed to figure out the temperature rise required in their region. Remember, you'll want to take the figure of the appliance that needs the highest temperature to use in your calculations. We'll assume that their incoming water temperature is 60 degrees. Therefore, we'll be subtracting the 60 degrees from the highest temperature needed. To determine the highest temperature, they looked at the water temperature needed for their appliances:
Showers: up to about 105 degrees Fahrenheit

Sink: 110 degrees Fahrenheit
That means the highest temperature is 110 degrees Fahrenheit. Figuring out the temperature rise is easy — they just subtracted the starting temperature from the highest appliance temperature. So, 110 – 60 = 50 degrees Fahrenheit (the temperature rise needed).
The End Results
After they went through these calculations, it was easy to find the right size and rating for their gas water heater. In this case, they needed a tankless gas water heater that could heat at least 7.5 gallons per minute with a 50-degree temperature rise.
Remember, if you can't find a water heater that fits your exact measurements, it's better to buy a slightly bigger model than risk going too small.
Getting The Most Out of Your Water Heater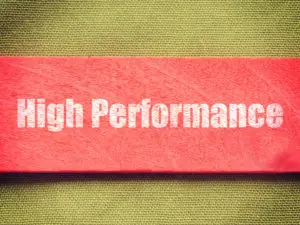 Your tankless gas-fueled water heater is an important addition to your home. After you've gone through the work of the finding the right one, you'll want it to last as long as possible and to keep running like new even several years down the road. Here are the things you need to know to get the most out of your new water heater:
Increase Your Household Efficiency
First, you can make your water heater is more efficient by making your other appliances more efficient. By switching your faucets and shower heads to more eco-friendly, low-pressure water fixtures, you put less pressure on your water heater.
In other words, if you were originally using up 9 GPM, but then reduce that to 6 GPM with high-efficiency appliances, you'll be saving your water heater a lot of work. This, in turn, allows your water heater to heat more quickly and efficiently while reducing unnecessary wear.
Here's the big deal about this tip:
By using more efficient fixtures, like a low-flow shower head, you'll reduce your GPM. By reducing your GPM, you free up your water heater to deliver hot water to other appliances. Therefore, if you have some extra company staying at your house, this tip can keep everyone warm and comfortable.
Don't Lose Heat in Your Pipes
Next, insulate your pipes. A fair amount of heat can be lost when traveling from your water heater to a faucet. This is especially true if your pipes are old or inefficient. By properly insulating your pipes, you can receive hotter water right away.
In fact, insulating your pipes can mean you get water that's up to 4 degrees Fahrenheit hotter when it reaches the tap. No matter how efficient your tankless water heater is, if your pipes are losing a lot of heat, you'll never get to feel the full heat your water heater is producing.
Another Benefit of Insulating Your Pipes
You'll help reduce your overall energy costs and lower your bills as a result.
To insulate your pipes, it's best to start low — with pipes that aren't protected by walls and other barriers. For example, starting in the basement is going to provide the most immediate benefits, especially if you're don't decide to insulate all your pipes right away. This is because heat is lost quickest down in the basement, due to the position and environment.
Check the Thermostat
Water heaters all come with a thermostat. No matter what maximum temperature your heater can achieve, you can still set the thermostat to something lower. Remember that your thermostat doesn't show the temperature rise but the final temperature of the water.
What does this mean for you?
You need to check your tankless gas water heater's thermostat to make sure the temperature is appropriate. Whereas you may only need your hot water to reach 110 degrees Fahrenheit, chances are your water heater won't be set that way unless you manually change it. This isn't the fault of the technician who installs your water heater — tankless heaters come this way from the manufacturer. Many times, water heaters have the thermostat set to around 140 degrees Fahrenheit upon installation, which is significantly higher than you need. Since you don't need more than 110 degrees Fahrenheit, you won't notice any difference in heat once you turn the thermostat down.
On-Demand Tankless Gas Water Heater FAQs
Choosing the right natural gas or LP on-demand water heater is an exciting, important, and, occasionally, confusing process. The likelihood is you still have some questions. We'll try to answer them here.
How do tankless gas water heater prices compare to electric water heater prices?
Electric water heaters are cheaper to install and purchase, but gas water heaters are more economical to operate and maintain. Electric models can consume the same amount of energy as all of your other household appliances combined. In contrast, gas models need significantly less fuel to provide hot water to your entire home. Put another way, gas is cheaper in the long run, whereas electric is cheaper upfront.
Do I need to wait for the water heater to 'heat up' before I get hot water?
Unless you have a recirculation system, the water that comes out of the tap won't be hot immediately, but you'll only need to wait a few seconds. Basically, when you turn on a hot water faucet, your water heater receives a signal to begin heating water. Before you receive this hot water, you need to flush out the cold water that is already in the pipes. If you have a recirculation system, any hot water you do not use that remains in the pipes will return to the water heater, meaning that you do not need to flush it out first. Our best-rated tankless water heater for indoor whole-house use, the Rinnai RUR98iN, has recirculation capabilities.
How long do tankless gas water heaters last?
The best propane tankless water heater models have a long lifespan. The durability of your own heater will depend on factors like the thermostat, usage, brand and model, and installation. It's safe to say that you can expect a natural gas or LP tankless water heater to last at least 15 to 20 years. Some even last up to 25 years. You can extend the life of your water heater with routine maintenance and timely part repairs. The good news is that parts are generally inexpensive and easily accessible for any instant water heater, propane or natural gas.
Do I need soft water?
Generally, no, your home doesn't need to have soft water. That being said, if you do have hard water, you may want to consider a water softener. This will help reduce the wear on your water heater and reduce mineral buildup. As a result, your a tankless water heater will run more efficiently and last longer.
What Is the Best Gas Tankless Water Heater?
You have plenty of options when it comes to picking an on-demand water heater: gas or electric, indoor or outdoor, whole house or point of use. Whatever your needs, you want something that will save you money and keep your energy bills low, while providing you with continuous hot water. This means that the best gas water heater for you will depend on where you live, the size of your home, and your water requirements. By assessing the above models in our review and using the other helpful information, you should be able to find just the right one.
If you're picking a gas heater and want the best, we recommend the Rinnai RUR98IN Ultra Condensing model.
If you still want to compare all of the top electric and gas models, see our review of the best tankless water heaters here.